"I was trying to delete some redundant files from my Windows 10 computer and suddenly it crashed. When I switched it on an entire folder was gone and it is not even present in Recycle Bin. What should I do now?"
Most of the people keep their device data as a backup on the computer. But sometimes, data can even get lost from the computer. And the most frustrating thing would be losing the music files that you collected from different websites. If something like this happened to you, then you might be looking for an app to recover deleted music. Fortunately, there are various tools available on the internet. But to make sure that you get your files back, you need to pick the right one.
So, here in this article, we will discuss how to restore deleted music files from your computer and rescue the files from getting lost permanently.
Part 1. What Causes Erased Music?
Sometimes people don't realize that a simple mistake could lead to huge data loss. Erased music can be a result of any of the following situations:
Accidental Deletion: The files can most certainly get lost due to accidental deletion when you are filtering the data. And you won't even realize that the file is lost unless you need it.
Format: Sometimes, people need to format the system due to some malfunctioning.
System Crash: The unexpected system crash can also result in data loss.
Virus or Malware Attack: The files can be easily infected, damaged, and even get erased if the system is attacked by some virus or malware. Even anti-virus programs can prevent that from happening.
Corrupted Storage: If a file has been corrupted due to ineffective modification, then it can also result in a data loss situation. Even the virus can also corrupt the files.
Data Mishandling: In some scenarios, data mishandling can also lead to data loss.
Other than the above-listed reasons, there are some other things that can delete the files from a system such as lost partition, emptied recycle bin, problem reading the storage, inaccessibility, etc. Under all these situations, few tricks can be utilized to access the data. But if the files are deleted, then you'll need to rescue the music files somehow. For this, you will surely need a music rescue tool.
---
Part 2. What Is the Best Music Recovery APP?
Recovery of music files isn't as easy as it sounds. You need to pick the right tool for the recovery. That's why; you should choose Recoverit Audio Recovery Software. This tool can help you to learn how to recover deleted music from any device. Recoverit is not just meant for simple data recovery scenarios. It can help users in the toughest situations. The software works for all kinds of storage media and file types. The software is free to download and install on the system. MP3, WAV, AU, AFF, MP4, AVI, JPG, and a lot more media file types are supported.
As you can see, the software is specifically designed to make sure that users don't end up losing their device data permanently. The software has an easy to navigate interface to make the recovery process easier. So, try it out and get your songs back to your device.
---
Part 3. How to Restore Music Files?
Whether you want to know how to recover deleted songs on Android or Windows system, Recoverit can make everything easy. So, visit the official website and download the software on your computer. Once it is installed, you can follow the steps below to carry out the recovery process:
Step 1: Choose a Location
Launch the software and choose the drive which you want to scan. If you don't remember where the files were stored, then you can tap on the "I can't find my partition" option to scan the entire storage.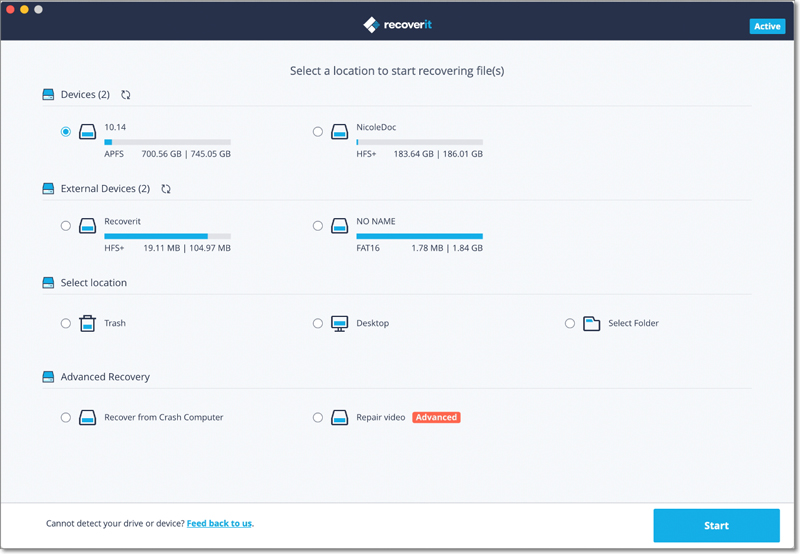 Step 2: Scan the Location
It will take a while to scan the entire storage space for lost or deleted files. The software will display the results and sort them out according to their formats. Choose the format of the files that you want to recover and select the files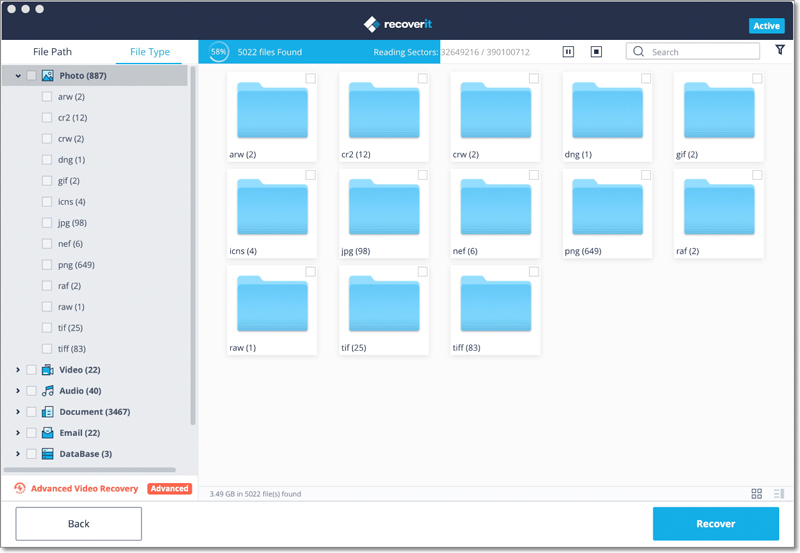 Step 3: Preview and Recover
You can also preview the files before recovering them. Once you've selected all the files, just tap on the Recover button and the software will start recovering the files on your system.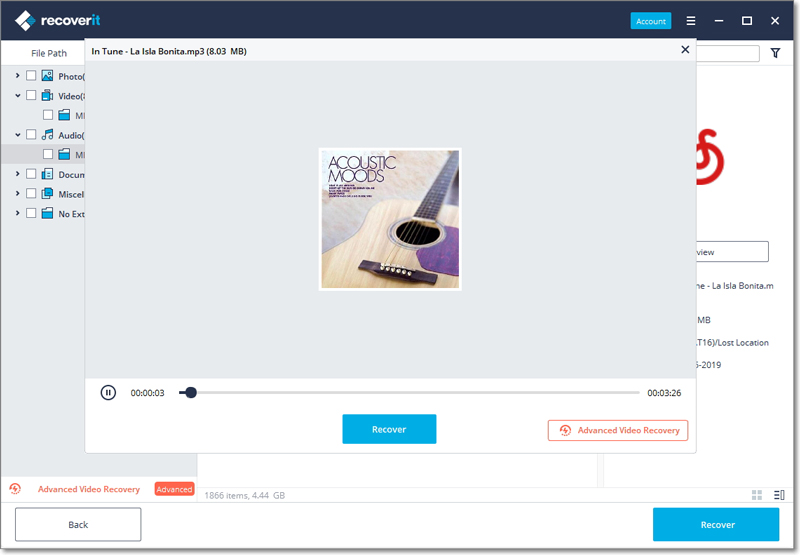 But before you recover the files, make sure that you don't recover the files in the same location from where they got lost.
---
Part 4. How to Backup Music Files?
There are various ways to protect the songs and other files from getting lost. You can backup music files on other storage devices or cloud storage to ensure that you have multiple backups of the files.
1. External Hard Drives:
The external storage drives can make it possible to replicate the entire data stored on your system. Plus, the drives will be less susceptible to data loss if it is handled properly. A single hard drive of 1 TB can store more than 250,000 songs. You can simply use the copy and paste method to create a backup of the device data with External hard drives.
2. CDs/DVDs:
Using CD and DVD is also a viable option to store the media files. Although the backup will take a lot of time, at least you'll have an extra backup of your files. You can simply burn the files on the CDs/DVDs. But the problem is that they can get scratched easily which ultimately damage the data stored in it. Still, it can be a useful backup option for digital files.
3. USB Device:
The USB devices are very commonly used by a lot of people to make sure that even though they accidentally deleted music files from the device, they'll still have a backup. The USB drives can be used as a decent solution for data backup. But even the USB devices have some issues. It is vulnerable to corruption, driver issues, limited capacity, and physical damage too. But the good thing is that it is fast and a simple copy-and-paste method would work to create a backup.
4. Cloud Storage:
One of the best solutions that can be tried is using the Cloud storage option. There are various cloud services available and every single one of them provides a basic plan and storage space for the users. This way, you can easily restore deleted files whenever you want.
Just download the cloud app on your device and set up the automatic sync and the software will do the rest itself. You can use Google Drive, OneDrive, Dropbox, Amazon Drive, etc. The cloud will also give you additional benefits such as the extension of the existing storage space, file sharing features, easy online access, etc.
---
Part 5. Tips to Backup and Restore My Music
The backup and restore process isn't that much complicated if you know how to get deleted songs back. But as you work to get the files, you should follow a few tips:
Tip 1. Always Keep Multiple Backup Of The Data:
It is vital that you have multiple copies of the data stored on your phone or computer. You can use external drives, USB devices, flash drives, or clouds to keep your data safe.
Tip 2. Never Restore the Data in the Location Where You Lost It:
This is important that you choose a different location to recover the files. If the files were corrupted or damaged or some virus caused the data loss, then there are chances that the recovered files can also get lost.
Tip 3. Keep Updating Your System Software and Security:
To make sure that your system is safe for use, you need to stay updated with the security system. Sometimes, even the outdated software can corrupt the data and make it vulnerable to other threats. So, make sure that you update the system software as often as possible.
As we now know how to recover deleted music files, keeping a backup of the files is a better option for the users to avoid data loss. But if you still lose your files, then you can use Recoverit. This tool will make sure that not even a single piece of data is lost from your device permanently. In addition, the software is safe and secure. Thus, it is recommended that you use the tool for all-round recovery, including video recovery.
Solve Media File Problems
Recover & Repair Photos

Recover & Repair Videos

Recover & Repair Audios

Recover & Repair Cameras