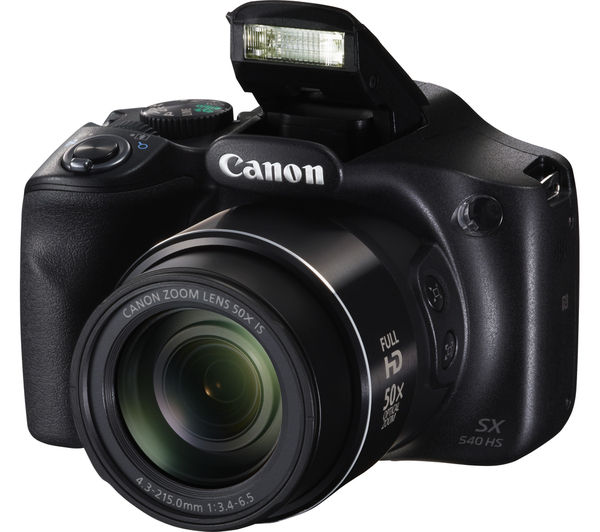 "My daughter insisted on taking more photos even after the 'memory card full' signal that the camera kept on indicating. I have just realized that some photos have gone missing. How can I recover my camera photos since they are very important to me?"
Digital cameras have gone a rampant evolution since their invention. They have loads of features that enable you to perform numerous tasks. Besides capturing the best moments of your life, you can as well edit, delete or save your images as you wish. However, it is in the course of deletion that you may hit that unplanned-for button. Furthermore, other external forces may cause damage to your camera's memory resulting in the loss of your photos. When such a scenario happens, you need to act fast by doing a camera pic recovery. But first! You need to know why camera photos get lost.
Part 1: Camera Photo Loss Scenarios.
This is a mix of both internal and external factors leading to camera loss situations. Remember that data is stored on memory cards such as SD cards, Micro SD, and many more. There are different kinds of memory cards used to store data. Whenever such a storage system is tampered with then there arise data loss cases.
Formatting
In the spirit of creating space for the memory card, you may accidentally format and delete pictures.
Improper memory card ejection
It could be that data transfer is in progress when you decide to eject the card. This will give an instant shock to the card, resulting in the loss of any saved data.
Virus attack
It is a good practice to often disinfect your gadgets, especially from viruses. When such are left to harbor, they end up eating files from the memory and leading to loss of the same.
Improper power supply
This is regarding the camera's battery strength. If it's on low battery then photo writing or the transfer process is likely to be interfered with, resulting in poor photo quality or no photos at all.
Software corruption
A hitch in your camera's software may also cause photo loss. You can overcome this scenario by upgrading your device's software to avert any abrupt shut-downs.
A filled up memory card
Never ignore when you get alert of 'memory card full'. You should transfer some pictures to another storage location to free up space.
---
Part 2: Top Camera Photo Recovery Software Reviews.
Many people are thrown into disarray whenever they experience camera photo loss. What is not well open is that camera photo recovery is possible. Yes!
Here's the kicker: Whenever you delete a photo from your camera, it's only the pointing link that is removed but the data remains. So, with the correct recovery software, you still have a chance of salvaging your data. Here are some top photo recovery tools you can engage.
1. Recoverit Data Recovery
Scaling among the best digital camera photo recovery apps, Recoverit Data Recovery has powerful scan functionality to help in quick recovery. It supports to recover lost data from various brands of digital cameras, DJI/GoPro Drone cameras, action cameras, camcorder, etc. And with 3 modules for different image loss scenarios, this tool is an assurance of quality recovery outcome.
It has a built-in Data-Analyzer Engine responsible for its faster scan speed ability. Use it to recover data lost from any situation such as raw hard drive recovery, resized partition losses or formatted hard drive loss scenario. Besides, this App supports over 550 data formats like documents, emails, videos, among many other types. Its compatibility is worth noting. It works across various operating systems like macOS and WindowsOS operating system devices.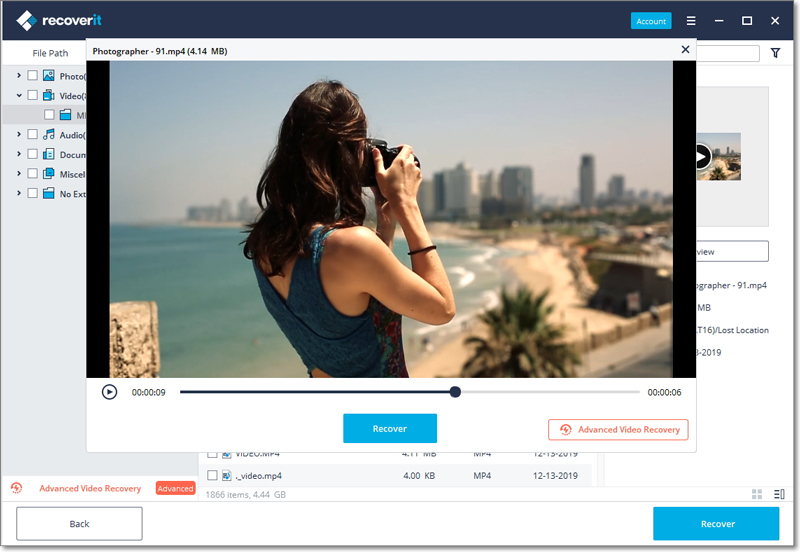 Video: How to Recover Lost Photos
2. Stellar Photo Recovery
This digicam photo recovery stands out when it comes to restoring media files of different loss scenarios. Besides, it is well compatible with all major cameras, laptops, memory cards, drones, among other devices. It has a state-of-the-art technology that supports RAW file formats and restoration of deleted images with their original file names and date-timestamp.
Its further ability to halt the scan process and resume recovery gives it a top-notch balance. There is no time wasting; simply stop and resume at your free will. And given its friendly user-interface, Steller photo recovery has fewer steps to the final results. You are also assured of a comprehensive scanning with its Deep-scan option.
3. PhotoRec Recovery
The third App on our list lets you perform free photo recovery from your digital camera. PhotoRec factors in the issue of safety thereby using read-only access. Before recovery, it carefully checks your device's partitions in a safe mode. This is the reason why you can't experience partition or file system failure when you use this App. It also enables the recovery of various data types such as multimedia, archives, images, videos, and much more. It doesn't matter from which storage device you have lost your data. This App can recover data from hard disk drives, USB drives, memory cards, and more. Even though it lacks a friendly user interface, PhotoRec can recover over 450 file formats.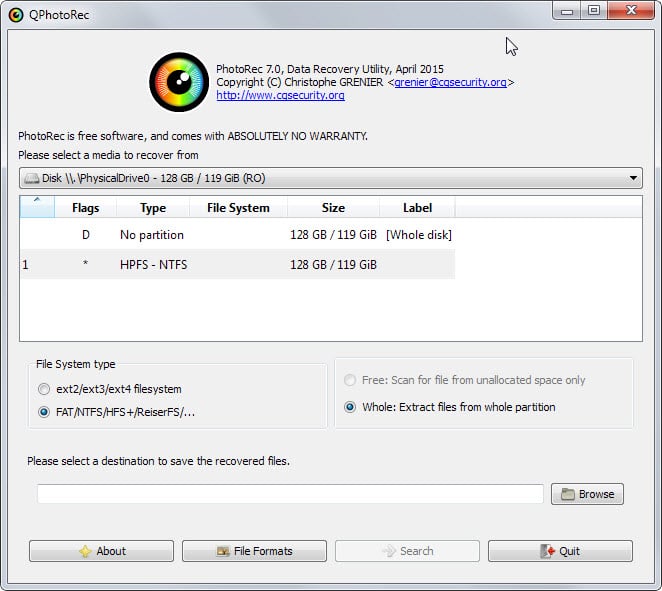 4. iSkysoft Data Recovery
This App is simply easy and fast. It uses the latest algorithms to scan and recover your lost photos from any situation. iSkysoft Data Recovery institutes of four recovery modes that let it retrieve data from accidental deletion scenario, improper operations, recycle bin loss scenario, among other situations. You can choose the Wizard mode to recover your photos in 2 steps, among other recovery options.
It is also a camera photo recovery that is fully compatible with the latest versions such as macOS Mojave 10.14, the latest macOS , iPhone OS and Android OS devices. Furthermore, use it to retrieve lost photos form media players, USB flash drive, memory cards, digital cameras, and other portable devices.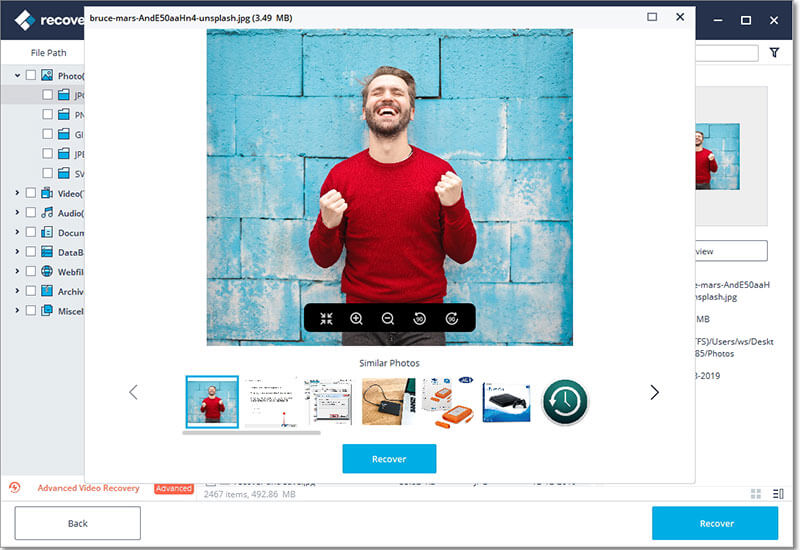 5. Recuva Photo Recovery
Here comes the last but not least, Recuva camera deleted photo recovery. Its recovery wizard lets you take a breather as it does all the guesswork to finding your lost files. As long as you have previewed and selected your lost photos, the App will continue to populate them onto your screen. Among the data types it can recover are emails, photos, images, documents, and other attachments. Its additional customizable filter tool makes the sorting of recovered data easy and fun. This App is also easy to use, with a deep scan option to help you look for even the most hidden lost photos from your camera.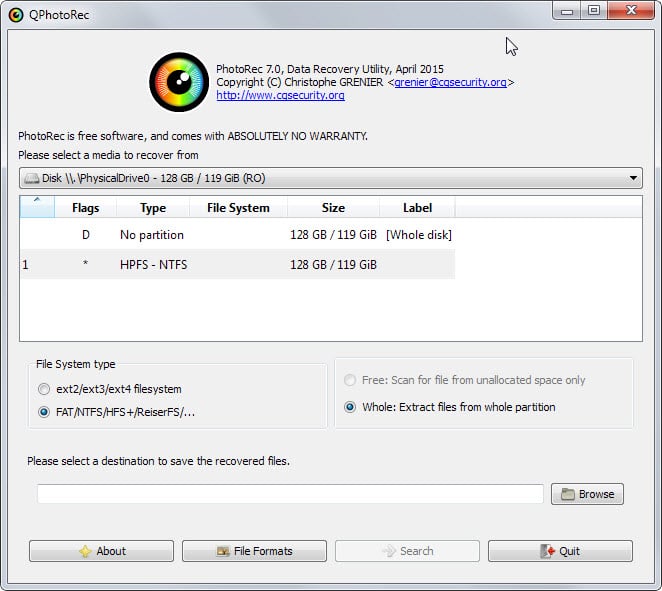 ---
Part 3: How to Recover Deleted Photos from Digital Camera.
From the possible loss scenarios earlier seen in this article, it seems impossible to avert these problems, especially from a powerful camera. This is because as you take more photos, you also need to delete the outdated clips. Here is where the rubber meets the road when you accidentally hit the 'delete button'. Let's see how to restore camera photos using the recommended software – Recoverit.
Step 1. Connect to your camera
Keep in mind that your camera is an external device. You can connect it directly to your computer or remove the memory card from it and connect it to the computer using a card reader. Your computer should recognize the device before you start the recovery.
Step 2. Select the external device
Then select the removable storage media, which is the external device that contains your lost photos. Check it out from the 'target location' and then hit the 'Start' button to start the photo recovery process.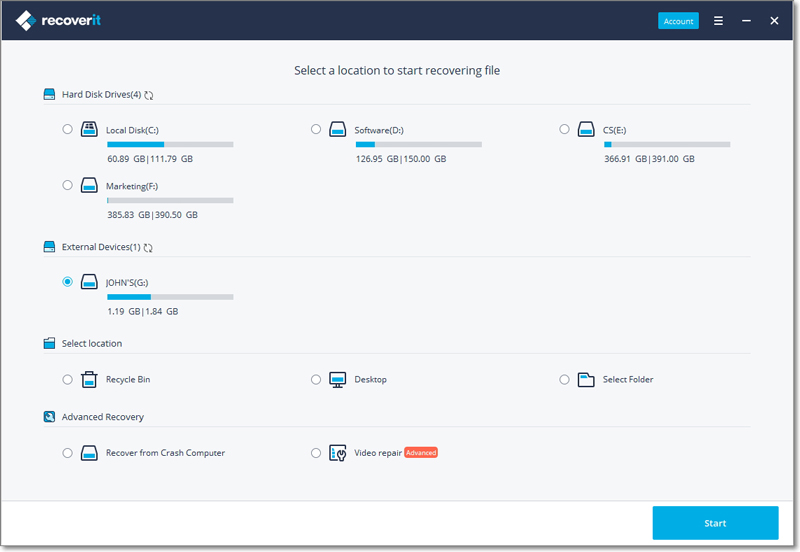 Step 3. Scan the device
It's now time for the scan to commence. An all-around scan will be launched on your device. Once the scanning process is complete, there will be a populated list of photos for you to choose from. You can halt the process and resume if you need a pause at any time.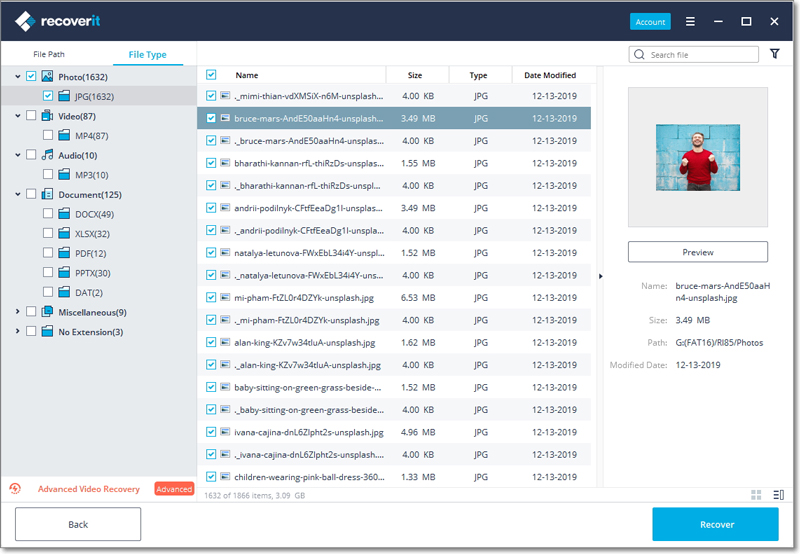 Step 4. Preview and recover photos
The preview option lets you choose only the photos that you need to retrieve. Once you find all of them, click on the 'Recover' button and then save them to your computer or other external devices.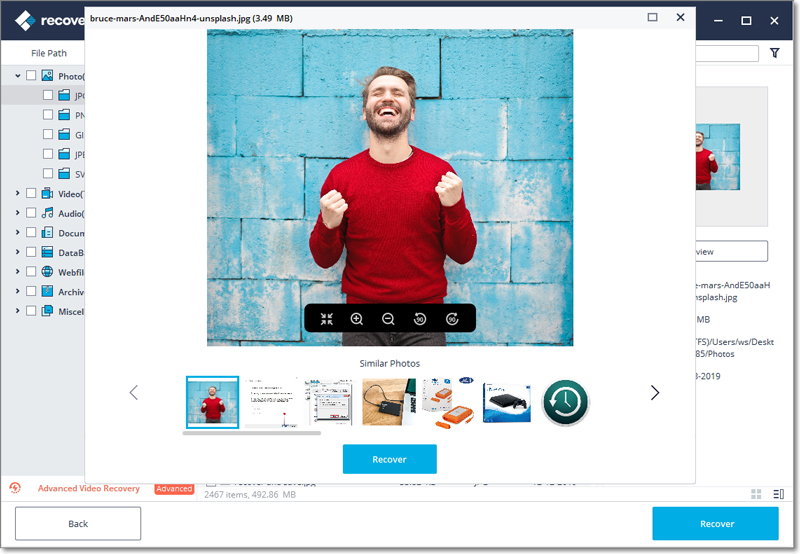 Note:
Avoid further usage. Additional saving of photos to your camera may lead to permanent loss of the present data. You should stop this until you have recovered and saved the previous photos first.
---
Part 4: How to Keep Your Camera and Data in Good Condition.
A good camera equates to good data. And today's digital cameras are dully reliable for taking and storing data. At the same time, they are fragile and may often break due to human or mechanical errors. This would mean missed photos and videos. Use the following maintenance tips to keep your camera and data in good condition.
1. Avoid liquids
Any form of liquid is damaging to electronic equipment and cameras are no exceptions. Give a protective mechanism to your camera such as a waterproof case or keep them away from liquids.
2. Keep off the camera lens and LCD
Any oils or dirt on the lens can smudge it and cause permanent damage. Use a microfiber cloth to often clean the lens and LCD for quality pictures.
2. Vacuuming the camera case
Presence of dirt within the camera bag may cause serious damage to the camera. Vacuum the bag to avoid any damages.
3. Use wrist loops and straps
You never know when you may slip and lose stability. Ensure you fix neck straps or wrist loops to help with this preventative maintenance tip.
4. Safely store your camera
There are times when your camera is not in use. It is vital to have a safe place to store it. Avoid storing it in high humidity or wet areas. Additionally, protect your camera from direct sunlight and dust. Keep it in a well-fitting bag for maximum safety.
5. Handle the memory card with care
It is also important to take good care of the memory card because that's where your data is stored. Run a virus scan on it every time you connect it to another gadget, safely remove it and do a regular back-up to avoid data loss.
Photos carry a life-time memory. Losing them is a painful experience. Thanks to the recovery Apps that can recover deleted photos from a digital camera such as Recoverit Data Recovery. They bring back precious memories just at the right time. Additionally, it is prudent to observe safety on your camera as highlighted above.
Solve All Media File Issues
Recover & Repair Photos

Recover & Repair Videos

Recover & Repair Audios

Recover & Repair Cameras