Q: How to Backup photos to OneDrive from PC Android?
"I am willing to back-up the data on my android phone to OneDrive using effortless methods. OneDrive is no doubt the simplest way to carry my data, I just need to make sure that the data that you have uploaded has gone through effective procedures. I have my office presentations and my university assignments in my computer, which is the reason, I want auto backup of my computer as well to OneDrive. I can't afford losing my data due to any causalities, as it will ruin my university as well as professional life. If there is any simplest way to do that, I'd love to follow it."
This fact can't be denied that OneDrive comes in handy at many situations. Still, everyone must be more caring about their data. Backing up your data to OneDrive while you store it on your Pc or even Android phone is the best thing you could do to save your valuable data. In this guide, you will get to know the trouble-free method to back up your android phone and computer to OneDrive. Not only that, but you will get to know about why a lot of people make back up on OneDrive. The steps mentioned in the guide are the most effortless steps. Just read the guide carefully to get all the answers.
Part 1: Why you need to backup photos to OneDrive?
While we go direct to the solutions of our problems, the significance of that solution is always left untouched. There are thousands of people around the world who backup photos to OneDrive, but why do they actually prefer OneDrive for their data, that's the answer you should know. There are multiple reasons that people feel secure backing up their data on OneDrive, this online storage is remarkable, when it comes to performance. However, these are some of the most common reason why you need to backup photos to OneDrive;
People are usually afraid of losing their data due to any misadventure, there can be multiple cause which can result in data loss. These causes include virus attack, hardware failure, physical damage or any other causality. No one wants their data to be lost such easily, as memories are irreplaceable. This is the primary reason why people backup photos to OneDrive.
The second reason behind people backing up the data on OneDrive is that it gives you the option to access your data from anywhere anytime you want. In this time period, every person wants to access the data from multiple device, without keeping a USB flash drive or external hard drive, these storage devices are prone to lost or get damaged. OneDrive gives you the utility to access your data from multiple electronic devices. You just need internet to access these uploaded photos on OneDrive.
The best thing about OneDrive is that it gives five Giga bytes of free storage space to upload your valuable photos. However, if you wish to acquire more storage space, you can sign up for Office 365 to attain more space. Although, the free space given by OneDrive is also quite beneficial.
---
Part 2: How to backup photos to OneDrive from Computer?
Now, we are here at the compulsory part of our guide. In this section we will be discussing upon various methods to backup photos to OneDrive from your computer. Majority numbers of the people keep their bulks of data on the computer, as PC usually large number of storage space, this is the reason data is primarily stored in computer. However, the people who strive to upload some of it on the OneDrive can follow these two methods to create free space on their computer and also to enjoy the cherishment of online drive;
1. Backup photos to OneDrive automatically with AOMEI Backupper
We will begin with the easiest method to backup photos to OneDrive from computer. In this method, we will be using AOMEI backupper to automatically backup your photos to OneDrive.
AOMEI backupper
The finest software in market is the AOMEI backupper, which you can use to effortlessly backup photos to OneDrive automatically from the computer. AOMEI Backupper is an advanced backup and restore software which contains all features of the Standard edition, provides complete and reliable PC backup and restore strategies for any of the windows version. System Clone, Backup Scheme, Dynamic Disk Backup, Dissimilar Hardware Restore, Merge Images etc. and many others diverse and useful features are available. The software gives you the utility of automatic backup, which is much needed. Follow the steps to use the software to backup photos to OneDrive automatically;
Step 1: Download and install the software on your computer. After that launch the application and click on "Backup" and choose file sync.
Step 2: Open the option "Name the task" and then "Add folder" to select the folder which has the photos which are to be uploaded. Now, click the drop-down menu and the select the option "select a cloud drive" and confirm on OneDrive.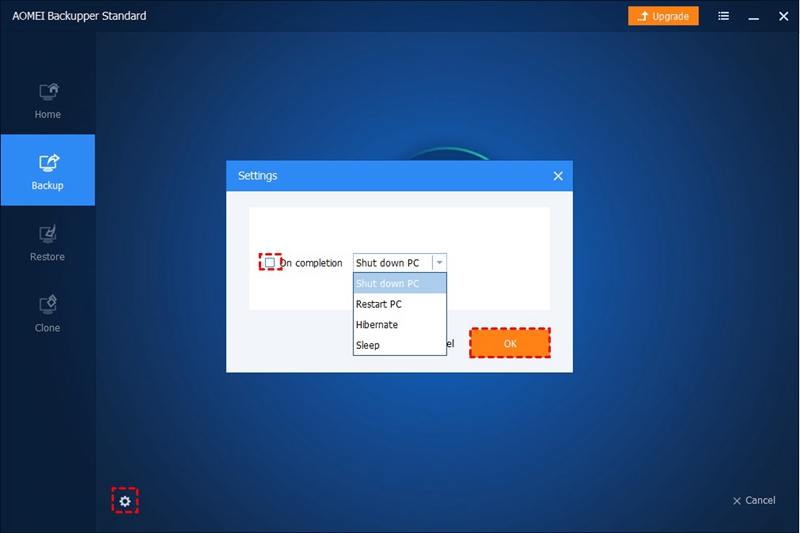 Step 3: Furthermore, choose the option of "Schedule" and select the schedule backup task and set the backup to daily, weekly, monthly as per your requirement.
Step 4: Confirm your selection by Ok and start the synchronization process.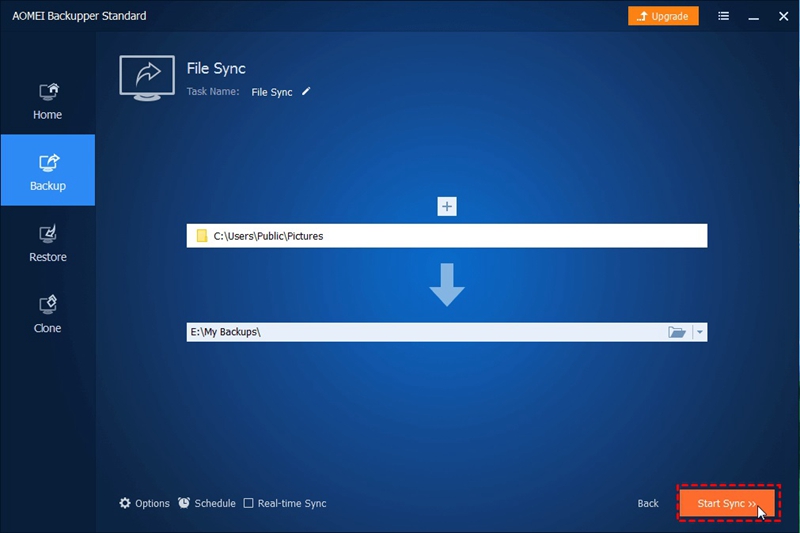 2. Backup photos to OneDrive using OneDrive folder
This method is also quite convenient for the people striving to backup photos to OneDrive. In this method, you will be utilizing the OneDrive folder to back-up your precious photos on the online drive. The OneDrive folder is already present on your computer, you just need to transfer your data in this folder to make an online backup. Follow the steps to efficiently perform the method;
Step 1: Open your computer and make sure you have good internet connection.
Step 2: Now, you can either make a separate folder of the picture that you want to make backup of, or you can individually select all the photos.
Step 3: Once you have made the advanced folder with all the photos, right-click on the folder and select the "Copy" option.
Step 4: Now, go open the OneDrive folder on your computer and paste the previously copied folder with all your photos. Well, these are the only steps. The folder you added in the OneDrive folder will be backed up on the online cloud storage.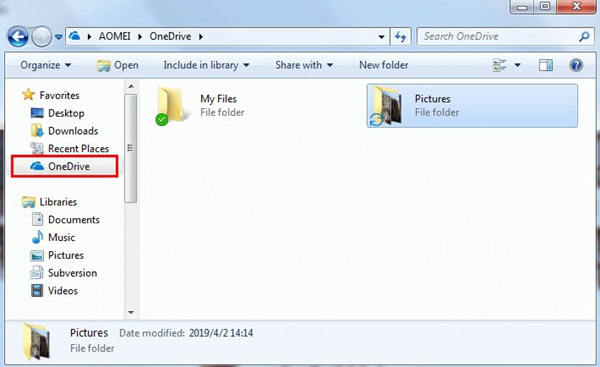 ---
Part 3: How to Automatically back up your android photos to OneDrive.
This is certain that you can make a backup of your photos on OneDrive using android too. There are a lot of people in the world who use android phone and want to make a backup of their photos. Well, this is not a stiff task, you just need to follow some simple two steps to automatically backup your android photos to OneDrive. Make sure you have downloaded the OneDrive app on your android phone.
Step 1: If you want to enable camera backup during initial login, you can just launch the OneDrive and sign in. once you have signed in the OneDrive, you can surely turn on the camera backup, which will automatically back up your android photos to OneDrive.
Step 2: The people who wish to enable camera backup from settings can first launch the OneDrive and sign in. Furthermore, they can go to the settings and enable camera backup and then to set upload settings, select the option of include videos if you are using iPhone. You can either use mobile network or Wi-Fi to upload your backup to OneDrive.
---
Conclusion
There are number of storage devices which you can utilize to make backup of your data. However, online cloud storage like OneDrive is one of the most effective way to do that. Millions of people cherish the features of OneDrive. The only thing that you need to keep in mind is that you should never go for the software that you don't trust, software's like AOMEI Backupper are the finest to automatically back photos to OneDrive.
Data Backup Services
Computer Backup

Hard Drive Backup

Mac Backup

Cloud Backup