The essence of carrying out a data backup on your computer system cannot be overemphasized. Your precious data may be at risk due to computer crashes, virus infection, hard drive failure, theft and physical computer damage. Thankfully, a lot of backup software is available on the market. The initial setup may take some time for you to get started, but surely you will pull through once you are on the right track.
This article will take a look at the benefits of backing up a computer, as well as, the step by step procedures of using the AOMEI BACKUPPER software. Without further ado, let's set the ball rolling.
Part 1. Why necessary do a regular data backup?
The following are some of the reasons to carry out a regular data backup:
Computer crashes: Computer crashes are one of the drawbacks of using a computer. It is inevitable and can occur anytime. Therefore, it is important that you backup your important documents in order not to lose them when a computer crash occurs.
Virus infection: Virus infections are malicious software that is capable of infecting your computer. They can even disable your computer if not taken care of properly.
Failure of a computer's hard drive: The lifetime of a computer hard drive is finite. This means that your computer can fail even without giving you prior notice. It, therefore, becomes important for you to back up your data in case your computer fails to start due to the hard drive.
Physical computer damage: A physical damage to a computer can make you lose your data, especially if you are using a laptop.
Theft: While travelling, you may lose your computer to armed robbers or your neighbor could even pick it up without your knowledge. Given this, you will lose your precious files like travel and family photos.
Types of files to backup
The following are some important data you should consider backing up:
Documents: It is important that backup your documents such as your work contents. Even the temporary files that are on your desk needs a backup.
Music: Music files are important to make you relax and unwind. In order not to lose them, you need to back them up.
Videos and pictures: Videos and family pictures are considered as priceless wealth. Pictures are a witness who will enable you to remember past events. If possible, we recommend that you regularly back them up.
Part 2. The Best Backup Software for 2018
The most popular and most used backup modes are Disk Backup, Partition Backup, as well as System Backup. These modes are effective because it provides users with robust ways of backing up their systems. This is exactly where the AOMEI Backupper software comes in.
AOMEI Backupper is a software that is designed for server and Windows PC users to backup or restores files and system. With its high technologies and user-friendly interface, backing up a system, partition, and disk becomes a lot easier. When you use AOMEI Backupper, you can quickly and easily restore your computer image once there is a data loss or a system crash. AOMEI Backuppe file sync is helpful whenever you intend to store a synchronized file in a remote location. There is an availability of system clone, partition clone, and disk clone making operating system migration and transferring of data simpler.
The following are the major features of the AOMEI BACKUPPER software:
Backup: File backup, Disk backup, System backup, partition backup, and file sync.
Clone: Partition clone, system clone, and disk clone.
Utilities: Create bootable media, merge images, and PXE boot tool, among others.
Support: Differential backup, schedule sync, incremental backup, and dissimilar hardware restore.
Part 3. How to Backup Data with AOMEI Backupper
Free download and install AOMEI Backupper backup software. Now, follow the next simple steps to start to do data backups on Windows computer.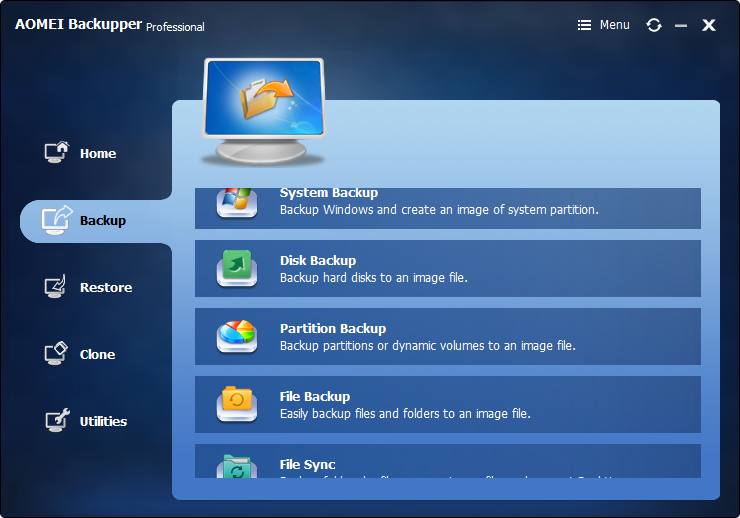 Allows you to take automatic, full, incremental and differential backups of system, disk, partition and files.
Supports system restore, disk restore, dissimilar hardware restore, partition restore and selective file restore.
Supports disk clone, partition/volume clone, flexible clone, system clone and command line clone.
Can schedule file sync for real-time data backup to internal hard disks and external hard drives.
Offers additional essential utilities - PXE boot tool, merge backup images, encrypt image, etc.
Supports Windows 10, Windows 8.1/8, Windows 7, Vista, and XP (all editions, 32/64-bit)
Step 1 To back up files with AOMEI Backupper, select "File Backup" under the "Backup" tab.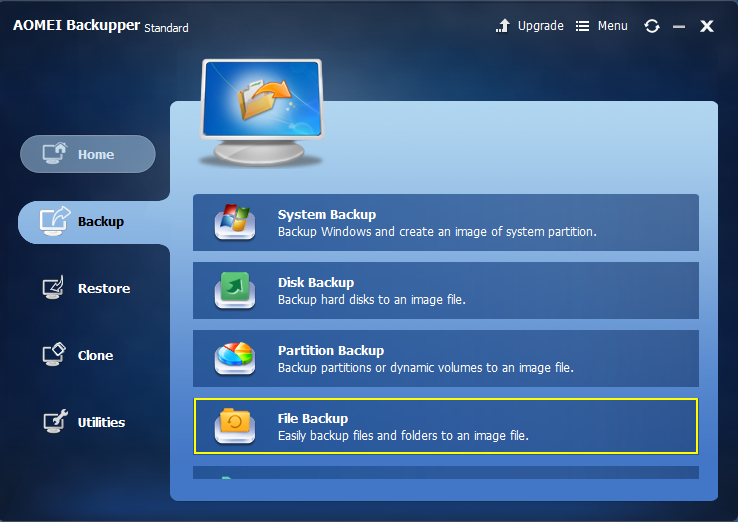 Step 2You can name your task for easy identity, and then click "Add File" or "Add Folder" as per your needs. Here takes "Add Folder" as an example.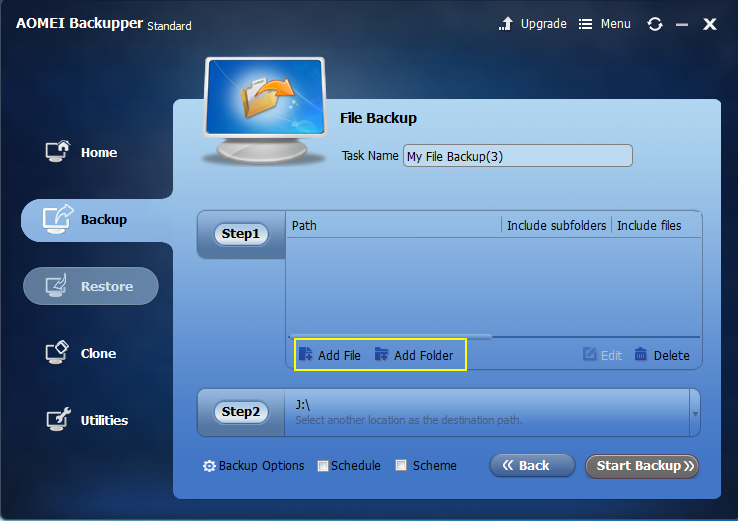 Step 3On the pop-up window, you can click "Browse" to select the folder you want to back up. Then click "OK" to go on.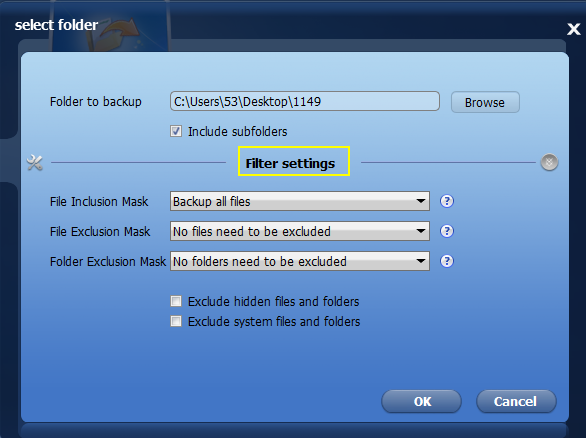 Step 4By default, it will automatically pick a location to save the backup folder. You can also click "Step 2" to select the other locations for backup files storage.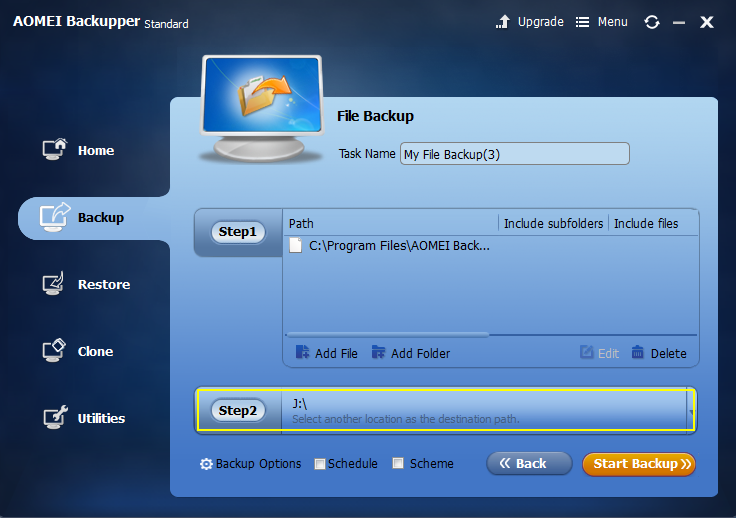 Step 5Finally, hit on the "Start Backup" button to begin the data backup. It will take only a few minutes to finish the backup process.