If your Windows system is not able to boot, then don't panic. Chances are that all your important files are safe and you can recover data from unbootable devices without much trouble. To do this, you can take the assistance of Windows Preinstallation Environment as well. It doesn't matter what caused your system to crash, you can make an effort to recover your lost data. In this post, we will make you familiar with an easy way to recover data from unbootable devices that are not able to start in an ideal way.
What Makes a PC (or hard drive) Unable to Boot?
Here could be plenty of reasons for your PC or hard drive to malfunction. From a hardware issue to a malware attack, your system can stop booting out of the blue. Some of the reasons are:
A hardware issue in the motherboard or processor could have caused it.
Sometimes, overheating of the system can also cause problems with its booting.
If the system has been infected by a malware or virus, then it can also cause this issue.
If the temporary memory has been crashed (by launching several applications at the same time).
If the BIOS has been erased from the system.
If the hard drive has become inaccessible or has been formatted entirely
If you are not able to reboot your devices, then you should not panic. Try not to input any other data and make an effort to recover data from unbootable devices with a recovery tool with Windows PE bootable media.
How to Recover Data from Unbootable Devices?
Most of the users think that performing a data recovery operation from an unbootable device is not feasible. While you might have to walk an extra mile, you can easily recover data from unbootable devices using Recoverit. The new and advanced version of Recoverit data recovery tool also supports Windows Preinstallation Environment. Therefore, you can take the assistance of this tool to perfrom an operating system crash reovery.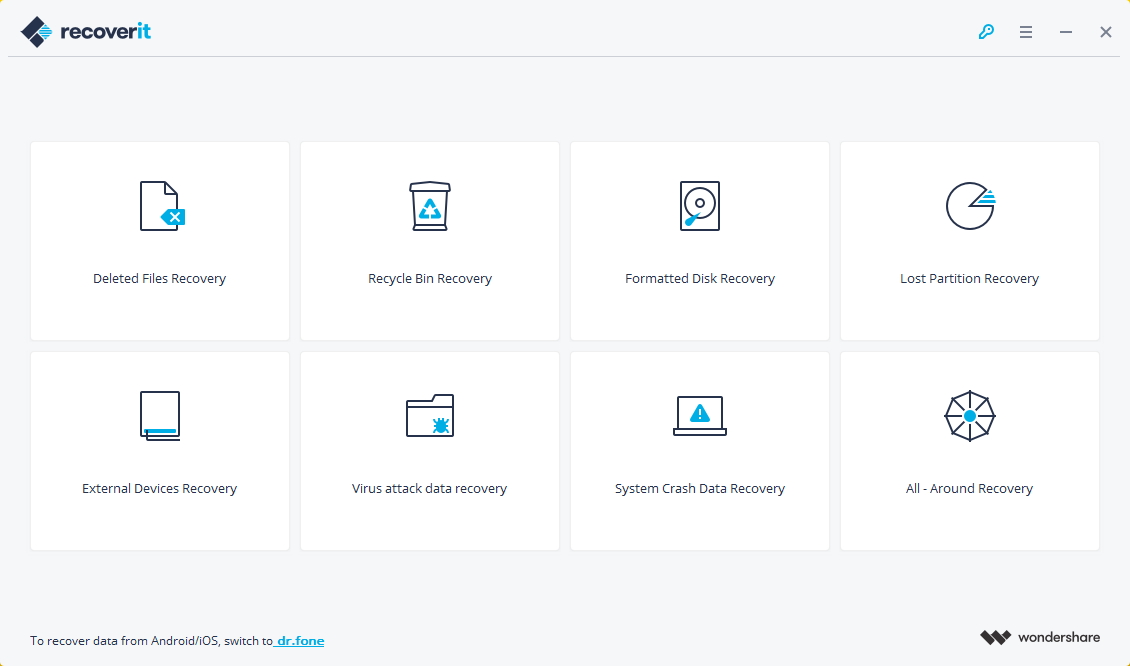 Recover lost or deleted files, photos, audio, music, emails from any storage device effectively, safely and completely.
Supports data recovery from recycle bin, hard drive, memory card, flash drive, digital camera and camcorders.
Supports to recover data for sudden deletion, formatting, hard drive corruption, virus attack, system crash under different situations.
Security Verified, people have downloaded it
1. How to Create a Bootable Media (disk or USB drive)
Create Windows PE bootable disk (CD, DVD, or USB drive) using the tool with Windows PE. Get a blank CD/DVD or a USB flash drive and connect it to a workable computer.
Step 1 Free download and launch Recoverit. To create a bootable media, please select "System Crash Data Recovery" mode to get started.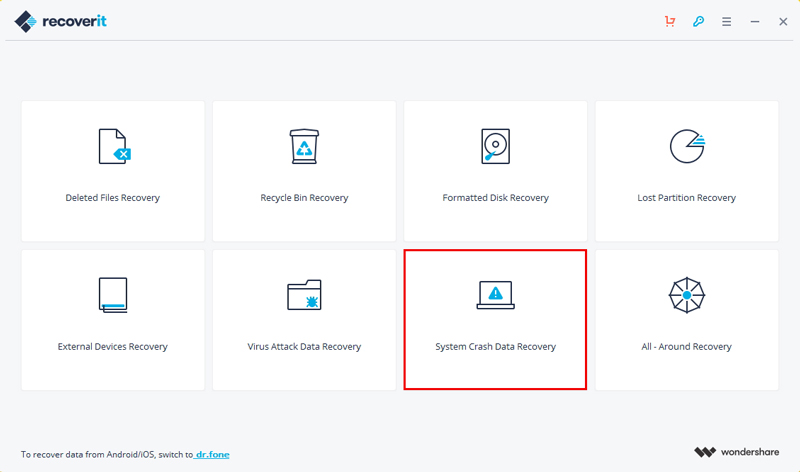 Step 2 Then, select a mode to create a bootable drive when the Windows system is unable to launch. You can select USB bootable drive or CD/DVD bootable drive and click "Create" button to start.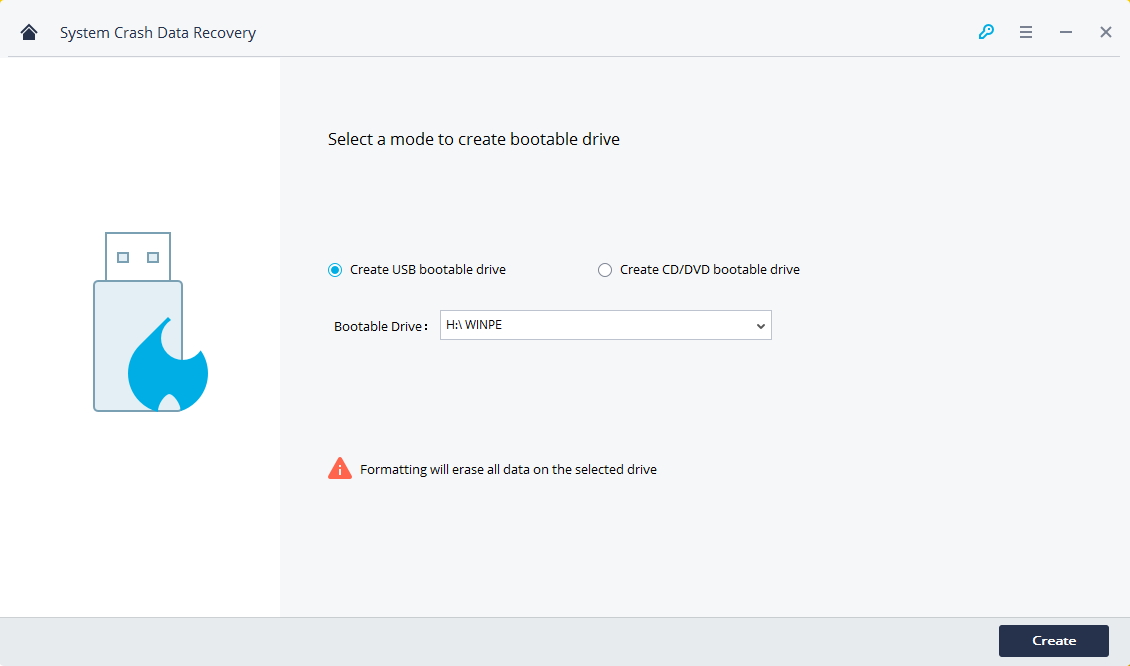 Step 3 To continue creating a bootable meida, click "Format now" button to move on. Please note that formatting will erase all data on your selected drive, so make sure that they have been backed up beforehand in case of data loss.
Step 4 During the process of creating a bootable drive, please do not eject the USB flash drive or pull out the CD/DVD drive. It will take for a while to complete the creating process.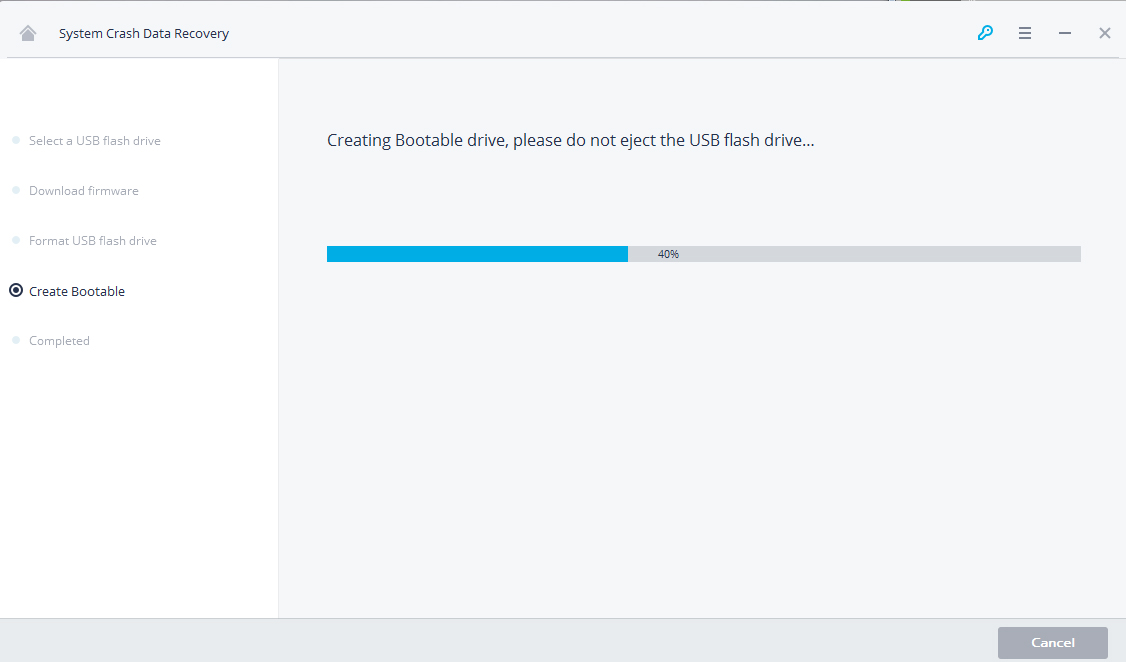 Step 5 Finally, you will see some guides on how to recover your data from a damaged hardware using the bootable media.
Adjust the BIOS to boot from USB/CD/DVD: restart your crashed computer and press the BIOS entry key from the computer launching screen. You can check out this page to learn how to set your computer to boot from a USB/CD/DVD drive.
Connect the USB flash drive or insert the CD/DVD drive to your computer.
Restart your computer and start to recover data from the crashed system.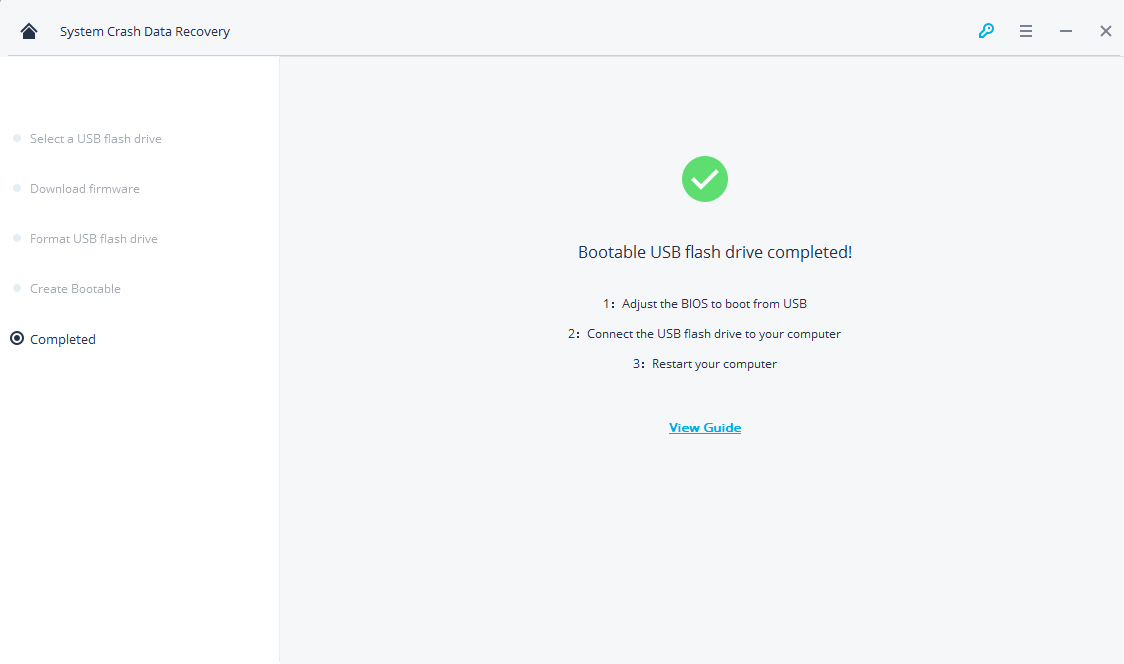 After completely created bootable media, you will need to set your computer to boot from USB drive or CD/DVD. Start your crashed computer and learn how to enter your computer BIOS, you can follow the guide: how to set computer to boot from USB drive or how to set computer to boot from CD/DVD.
2. How to Recover Data with Data Recovery WinPE
Retart your crashed computer after setting computer BIOS. Get to start recovering data from unbootable devices with Recoverit to create Windows PE bootable media.
Step 1 Select the secenario. To recover system crash data with the bootable drive, you can select "All-around Recovery" mode to get started.
Step 2 Select the target location where the data gets lost and click "Start" button to process.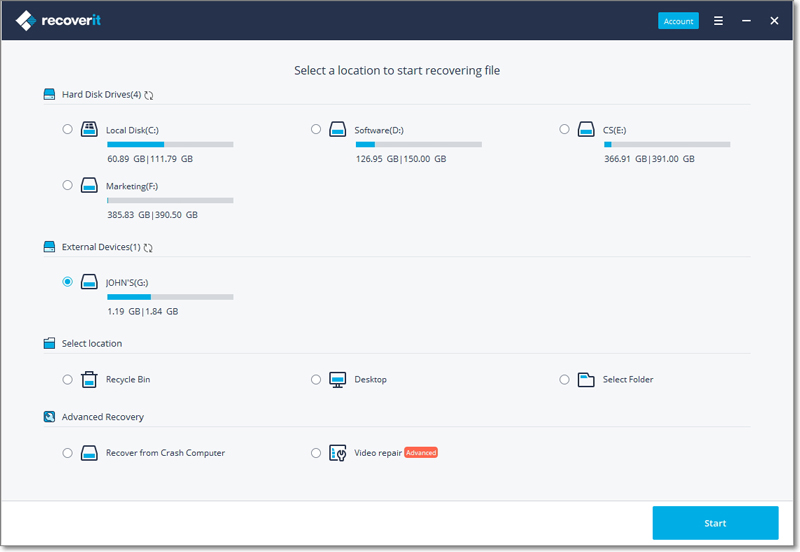 Step 3 This software will immediately scan your computer for your lost data. If you can't still find the wanted files, please try "Deep Scan" on the bottom left to deeply search more files.
Step 4 Finally, you can preview the displayed files, choose the ones you want to recover and click "Recover" button to get them back.
In order to make sure that you are able to recover data from unbootable devices without facing any unwanted situation, you can follow these tips:
If your system has been crashed, then try not to restart it over and over again. This might cause some unwanted damage to your data.
If you are not able to access the hard drive, don't use your system to perform any other task as it might overwrite the deleted content.
3981454 people have downloaded it