What's ASL.dll file?
ASL.dll is an important file saved in the Windows system folder. Generally it's created automatically during the installation of operating system, and plays a vital role for the normal and stable running of the system. So normally, no one is supposed to modify this file.
Common ASL.dll errors
When the ASL.dll is abnormal, there will be related error messages displayed:
• ASL.dll is not found.
• The program cannot start because ASL.dll is missing.
• Error Blackra1n: ASL.dll not found.
• The program can't start because ASL.dll is missing from your computer. Try re-installing the program to fix the problem.
• The file ASL.dll is not found.
1

How to Fix Blackra1n ASL.dll Error?

Usually, the Blackra1n ASL.dll error occurs for different reasons, and according to the different reasons, there are different ways to fix it.
• Upgrade iTunes from 9.0 to 9.1 versions.
• Installing Jailbreaking tool in the PC.
If the error occurs due to the upgrade of iTunes, you can replace the blackra1n executable file to fix it in the locations below:
For 32 Bit Windows: C:Program FilesCommon FilesAppleApple Application Support
For 64 Bit Windows: C:Program Files(x86)Common FilesAppleApple Application Support
Or you can search "ASL.dll" in the SYSTEM (C:). Usually this file is located in the system C.
• Corruption in registry makes it unable to access the ASL.dll file and cause ASL.dll error.
This error can be easily fixed by repairing the corrupted registry file. To repair the faulty registry file, download the registry repair tool and fix the registry problem instantly.
• Backra1n ASL.dll Error mostly occurs when Windows driver does not support the latest products versions. In this situation when a user tries to run the latest application in the Windows, the system will fail to find the required DLL files and raise DLL error. Then you just need to update the old Windows driver to fix this error.
• Virus, spyware and malware is the also top reason to cause this error. Instantly remove the spyware and malware from the PC and fix ASL.dll error quickly.
2

Recover Lost Data Caused by Backra1n ASL.dll Error

Backra1n ASL.dll error often comes along with data loss from your hard drive. The wrong operations to fix Backra1n ASL.dll error will result in hard drive formatted and inaccessible data, and more unfortunately, you might not have a recent backup data. Under these circumstances, you will need a hard dirve data recovery software to retrieve your data back.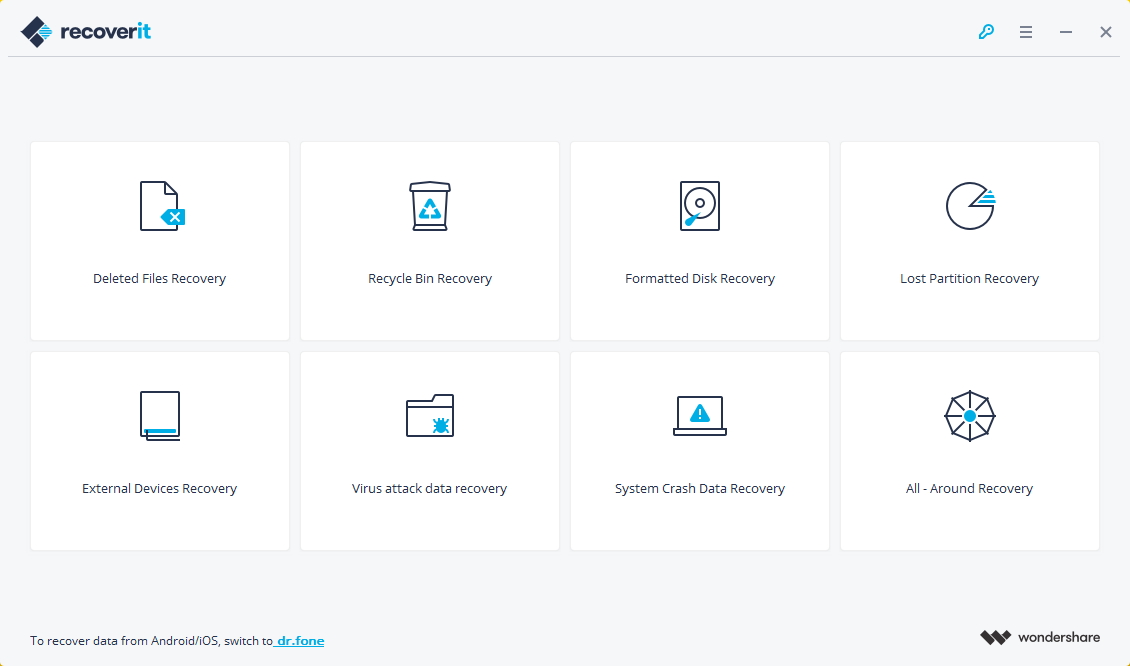 Recover lost or deleted files, photos, audio, music, emails from any storage device effectively, safely and completely.
Supports data recovery from recycle bin, hard drive, memory card, flash drive, digital camera and camcorders.
Supports to recover data for sudden deletion, formatting, hard drive corruption, virus attack, system crash under different situations.
Security Verified, people have downloaded it
Recoverit is capable of restoring deleted/lost files or formatted partition from hard drive (HDD and SSD), external hard drive, usb flash drive, memory card, digital camera, camcorder, iPod, Music Player and many kinds of mobile devices (Nokia, Blackberry phones and Phones with older Android OS than ICS). While offering the advanced recovery modes like "All-around Recovery" mode, it`s pretty easy to use:
Here take the Windows version as an example, and a Mac user can refer to the guide: How to Recover Formatted Mac Hard Drive. Free download and install Recoverit, and follow the simple steps to recover lost/deleted data from your hard drive.
Step 1 Select the data loss scenario. To recover formatted data from your hard drive, please select the "Formatted Disk Recovery" mode to get started.
Step 2 Select the target location. Here a list of hard drives will be shown. Choose the disk where your data gets lost or inacessible, and click on "Start" to go on.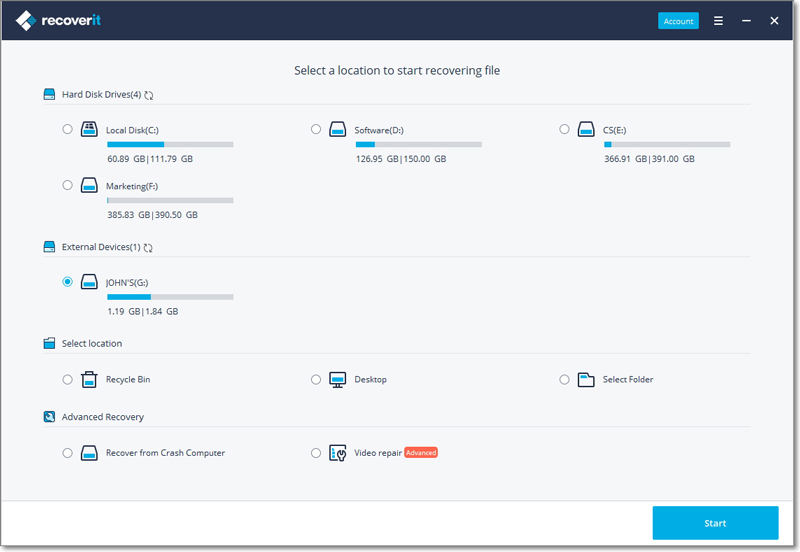 Step 3 Scan the hard drive. Recoverit will quickly scan your selected disk for your lost data. You can also opt for "All-around Recovery" to deeply search more files while it will take longer time.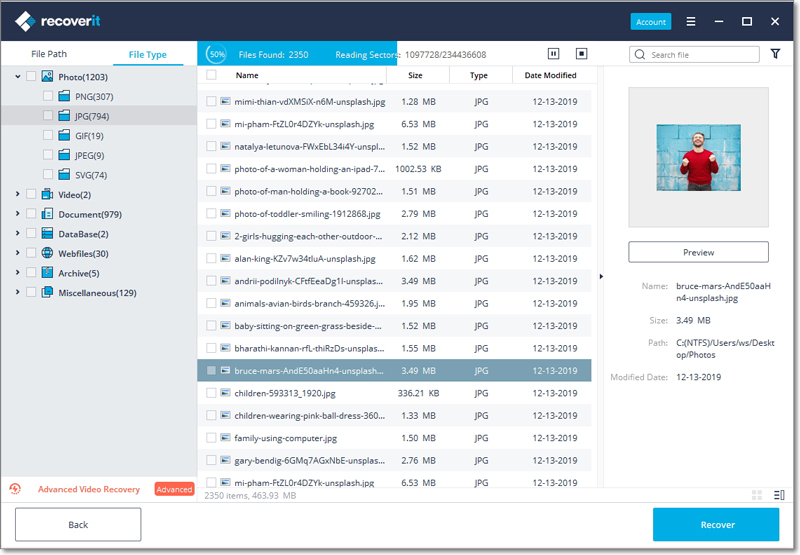 Step 4 Recover your data. Finally, you can preview the displayed files, choose the ones you want to restore, and click "Recover" to get them back.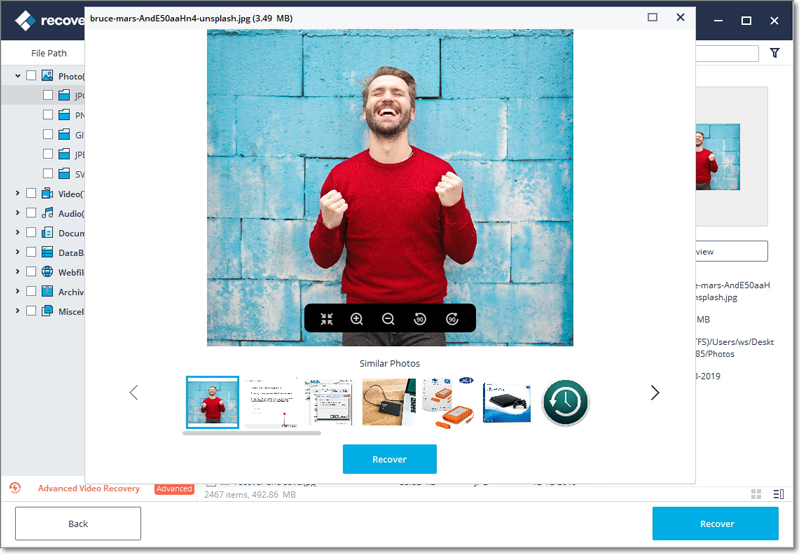 0