If your Windows system is not functioning in the ideal way, then you might need to take some added measures to fix it. Learning how to repair Windows 10 is pretty easy. There are numerous ways to do this and fix any persisting problem with your system. Since Windows 10 comes with inbuilt Startup Repair and Restore tools, you can easily take their assistance to meet your requirements. In this post, we will teach you how to repair Windows 10 in different ways. Additionally, we will help you access your lost or deleted content if your Windows 10 has been crashed.
How to Repair Windows 10
If your computer is malfunctioning due to a corrupted operating system, then it can easily be fixed. You can either use its native UI features or visit Command Prompt to learn how to repair Windows 10. We have listed three foolproof methods to do it.
Solution I: Use Windows Startup Repair
If there is a problem with the booting or startup operation on your computer, then you can take the assistance of Windows native Startup Repair tool. To learn how to repair Windows 10 using Startup Repair, follow these steps:
Firstly, you need to access the Advanced Startup Options on your system. It can be done by pressing the F11 key while the system is getting started.
From the Startup Options, click on the "Troubleshoot" menu.

To access the Startup Repair, go to its Advanced Options.

This will provide a list of various features. Select "Startup Repair" and let Windows perform the needed steps to fix the startup operation on your device.
Solution II: Using a Restore Point
If your system has already created a Restore Point, then you can use this option. After using the Startup Repair feature, the tool will ask you to restore your system.
The basic steps are the same as the previous technique. You need to go to the Advanced Options and choose to perform a "Startup Repair".
After the system is restarted, you will be asked to select an account to log-in.

Furthermore, you can proceed by providing the correct password for the account.

This will provide a list of the restore points that are available. You can select the latest restore point and continue.
Solution III: Using the Command Prompt
If you are not able to repair Windows 10 with the Startup Repair tool, then you can also take the assistance of the Command Prompt. Windows has a native command to scan the problem in the operating system and fix it. Using it is pretty easy as well. You can learn how to repair Windows 10 by following these steps:
To begin with, you need to launch Command Prompt. Go to the Start Menu and look for "cmd".

Right-click Command Prompt and run it as an Administrator.

Once the Command Prompt window has been launched, type the command "sfc /scannow" and press enter. This will automatically repair your Windows by fixing all the prominent issues.
By following the above-mentioned solutions, you would be able to learn how to repair Windows 10 PC. Nevertheless, if you are still not able to troubleshoot the problem, then we recommend using a third-party data recovery tool. This will help you perform the recovery operation and retrieve any lost or inaccessible content on your system. You can take the assistance of Recoverit, which is considered as one of the oldest and most trusted recovery tools out there. Its latest version now supports Windows Preinstallation Environment as well.
How to Recover Windows 10 Data
Therefore, you can create a bootable media by using Recoverit. This can help you recover your lost data or make a copy of your hard disk as well. If your system is crashed, then the tool would be of a great help to you. Ideally, you should always keep a bootable media ready as it can be used during an emergency. The tool is compatible with every leading version of Windows (including Windows 10) and can recover all the prominent data files (more than 550 formats supported). You can follow these steps to use it and perform operating system crash recovery.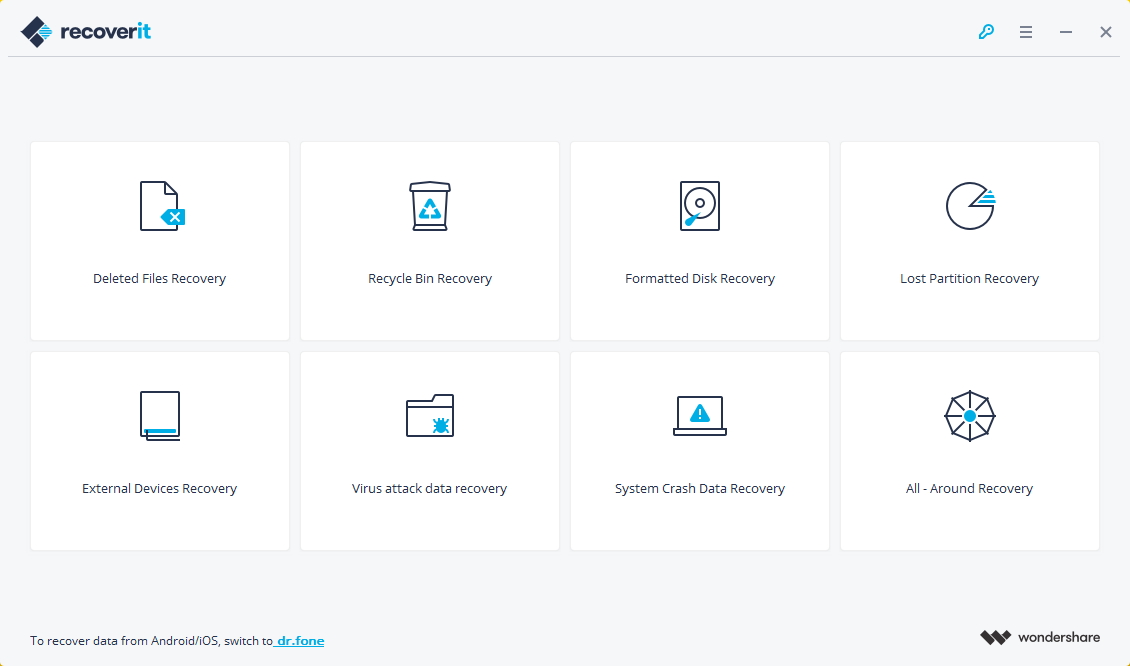 Recover lost or deleted files, photos, audio, music, emails from any storage device effectively, safely and completely.
Supports data recovery from recycle bin, hard drive, memory card, flash drive, digital camera and camcorders.
Supports to recover data for sudden deletion, formatting, hard drive corruption, virus attack, system crash under different situations.
Free download and install Recoverit on a workable computer. Then prepare a blank USB drive and connect it to the computer. Launch Recoverit and follow the next simple steps to start creating bootable media.
6-step to recover data from crashed Windows 10
Select a scenario. To get inaccessible data from the crashed internal hard disk, please select the "System Crash Data Recovery" mode.

Create a bootable media. Recoverit can be used to create a bootable drive to help you extract data from a crashed system. Click on "Start" to go on.

Select a mode to create a USB or CD/DVD bootable drive and click "Create" button to move on.

An alert message about formatting USB flash drive pops up. Make a point of backing up your important data before formatting the USB flash drive. Click "Format now" button to confirm.

During the process of creating a bootable drive, please do not eject the USB flash drive or pull out the CD/DVD drive. It will take you a while to complete the creating process.

After the bootable USB flash drive or CD/DVD drive is created, you will receive a guide to retrieve your data back.

a) Adjust the BIOS to boot from USB/CD/DVD drive: restart your crashed computer and press the BIOS entry key when the first screen displayed. You can check out this page to learn how to set your computer to boot from a USB drive or CD/DVD drive.
b) Connect the USB flash drive or insert CD/DVD drive to your computer.
c) Restart your computer and start to recover data from the crashed system.
Now when you know how to repair Windows 10, you can easily fix any persisting issue on your system easily. If you are not able to boot your system or access your data, then you can also use Recoverit. It is a remarkable tool that will come in handy to you on numerous occasions. Go ahead and give it a try and feel free to share your feedback with us!
3981454 people have downloaded it