It has been observed that while users refresh and update their Windows versions and settings, more often than not, the operating system has a tendency to freeze and crash. This can be frustrating for users. Windows update exists to keep Windows and other Microsoft programs up to par with recent technological demands; as well as handle more functions and tasks on a more effective note. There is a constant change in the world of technology which requires Windows to incorporate updates such as security updates and basic Windows settings.
Unfortunately, it has become common for Windows update to cause one problem or the other, ranging from displaying error messages to the more devastating problem of Windows OS freezing.
Here, you will find out several solutions to fix your PC during Windows update and more importantly, you will learn how to prevent this crash from repeating itself whenever your PC goes through a Windows update.
Part 1: Can Your PC Crash from Updates?
It is true that your PC can crash from updates. Sometimes, Microsoft exhibits incompetence as Windows updates can cause more damage to your system rather than make it more efficient. It's very probable that more than 90% of the computers in any office run on Windows. You could be using a PC in your office for something particularly important and then, it crashes. This could cause genuine budgetary misfortunes on the organization, and even taint your reputation as a competent worker.
Recently, computer crashes have become more common, mainly because of technical reasons like low hard drive space, installation of malicious software, etc. In addition, other factors responsible for computer crashes include poor computer maintenance of both software and hardware. Furthermore, you can lose valuable and sensitive data if Windows update crashes your computer. You can prevent this from happening by trying out one, or all, of the simple tips provided for you. Deactivating your Windows updates is a tip, but note that taking this course of action will mean missing out on all updates Windows sends your way. However, look on the bright side: you limit the possibility of Windows update spawning errors that compound the situation.
---
Part 2: How to fix the problem of windows crashing
If your Windows crashes because of an update, don't call an expert just yet. Try any of the following solutions to solve the problem:
Solution 1: Restart Your PC and Check for Updates Once More
This is the simplest way to fix your system if it freezes during a Windows update. Here, you have to forcefully shut down and restart your system, then check for the updates once more. To reiterate, updating your Windows doesn't necessarily mean it will crash; this solution only becomes necessary if your system crashes during updates.
1. Press down the power button for a few seconds until it shuts down. Press it once more to start up the system.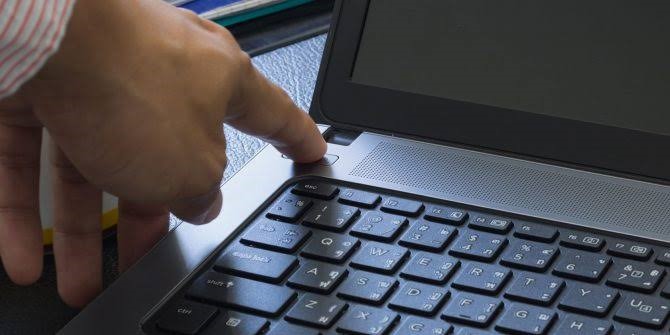 Checking for updates will require you to do more, so pay attention to the following:
1. For Windows 10, navigate to the "Settings", then click on "Updates and Security". Select "Windows Update".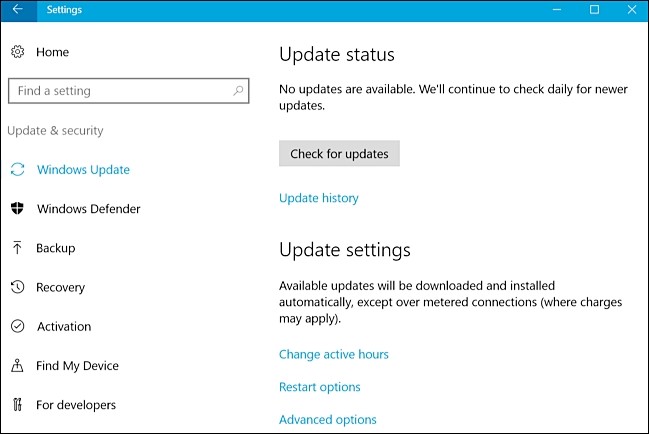 2. The steps are a little different for Windows 7. Here, you follow this path: "Control Panel"> "System and Security> "Windows Update" to check for Windows update once more.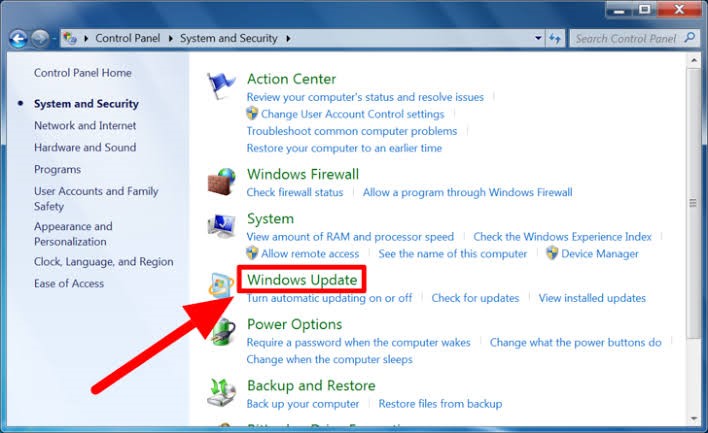 Solution 2: Run the Official Troubleshooter for Windows Update
Windows 10 comes with a troubleshooter that can streamline the process of identifying a problem and solving it. Follow these steps to use troubleshooter for Windows update:
1. Launch the "Control Panel" on your system and go to "All Control Panel Items"
2. Click on "Troubleshooting".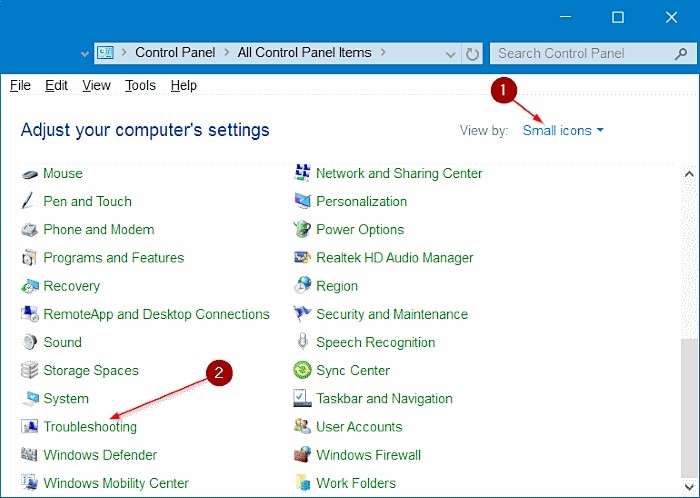 3. From the left panel, click on the "View all" option to be given a rundown of Windows troubleshooters. Look below and click on the "System and Security" troubleshooting link. Next, click on "Fix problems with Windows Updates".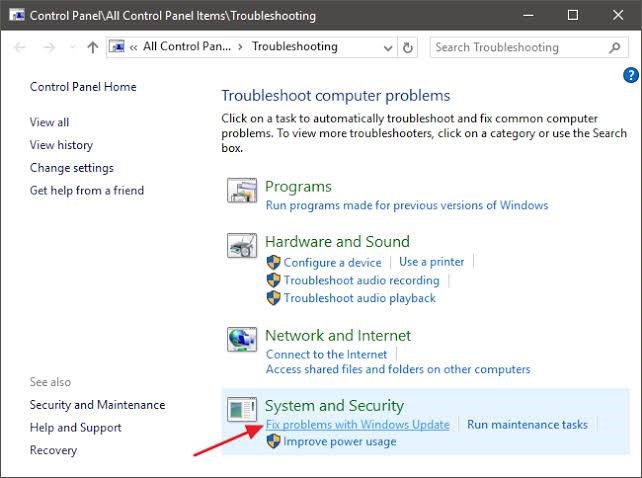 4. A window will open up. Here, you will be able to take steps that troubleshoot the problems you're facing due to Windows updates. Select "Advanced".
5. Enable the "Apply repairs automatically" box, and then select "Run as administrator". Click the "Next" option.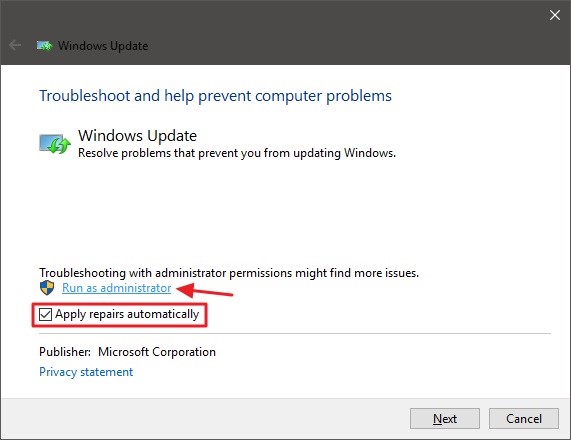 Solution 3: Run Windows in Safe Mode
Safe mode is a very convenient function to use because even if your operating system is misbehaving, you'll still be able to access it and fix the problem. You can avoid a direct access to the operating system by going through safe mode instead.
1. Click on the "Start" menu, then click on the "Power" button.
2. Choose the "Restart" button while pressing down the "Shift" key to enter its propelled settings. This will dispatch the reboot alternatives. Click on the "troubleshooting" area to continue.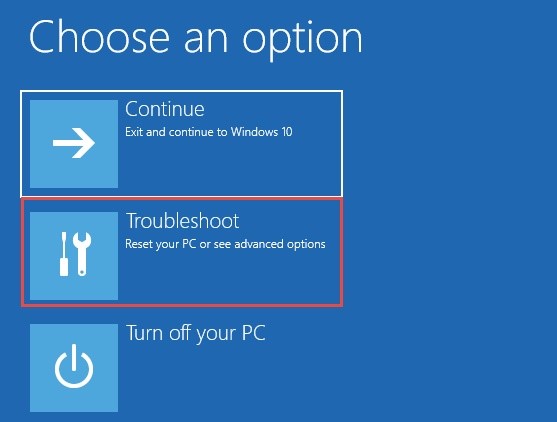 1. Go to "Advanced Options" to get access to various options.
2. From the "Advanced Options" provided to you, click on "Startup Settings".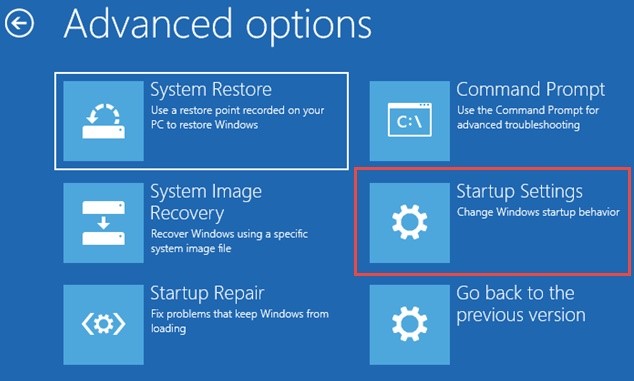 3. Enable the "Safe Mode" option from here and click on the "Restart" button to restart your Windows in safe mode.
Solution 4: Go back in time with System Restore
System Restore is one of the amazing functions built in the Windows OS. It involves using a current restore point to fix the Windows update issue. You can achieve this with the following steps:
1. Launch "Control Panel" and go to "System" > "System Protection highlight"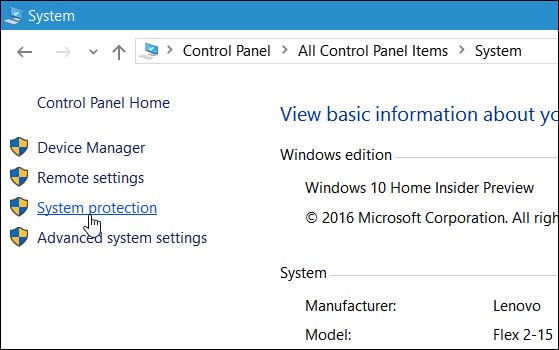 2. Click on "System Restore" to dispatch its wizard.
3. Choose the alternative option, "Show more Restore Points". This will give a rundown of all the available restore points. Make your choice and continue the process of restoring your system.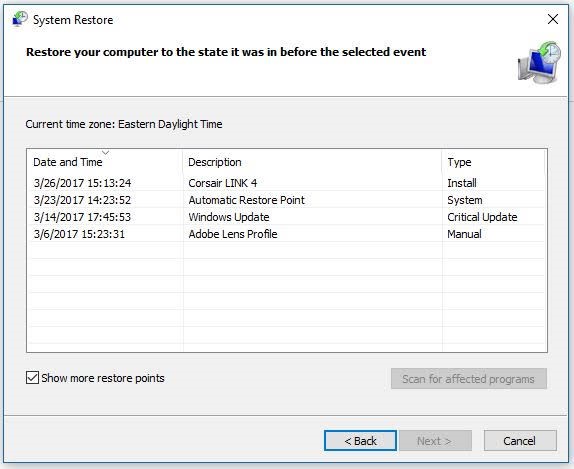 Solution 5: Run a Full Windows Reset
If none of the solutions mentioned above works, then you can fix the problem by resetting your system. Since this function will reset your framework to default settings, you should consider it only as a last resort.
1. Launch Windows settings and go to the "Update and Security" option.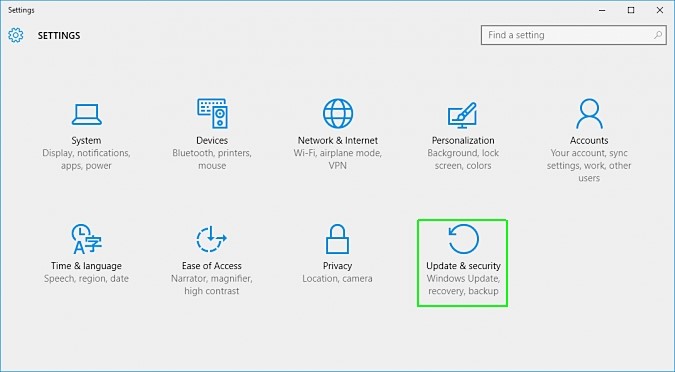 2. From all the options listed on the left panel, click on "Recovery".
3. This will give a rundown of all recovery tasks on the right. Click on "Get started" under the "Reset this PC" area to begin the process of resetting your system.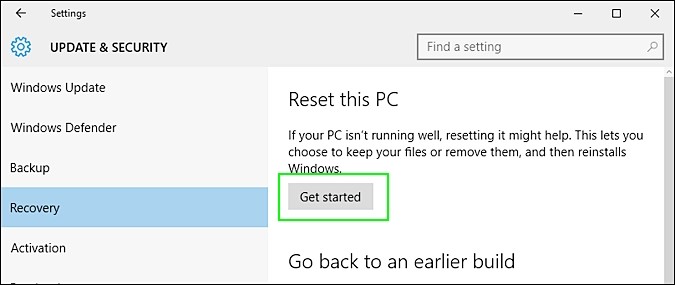 4. Follow the on-screen guidelines. Meanwhile, it is suggested you first back up your information before fully resetting your system. Afterward, restart your PC with default settings and then try refreshing it once more.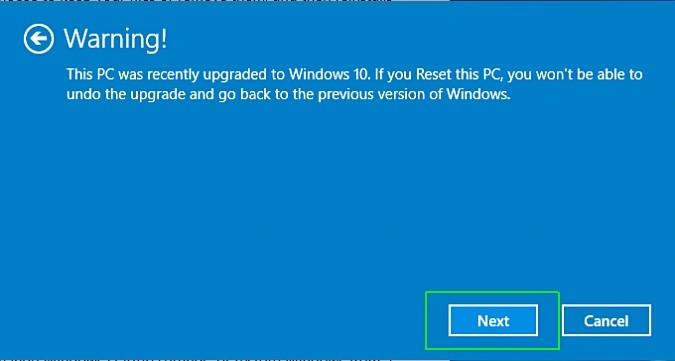 ---
Part 3: How to Prevent Windows from Crashing During Windows Update
Here, you will learn how to prevent Windows from crashing during an update so you won't run into the risk of losing files from your PC, as a result of the crash.
Consider the availability of constant power because a lot of damage can be done to your PC if your system shuts down during updates. Therefore, it is important to begin at a time when you are sure of stable electricity to power your PC during the whole process.
Below are precautions you should take in order to prevent Windows from crashing during updates:
Continuously backup your information

This is an easy task to perform. For instance, after updating your Windows and you get stuck in the circle of refreshing it, you can uninstall the OS and install it again knowing that your files are safely backed up and you will not lose any file.

There are several ways to backup information: from physically replicating your records, and files to a disc or a glimmer drive, a blaze drive, external hard drive, to setting up a 5-minute backup routine using an online backup administration. You can also settle for a blaze drive, external hard drive, or send them up to the cloud utilizing one of the numerous available backup apparatuses. Information backup is an absolute necessity, and this is not in view of your update freezing up your system, but for your general security

Change Windows Update settings to "Download updates yet let me pick whether to install them"

This precaution implies changing Windows update settings such that new applications will never get automatically installed again. This means that although the settings will permit new updates to be downloaded to your system, you will have to manually enable them to install on your PC. This gives you control over the process because you decide which security update or otherwise gets established on your PC and which update doesn't. It is a one-time change so if you haven't done it, it is recommended you do it now. The idea is that your PC does not get to put in new updates until you are prepared for them. All the latest versions of Windows give you the choice of postponing the establishment of updates until the conditions are right and you are ready.

Keep at least 20% of your main hard drive free

Ensure that at least 20% of the space on the drive on which you need to perform updates, is free at all times. This is because you need enough free plate space while performing your system's "restore" function. After all, if free plate space isn't accessible, you won't have the option to make use of the "Restore Point."

The reality is that during Windows update, additional records get downloaded and put away on your PC hard drive. Therefore, a few documents won't be downloaded and the update procedure will become deficient, thereby leading to some files missing. The issue of missing documents is a common reason for system crashing after update. This is because as few files get missing during an update, it leads to an ineffective completion of the process.

Restart your Windows framework:

Make sure you restart your PC appropriately by utilizing the restart highlight from inside Windows, and affirming that the system starts again effectively. Certain circumstances require you restart your PC. For instance, when Windows restarts on some PCs, numerous issues tend to show up. These may be issues brought about by certain malware, equipment damages, and so on. If your system doesn't start appropriately, fix the issue before refreshing Windows, else they will prompt your PC to crash when you are refreshing your Windows.

Make a restore point physically before applying updates:

A restore point is naturally made by Windows update even before the various modules or apparatuses are introduced. However, it's more preferable for you to make one physically to include an additional layer of security.

Having changed all your programmed updates and secured your system with the working of your "System Restore", you can now be able to introduce the updates. But before you continue, pursue these measures:

1. Incidentally incapacitate your antivirus program: You should disable your antivirus program when updating your Windows programs. This is to prevent issues from arising as the new programs get installed on your system. It doesn't imply incapacitating the whole antivirus; it simply means disabling the option that keeps it "on" or active at all times so it doesn't interfere with your update.

2. Separately introduce the updates: Install each update in turns and after applying each one, simply restart your PC. This may be tedious but then it forestalls the majority of the issues that may emerge while refreshing Windows.

Remember, before you perform any of the afore-mentioned activities, ensure you have all vital information backed up from your PC. If you do not do this, there are immense odds of losing all your crucial documents. A solitary error while executing the Windows Update can cause great loss of important information from your PC. If this happens, a great tool you can use is the Recoverit Data Recovery. It recoups all your information, including the information had before refreshing your Windows. Simply utilize this great application to restore information to your PC if your Windows OS crashes.

Now, you can carry out the update by following the tips and measures that have been previously mentioned.

---

Part 4: Things You Consider Before and After a Windows Update

Before you update your Windows to a new version, ensure you do the following to make for a smooth updating process:

Back up your System Image: For security reasons, the first thing on your list should be a system backup. This cannot be emphasized enough. You can make use of the backup system that is built in Windows or use a good third-party tool.
Check for System Compatibility: Do not be in a rush to update your Windows without checking to know if your system meets the requirements of the latest Windows update to be sure your system is compatible with the update you want to do for it. Popular manufacturers always show the list of devices that are compatible with the updates for specific versions of Windows. If your PC is on the list, then you can go ahead with the update.
Ensure Enough Space in your Windows Installation Drive (C): Check that there is enough disk space on your Windows installation drive to accommodate the new update. If there isn't, you can erase all your junk files and any unnecessary software on your system. If you use Windows 10, you can save space by moving OneDrive folder to a different section or partition.
Conduct an Update of your Drivers: Again, ensure that all your drivers are updated to the latest version before you update your Windows OS. This is necessary to avoid incompatibility of your drivers with the Windows update.
Temporarily Disable Antivirus Program: Antivirus software can interfere with your update sometimes, thereby causing you a major hindrance. You can temporarily disable the antivirus program which is running on your system to enable you carry out your update without interference.
Disconnect all External USB: Before you update your OS, make sure you disconnect every external USB device. The only devices that should be connected are your Keyboard and Mouse which are absolutely necessary in giving commands during the update itself.
Fully Charge your PC: If you are using a laptop, you will need to do the update when there is constant electricity to power your system so ensure it is fully charged before you begin. If you are using a desktop, make sure your UPS is fully charged.

Here are some things that are recommended for you to do after a Windows update and before you install and begin to use the applications:

Create a Recovery Drive: To create a recovery drive for your files, you need a USB drive with a capacity of at least 512MB. This is essential because if you run into issues that come with new updates like this, you will have nothing to fear since your data have been successfully kept safe.
Install the Latest Available Drivers: This has been explained above. To buttress this, although manufacturers provide the necessary drivers for your hardware, you will need to update them on a regular basis.
Ensure your Account is Safe: To ensure that your sign-in credentials are kept secure, set up a two-factor method of authentication any time you log into your Microsoft account. This method of logging in or signing in will ensure no one else has access to your account after you have done a Windows update.
---
Closing remark.
Granted, the idea of updating your PC's Windows are for noble reasons such as provision for better maintenance and easy operation, but Windows sometimes crashes the computer and leaves the user stranded with what seems to be no way out. On a good note, this article has shown you not only how to fix a crashed system but more importantly, how to avoid the crash and loss of files during your Windows update. Once the guidelines in this article are followed, you will have nothing to worry about concerning updating your Windows.
Computer Troubleshooting
Win System Crash

Windows Tips

Computer Problems

Blue Screen Errors