SQL Server 2012 is a widely used Relational Database Management System that is designed by Microsoft. It is majorly used by enterprises as a centralized tool to manage their data. Though, if you wish to keep your data safe, then you should learn how to take its timely backup. One of the best ways to do it is by taking the assistance of Windows server backup. Inspite of its presence, not many users are aware of this remarkable tool. Therefore, in this guide, we will make you familiar with the essential components of Windows server backup and provide a stepwise tutorial to use it.
Part 1: What is Windows Server Backup
Windows Server Backup, or commonly known as WSB is a backup and recovery feature that was first introduced in Windows Server 2008. Though, it became an evident part of it and can be found in the recent updates as well (like Windows Server 2012). Since it is a complete backup and recovery solution, it can be used to backup an entire server or its selected volumes. The maximum data volume capacity of Windows server backup 2008 is 2 TB.
It has introduced the new backup and recovery technology by replacing the previously used Windows backup feature. It comes with an MMC (Microsoft Management Console) and CLI (Command Line Interface) that provides an easy access for users to perform their backup operation. While using a simple wizard, you can backup your data as per your needs and later restore it as well. Therefore, it can save your data in case of an unforeseen situation like hard disk failure or malware attack.
Not just local system, it can also be used to backup a remote computer. With its scheduled and automatic backup feature, you can certainly keep your data safe at all time. Following are some of its common features:
Fast backup with the inclusion of VSS (Volume Shadow Copy Service)
Easy recovery operation of the backup
Disaster protection features and offside removal of data
Automated and scheduled backup operation
Can perform an extensive or selective backup
Can backup local as well as remote computers
Part 2: Supported Operating Systems
Since Windows server backup is a part of Windows server series, it is compatible with almost every leading version of Windows. This includes both 32 and 64 bit operating systems. Ideally, it depends on the type of Windows Server that you are using. For instance, if you are using Windows Server 2008, then all you need is a 1 GHz of CPU and 512 MB RAM to run it.
If you are using Windows Server 2012, then the minimum requirement for the processor is 1.4 GHz (64 bit), 2 GB RAM, and 160 GB of free disk space. The supporting client operating systems for Windows Server 2012 are Windows 8, Windows 7, and Macintosh OS X version 10.5 to 10.8.
Part 3: How to install Windows Server Backup?
Now when you know the basics of Windows server backup, let's proceed and learn how to install it. Since it is a part of the whole Windows server pack, it can be used in different ways. One might use the application to take an automated backup of their system or perform a manual backup. This includes taking a comprehensive backup of their database as well. Simply follow these steps to enable the feature of Windows Server backup.
Step 1 Open the installed Windows server manager on your system. Go to the "Manage" option and click on the "Add Roles and Features" button.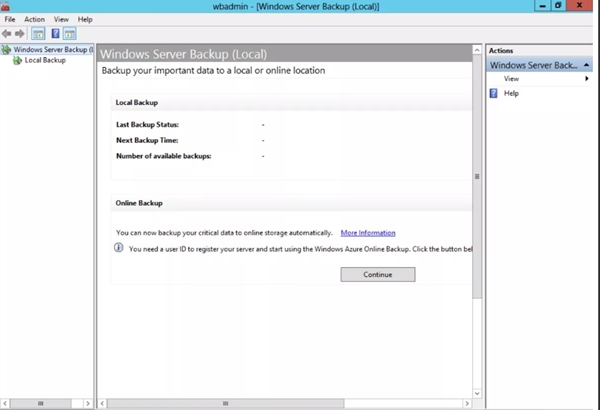 Step 2 It will open the following pop-up window. Simply select the desired option and click on the "Next" button.
Step 3 On the next window, you can give the server roles before installing any new feature.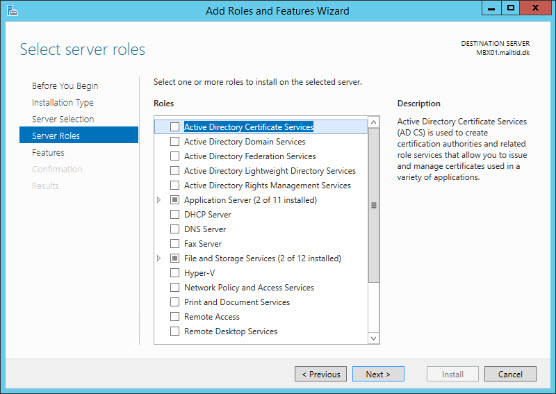 Step 4 Now, select the "Features" option from the provided menu. Scroll down and enable the option of "Windows server backup". You should also enable the feature of "Command line tools".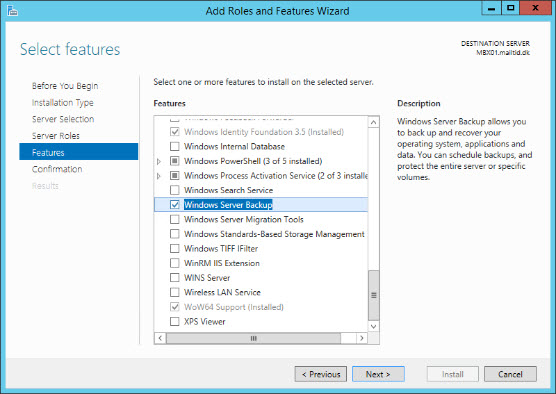 Step 5 Once you are done, click on the "Next" button. Agree to the terms and conditions and Install the server backup feature on your system.
Part 4: How to Backup Files with Windows Server Backup?
After following the above-stated steps, you would be able to install the Windows server backup on your system. Later, you can take its assistance to backup your entire system or handpick the folders/files you wish to save. Since it provides a user-friendly GUI, you won't face any setbacks while taking a backup of your data. All you got to do is follow these steps:
Step 1To start with, open the Windows server backup application that you have recently installed. Make sure that you are accessing it from the Administrator account. You can also open it by giving the command "wbadmin /?" in the command line interface.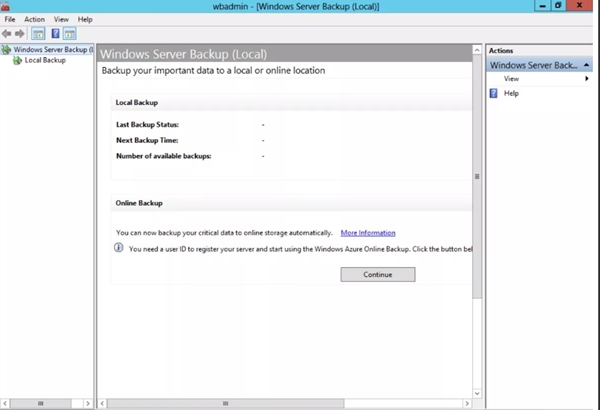 Step 2Simply choose to take a backup on the local storage and launch the Backup Schedule Wizard. Read the terms and conditions and click on the "Next" button to initiate the process.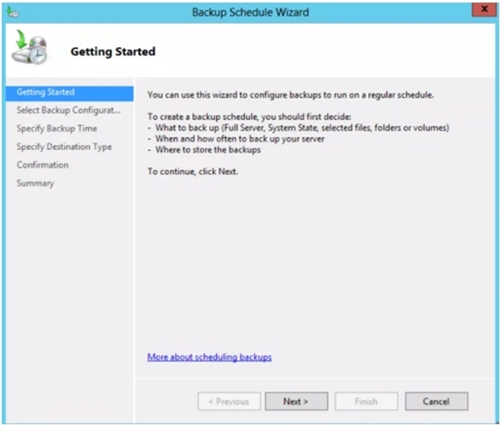 Step 3From the next window you can select the type of backup you wish to take. You can either take the backup of the entire system or select the folders of your choice. Click on the "Next" button after making your selection.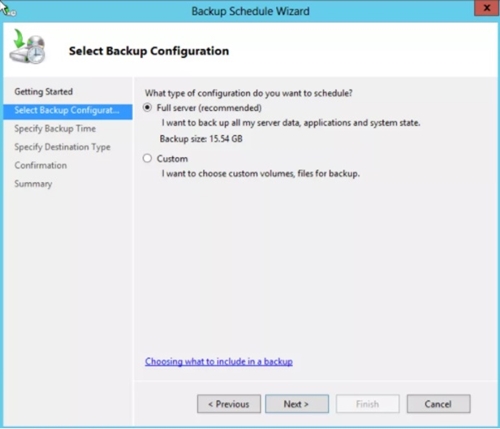 Step 4 Now, you can specify timing for the scheduled backup. We recommend going with the option of daily backup at the time when you are most active.
Step 5 Provide the destination for the backup and click on the "Next" button. Confirm your choice and initiate the backup.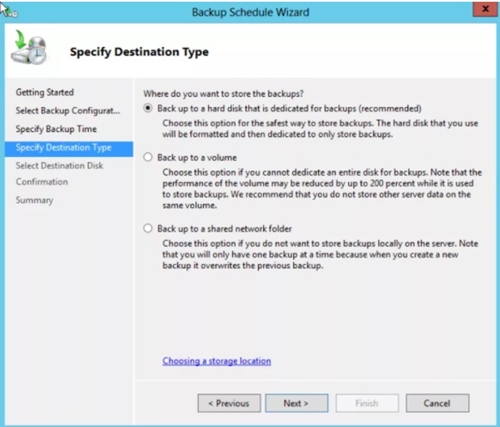 This will let you take an automatic and scheduled backup of your data using Windows server backup without much trouble.
After following these simple steps you would certainly be able to keep your important files, databases, and drivers safe. Windows server backup is certainly a remarkable tool that will help you save your time and efforts during an unforeseen situation. Go ahead and use it to take a comprehensive backup of your system and let us know about your experience in the comments below.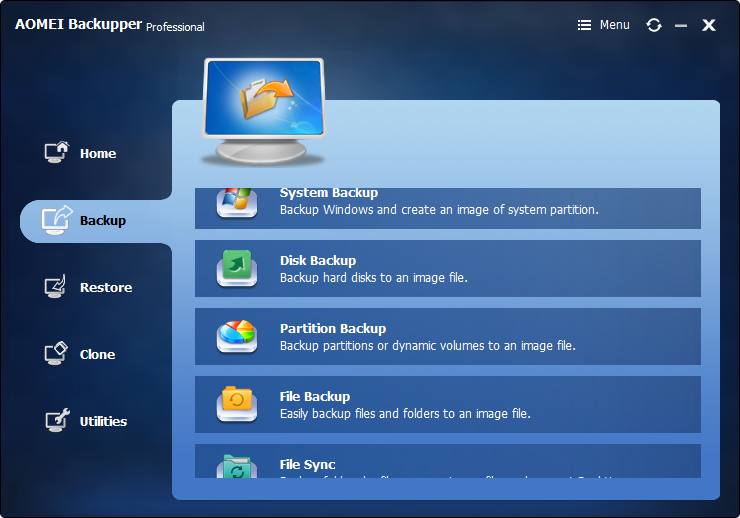 Allows you to take automatic, full, incremental and differential backups of system, disk, partition and files.
Supports system restore, disk restore, dissimilar hardware restore, partition restore and selective file restore.
Supports disk clone, partition/volume clone, flexible clone, system clone and command line clone.
Supports Windows 10, Windows 8.1/8, Windows 7, Vista, and XP (all editions, 32/64-bit)