PST files are MS Outlook files that are stored on the PC. They contain a great amount of data. All of the items are present in an Outlook mail account like journals, notes, attachments, emails and calendars. The size of a PST file can reach up to 2GB and they can be password protected as well.
Part 1: 9 Ways to Prevent PST File Corruption
Corruption can happen to any Outlook PST file. Can this be prevented? Yes, it surely can. The following are 9 ways through which you can prevent PST file corruption:
1. Never let your PST file get inflated. Even though the storage limit for PST files in Outlook 2003 to 2007 has been increased to 20GB and 50GB in the case of Outlook 2010, it is best that you keep your PST file below 10GB. The reason for this is:
Operations get slowed down if your PST file has a large size.
Files with a large size can get easily corrupted.
Even though Scanpst or Outlook can repair corrupt PST file, the repair process will take a lot of time to complete if you have a large sized PST file.
2. Never let PST file belonging to the old-format reach a size of 2GB. The size limit for a PST file in all versions of MS Outlook that came before MS Outlook 2002 is 2GB. PST file runs the risk of corruption and starts encountering issues if its size reaches the 2GB mark. So, if you want to prevent PST file corruption, then you should ensure that the size of your PST file belonging to the old-format remains below 1.5GB.
3. Never process a large number of emails together. Processing a large number of emails together can cause MS Outlook to lockdown. You might have to close Outlook in an abnormal manner in such a situation, causing the PST file to get corrupted. 10,000 emails is a practical limit. So, if you are trying to delete, copy, move or select in excess of 10,000 emails, then don't process them in a single batch. You should only process 10,000 emails simultaneously. Keep on repeating the process until the emails are handled.
4. Never save PST files on a server or network drive. PST files should only be saved on PCs. Never save it on a server or remote drive as the PST file's dense access won't be supported by the network environment, leading to frequent corruption of the PST file. Moreover, never allow access to the PST file to various users at the same time through a network as it can cause damage to the file.
5. Never close down Outlook abnormally. PST files that are being used by Outlook can easily get damaged if Outlook is closed down in an abnormal manner. So, it is necessary that you don't use Task Manager for closing down Outlook.
Outlook can remain operational in the background even when you have closed it down, performing tasks like receiving or sending emails. The Outlook icon will be visible in the system tray in such a scenario. To check if Outlook is operational or not, look for "OUTLOOK.EXT" in the list labeled "Processes" in the "Task Manager". If your network is down, then Outlook is going to remain operational indefinitely because it will be trying to send or receive emails that aren't going through because of the Internet not working. Manually disabling your Internet connection is the right way to initiate Outlook's closure in such cases. With the network closed, Outlook will close down soon too. Restarting Outlook is another method that you can try if Outlook doesn't close properly. Wait for a while after restarting the software and then close it again. This will ensure that the software closes down in a normal manner.
6. Always shut down your PC after ensuring that Outlook has properly closed down. PST file can get damaged if you shut down your PC without properly closing down Outlook. Therefore, if you want to prevent PST file corruption then you should always shut down your PC after ensuring that Outlook has properly closed down.
7. Beware of your Antivirus software. If you have an Antivirus software protecting your large PST file, which stores a large number of your emails then this antivirus is also going to affect the processing of emails in your PST file. It will slow down the processes if the antivirus itself is slow. PST file can sometimes be damaged by antivirus programs as well. PST files can even be deleted by Microsoft OneCare.
8. Beware of the Add-Ins in Outlook. Corruption of PST file can be caused because of an issue with the Outlook add-ins as well. So, in order to prevent PST file corruption, you should disable them if they are causing you any trouble.
9. Create weekly backups of your PST files. Data loss can only be prevented by creating backups. You should regularly back up your PST files so that if they ever get damaged then you can recover them from the last backup.
Part 2: How to Repair Corrupt PST File
If your Outlook PST file gets corrupted often then you will have to find a way to repair it and recover its contents. There are many PST repair tools available on the Internet that can repair corrupt PST file. However, not all of them can perform this task in a safe manner. Outlook PST Repair is the best PST repair software that can safely recover all the contents of a corrupted PST file in a short period of time.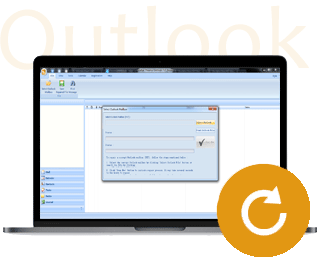 Recovers all mailbox components within the files such as emails, attachments, contacts, calendar items, journals, notes, etc.
Recovers accidentally deleted Emails that were purged by mistake or lost due to unplanned system formatting
Allows saving recovered mails in EML, MSG, RTF, HTML, and PDF formats
Supports repair of encrypted & password protected PST files
Enables you to arrange scanned emails using various criteria such as "Date", "From", "To", "Subject", "Type", "Attachment", and "Importance"
Repairs corrupted Outlook file created in MS Outlook 2016, 2013, 2010, 2007, 2003, 2002 (XP), & 2000 and MS Office 2016, 2013, 2010 (64-bit version), 2007 & 2003;Supports Windows 10, 8, 7, Vista.
Simple stps to repair corrupt Outlook PST files with PST repair tool:
Step 1 With Outlook PST repair tool, search corrupt Outlook PST files from the local drive
Step 2 All corrupt PST files will display in the searched result section. Select multiple files to scan and start th repair process.
Step 3 Preview the repaired PST files and save them to your preferred location.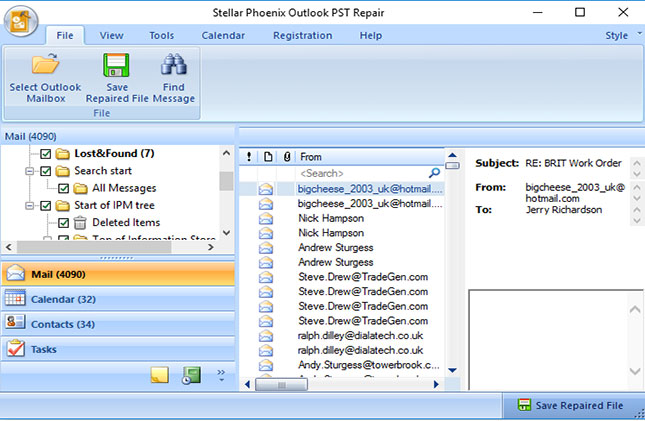 So, if you have been facing corruption of PST files then there are many ways that you can utilize to prevent PST file corruption. You can use a third-party tool like Outlook PST Repair to repair corrupt PST files. It can recover all the items that are contained in the corrupted PST file.
Recover and Repair Email
Repair and Recover Emails

Get Email Password Back