Almost all of us go through a lot of hassle and worry this once because we lost some important emails. Now this could be due to accidentally deleting them, or because of some forms of data loss. Regardless of the reason, deleted emails can be a big source of worry. A lot of our important information is stored in them, and you can end up losing significant work. However, fortunately, deleted email recovery is not that hard. But before we talk about how to recover deleted email from encrypted PST files, let's first see what PST files are, what is different about an encrypted PST file, and if that impacts, how deleted email recovery will be performed.
Part 1: Overview of PST Files and Encrypted PST File
PST or Personal Storage Files are the files that store all of your Microsoft Outlook data. Inside a PST file, your emails, contacts, journals and all other things associated with Outlook are stored. Any free email recovery software will require PST files for deleted email recovery. If you want to make your personal information even more secure (which you should), then you need to encrypt PST files. An encrypted PST file makes it harder for anyone to gain unauthorized access into your data.
Encrypted PST files are mostly password protected or use some of other forms of authentication. However, with all that security, the trouble increases if you ever lose your emails. If you want to recover your emails from an encrypted PST file, then just any free email recovery software will not do, and this is where Outlook PST Repair comes in.
Part 2: How to Repair Encrypted PST Files with Outlook PST Repair
1. Outlook PST File Repair
The most trusted way to recover deleted email from encrypted PST files comes with Stellar Phoenix Outlook PST Repair. This tool allows you to perform deleted email recovery from password protected as well as encrypted PST files without any hassle. It can be used to repair PST files, and then restore all the data stored in it in a new PST file, thus recovering everything that you may have lost otherwise.
Outlook PST Repair works with all versions of MS Outlook from 2000 to 2016. It allows the saving of the recovered emails in a range of formats, including PDF, MSG HTML and more. Further, the recovered PST files can also be exported to the Office 35 format for greater convenience. In order to ensure that users are able to use the tool with ease, its graphical UI matches that of MS office 2007. There is a facility of choosing appearance based on the theme that you prefer the most.
2. Repair Encrypted PST Files
To recover deleted email from encrypted PST files, you first have to repair a file individually. There are just 3 steps that you have to follow for PST repair with this free email recovery software, and they are highlighted below.
Step 1 On running the PST repair tool, you will be given two options:
Select Outlook File: If you are aware of the location of the PST file that is to be repaired, then click on this option. You can now skip straight to Step 3.
Find Outlook File: If you do not know where the encrypted PST file is, then click on this option, and go to Step 2.
Step 2 The free email recovery software will now search for PST files in your system. You can specify the drive/partition to search in, and then click on Start to begin the search. Once the scan completes, a list of all the PST files in the system will be shown. Select the file that you need to repair.
Step 3 When you have selected the PST file/browsed to its location, its path will be in the address bar. Just click on the 'Scan Now' button, and the repair tool will now perform repairing operation on the encrypted PST file. You will not be required to enter the password of the file here, for the free email recovery software takes care of everything on its own!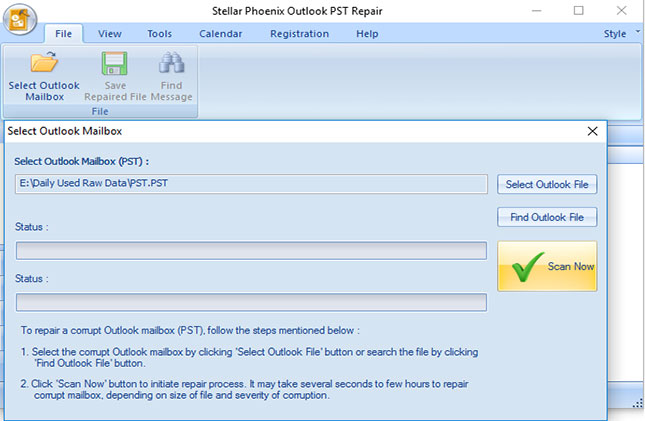 3. Recover Deleted Email from PST Files
Now that your PST file is repaired, you will need to do deleted email recovery for getting your emails back. This is a simple 2-step process, as explained ahead.
Step 1 Select one email item you want to recover, and also you can browse and preview email files in the left side tree.
Step 2 Save the email as PST or other formats and browse the destination path of your deleted emails recovered from encrypted PST files.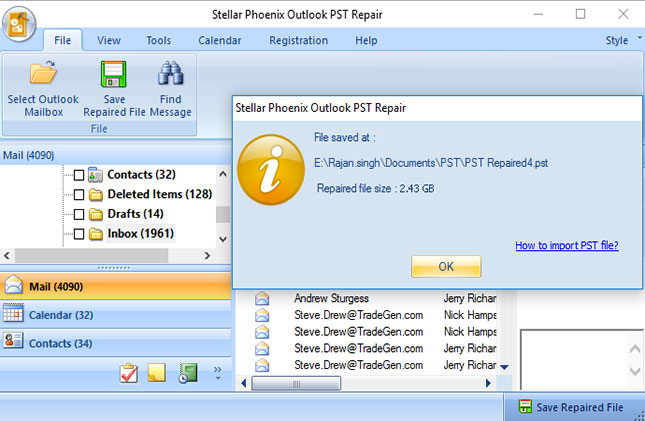 There is no complication in trying to recover deleted email from encrypted PST files. Just like regular PST files, encrypted files also contain the same data but only with more security. With the right tool for deleted email recovery, you can get back your deleted emails no matter what the reason for loss may be. Just use the right free email recovery software, follow the simple steps highlighted above, and you will surely get back all your deleted emails in MS Outlook in no time at all!