When we browse the web, several websites store cookies on our system. Ideally, cookies help us access a website in a faster and more effective manner. However, there are times when users wish to clear cookies on Chrome or any other web browser they use. Sometimes, cookies can have our sensitive data and should be cleared in a timely manner. To help you achieve the same, we have come up with this in-depth guide. Read on and learn how to delete cookies on your web browser.
While browsing the Internet on a popular web browser like Google Chrome, you must have observed that various websites store cookies on the local storage. They can help you access several websites quickly and in a reliable way. Ideally, cookies are used to identify a user. They are files of small sizes that are created by the server and stored on the client side. Whenever the client visits a website, the server identifies it through cookies. They could be first-party cookies (created by the sites you visit) or third-party cookies (created by ads, images, or any other source).
Even though cookies are quite useful, they should be deleted on a regular basis. For instance, a few cookies could be corrupted and cause some serious damage to your computer. They can also contain sensitive information about you. If you don't want anyone else to access your browsing information, then you should always clear cookies on Chrome. In this post, we will teach you how to delete cookies permanently without much trouble.
Part 1: How to Clear Cookies on Google Chrome
Almost every web browser provides an easy way to delete cookies. In this post, we have considered the example of Google Chrome. It takes only a few seconds to clear cookies on Chrome. Since it is one of the most widely used and advanced web browsers, it lets you customize your browsing experience. To learn how to delete cookies on Google Chrome, simply follow these steps:
1.Launch Google Chrome and go to its menu by clicking on the hamburger or the three vertical dot icon located on the top-right corner. From here, you can visit its History.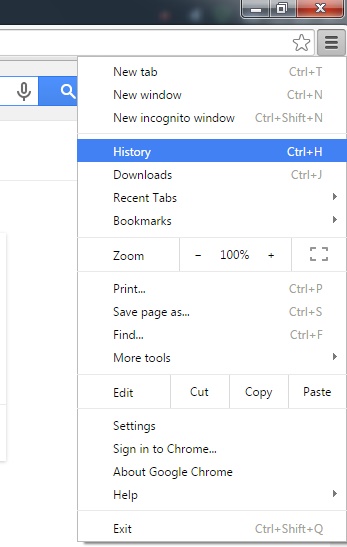 2.As the history tab would be opened, simply choose to clear browsing data.
3.This will open a new window. From here, you can choose to delete cookies, cache data, passwords and more.
4.Make your selection and click on the "Clear browsing data" to confirm your choice.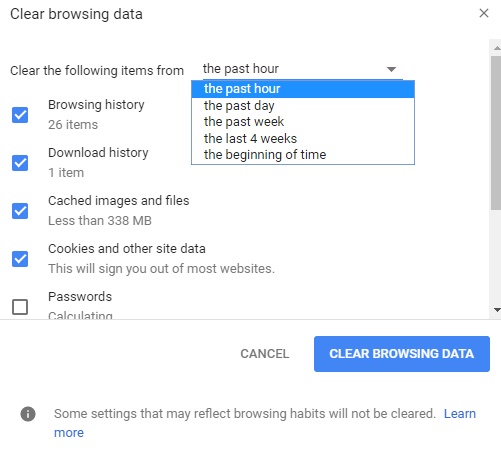 You can also go to browser's Settings > Content Setting > Cookies and clear cookies on Chrome as well. Though, even after deleting cookies in this way, chances are that your data can still be recovered afterward. Therefore, if you wish to learn how to delete cookies permanently, read the next section.
Part 2: How to Completely Erase Cookies on Google Chrome
As stated, by following the above-mentioned process, yon won't be able to clear cookies on Chrome permanently. After performing a recovery operation, anyone can gain access to your personal browsing data via cookies. If you want to permanently remove cookies from your system, then take the assistance of Stellar BitRaser for file. It provides a fast and reliable way to clear cookies on Chrome and all the other popular web browsers with a single click. Besides that, it comes with plenty of other features as well.
BitRaser can delete your files, Internet activities, system traces, applications and more with no scope of recovery.
It can also be used to schedule a data erasing process by selecting the desired algorithm from its extensive list.
It also generates an erase certificate to provide an added assurance.
You can delete cookies, saved passwords, cache data, temporary Internet files and more with BitRaser.
It works with every popular web browser (Chrome, Firefox, Safari, Internet Explorer, etc.).
Provides a single-click solution to remove your data permanently
Compatible with all the leading versions of Windows and Windows server
Since it has a user-friendly interface, you can easily learn how to delete cookies with BitRaser. All you need to do is to follow these steps:
Step 1: With Stellar BitRaser for file on your Windows computer, click on "Internet Activities" to clear cookies on Chrome.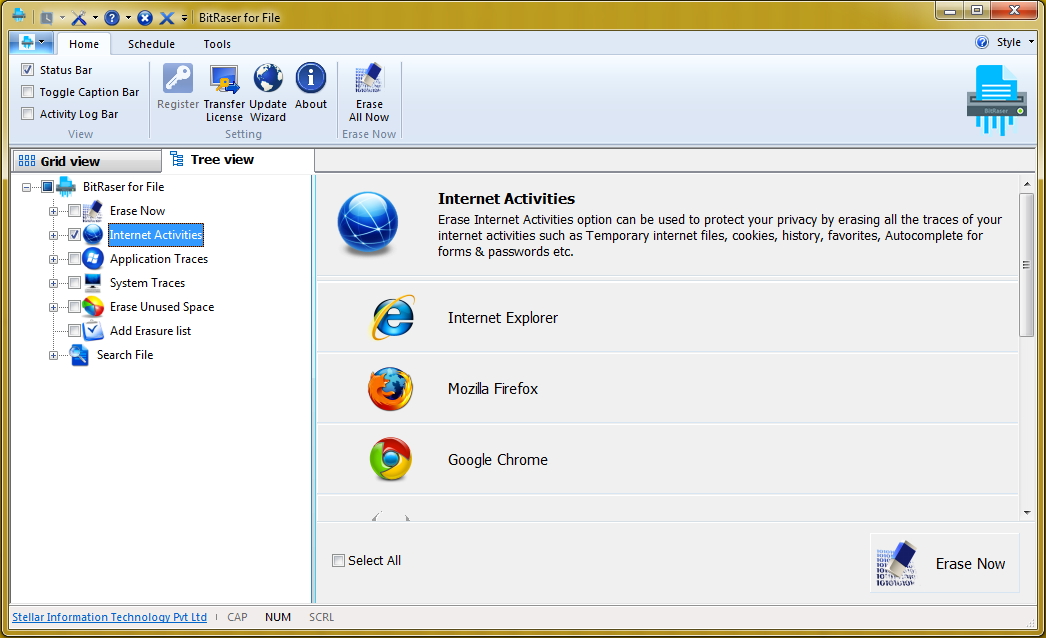 Step 2: This will display a list of all the web browsers installed on your system. Select Chrome and click on the "Erase Now" button.
Step 3: Wait for a while as BitRaser would delete cookies and other data files related to Google Chrome. Once it is done, you can restart your system and complete the process successfully.
After learning how to delete cookies using BitRaser, you can follow the same drill to implement a few passes. By applying multiple rounds of data deletion, you would be sure of its permanent removal. This will help you get rid of all the cookies and Internet files without any scope of recovery.
We are sure that after going through this informative guide, you would be able to learn how to delete cookies without much trouble. We have taken an example of Google Chrome here, but you can clear cookies on Chrome, Firefox, Internet Explorer and other web browsers as well using Stellar BitRaser. It has an easy to use interface and provides a one-click solution to meet your needs. Feel free to give it a try and protect your personal and sensitive data.
Rescue & Fix Files
Recover Document Files

Repair Document Files

Recover & Repair More

Clear & Delete File