Hard drives store all of the data in a computer system. When selling the computer, you have to ensure that none of the data stored on them can be accessed by the person buying it. For this, you have to delete the data stored on the hard drive of the Laptop or PC. There are a number of ways through which you can complete this task. However, do keep in mind that data deleted using ordinary methods can be recovered using a data recovery tool. You will have to wipe hard drive completely in order to ensure that the data cannot be recovered no matter what type of data recovery tool is used.
While there are methods available in Windows that can help you in wiping your hard drive, they can't ensure that the data stored on it can't be recovered. Thus, it is important that you wipe hard drive using a third party software tool which is capable of erasing data permanently. The internet is full of such tools which promise wiping the hard disk clean but most of them fail to deliver on their promises. However, there is one data erasure tool which can wipe hard disks while also making sure that the data that has been wiped is beyond the scope of recovery. The name of this software is Stellar BitRaser for File.
Search Feature Stellar BitRaser for File provides a search feature which can be used to search for the file that is to be erased from the system. You can search for the file by entering its name in the search box. The software will retrieve the file for you after which you can erase it.
Erases Browser History Every browser you use for browsing the internet maintains a history. It contains a list of all the websites you have visited, the passwords you have saved and the login credentials for various accounts. Stellar BitRaser for File can help you in erasing this browser history so that no one can view it and use this information against you.
Multiple Data Erasure Standards Stellar BitRaser for File supports multiple data erasure standards. You can use any of them for erasing the files or folders you want to remove from your PC. Using any of these standards will ensure that the file or folder you have erased can't be recovered any more.
Compatible with Various Versions of Windows This software is compatible with multiple versions of Windows. It offers support for Windows XP, Vista, 7, 8, 8.1 and 10. This means that you can use Stellar BitRaser for File to erase data on any computer or laptop which is running Windows as its operating system.
Step 1: Download and launch Stellar BitRaser for File on you computer.
Step 2: Click the "Erase Now" option and select the hard drive which you want to completely wipe.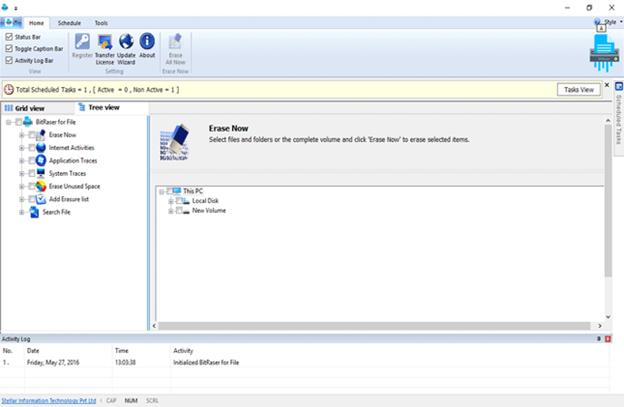 Step 3: When you selecting the target hard drive and click "Erase Now" button to process.
Step 4: It will take for a while to completely wipe your hard drive. When completely wipe the hard drive, you will need to reboot the sytem for complete clearnup.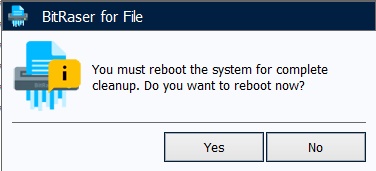 If you aren't certain that one pass is enough to wipe hard drive then you can satisfy yourself by taking up to three passes to delete all of the data stored on your hard drive.
Part 2: What's the Difference? Wipe vs Erase vs Delete vs Shred
Wipe, erase, delete and shred are considered by people to have the same meaning. However, they are different from one another especially when you are using them in the context of clearing data. The following is a look at the exact definitions of each of these words and what do they actually mean.
Delete: Delete is commonly used by people when referring to remove some data from their computer. However, the act of deletion only means that the space that had been occupied by that data is now available for the operating system to use. The data hasn't been removed and is still there on the hard drive and it can be easily recovered by a data recovery tool. So, it is important that you don't just delete your sensitive data as it can be recovered quite easily and might be used against you.
Erase: Erase is the term used for permanent removal of data from the hard drive. When you erase a file from the system, it means that there is no way to recover it back. There are data erasure tools available on the internet which can help you in erasing files from your computer. The erasure process simply overwrites on the data of the file on the hard drive, making it unrecoverable. The sensitive your data is, the powerful the erasure software you will need to ensure its complete removal.
Shred: The shred operation involves the erasure of multiple files and folders simultaneously. It employs the use of the erasure process and overwrites on the hard drive space occupied by the files and folders which are to be shredded.
Wipe: Wipe is for cleaning an entire hard drive and erasing all of the data contained in it. This process overwrites each part of the hard drive and ensures that no trace of the data that was formerly stored on it is left behind. There are special tools available which can wipe hard drive and erase all of its data.