Files and documents created with Microsoft Word, the favorite text editor, can be damaged and deteriorate due to several reasons. Among them, the main ones are a power cut in the computer, an error during the file copy, a virus, application errors, unexpected Windows restarts, etc. The most recent versions of Word include a repair mode, which can be used to recover files and fraudulent documents where possible. Besides, the article, will explain in detail how to open a corrupt word file and damaged documents, in such a way that people can exploit functionality without advanced knowledge of the program. This functionality is little known by those who use the program and can be extremely useful in desperate situations.
---
Part 1 Overview of Corrupt Word Document
It is devastating to double-click on a Word file and that we see the dreaded message displaying that "the file is corrupted and cannot be opened word." That window gives us little information about it and is limited to details such as "The file is damaged and cannot be opened" with no other option than "Accept."
There are many reasons why a Word document may get corrupted: a hard drive failure when recovering it after deleting it or maybe because it was not finished downloading whole from the Internet or there was an error in the copy. In all cases the result is the same: Word refuses to open it or does so by displaying strange symbols instead of content.
Files with errors created in versions of Word before 2007, can also be recovered perfectly, using, in this case, a simple free application as explained in this article.
Moreover, the files can be damaged as a results of the system collapse, wrong operation or virus attack. Farther, a corrupt word file is not only useless but also impossible to manage. Therefore, if you encounter such a problem, first try to repair the given damaged files and even run a virus detection software. However, if they do not serve you, you can attempt a program to recover corrupted data.
---
Partr 2 How to Open a Corrupt Word File with Stellar Phoenix Word Repair
Wondershare Recoverit can quickly recover your damaged files from USB memories. But, what happens if your Office files such as word are corrupted? However, you do not have to worry about damaging these files. You can have the Best Tool to Repair Damaged Files. The Stellar Toolkit for Repairing Files is a powerful tool that can repair damaged Office files.
Stellar Phoenix Word Repair
A clean and straightforward interface makes the program like from the start. Just select the file, and in a short time, it will show us a preview with all the repaired document as we will have it if we pay the license and download it. The repair is perfect, so we recommend, at least, download the program to test it.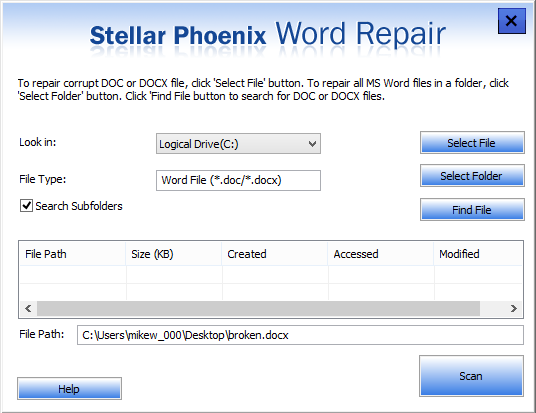 The Best Corrupt Word Doc Repair Tool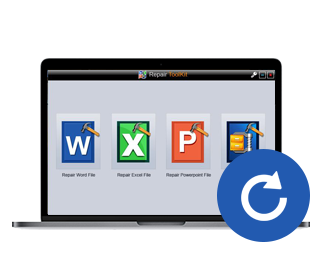 The word repair tool permits you to repair four diverse file types including Word and Zip.
It is extremely easy to use and it was designed to enable anyone to use it while restoring damaged files. Also, it offers some exceptional search options used to locate corrupted documents quickly.
It provides a brilliant preview functionality, which permits you to check the contents on the data that will be repaired.
---
Part 3 How to Open a Corrupt Word File
Download and install the stellar tool to repair damaged files on your computer. Follow this tutorial to perform a recovery of damaged Word documents.
Step 1; Run the Repair tool
Run Stellar Recovery for Damaged Files, select the option "Repair Word Files" to start. Select all the corrupted Word documents from your storage hard drive.
Step 2; Settle on the Word File to Repair
Here, the tool utilized to repair text will import each and every selected Word files, then you will choose a specified Word file to start repairing.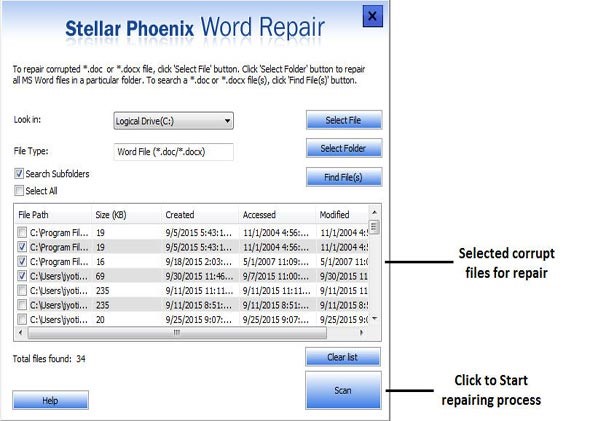 Step 3; Preview the Repaired Word Data
Subsequently, After fixing completely, you can hence preview the repaired Word data. Go to and click on the "Save" key to recover the Word data.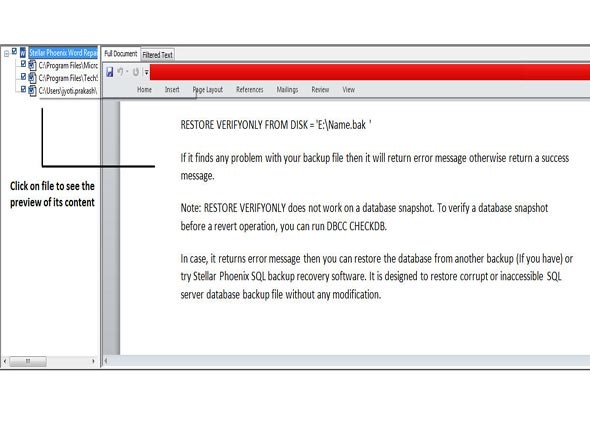 Save all recovered files in a well secured storage device.
---
Part 4 How to Repair a Word File with Inbuilt Repair Options
Word's Automatic Recovery
When you try to open the fraudulent document with Microsoft Word, you receive a notice explaining that Microsoft word cannot begin. After clicking on Accept, another window tells you that unreadable content was found and asks you if you want to retrieve the contents of the document. Press Yes
Word will then try to save as much as possible the content of the text, but the truth is that you should not wait too often because it often fails to recover, mainly if the document was in DOCX format.
Open and repair word 2013
Another method of Microsoft Word to repair corrupt documents is in the window to open. Go to the folder where the damaged text is located, and instead of pressing Open, click on the small arrow next to the button (1) and choose Open and Repair (2). This will force Word to try a file repair to try to recover some of the content.
The two previous Word recovery options or opening a damaged document will take you directly to a window like the one above in Word. Besides, this is a document that is so damaged that Word cannot recover its original format. But even so, it is possible that you can recover part of your original text after clicking OK.
Even if the document is opened as plain text and includes a lot of strange squares and symbols, you may see part or all of the original data below. With some other error and without format, but something is something.
Use Retrieve Text from Any File
Another recovery option within Word itself is present in the Open dialog box. In the drop-down list to choose the format (1), choose to recover text from any file (.), which will open any document and try to recover the text inside it. Once again, the result will be plain text without formatting.
Repair a Damaged File with Microsoft Word
This option is possible when the file is partially damaged, and we can repair the contents through these simple steps of Microsoft Word itself:
1. Start Microsoft Word.
2. Open a blank document.
3. Click to open the File menu in the upper left corner.
4. Select "Open" from the drop-down menu.
5. Select the damaged file on the disk.
6. Click on "Open" and select the option "Open and repair" in the drop-down menu.

This process of open and repair word 2013 may take a few seconds or minutes while the damaged file is being processed. Once finished, we will open a document with the repaired data or a notice indicating that it has not been possible to restore. If this happens, we will continue with method two.
Text Recovery Converter
The next built-in word feature is the Text Recovery Converter, which you can likewise get to using the Open dialog. In the drop-down box that says 'All Word Documents,' simply go ahead and pick 'Recover Text from Any File.'
Word will endeavor to recuperate any content it can from the record. In my case, it fizzled and just restored a message expressing that the document has all the earmarks of being corrupt. Depending upon the sort of corruption that your record has endured, your outcomes will vary. Insert the File into a Blank Word Doc
If neither of these two strategies worked, you could endeavor to insert the corrupt record into another black Word doc. To do this, open another document and after that tap on the Insert tab.
Subsequently, Click on Object followed by clicking on Object once more on the drop-down menu. Then, tap on the "Create from File" and click the Browse key. Select your corrupted Word file while checking whether it can incorporate contents into the new documents.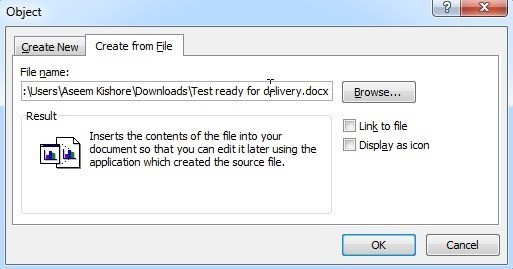 In my test, Word couldn't insert the data into the present record. Instead, I got some strange blunder message expressing that the program used to make the document like Word, yet Word was not introduced on my system! Once more, your outcomes will fluctuate, so give it a shot, yet don't expect much.
Open the File through the Link
This strategy is somewhat tangled, yet it may work for you relying upon the kind of damage your word file has sustained. Mostly, we make a document, type any content into it, copy that content, at that point paste special that content to another file as a link and lastly refresh that same link to point to the damaged document instead of the first record. Whew! How about we begin.
Step 1; Open New Word Doc
Initially, open another Word doc and type in anything like "My name is John." and after that save the report in some place.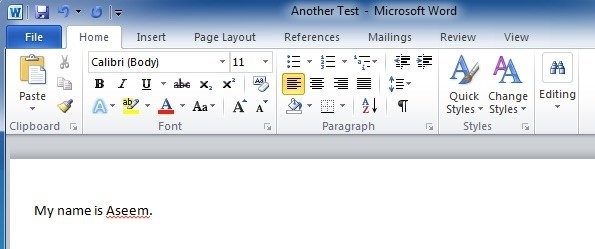 Step 2; Select Text Above and Copy
Now choice the text which you typed above and copy into the clipboard. Besides, you can select it while pressing "CTRL + C."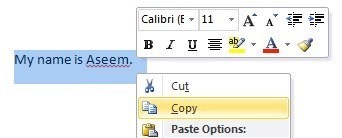 Step 3; Create New Word File
Afterward, create a new Word file through clicking File, then New. Select blank document when requested. Finally, click the small arrow found on a Paste key and select Paste Special.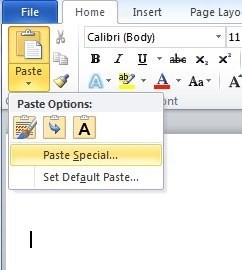 Here you need to choose Paste link and after that pick either Formatted Text (RTF) or Unformatted Text. Moreover, it can not make a change as to which one you selected. If you get any mistake message when attempting to paste the link, only go ahead and close the new file, recopy the content and afterward make another new document once more.
We're drawing near to the end now. Right-click on the link that was pasted above select Linked Document Object and afterward chooses Links.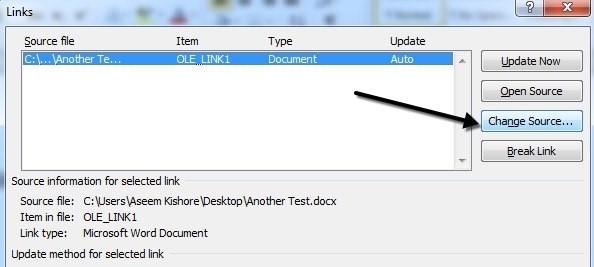 Click the on the Change Source key here while navigating to the directory containing your corrupted file. Select and click on Open.
Once the link source has successfully been updated, proceed to click OK, and hopefully, the text from the corrupt document may display instead of the data you had copied earlier.
Once the link source has been updated, click OK and hopefully the text from the damaged document will appear instead of the file you had copied earlier.
Open in a Draft Mode
This step involves clicking on the File and the Options, go to Advanced and then roll down and select Show document content.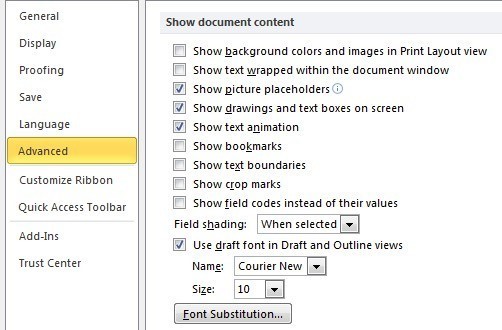 Go ahead to Display picture placeholders dialog box and then "Use draft font in Draft and Outline views" dialog box. Lastly head back to the Word text, select on View then click Draft from the displayed Document Views segment.

Presently attempt to open your damaged document and check whether it can open. If not, you'll need to continue perusing for other conceivable strategies to settle the damage.
Open Document from the Previous Version
Another choice that may enable you to recuperate your Word text is opening from the Previous Versions. This implies System Restore must be enabled, which it is as a matter of course. If you physically turned it off, you won't have the capacity to recover any information utilizing this element. If it's enabled, Windows naturally makes reestablish decently regularly, more often than not at any rate once per day. You can verify whether there are any upheld up versions of the record by basically right-clicking on it, picking Properties and after that clicking on the Previous Versions tab. If you do n't see the tab, System Restore isn't turned on.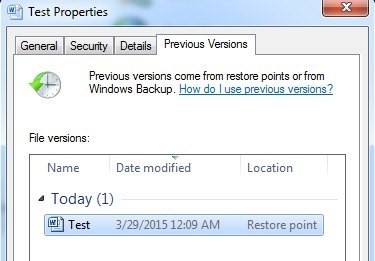 Any recently saved versions will appear in the rundown box beneath. You will lose any information that was included after the last backup was made and before the corruption happened, however, it's still better to nothing.
---
Part 5 Reasons for Corrupt Word Document
In the event that the header of the Word record is harmed because of a Macro virus attack, then the documents become inaccessible. Sometimes, frequently updating the Word documents from one format to other version damages the Word text.
While transferring documents records from the framework to the storage disk or the other way around, intrusions, for example, a sudden power outage or unexpected removal of the storage drive result in damage of the word documents.
Different reasons, for example, Round Tripping, Microsoft Application crash, software conflicts, etc., likewise leads to damaged Word files. Microsoft Word application has an inbuilt-in future named as Open and Repair that you can utilize if you have any issues while opening the Word files. In any case, it's not sure that you'll prevail as this choice couldn't function well for the circumstance where Word file is extremely corrupted. To fix such extremely damaged MS Word archives make use of Remo Word Repair Software, it's a reliable and proficient Word Repair device that guarantees the security of your unique Word document. It works in read-only mode and does not change or damage your unique Word record.
Repair 4 types of files,namely Word, Excel, PowerPoint and Zip.
Offer excellent search options to find corrupted files instantly.
Preview and recover all the data contained in the corrupted files.
Repair files corrupted due to different causes and from all devices.
---
Part 6 Tips & Tricks for Corrupt Word Document
There are many proven measures you could use to keep your data safe. Let's look at some causes of data damage and discuss each one. Malfunctioning Sectors
A good tip would be to occasionally look for errors in your group and always safely extract your external drive. You can get the complete solution to repair bad sectors of the hard disk.
System logs
This is caused by some programs or newly installed hardware incorrectly. A file saved at the time of a crash could be damaged. When your system fails, you can create a bootable drive restart to recover your relevant data; you can quickly recover data after system failures. You can reinstall the different program or remove the hardware you connected before having the breakdown, to restart the system regularly.
Files with Virus
The commonly recorded cause of data damage is the virus. Do not forget to examine your units from time to time in search of viruses. Files with crossed links or allocation units (clusters) lost
An allocation unit (Cluster) is the smallest part of storage where computers store data. Also, deleting files incorrectly due to viruses or data corruption will probably cause the groups involved to be unavailable or lost.
---
Conclusion
Digital information is of utmost importance to users, and special attention is paid to secure storage methods. However, for many different causes, the data may be lost. Not all recovery tools can return the user's files in fully functional and correct conditions. But knowing the causes, which can cause a problem in the process of opening the recovered file, and possible ways how to open a corrupt word file, the user can significantly increase their chances of returning the critical information contained in such data, and get rid of the costs additional.
Recover & Repair Files
Recover Document Files

Repair Document Files

Recover & Repair More

Clear & Delete File