Being in an era where having paper documents is gradually going into extinction, one has to secure and backup documents using the various storage devices. Personal data now can be stored using convenient inexpensive means such as SD cards. This is because it is more preferable as it allows volatile storage and has the capabilities of protecting a content you do not want others to access through encryption.
SD cards a lot of times are the closest storage device you have either in your phone or a card reader. It is a pretty difficult situation when you have pictures or files in your SD card and they end up getting corrupted. Most of the times, it leaves you in a state of despair and frustration more especially if you have very important files that you do not have to lose. Well thanks to technology, a lot of things can be done today and one of these things is to repair corrupted file from an SD card.
Part 1. How to Repair Corrupted File from SD Card
When SD cards become unreadable or inaccessible or even formatted without saving your files in a different location, the data stored in it gets lost. Despite the fact that they get lost, they can still be found in the SD card and so can be repaired. This file repair software called Recoverit Video Repair is created to go in search of these inaccessible photos in your SD card and make them accessible.
Now, you can restore all your files from your SD card if it is not physically damaged. You can't expect to have all your water once a glass breaks. Also, if you intend to repair your corrupted files from an SD card, you should endeavor to stop using it to store data prior to repairing them as this may complicate the repairing process. Now that you've adhered to the precautions before repairing your corrupted files, let's get introduced to Recoverit Video Repair software.
Recoverit Video Repair software is built with an ease of usage interface that enables you repair and restore your files from a corrupt SD card. It is globally preferred as it is the best tool if you intend to repair your corrupted files by yourself. This means that it is not complicated to use.
The following steps will help you repair your corrupted files from a corrupted SD card.
Before cracking your head on how to use the software, you have to download, install and launch it first. Now after this is done, connect your corrupted SD card to your system to begin the recovery process of your media files from the SD card.
Step 1. Add file
Click on the option "Add file" to select the corrupt video files you intend to repair.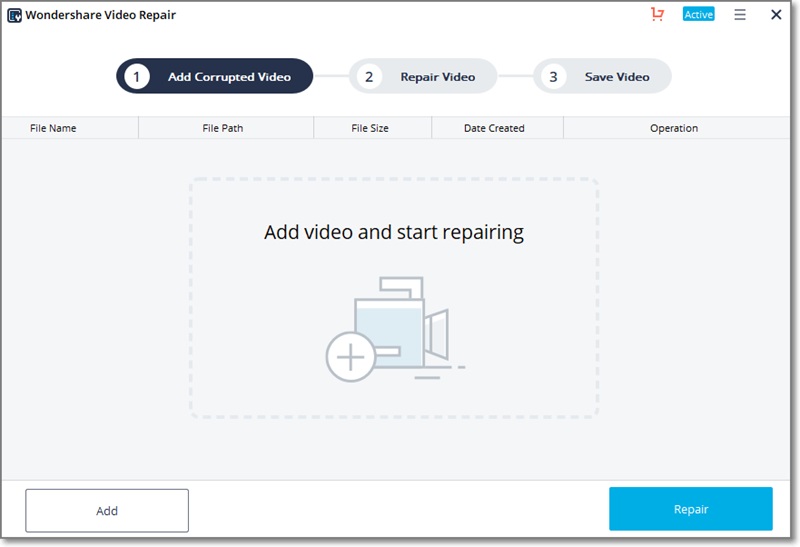 Step 3. Repairing the files
The software will pop up all the selected files in the next screen. You can decide to select all the files listed there and click on "Repair" for repairing or you can remove some files from the list if you wish to.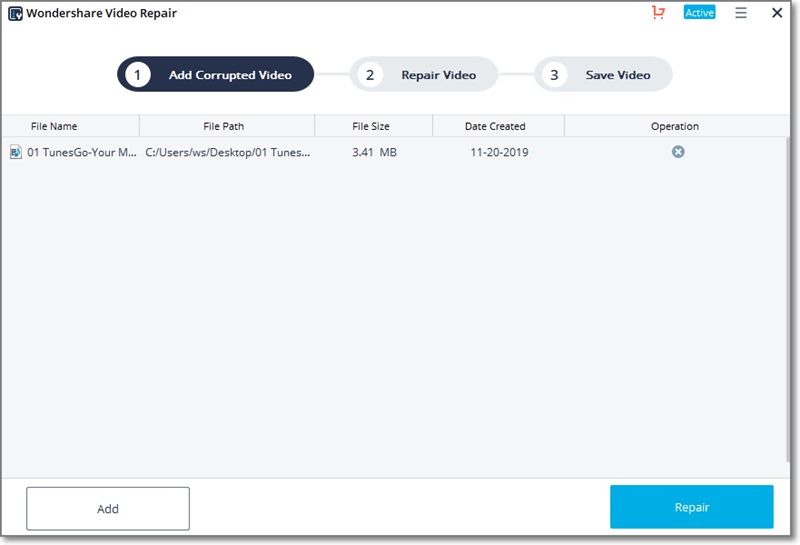 Step 4. Add sample videos (Optional)
You can also try the "Advance Repair" function by adding sample videos, which will compare the similar elements between the sample and corrupted files.
Step 5. Preview and save the files
After repairing is done you can go to the preview pane to preview any file to check for inconsistencies. Finally, click on the "Save" button to save the repaired files at any location of your choice.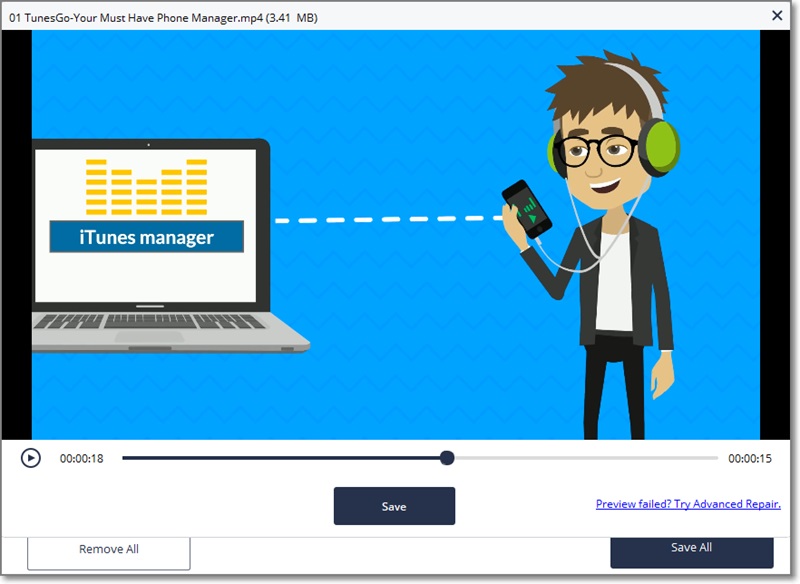 Now you have your corrupted files repaired and just as if you hadn't lost it earlier. Recoverit Video Repair software performs a flawless repair of your videos and so you don't have to worry if the files will be short of what it used to be. This is because it extracts and saves the thumbnails of the repaired videos in case of a next time.
Part 2. Do Corrupted Files Happen Due to Corrupted SD Card?
You'd agree with me that SD cards are the most convenient method for media storage. They are faster and have a very high storage capacity which makes them better to be used in music players, camcorders digital cameras, smartphones, tablets and other portable devices. These qualities make the SD card a highly preferred storage device but just as paper or any other storage device, the SD card gets old. Now, as it gets old, it gets prone to getting damaged or corrupt even without being subjected to harsh conditions.
SD cards can get corrupted, damaged or accidentally formatted. This can cause the loss of all or some of the videos, photos, songs and files stored in the SD card. You will be alerted of whether or not your SD card is in good condition. That is if it is damaged or corrupted; whatever device you have it slotted into will pop up an error message, indicating that it is damaged. In a case of corrupt or damaged SD card, the situation needs to be handled properly and carefully if you are in no mood to cry over missing pictures, videos or files. What does that mean? It means if a case of a corrupt or damaged SD card is not handled properly, it might lead to the permanent loss of data stored in it. This makes data recovery even more difficult.
Who needs to carry about papers with this sort of convenience at his or her beck and call? Just like having rain destroy a document or file which is in paper form, these devices get damaged too and so do the files in them. It could happen for different reasons. Now, you have to safeguard whatever storage device you are using in order not to have your files corrupted. But what happens if the files in them get corrupted? Well, the good news is that unlike paper which doesn't have a remedy to it, the files in these storage devices can be repaired when corrupted.
However, it is really necessary to take a look at what symptoms your device will have if your SD card is corrupt.
Unexplainable loss of data stored in SD card
Disappearing of videos, photos and folders when SD card is slotted into a system therefore making it impossible to read the card.
Error messages popping up on your phone or system which reads SD card error or "Corrupt SD card".
Inability to copy files from your SD card even though you can see they are there.
Phone or device screen going blank whenever you try to access your SD card with an error message indicating that your SD card is not accessible.
Inability to copy and save files using SD card.
A damaged or corrupted SD card can lead to having your files corrupted too. If a gradual corruption is not attended to early, not only will your SD card get damaged but the files stored in it will gradually get eaten up causing you to lose the files. Other times, you might end up formatting your SD card and in the process, you lose precious data but never to worry, these things can be fixed. Luckily, there are different ways you can try to fix your corrupt SD card in order to recover your files. Below are the listed ways.
Connect SD card to a different device:
Most times, SD cards may not be read on a particular device if it is incompatible with the device. Therefore in a situation where you do not know whether or not it is a case of incompatibility, just slot your SD card in a different device from the first one and check for incompatibility. if it is an incompatibility problem then you have your great fix.
Allot a new drive letter to your unreadable SD card:
Most of the times all you need do is to slot in your SD card into your system using a card reader. If this action doesn't give a new drive letter to it or even if it does and it still tells you to insert the device you have already in the system then you have a real issue. Now, if this is the case, give your SD card a new drive letter through your operating system.
Formatting corrupt SD card:
This is the easiest method of restoring your corrupt SD card when it doesn't have files in it but if it does and you can read the files, it is advisable to copy the files to a different location before you go through with your formatting process.
If you've tried all the necessary ways above to repair your corrupted file and nothing happens, then you can settle for a known corrupted video repair freewar. Yeah you got that correctly; a repair software is your best bet in this case and preferably, you should go for the Recoverit Video Repair software. Now what does a photo repair software do to get back your files and how?
Solve Media File Problems
Recover & Repair Photos

Recover & Repair Videos

Recover & Repair Audios

Recover & Repair Cameras