Have you encounter an alert with an error message, notifying you of some corruption while opening Word? Well, then you are reading the right article.
A Word file is subject to corruption or can even get lost. This is not a pleasing experience and if you did not have a back up of the document, it may almost seem completely lost. This can be really frustrating. However, no need to worry as such issues can be resolved easily and this is what is considered as Word Repair. Our article today outlines an outstanding way to perform the word repair.
So let us understand what does word repair really mean and what is its significance?
---
Part 1: What Does Word Repair Mean?
Word repair is a term used to refer to the process by which a corrupted word file or a document is recovered. This is by fixing any issues related to the file.
Some of the issues may be too severe, but there several effective ways to repair my word and repairing vital files will be helpful if you wish to use them later. After all, you wouldn't be able to work with a corrupt file, it may end up damaging your PC also in the longer run.
Some reasons that may corrupt a file could be
Improper saving of the file.
Also, if you try accessing the file in a version different from the one it was created in, some issues may arise.
Opening a file in for instance on a different system than the one it was created in.
If you fail to remove a USB that contains a word file safely.
Upgrades on a system of a word version may also be a reason for corruption of a word document.
Another main reason attributed to the corruption of a word file is problems with the headers in the file.
Now, since the reasons behind word file being corrupt aren't that grave, they can be easily and quickly repaired.
---
Part 2: How Can I Repair My Word?
So, if you have been experiencing issues when opening your word file, here are a number of possible solution you can perform to repair the Word file. The method described below is the best and it is a one-of-a-kind method as it will work seamlessly to repair the corrupt file in a very simple way.
1. Stellar Phoenix Word Repair
This software is designed to help you as well as many other people in different fields to repair my word. IT experts, freelancer and many other professionals, whether in business, medicine or law can use this software to repair documents in case they get corrupted. Some eccentric features of the software include
Compatibility
Stellar Phoenix Word Repair supports MS Word versions from as early as 2000 up to 2013. It also supports all Windows OS versions and these include, NT, 2000, XP, 2003, Vista, 7, 8 and Win 10.
Repairs all MS Word Corruption Errors
It offers the opportunity to resolve almost all Word file error irrespective of the degree of corruption. You can perform minor repair actions as well as complex ones.
User Interface
The software has a stylistic Do-It-Yourself user interface which can simply be used by any computer user with no need for assistance.
Log Report
This is an intuitive feature that generates a log report of the entire repair and recovery process to get back the corrupted file. The log report generated contains details of the repair process from the start, during the repair and at the tail end of it.
Some other futuristic key features that make the software be one ahead of its time include:
Recovery of MS Word in Safe mode
Scan your system to search for the word file
Has a preview feature to see the recovered files as well as go through them
Offers advanced, simple and even a raw repair and recovery option
2. How to Repair My Word
Step 1: Select the files to be repaired
This is the first step where you are required to add the files to be repaired. There are a number of options, you can either add a single file, using the "Select File" option or add a folder using the "Select Folder" option. There is a third option which will scan a selected drive to find the files to be repaired, this is by selecting the specific drive using the "Look In" option then click on the "Find File" function to get the file.
Once you have selected the desired files, you can proceed to hit the "Scan" button to initiate the scanning process for word repair. Remember, if you found many files using either the "Select Folder' option or the "Look In" option, then a list is displayed and you will have to click on the checkboxes to select the desired file.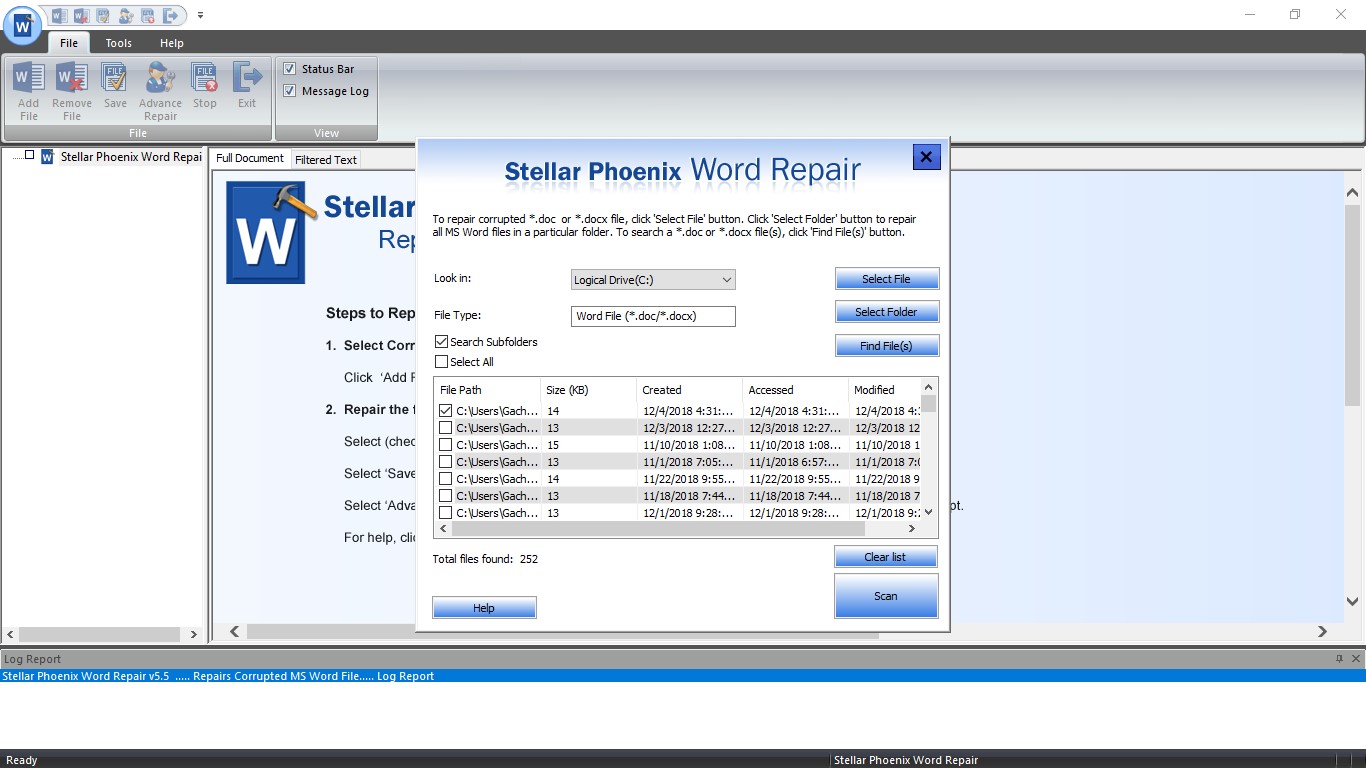 Step 2: Preview the files
The Preview function helps you view the corrupted word file in three different formats. This is effective in evaluating the file before word repair. The three different formats are "Full Document", Filtered Text" and "Raw Text". These formats are used in regard to the severity of the corruption. For severely damaged files, the "Filtered Text" or "Raw Text" is used.
So, to preview a file you will need to click "File" on the left pane of the software and then select "Preview". Click on the preview format desired on the tab in the main interface and the word file will be previewed on the right pane of the software.
Full Document View:
Filtered Text View: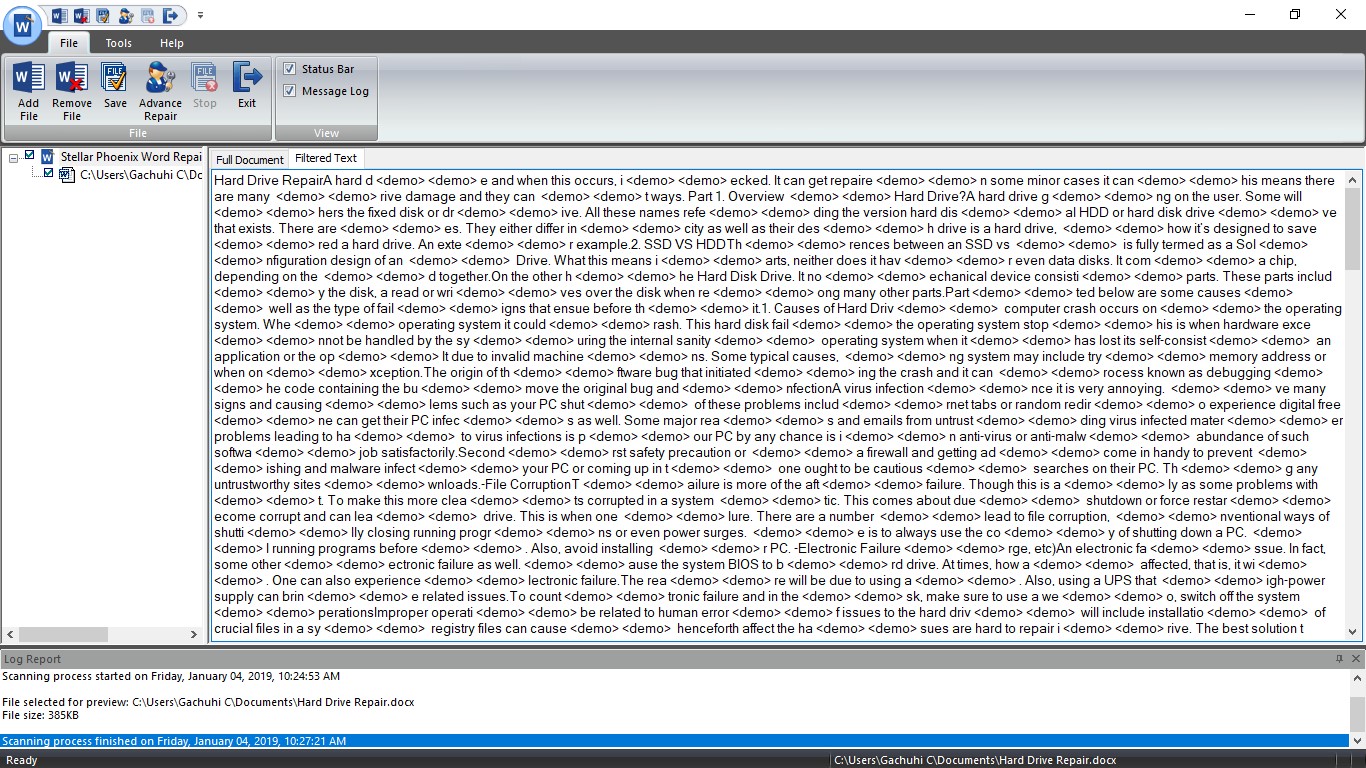 Raw Text View: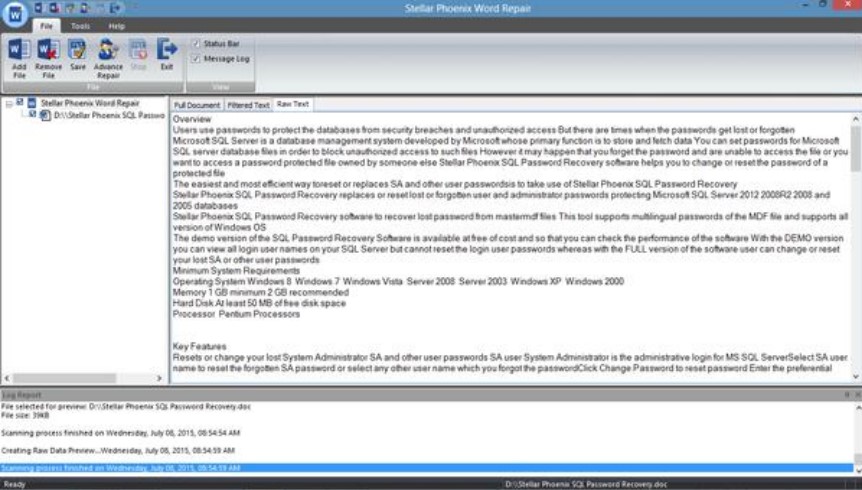 Step 3: Save The File
Once you are done previewing the file, it will not be time to execute the repair process then save the file. When saving there are two options, either the "Save" function which is available for .doc and .docx files.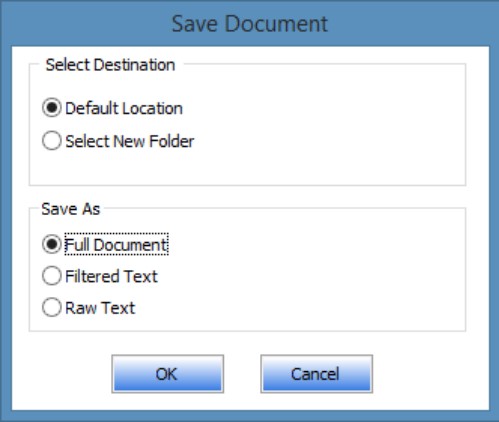 The "Advanced Option" will only available for .doc files.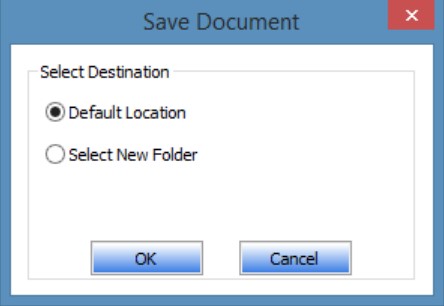 ---
Part 3: When Should I Repair My Word?
I am sure that you are now certain that you can overcome any and all issues pertaining to the word file. To detail, some of the issues that can be experienced and make word repair necessary, looking at certain errors will help you understand know the root cause of the issue. This will also inform you of more issues that can be encountered due to file corruption, so as to help you mitigate such unforeseen circumstances.
Here is a list of different file corruption scenarios in regard to errors. Also, xxx.doc will be used to denote the word file. Error-Word file cannot be open due to issues or problems with the contents
Using MS Word 2007 or other higher versions to open a corrupted file, you will get the error message above and the details will also be provided. Following the prompts to resolve the issue using MS Word will finally lead you to the root cause. Here is a simple break down.

Proceed to click "Ok"

Click "Yes"

The cause will be given and if MS Word was unable to perform Word repair, no need to worry as you can use Stellar Phoenix Word Repair to fix the issue.

Error-Word Experiences an error when trying to open the Word File
With MS Word version 2003 or higher, the error above can be seen when opening a corrupt word file. The details for cause are given and some few suggestions to resolve the issue have also been provided.
Error-File Conversion Error
While still trying to open a corrupt document, this type of error may come up. It relates to selecting the right encoding for making the file readable. If the file is corrupt, no matter which encoding you select, even the right one, word will still not be able to open the document. This is because the file structure and other contents have been corrupted.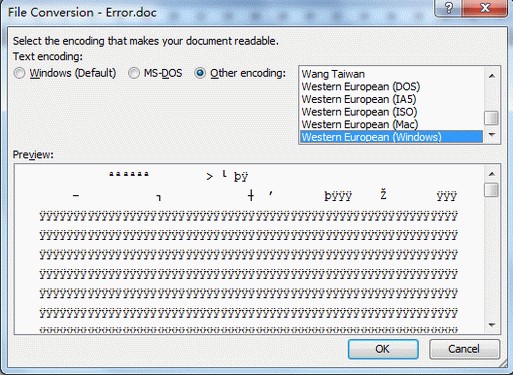 Repair 4 types of files,namely Word, Excel, PowerPoint and Zip.
Offer excellent search options to find corrupted files instantly.
Preview and recover all the data contained in the corrupted files.
Repair files corrupted due to different causes and from all devices.
---
Part 4: Tips and Tricks on Word Repair
1. What should I notice during Word repair?
While it can all take a deep dive really fast and you end up losing the original file, through corruption, it is also prudent to be cautious when undertaking any word repair actions. This is because you might end up losing the original file, even if it is corrupted, through the many failed efforts of trying to repair.
It is also to be noted that not all corrupted files can be fixed. Some files may be severely damaged.
When doing a word repair, you should first and foremost create a back up of the file. Then, with a copy of the corrupted file, try opening the file with different versions of MS Word. If this proves unfruitful, you can also try using a different PC to access the file.
2. What should I notice when using Word?
Some of the issues due to a corrupt word file may start off as irrelevant, minor and simple issues. But they then eventually corrupt the file, rendering it unreadable by MS Word. Some of such minor cases you should notice like issues with opening images. Such an issue may not be as severe but the display of images may be curtailed. So, in case you notice any such suspicious behavior with a document, it is good to consider repairing word file and always remember to have a back up of your work.
When doing a word repair, it should be noted that the action is performed carefully and professionally. This is so as to avoid any chances of failing to repair the file.
Some other precautions include:
Close any open MS Word program when using the word repair tool to avoid the two programs running into a conflict.
One should also make it a habit to safely eject a storage device that contains the document and finally make it a point to create a back up of your work or documents.
External storage spaces are best recommended as they have low chances of getting corrupted, in case your system gets infected by malware or experiences some other issues.
---
Conclusion
Finally, it all boils down to you getting a corruption free document and moving on with your work or any other undertakings. So, if you previously had issues with a corrupted word file, the best solution has been provided above. All you need to do is first download the Stellar Phoenix Word Repair Software. Install it and for a better experience go through the guide to learn how do a word repair solo. Pointers to performing a successful word repair and preventive measures have also been adequately discussed to make it all a pleasant undertaking.
Rescue & Fix Files
Recover Document Files

Repair Document Files

Recover & Repair More

Clear & Delete File