Let's be honest – no matter how much we try to avoid it; we all can end up losing our important files out of the blue. For instance, a while back, while using my pen drive, I accidentally deleted some of my important photos from it. This made me look for numerous ways to perform USB photo recovery – as I couldn't lose those precious memories. Fortunately, I was able to recover photos from a flash drive without much hassle – and so can you. Don't believe me? Read on and learn how to recover deleted photos from pen drive in this detailed guide.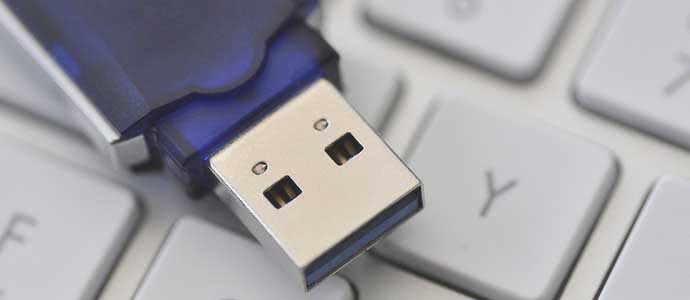 Part 1: Possible Reasons for Photos Getting Deleted on a USB/Pen/Thumb Drive
Before we get into the details and learn how to recover deleted photos from a USB drive, it is important to cover the basics. Ideally, there can be different reasons for losing data on a USB/Pen/Thumb drive. Have a look at some of these issues, so that you can avoid them in the future.
Accidental deletion of data is one of the major reasons for this problem. Too many times, users delete their important photos from the USB drive by mistake, only to regret it later on.
While fixing an issue with your pen drive, you can choose to format it as well. Needless to say, this will automatically delete all the saved photos from your thumb drive.
A malware can also infect your USB drive, causing the unavailability or loss of data in it.
A corrupt storage or any other firmware related issue can also cause data loss in a USB drive.
The mishandling of files by an unreliable third-party tool can make it corrupt.
If you have turned off the computer or removed the USB drive while your photos were still being accessed by the system.
If the thumb drive has been physically damaged or soaked in water, then it can lead to the permanent unavailability of its data.
Any other issue related to its file system, firmware, etc. can also be one of the reasons.
Important Note: Act quickly to get the best results
Stop using your USB flash drive, and consider using a data recovery tool as soon as possible after when your photos are lost from your USB drive. When something is deleted from a USB drive, it isn't lost right away. Instead, its space gets available to be overwritten. Therefore, if you take prompt measures, then you can get your deleted photos back before they get overwritten by anything else.
---
Part 2: Download a Pen Drive Photo Recovery Freeware
Now when you know about the major reasons for causing the loss of photos on your USB drive, we can dive into its solutions. In order to recover deleted photos from a pen drive, you can consider using a data recovery software. This is because the recently deleted photos might be available on your USB drive, but they can't be readily accessed by you. To retrieve them, you need a USB data recovery tool like Recoverit. Developed by Wondershare, it is one of the most trusted and widely used recovery applications out there.
It is a reliable data recovery freeware with one of the highest recovery rates in the industry. The basic version of the tool lets us recover up to 100 MB of data without paying a single dime.
Though, if you wish to recover unlimited photos without any size limit, then you can always upgrade to its pro or ultimate version.
The application features an intuitive interface and is extremely simple to use. With just one click, anyone can perform USB photo recovery. No prior technical or data recovery knowledge is needed to use Recoverit.
This pen drive photo recovery software supports every major type of photos in extensions like JPEG, PNG, BMP, GIF, TIFF, and more. It can even recover RAW, CRW, and PSD photos as well.
Apart from photos, it can also recover your lost videos, audios, documents, compressed files, and every other kind of data.
You can recover photos from a flash drive of every type, format, and brand. It supports popular brands like HP, Sony, Patriot, Kingston, SanDisk, Seagate, Samsung, etc. Also, it is compatible with every major file system like NTFS, exFAT, HFS+, FAT32, and more.
Users can preview the extracted photos on the native interface of Recoverit and select the ones they wish to save to the location of their choice. This gives us a seamless option to perform a selective recovery of data.
---
Part 3: How to Recover Deleted Photos from Pen Drive?
With so many high-end features to offer, Wondershare Recoverit is certainly a must-have USB photo recovery tool to try. You can download its freely available version on your Mac or Windows PC. Once you have successfully installed the application on your system, follow these steps to learn how to recover deleted photos from pen drive.
Video: How to Recover Lost Data
Step 1: Connect your USB Drive
Firstly, take the affected USB drive and connect it to your computer. Once it gets detected by the system, launch the Wondershare Recoverit Data Recovery application. The latest version of the tool (Recoverit 8.0) has an intuitive interface and will display a list of the available locations.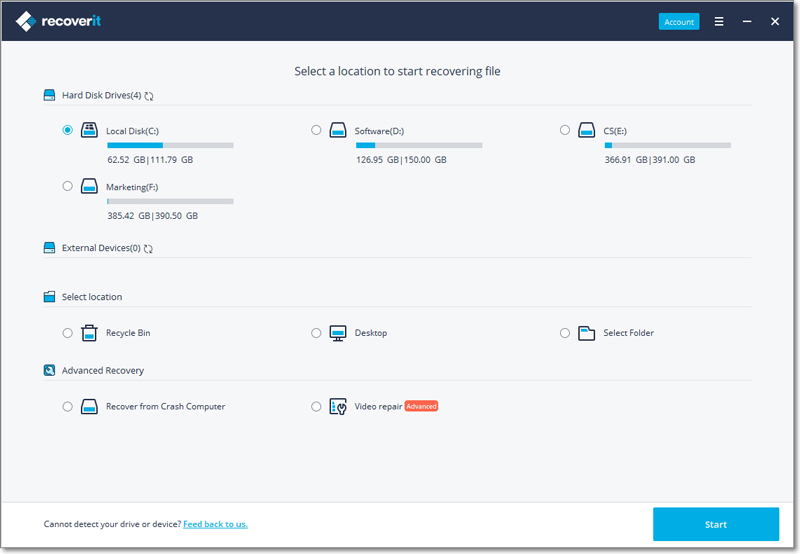 Under the "External Devices" option, you can see the icon for the connected USB drive. Simply select it and click on the "Start" button to commence the USB photo recovery.
Step 2: Wait for the scan to be over
Now, the application will scan the connected USB drive and would try to extract all kinds of lost or deleted files. There is an on-screen indicator to show the progress of the entire recovery process. If you want, you can pause or stop the operation by clicking on the respective icon. On the left panel, you can switch between different file views and see if the application has extracted your lost photos or not.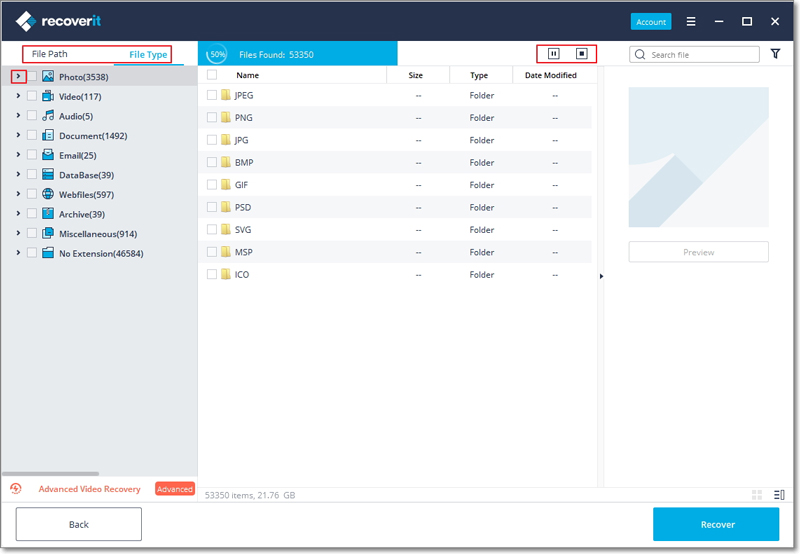 Step 3: Preview and restore your photos
That's it! In the end, all the extracted content will be displayed on the interface. You can view different categories (for file types) on the left panel to browse the extracted content. You can also preview the photos the application was able to extract on its interface. Now, select the photos (or folders) you wish to get back and click on the "Recover" button. This will let you save the selected photos to any location.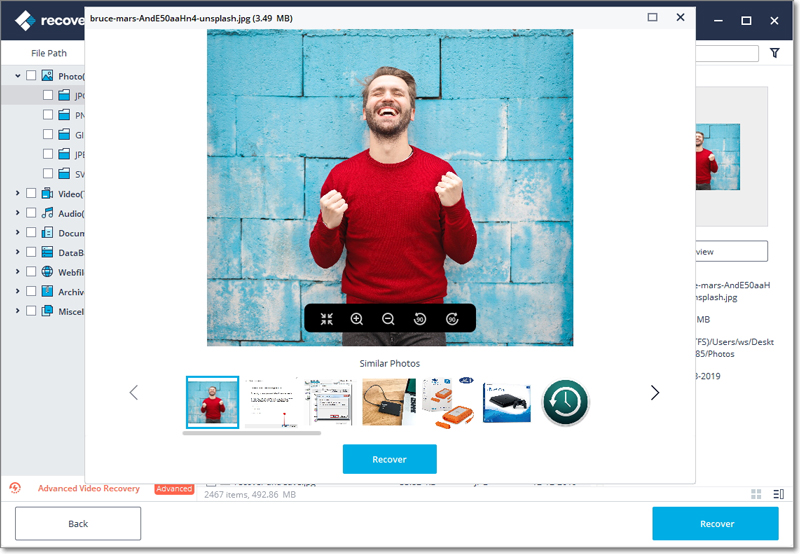 It is recommended to not save the extracted photos back to the USB drive and to another secure location on the system instead.
---
Part 4: Tips to Avoid USB Photo Loss and Damage
If you don't want to undergo a similar situation again, then consider following some of these preventive measures to avoid USB photo loss.
Avoid connecting your pen drive to a public or unreliable system. Most of the public computers are infected by malware and can make your USB drive corrupt.
Keep your thumb drive protected in a case, preventing it from physical or water damage.
Use an active anti-malware tool and scan your USB drive as soon as it is connected to the system.
Format the USB drive to a file system (like NTFS) that is supported by your system.
Don't give permissions to unreliable third-party tools to access data on your USB drive.
Don't turn off your system while the photos on your USB drive are still being accessed in the background.
Always unmount your USB drive safely from your computer. To do this, go to the Taskbar and right-click the connected device icon. From here, choose to eject your USB drive safely. This will let you know that it is now safe to remove the USB drive safely from the system.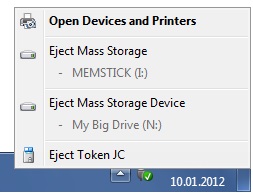 This brings us to the end of this informative guide on how to recover deleted photos from pen drive. Now when you know the details of a free USB photo recovery tool, you can be prepared for a situation like this in the future. Since Wondershare Recoverit is available for free, you can install the data recovery application and use it whenever needed. It will help you get back your lost and deleted photos from a USB drive and numerous other sources in no time. A highly recommended tool, it is already used by experts, and now you can also give it a try for free!
USB Solution
Recover USB Drive

Format USB Drive

Fix/Repair USB Drive

Know USB Drive