Part 1: Overview of CalDigit External Hard Drive
Part 2: Troubles of CalDigit External Hard Drive Data Recovery
Part 3: Recover Deleted/Lost Files from CalDigit External Hard Drive
Part 4: Tips for CalDigit External Hard Drive Recovery
Part 1: Overview of CalDigit External Hard Drive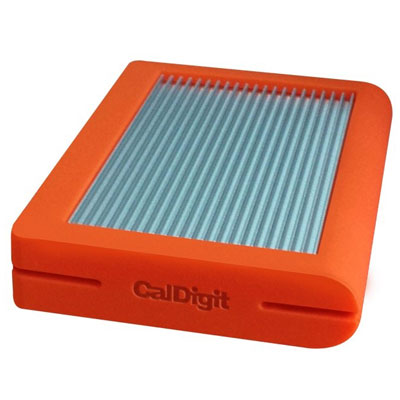 Before looking at any CalDigit External Hard Drive Data Recovery solution, presenting any free hard drive recovery software or presenting the best tips on external hard drive recovery let's first look at the CalDigit External Hard drives.
CalDigit external hard drives family has been on the market for over 10 years. You should know that CalDigit external hard drives are not your everyday devices that are dull and quite common. The company specializes in PCIe storage featuring USB 3.0, thunder bold, and RAID. These drives are quite fast, reliable, and of course very flexible. If I were to describe CalDigit products in two words, I would go for "Performance" and "Security".
If you are looking for a CalDigit Hard drive data recovery solution on their website, you won't find it, because they are primarily a hardware company. Of course, these devices come with utility solutions, however if you are looking for a hard drive recovery software you need to check with a specialized company or DIY using a recovery software.
Part 2: Troubles of CalDigit External Hard Drive Data Recovery
If you are looking for a CalDigit External Hard Drive Data Recovery solution, most probably you do it because you value your data. Hard drive failures happen for two reasons: logical failure when the file system structure is changed due to different reasons that are bind to software problems, and mechanical failure when physical parts are getting teared up and they stop working.
Logical failure can be caused by inconsistent data structure that blocks the normal data access. Logical failure is not the cause of your data loss, it's the effect of it. The main cause of data loss can be one of the following: data deletion, HDD file system corruption, power surges, and virus attacks.
Physical failure on the other hand it has something to do with HDD's internal mechanical parts. You should keep in mind that HDDs are shock, humidity, and magnetic sensitive. Either one of these factors can damage your drive and ultimately prevent you from accessing your data.
If your hard drive has a logical failure you can simply recover your lost data using a free hard drive recovery software. Hard drive recovery software usually uses a safe read-only algorithm than prevents the overwriting of data on the damaged drive.
The next section is going to show you a step-by-step on CalDigit Hard drive data recovery. The implementation of this external hard drive recovery method is quite easy and if you follow the steps accordingly you should be able to do it with not so much fuss.
Part 3: Recover Deleted/Lost Files from CalDigit External Hard Drive
If you have successfully diagnosed your hard drive and you have reached to the conclusion that it's all about a logical failure, then you can safely proceed with the next CalDigit Hard drive data recovery method, which uses a free hard drive recovery software called Recoverit Data Recovery. This hard drive recovery software is complete safe and can recover data form a multitude of drives: HDDs, Flash Drives, Cameras and Camcorders.
External hard drive recovery is also supported by this software. It has features like: Partition Recovery, Deep Scan Mode that allows for full folder path reconstruction, Raw Files Recovery and Resume Recovery. It has both a manual recovery mode called Standard Mode and a guided mode called Wizard Mode. It can recover more than 550 file formats including: video, images, documents and all sorts of files. Having over 5 million active users Recoverit Data Recovery is maybe one of the best CalDigit External Hard Drive Data Recovery solution out there. Follow the next tutorial to learn how to use it!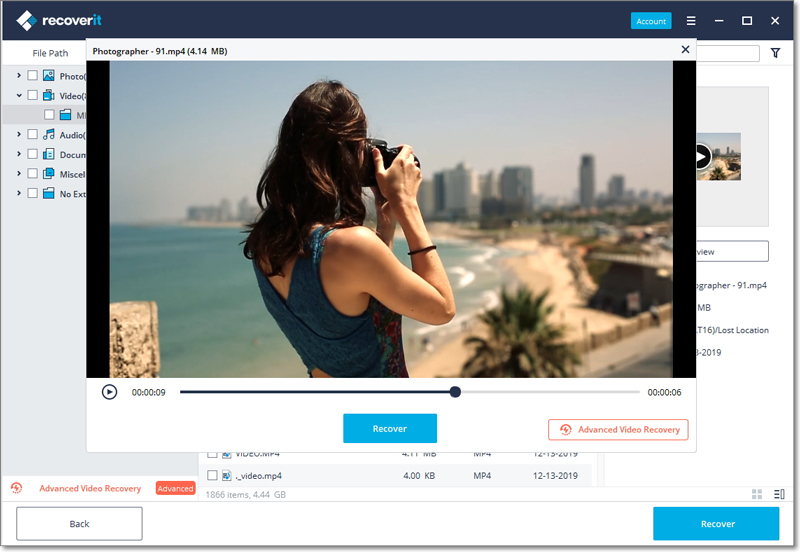 Recover lost or deleted files, photos, audio, music, emails from any storage device effectively, safely and completely.
Supports data recovery from recycle bin, hard drive, memory card, flash drive, digital camera and camcorders.
Supports to recover data for sudden deletion, formatting, lost partition, virus attack, system crash under different situations.
Download Recoverit External Hard Drive Data Recovery tool on your Windows computer, and connect your CalDigit externala hard drive to your PC.
Step 1 Select the specific recovery mode, here you should choose "External Devices Recovery" to get start.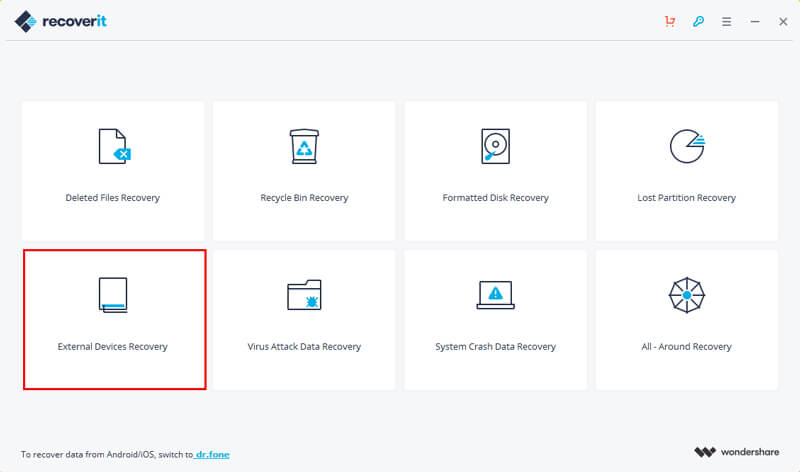 Step 2 Select the target location of External Removable Device option.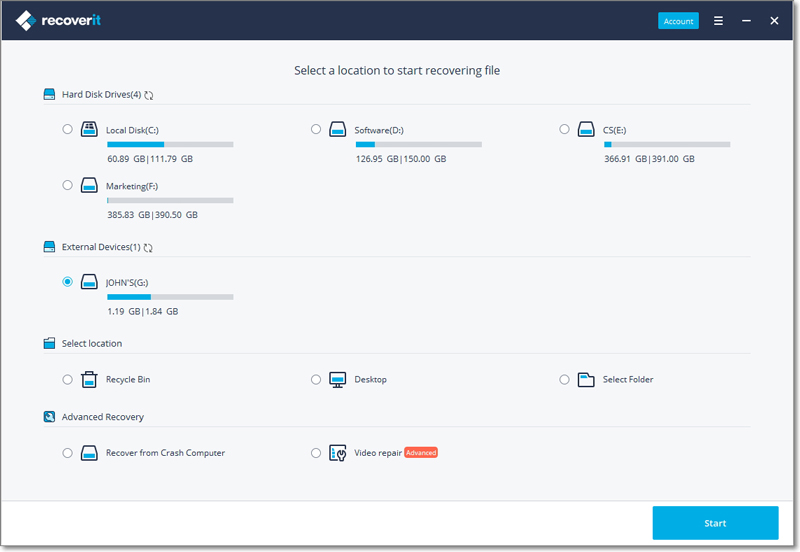 Step 3 You can enable the "All Around Recovery" option if quick scan can't find your lost files. The "All-Around Recovery" will deeply search more files and it will take more time.
Step 4 After scanning, you can prview recovered files, and click "Recover" button to save your files.
Note: Please do not save these recoved files to the CalDgit External Hard Drive which you recovering.
Tutorial: How to Recover Data from External Hard Drive?
Part 4: Tips for CalDigit External Hard Drive Recovery
The best CalDigit External Hard Drive Data Recovery is as they say, the one at hand or the one that you have. However, it is highly advised that you stop using the afflicted drive immediately. Doing so, your data won't be overwritten, which if it is being done it lowers the probability of your data complete recoverability;
If you are looking for one of the best CalDigit Hard drive data recovery solution you should stop by and check Recoverit Data Recovery. Step-by-step tutorial on how to recover lost data is addressed in the previous section of this article;
What you can do other than using any free hard drive recovery software after you have finally discovered that your hard drive has a problem, is accessing the manufacturer website and download their software utility what will allow you to monitor your HDD's health;
It is advised that you don't use two different hard drive recovery software in the same time, because you are overseeing an important aspect: SAFETY;
Sometimes virus infection is the very root of the problem. Installing a virus protection software and keeping it up to date can help you prevent this issue;
If you are a mac OS user and would like to use Recoverit Data Recovery as your external hard drive recovery solution, please follow Recoverit Data Recovery for Mac.
What's Wrong with Drive
Recover Your Drive

Fix Your Drive

Format/Wipe Drive

Know Your Drive