Hard drives are used for the purpose of storing data. However, before you store data in them, you need to partition them. Partitioning can be described as the division of the overall space of the hard drive into smaller portions. Each partition is assigned a particular alphabet by the operating system with which it is recognized. Now, if you are to delete a partition without intending to or format it without making backups of important data then you might want to recover it back. In some instances, you might even lose a partition of your hard drive and can't find it on the computer. While the first two cases of partition loss are down to human error the third one is caused usually by a virus.
Hard Drive Partition Recovery Software
If you ever find yourself in a situation where you have accidentally deleted or formatted a partition of your hard disk then you shouldn't panic. Even if a virus is causing the partition to be lost, you should keep yourself calm. The reason for this is that there are hard drive partition recovery software available on the internet. These software programs can help you get back your lost, formatted or deleted hard drive partitions. While many of the partition recovery utilities claim that they can recover the lost partitions, they ultimately fail to deliver on their promise. Recoverit data recovery is the only hard disk partition recovery tool which can retrieve your lost partitions.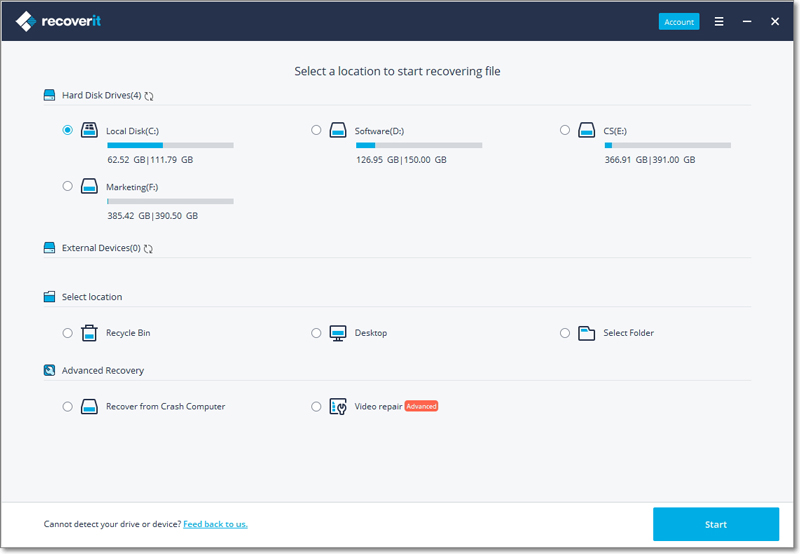 Recover lost or deleted files, photos, audio, music, emails from any storage device effectively, safely and completely.
Supports data recovery from recycle bin, hard drive, memory card, flash drive, digital camera and camcorders.
Supports to recover data for sudden deletion, formatting, hard drive corruption, virus attack, system crash under different situations.
Free download Recoverit Hard Drive Partition Recovery Program on your computer, launch it and follow the next simple steps to recover hard drive partition.
How to Recover Hard Drive Partition
Here is a detailed guide which offers simple instructions on how to use Recoverit data recovery for retrieving data from a formatted, lost or deleted hard drive partition.
After you download and install the Recoverit patition recovery, launch it and choose "Lost Patition Recovery" mode to start the patition recovery.

Select the location to search files, you can select your hard drive partition

It will start a quick scan, or you can go to "All-Around Recovery" mode to search more files but it will take more time than quick scan,

You can preview the recovered files from hard drive partition, and click "Recover" button to save your data.
In short, you can risk losing valuable data if your accidentally format or delete a hard disk partition. It can also be infected with computer virus which can cause you to lose the contents of the partition too. While you can avoid such instances, if you ever find yourself facing this situation, you should make use of a hard disk partition recovery tool like Recoverit data recovery. It is safe, reliable and can quickly retrieve data from partitions which you think have been lost, deleted or formatted.
Always make backup copies of all your important data before formatting any partitions.
Never delete any partitions without checking if it contains any data that might be of use to you.
Invest in a good antivirus which is capable of protecting your computer from viruses of all types.
Partition Disk Errors
Fixed Solutions

Partition Errors