HDD Recovery allows you to obtain your important files back when experiencing physical hard drive failure. You might be looking for the most effective way to deal HDD recovery when the data you stored seemed to have gotten lost by some factors. HDD hard drive or Hard Disk Drive is a device used for storing digital information through a floppy disk or a rotating disk with magnetic material that could also retrieve the information to be viewed or used. With this, there could be access in having the data files kept safe for the convenient usage in the future.
How to Recover Data from HDD
A HDD recovery would help in restoring the lost information one might have been trying to access at a moment. Actually, there are HDD recovery tools to help in getting on with the task in the retrieval of all those gone files.
Recoverit data recovery is one of the most popular HDD recovery tools you can use in recovering all those data you want to have back. This processes all the lost information to be found while bringing back their functional state. It's a free solution to have all those data be gathered again and be used.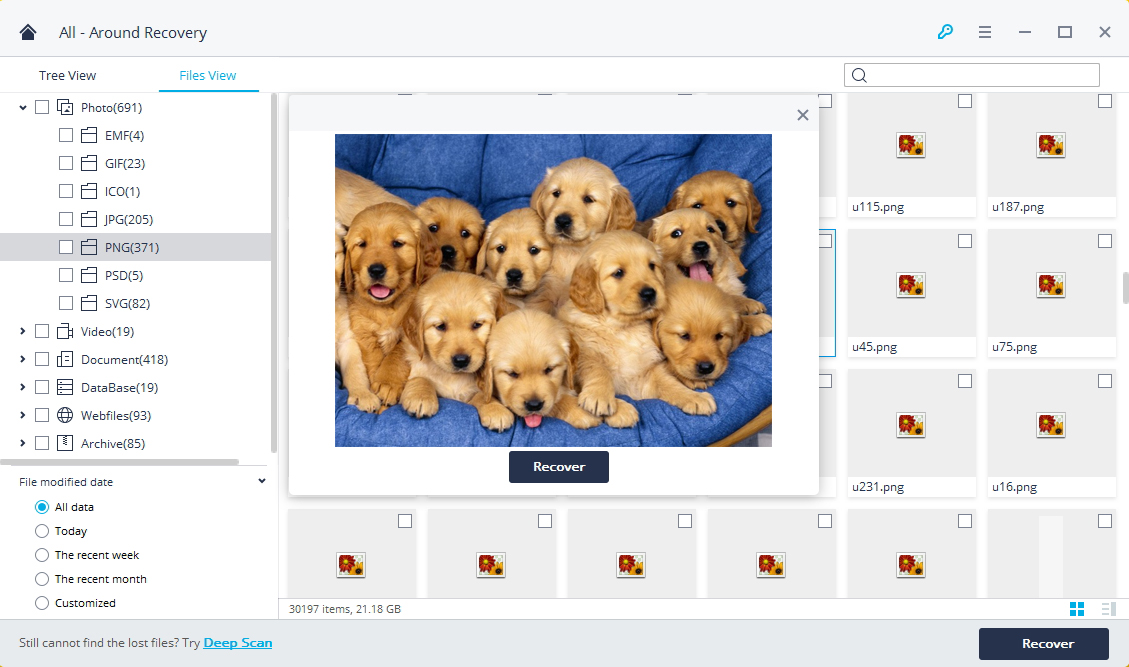 Recover lost or deleted files, photos, audio, music, emails from any storage device effectively, safely and completely.
Supports data recovery from recycle bin, hard drive, memory card, flash drive, digital camera and camcorders.
Supports to recover data for sudden deletion, formatting, hard drive corruption, virus attack, system crash under different situations.
Recoverit data recovery tool is going to ask you security questions that will help in determining the lost files you want to recover. Also, there are some of those commands that are cool enough not to find those information you have been trying to get back. First you need to download and install the Recoverit HDD recovery software. Mac users can turn to Recoverit for Mac.
Launch this Recoverit data recovery on you computer,and seleted a recovery mode to start. Here we selected "Deleted Files Recovery" mode.

Select the location where your data lost from, and start to recover lost data from hard drive.

It will start a quick scan. After that, you will see all the recoverable files. It's recommended go to deep scan with "All-Around Recovery" mode if you can't find any files after the quick scan completed. It will take more time but it can help you search more files from hard drive.

The HDD recovery tool is going to have you the chance to preview the files you are about to retrieve from being lost. This is a really helpful step in verifying those that you want to redeem and those that you want to be lost forever. Most importantly, you can determine whether or not the file should be retrieved to avoid unnecessary clones.
Sometimes, when saving or retrieving the files, there might be some problems met. One could have the information lost by some factors that affects it. The following are some of the most common reasons behind the deletion of those data:
Accidental Deletion
One could actually delete the data in the drive accidentally. How? Well, one could simply have the Delete button chosen while doing some command. This is really frustrating that recklessness could ever do to you. Sometimes, this is done by an accidental save without even naming or renaming the file. The memory of the device could be lost with one wrong move in dealing with the saving of the information.
HDD Formatted
Formatting the HDD is a way to let the drive be cleaned of all sorts of bugs and viruses. Nevertheless, one must be very careful in dealing with the command as this could result into the loss of the memory of the device. With the Format command, you do not only get rid of the viruses, you also get rid of everything saved in the disk drive.
One could have the data be all swiped out by just clicking on the wrong command especially those that could be done using the right mouse. That safe eject button could be reason.

Upon ejecting the device safely to save the information, one might accidentally select on the Format button which is just above the Eject button. With that, all the information stored would all be lost.
Partition Lost / Damaged
When the device itself is damaged, it could also have a problem with dealing with the storing of memory. There are times that all the saved information would be corrupted. This is due to the capability of the hard drive to save data. Other reasons for this could also be:
Sudden power outage
Computer viruses
A wrong cloning of the partition
Poor hdd recovery software for partition