Hard drives nowadays are quite resilient and can remain functional for years. However, they aren't invulnerable. Hard drives are prone to malfunctions which can be brought upon by a number of different factors. For instance, wear and tear over an extended period of time can physically damage the hard drive, rendering it incapable of functioning properly. Moreover, viruses can also play their part in corrupting the file system of the hard drive which could cause them to fail. Another reason for hard drive failure is malware which can targets and destroys the contents of the hard drive.
One of the most obvious signs of hard drive failure is the inability of the operating system to detect it. In such cases, the failure of the hard drive is catastrophic and you become unable to access the data stored on the disk. When facing such circumstances, it becomes important to find a way to recover data from failed hard drive. You can do this by utilizing a data recovery tool.
Get the Best Hard Drive Data Recovery Program
Recovering data from a failed hard drive isn't possible without using a third-party data recovery tool. These tools are capable of scanning the failed hard drive and extracting any data that is retrievable from it. However, you need to make sure that you are choosing the right software for this purpose. There are a number of such tools available online which all claim to recover hard drive failure. However, most of them aren't capable of recovering anything. Recoverit is one of the few tools which can quickly recover data from a hard drive which has suffered a catastrophic failure without causing any damage to it.
Recoverit performs the task of data recovery in a very seamless manner. You wouldn't have to do much to get back the data you thought you had lost when your hard drive failed. Using this data recovery software is made simple thanks to its user-friendly interface. Its design and layout are so intuitive that anyone can use it without encountering any difficulty. Moreover, it doesn't matter the reason why the hard drive had failed, Recoverit can get back the data within minutes. Thus, you can use it to recover data from failed hard drive too.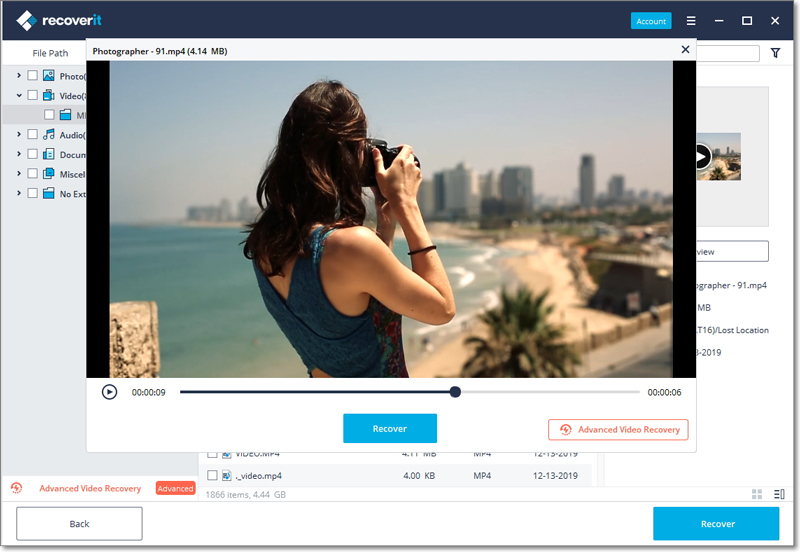 Recover lost or deleted files, photos, audio, music, emails from any storage device effectively, safely and completely.
Supports data recovery from recycle bin, hard drive, memory card, flash drive, digital camera and camcorders.
Supports to recover data for sudden deletion, formatting, hard drive corruption, virus attack, system crash under different situations.
Security Verified, people have downloaded it
How to Recover Data from Failed Hard Drive
The following is a tutorial in Windows version which is designed to help you learn how to recover data from failed hard drive using Recoverit. For Mac users, the steps are similar. Now, let's go ahead to get back lost files from a failed hard drive step by step.
Launch Recoverit, select the data loss scenario. To recover data from the failed hard drive, simply select the option of "Deleted Files Recovery" to start.

The software is going to provide all the possible locations where the files you are looking for may be present. Since you want to recover data from your failed hard drive, you should choose its option from the list and then hit "Start".

The software will quickly scan the chosen hard drive, which might require you to wait for a while. After it, if you can't find the files, try the "All-Around Recovery" mode. It will deeply search more lost files from the failed hard drive while taking longer time.

Finally, you can preview all the found files listed according to the Tree View or File View, choose the ones you want to retrieve, and click on the "Recover" button to get your lost data back.
In short, hard drive failure can be caused due to a number of different reasons. You stand to lose all the data stored on the hard drive if it fails. If you don't have any backup of the data that was on the failed hard drive, then you should look to recover it. Since there aren't any means of data recovery available in Windows or Mac OS, your best option for recovering data is to make use of a third-party data recovery tool. Recoverit is one of the best data recovery tools available in the market which can recover data from failed hard drive within minutes.
3981454 people have downloaded it
Tutorial: How to Recover Data from Damaged/Failed/Crashed Hard Drive?
What's Wrong with Drive
Recover Your Drive

Fix Your Drive

Format/Wipe Drive

Know Your Drive