There are always many reminders or suggestions which rounds all over the internet and tell people to create a backup of all their important data. But it is human tendency that they search for backup advises only after something worse has happened already. There can be various reasons for the deletion of data like virus, hardware or software failure, and some of the data people mistakenly delete.
But data being deleted does not mean that the data can't be retrieved. Don't be surprised because Yes, the deleted files can be retrieved but, only if they are not overwritten. Once the portion of the disk where data stored is overwritten, the data can't be recovered.
Mac Hard Drive Recovery Software
In case of Mac hard drive recovery, if your device is started somehow with the help of an external drive or Recovery HD, there are chances that the volume being looked up for recovery won't show up. But if a data recovery software is installed in the OS, it will look up for that drive and as long as the data will be on drive, there will be reasonable chances to recover it. With the help of Recoverit for Mac, you can easily recover the lost, formatted, or deleted data from a Mac hard drive. It is 100 percent safe, efficient and recovers the complete data.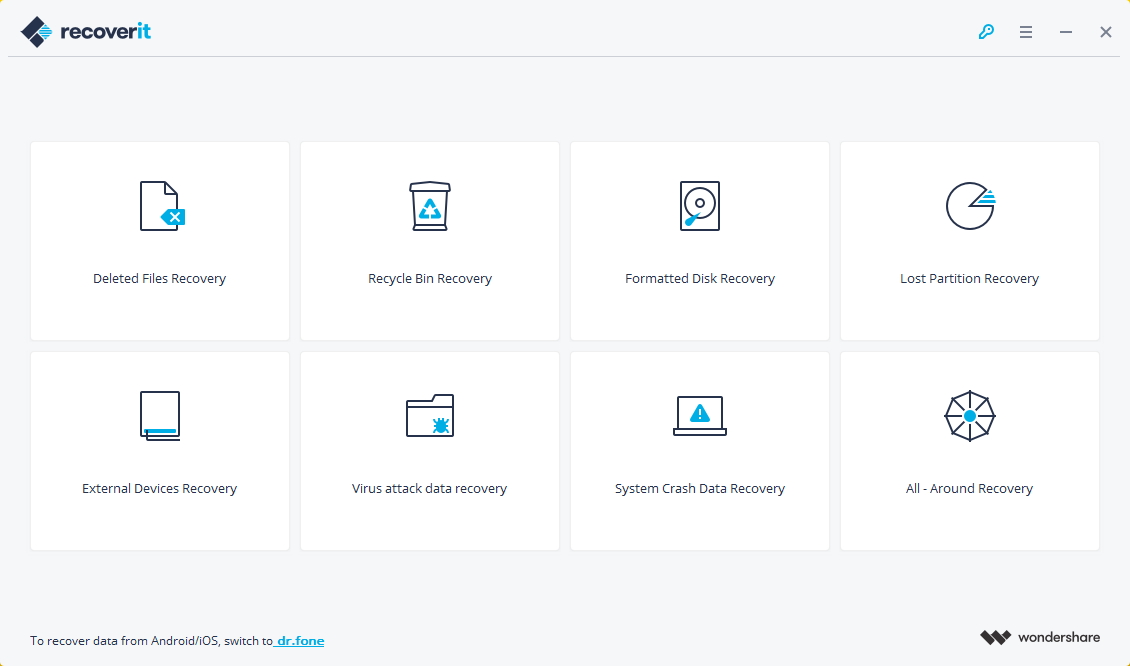 Recover lost or deleted files, photos, audio, music, emails from any storage device effectively, safely and completely.
Supports data recovery from recycle bin, hard drive, memory card, flash drive, digital camera and camcorders.
Supports to recover data for sudden deletion, formatting, hard drive corruption, virus attack, system crash under different situations.
Free download install Recoverit Hard Drive Recovery for Mac on your Macbook, launch it and follow the next simple steps to recover data from Mac hard drive.
3-step to recover data from Mac hard drive
Select a recovery mode, to recover data from hard drive, here we can choose "Deleted Files Recovery" mode to start hard drive recovery on Mac.

select the location where you data lost, you can select Mac hard drive here and click "Start" button to process. It will start a quick scan.

If it cannot find your data you can go to "All-Around Recovery" mode which will search more files from Mac hard drive, but it will take more time than quick scan.

You can preview the recovered files after the deep scan, and click "Recover" button to save files.
Other ways to recover Mac Hard Drive
There are three other ways by which data can be recovered from a Mac hard drive.
Fix 1: FSCK command for fixing hard drive
A Mac HD which is failing can be repaired with a non-GUI mode. Below mentioned procedure can be followed to execute it.
Turn off the Mac.
The power button should be pressed to start the Mac and the Command + S button should be pressed and hold.
With this you will be taken to Single User Mode and from there all the files can be accessed and Mac hard drive can be recovered.
Now, the command line to be entered is - /sbin/fsck – fy
Hit Enter (Return)
The analysis of Mac hard drive volume will begin and the message will be returned according to the action performed.
The following message will be displayed in case of Mac hard drive being healthy – "The volume (name) appears to be OK"
When damaged volume will be repaired by FSCK, the following message will appear – "File System Was Modified". The FSCK run should be repeated until the correction of file system and display of message in "vii".
Fix 2: The Target disk Mode to recover files from a Mac HD
This (Target Disk Mode) is a powerful method where a faulty HD is mounted and accessed using accessories. The accessories required are Thunderbolt or a Firewire which connects two Macs (Healthy and Unhealthy) for transferring files. Now the first thing to do is connect two Macs with the help of cables.
It should be made sure that both Macs are receiving uninterrupted supply of power.
Use a Firewire 400 or Firewire 800 cable for connecting both Macs via USB ports. A Thunderbolt can also be used to connect both.
The Mac with failed/failing HD should be started and immediately, keyboard button "T" should be pressed.
The booting of Mac should be in Firewire mode and when it does, a large Firewire icon will be displayed on screen.
On the healthy one, a troubled HD icon will be displayed on Desktop. If connected with a Firewire, the Firewire symbol will be mounted on 'Macintosh HD' and if connected with thunderbolt cable, it will be mounted with Thunderbolt icon.
After mounting, disk repair can be performed and files can be copied from an unhealthy to a healthy hard drive or an external drive.
This whole process seems to be an easy task but the problem occurs when the unhealthy Mac fails to mount on healthy Mac because at that time, it becomes impossible to recover or copy the files.
Fix 3: Converting internal Mac HD to an external HD
This is an alternative solution of Target Disk Mode but first you should know to convert an internal HDD to an external drive.
The internal Mac HD should be safely taken out from the Mac system. You can get the help from various DIY videos.
Before removing the internal HD, make sure that you have external HD enclosure. If you don't have, order one and you can get one for as low as $10 - $15.
Open the enclosure and place your hard drive according to the matching context. After placing/sliding the hard drive, the enclosure should be properly closed.
For closing, the front-back cover of the enclosure should be covered-up.
Now, take a USB cable and connect both the ends to the respective points, i.e. to hard drive and Mac OS X. Thus, it will be mounted and converted to an external HD.
You should note that an extremely damaged hard drive might fail to be accessed on Mac even after the conversion to external HD.
So, these are some of the measures which successfully helps to recover data. There are some DIY ways to data recovery and are very cheap or don't require any money, but these methods don't give desired results. On the other hand, there is Recoverit data recovery software which in just 3 simple steps helps you to get your lost data back. If at present you don't require a data recovery, then make sure that you have a backup strategy which works and prove to be helpful whenever needed.