When using the computer for a while, most of us have a plan to upgrade the old hard drive to a bigger one and it seems unavoidable. Then the issue comes. How to transfer OS on the older drive to a new one? Because the existing operating system runs great and we don't want to reinstall it. However, simply copying the operating system to your new disk doesn't work. What your need is a disk cloning or imaging, which can help transfer the full system including boot files and hidden ones that's necessary to your system.
How to transfer OS from a hard drive to another one?
Cloning can transfer all contents as the same as original, while imaging transfers your system as a image file. To clone or image your hard drive, you need a drive cloning or imaging tool. Wondershare LiveBoot Boot CD can help do both. You can choose either of them to transfer your OS.
Step 1. Boot your computer from LiveBoot
LiveBoot provides a bootable CD/USB, which gives you a totally clean environment so that you can transfer your OS safely. It integrates with the latest Microsoft PE 3.0 and is compatible with all computers. Insert the CD or connect the USB with your computer, start your computer and choose to boot from LiveBoot.
Step 2. Clone or image the OS
When the LiveBoot launched automatically, go to "Disk Management" on the top menu. Here you can clone or image the disk as the following picture.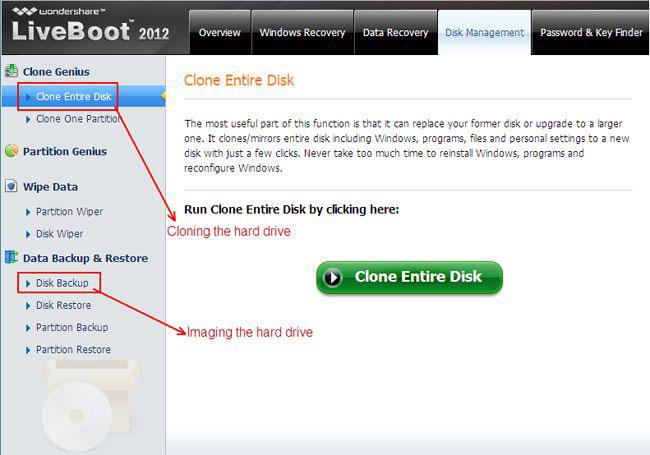 Select one of them to back up your hard drive according to the interface instructions.
Step 3. Transfer OS now
After backing up the old drive, replace it with your new disk, and begin to transfer OS to it. If you've cloned your existing OS, now you can choose to clone it to your new disk as the former steps. If you chose to image your OS, you can choose "Disk Restore" to transfer your OS image file to your new disk. It's only a 1-click work.
Know more about Wondershare LiveBoot Boot CD
What's Wrong with Drive
Recover Your Drive

Fix Your Drive

Format/Wipe Drive

Know Your Drive