The Need for Linux Data Recovery Software
We all do some mistake or the other at some point while using our PCs- and there is a chance of that leading to data loss. While Linux operating systems are highly secure, even they are not immune to losing data- and this can happen more easily than you think.
It is not just accidentally deleting a file- many other reasons can lead to your important files being corrupt, lost or deleted. When something like this happens- do not worry, for with this Linux Data recovery guide, you will learn the best ways to get back your data.
What can Linux Data Recovery Software DO?
With a Free Linux Data Recovery Software, not only can you recover your lost/deleted files in the Linux hard disk- but also those in other external disks and USB drives. If you have a virus infected disk or memory card, all you have to do is connect it to your Linux PC and run the free Linux data recovery software to recover and restore the files in it. The question now is which software- and a list of the 5 most popular Linux Data Recovery tool up ahead will help answer that.
5 Linux Data Recovery Software to Choose From
1. SystemRescueCD
This is a Linux Data Recovery tool based on Gentoo Linux. SystemRescueCD works for Linux as well as Windows systems. The kernel of SystemRescueCD is compatible with all file systems, including ext2/3/4, btrfs, ntfs, vfat, xfs and the network file systems. The best part about using this tool is that no installation is required- it can be directly booted from an external disk.
Features of SystemRescueCD
This Free Linux Data Recovery Software can be used to recover lost data as well as partitions. The TestDisk tool in SystemRescueCD is used for partition recovery. It supports all major file systems- including NTFS, FAT32 as well as HFS (used in Mac OS). SystemRescyeCD also comes with unarchiving and archiving capabilities, file managers, web browsers and a host of other utilities for PC management.
What makes this tool even better is that it is also available for those who are blind or have limited vision, for it has an integrated Linux speakup screen reader. SystemRescueCD is regularly updated, and its support community is one of the best places to solve any queries related to data backup and restoration.
Interface
The user-interface of SystemRescueCD is text based- a list of all the tools in it are shown, and you have to select the requisite one. SystemRescueCD has to be loaded from a bootable USB drive or CD-room. The 'TestDisk' tool is for recovering deleted/lost partitions while 'PhotoRec' is the tool for data recovery.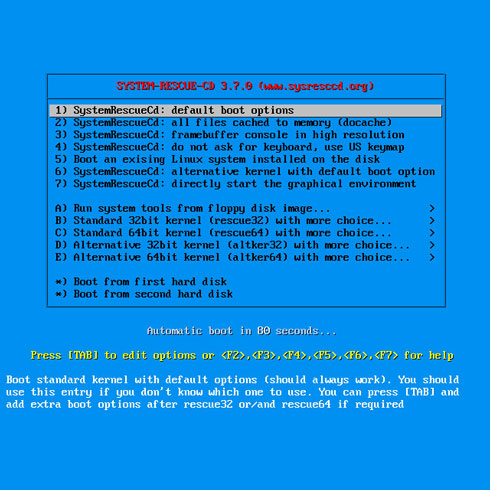 2. Gparted Live
GParted Live is a part of the latest GParted application, and can be run from a bootable USB stick or CD. This Free Linux Data Recovery tool can be used to recovery files as well as recover partitions that are damaged among a host of other functions. It is only for x86 bit systems-, which means if you have a 64-bit OS, then you canot use GParted Live.
GParted Live is based on Debian Live, and comes with a host of included packages, like graphical utilities including a text editor, file manager, web browser etc; and command line utilities such as partition backup, partition table editor, text editor and much more.
Features of Gparted Live
GParted Live can be used for recovering data from hard disks, both internal and external, as well as flash drives and RAID devices. It is compatible with all sector sizes as well, such as devices that have 512, 1024, 2048 byte sectors and even bigger numbers. This tool can be used to enable/disable partitions, which may often be the reason behind a partition being 'lost'. Partitions that have been deleted or resized can be recovered with the help of GParted Live.
GParted works with all hard disk drives, flash memory devices as well as devices that have the RAID configuration, including motherboard BIOS RAID, Hardware RAID and Linux software.
Interface
The UI of GParted live is similar to the boot screen- a list of all the tools under it are shown, and you have to select the appropriate one for recovering the data. For those who are new to Linux, configuring and running GParted may be a little complicated.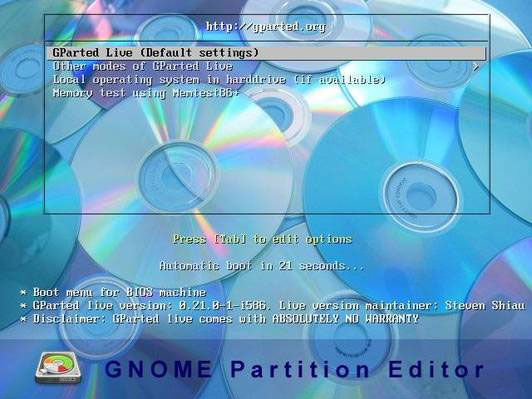 3. Trinity Rescue Kit
Trinity Rescue kit is a free Linux Data Recovery tool designed specifically for repair and recover operations only. It can be used on the network over PXE, from a bootable CD or USB disk. Trinity Rescue Kit can be used for virus scanning and recovering lost files from virus attacks. What makes TRK such a popular choice for Linux Recovery Tools is that it is updated regularly with improvements and latest features.
Features
Trinity Rescue Kit, apart from being a data recovery software can be used for recovering lost partitions, reading/writing to disks, evacuating 'dying disks' and also comes with a host of virus scan products. You can also use TRK for cleaning the unnecessary temporary files in your PC for saving space in a safer manner. With full read/write support, proxy server compatibility and self-update capability, there is little that you have to worry about while using TRK.
Interface
Trinity Rescue Kit is one of the simplest Linux Data Recovery tools to use. It comes with a scrollable text menu that just requires basic English knowledge to use. All it takes is a bit of mouse clicks and keyword strokes to perform data recovery.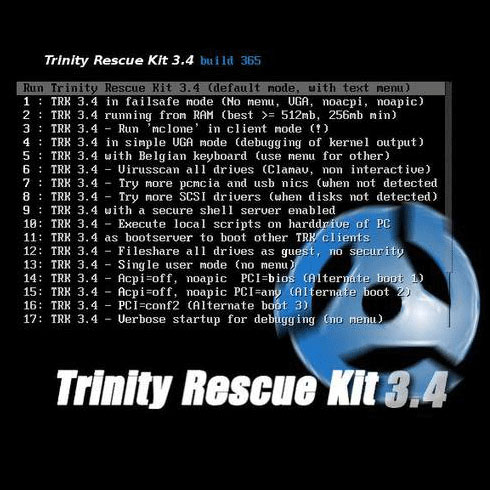 4. F-Secure Rescue CD
F-Secure Rescue CD is based on the Linux Knoppix derivative. This Linux Data Recovery can be run from an external CD or drive and access the operating system and hard drive. For using F-Secure Rescue CD, the affected PC must be compatible with x86 programs and have at least 1024 MB RAM, apart from supporting USB/CD Startup. While using Rescue CD, having internet connectivity will be an added advantage as it will allow you to use the other functions.
Features
It comes with a host of repair and recovery functions, which makes it ideal for performing data recovery on a virus affected PC. It can also be used for checking the integrity of the applications already present on the system. Apart from recovering damaged or lost files, it can also be used for performing advanced repair functions on the data in your hard drive. However, the only downside is that you cannot use it for scanning an encrypted disk.
Interface
F-Secure Rescue CD interface is in the form of text options. The appropriate options can be highlighted using the arrow keys and selections are confirmed using the Enter Key. It first scans the disk and reports all infected files, which can be recovered as required.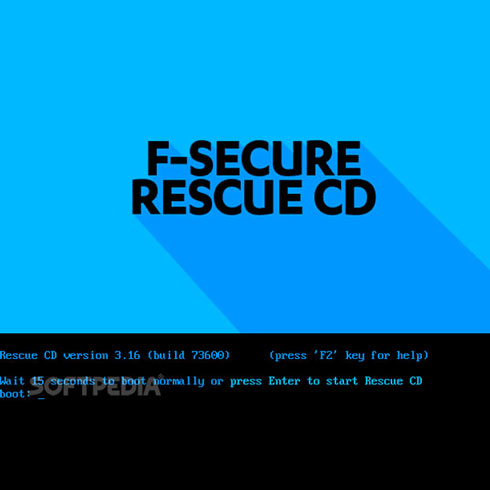 5. R-Studio
R-Studio is a very comprehensive free Linux Data Recovery Software. This tool is designed to provide users with complete control over the data recovery tasks in a Linux systems, capable of recovering data from all types of disks and logical partitions. R-Studio make use of the latest techniques in data recovery, which make it possible of all the features described ahead. It can be used for recovery when files are lost due to deletion, power failure, modified/damaged partitions and bad sectors on hard disks, apart from a host of other scenarios.
Features
R-Studio can be used to recover data from deleted, formatted, damaged and resized partitions. Apart from Linux File Systems, it can also be used for data recovery from Open/Free BSD file systems, Solaris, Windows and Macintosh hard disks. The recovered files can be saved in any disk that has a Linux-kernel supported file system. R-Studio also supports network and RAID Drives. You get increased control over the data recovery process with the flexible parameter systems. the RAW File Recovery mode in R-Studio can be used for data recovery on unknown file systems and drives that are heavily damaged.
Interface
R-Studio for Linux comes with a graphical interface. All the options are easily visible, and the user just has to take some time to get familiar with them. All the disks and partitions are visible in the Drives panel.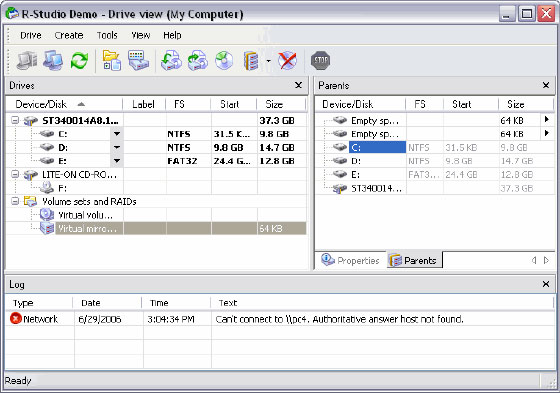 Thus, you now know the best ways for Linux Data Recovery. In addition to all these tools, you also have a highly effective and easy to use data recovery software in the form of Recoverit Data Recovery for Mac and Windows. With the option to preview files before recovering, partition recovery, raw file recovery and a host of other features, it is one of the most effective and comprehensive data recovery tools trusted by more than 5,000,000 people globally. If you too are looking for a data recovery tool that can get back any type of deleted, lost, damaged or formatted file- then Wondershare Data Recovery is the name that you need to remember.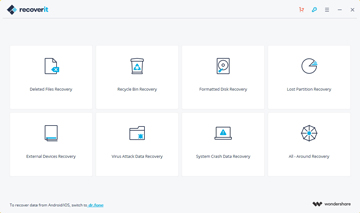 Recover lost or deleted files, photos, audio, music, emails from any storage device effectively, safely and completely.
Supports data recovery from recycle bin, hard drive, memory card, flash drive, digital camera and camcorders.
Supports to recover data for sudden deletion, formatting, lost partition, virus attack, system crash under different situations.
What's Wrong with Drive
Recover Your Drive

Fix Your Drive

Format/Wipe Drive

Know Your Drive