After updating Mac, it suddenly started displaying a black screen. I tried restarting it several times, but the issue remained the same. How can I fix the corrupted Mac? I will appreciate the help!
Does that sound familiar to you and you are also looking for how to repair disk on Mac? Your Mac can fail to reboot because of various reasons. So, it is vital to check your hard drive periodically for finding out any errors and fix them with the timely repair. Failing to do so can even lead to losing your essential files. This article will walk you through the common Mac hard drive problems, how to repair them, and how to recover data after disk repair with Recoverit.
Part 1- Common Mac Hard Drive Problems
Mac is considered the most trusted system, and it contains solid-state drives. Even then the hard disk is not immune from corruption and failures. We will introduce you with the common hard drive issues, the causes and symptoms that make hard drive non-working on Mac.
1. Problem: Hard Drive Not Mounting Or Unrecognized
When you start your Mac, generally the hard drive mounts automatically and makes you easily access your computer. But sometimes the disk fails to mount on startup; you can't access it as except the erase button all the other operations are disabled. Your Mac can even fail to start when the hard drive does not mount.
Causes
Preference: In preferences, if you have not enabled to make the hard drive visible on Mac, it will not show it mounted on your computer.
Connector: For the external hard drive, the port, or the cable through which you are connecting can be faulty.
Corrupted File system: Logical errors, bad sectors can also damage the drive, making it non-mounted.
Hard drive failure: Physical damage like a component failure or head crash can also make hard drive non-mounted
Disk Utility failure: Faulty disk utility can also make Mac hard drive non-mounted.

Partition issue and the wrong file system can also disable the hard drive from mounting.

Symptoms

Hard disk power light does not show up
Finder does not show up hard disk
Strange noises when external hard drive connects to your Mac signifies component failure

2. Problem: Disk Bad Sector

The small bunch of storage space that appears defective on the Mac hard drive is referred to as a bad sector in the disk. Because of the bad sector, the data stored on the drive gets affected, leading to file corruption, etc.

Causes

Physical damage
Software errors
Natural Wear and tear of the disk

Symptoms

Automatic CHKDSK
Stuck FDISK
Stuck Disk Formatting
Hard Drive Read Error
Strange Noises
Boot Failure

3. Problem: Hard Drive Data Loss

Data loss from the hard drive is unavoidable. But when it happens, you lose your critical information that is stored on your disk.

Causes

Technical Failure
Physical Damage
Virus attack
System crash
Accidental deletion

Symptoms

Blue Screen
Error: Drive not Formatted
System freezes
Computer reboots repeatedly
Drive absent

4. Problem: Clicking Noise of Hard Drive

The delicate platters on which magnetic arm of the hard drive reads or writes data gets easily damaged even with a slight drop or jerk. When you boot up Mac if you hear a clicking noise, it signifies that your drive has suffered physical damage.

Causes

Insufficient power supply- This happens mostly when multiple devices are connected to a single port
Physical depreciation
Faulty data cables
Incorrect drivers
Crashed hard drive

Symptoms

Unrecognized hard drive
Hard drive not spinning
Unusual noises
Applications loading slowly

5. Problem: Slow Hard Drive

Your hard drive functionally slows down with time and usage, leading to the sluggish opening of applications.

Causes

Outdated Mac operating system
Crowded Startup
Hardware issues
Continuous usage
Numerous apps running in the background

Symptoms

Applications taking too much time to open
Computer freezes

6. Problem: Hard Drive Partition Deleted

Sometimes while performing reformatting or resizing operations, you accidentally get your systems partition deleted. Various other reasons lead to partition deletion.

Causes

Partition table damage
Drive issues
Bad sectors
Virus attack

Symptoms

Partition Not visible
Data Loss

---

Part 2- How to Repair Mac Hard Drive

When Mac hard drive develops some problem, it needs to be repaired timely to avoid any data loss or making it irreparable. Only a healthy hard drive enables you to access your system easily by providing a wide storage space. Here are the top solutions that will repair your Mac hard drive.

Solution 1- Repair In Recovery Mode

Fix your hard drive with Disk Utility's First Aid. Perform this step in the recovery mode.

Step 1- Reboot Mac in Recovery Mode

Boot your Mac in recovery mode by holding Command + R. Release keys when you visualize the Apple logo.

Step 2- Select Disk Utility

Select Disk Utility from the troubleshooting options of macOS Utilities.

Step 3- Select Unmountable HD and Click on First Aid

The cryptic disk errors are repaired with First Aid.

Once the disk utility Mac repair completes successfully, log out from the recovery mode and boot into your system as usual.

Solution 2- Repair with FSCK Command

Repair HDD Mac with FSCK command in single-user mode. FSCK will take time depending on the size and type of the drive.

Step 1- Restart Mac by Pressing Command + S Keys

Shut down the Mac and restart it by pressing together Command and S key of your Mac. Leave the keys once the Apple logo appears. Your system is booted in the single-user mode.

Step 2- Type the below command and press "Enter"

/sbin/fsck –fy

The command line will check the volume of Mac hard drive. You will see the message, "File system was modified" when the damaged disk is repaired. Retype /sbin/fsck –fy when you view this message.

Your Mac's drive fully repairs with the message "The Volume (name) appears to be OK." After viewing this message, restart your Mac as repairing completes.

Solution 3- Try Safe Mode

Reboot Mac in safe mode and fix the hard drive issue. It is the troubleshooting option that starts the computer by limiting its operations to the basic functions like starting windows by activating only core drives and networking support.

None of the third-party tools or extensions boots, login item also gets skipped, and it also empties the cache. When you boot the system in safe mode, problems are checked, and the trash that creates these problems is taken out. Boot the system in safe mode with the following steps:

Step 1- Shut down Mac and restart it in safe mode by pressing "Shift" Key

During this time if the computer hangs up, shut down your computer, by pressing the power button till the time it turns off.

Step 2- Release Key When Login Window Appears

Release "Shift" key of your keyboard, when you view the login window. Mac has restarted in safe mode.

By now the Mac has got repaired. If the system boots properly try to reboot it as usual now. If the system still hangs, try restarting in verbose mode by pressing command + V. It will check the Kernal extensions that are causing the issue. Now restart it again in safe mode and remove the problematic extensions.

Solution 4- Fix with Terminal

Fix your Mac hard drive with Terminal. It is an application in your Mac that helps you to control your system with the command prompt. You can modify your desktop, files, fonts, and much more with this command-line interface and also fix the logical damages of the Mac drive volumes. But if you enter the commands incorrectly, it can even lead to loss of the saved data.

Fix the issue with the following steps by entering the correct Terminal commands.

Step 1- Boot your Mac in Recovery Mode and reach terminal through the "Utilities."

Step 2- Enter diskutil list and Check Volume Identifier.

It will list available volumes. You can check the volume identifier from the table that appears.

Step 3- Enter diskutilrepairvolume /disk **

Replace ** with your Mac hard drives volume identifier.

It will repair the faulty drive. If you are not sure whether the drive is at fault or not, you can verify it with the command diskutil verify volume/. It will generate any of the two messages:

No errors- Here you won't require to repair any of the drives.
Mac drive is corrupt and needs to repair- On getting this message; repair the drive with the above steps.
---
Part 3- How to Recover Mac Data After Disk Repair?
After understanding the solutions for fixing the hard drive problems of your Mac are you thinking- "how do I recover files from a corrupted hard drive Mac?" Once the hard drive of your Mac is repaired, data recovery is also easy with Recoverit Data Recovery software.
The backup is always recommended before initiating any actions on your drive. If you are not able to get a backup, Recoverit data recovery software helps you in recovering Mac data after disk repair.
Recoverit Data recovery
When hard drive develops a problem while repairing it, your stored information can get overwritten, lost, or deleted. Recoverit, the leading recovery software saves your data by recovering it. The software supports 1000+ file formats and has the highest recovery rate. It can recover data from storage spaces like your Mac's hard drive, desktop, external drives or devices, SD card, drone camera, etc.
Download and launch Recoverit on Mac to recover files lost during disk repair.
Step 1- Select Location
To begin the recovery process with the software, select the location first. As you have lost data from your drive, select it as data is missing from it. When done with the selection, click on start and begin the scan.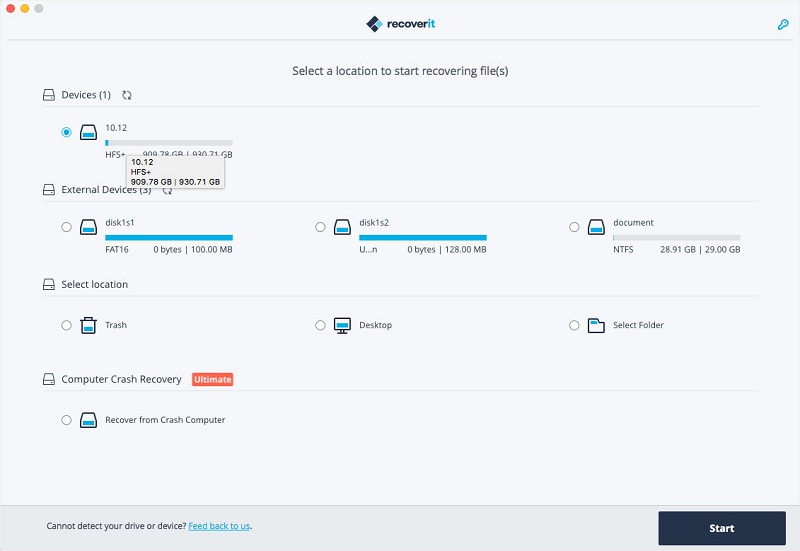 Step 2- Scan the Location
All-around and deep scan are the two scan types that Recoverit performs. The software starts with the all-around scan. As per the file size, it takes time from a few minutes to hours. You can even stop or pause the running scan for your convenience. For instance, you can view your lost data; then there is no point in waiting for the scan to complete. Save your time by stopping it.
But if the files that you are looking for are not found after the completion of the scan, go with deep scan. It will dig deep into the system to search the lost data of Mac.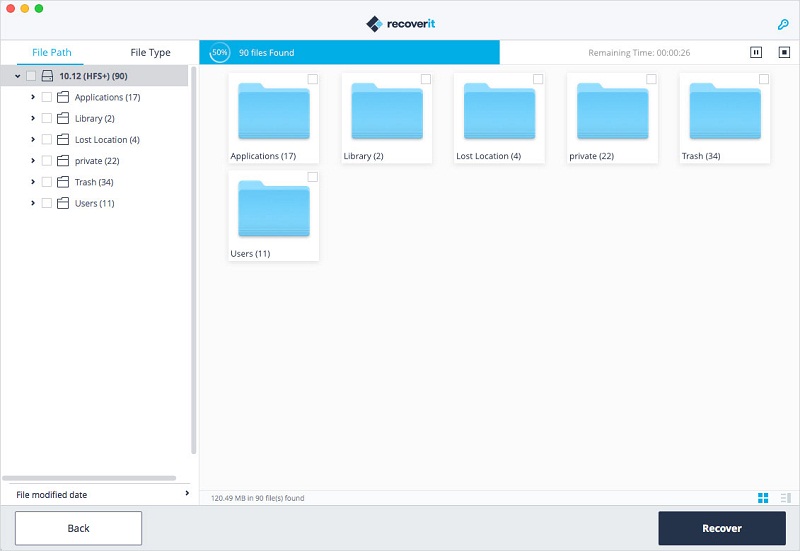 Step 3- Preview and Recover Data
Before recovering the files, Recoverit allows you to take a look at all the files found during the scan. Click on them to preview them. You can also see the necessary information like file name, path, size, and modified date.
Preview and confirm the target files. Complete the recovery by clicking on "recover." When prompted, save the files on your selected path. With this, the recovery process completes, and now you have access to all the lost or misplaced files of the corrupt drive.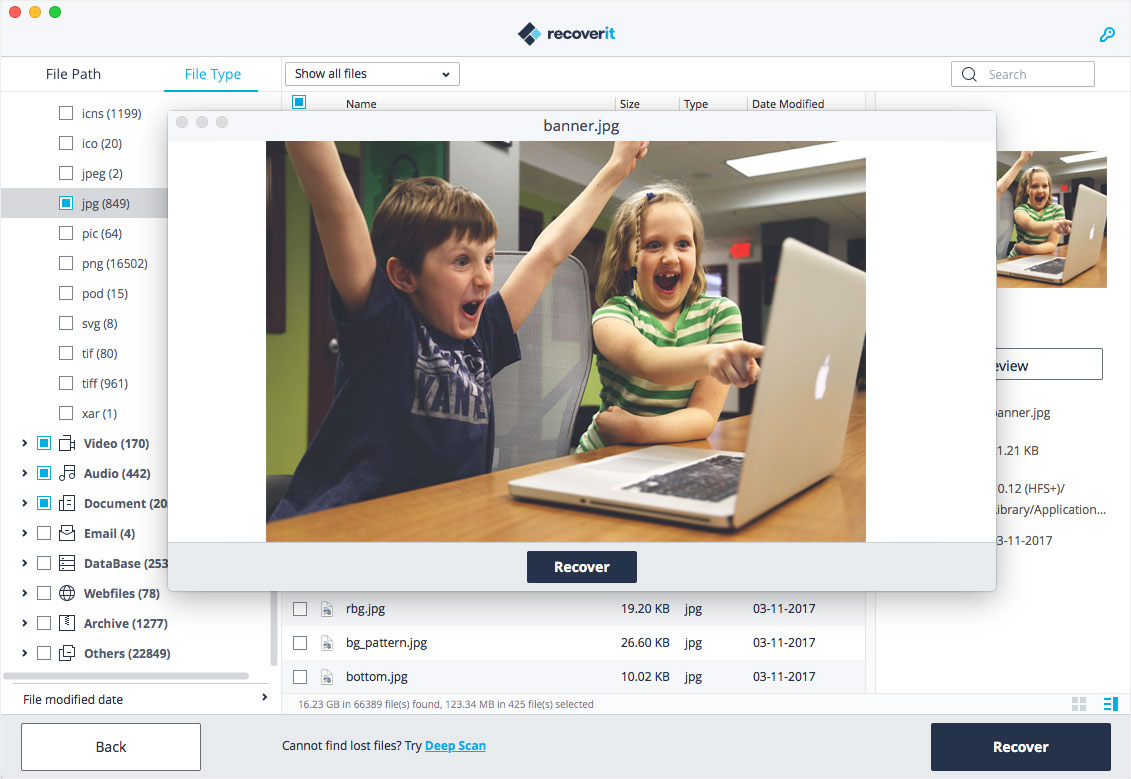 A piece of vital information that is mandatory to mention here. While assigning the location to save the files after recovery, does not keep them at the same place from where you have lost them. The data can be overwritten if you select the same path, and if this happens, it can lead to permanent data loss. So, be carefully while allocating the path to save your files after recovery.
---
Closing Words
Be it the Mac or Windows; the hard drive can develop a problem anytime. By now, you must have understood the common problems that occur with the hard drive or Mac users usually face. We have listed various problems, their causes and symptom and the solution for Mac Book pro disk pair. All the solutions are explained in detail. Follow these steps to repair HDD Mac.
While fixing the hard disk issues, you can lose your vital information. At such times if you are not having a backup of your system, Recoverit is there to help you in retrieving lost data.
What's Wrong with Drive
Recover Your Drive

Fix Your Drive

Format/Wipe Drive

Know Your Drive