Bad things happen inevitably, and so does the data loss on your Mac. No matter how much good care you take of your Mac, data loss is sure to happen at some point in your life. Sometimes, it may occur due to a hard disk crash and sometimes, due to your own mistakes.
That's why you should keep handy the tools and techniques for free Mac data recovery. This article outlines the common reasons why you may lose data on your Mac. It also features step-by-step guides to recover deleted files from your Mac hard drive as well as Mac trash bin.
You will learn the strategies to store your data on your Mac device safely while reducing the chance of data loss. Moreover, with our free mac data recovery you can do either excel files recovery, word files recovery on Mac or overwritten files recovery on Mac. Let's begin with the causes of data loss on Mac system.
Part 1: How To Recover Deleted Data From Mac?
Whether you accidentally deleted some important files on your Mac or lost due to improper operation, Recoverit for Mac will help recover 96% of the lost data. Recoverit serves as an all-in-one data recovery suite for Mac OS. It enables you to retrieve data from all data loss scenarios, such as accidental deletion, bootable issues, virus attack, emptied trash, partition loss, disk formatting, etc.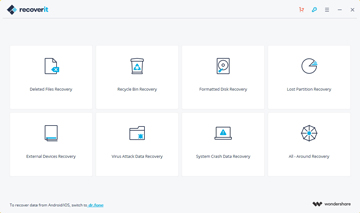 Recover lost or deleted files, photos, audio, music, emails from any storage device effectively, safely and completely.
Supports data recovery from recycle bin, hard drive, memory card, flash drive, digital camera and camcorders.
Supports to recover data for sudden deletion, formatting, lost partition, virus attack, system crash under different situations.
Follow these steps to recover deleted data from Mac in the "Deleted File Recovery" mode:
Step 1 Get Recoverit on your Mac
Free download and install the Recoverit software on your Mac OS.
Step 2 Select a Recovery Mode
Launch Recoverit on your Mac OS. From the main menu, you should choose the option of "Deleted File Recovery" mode to recover deleted files from Mac.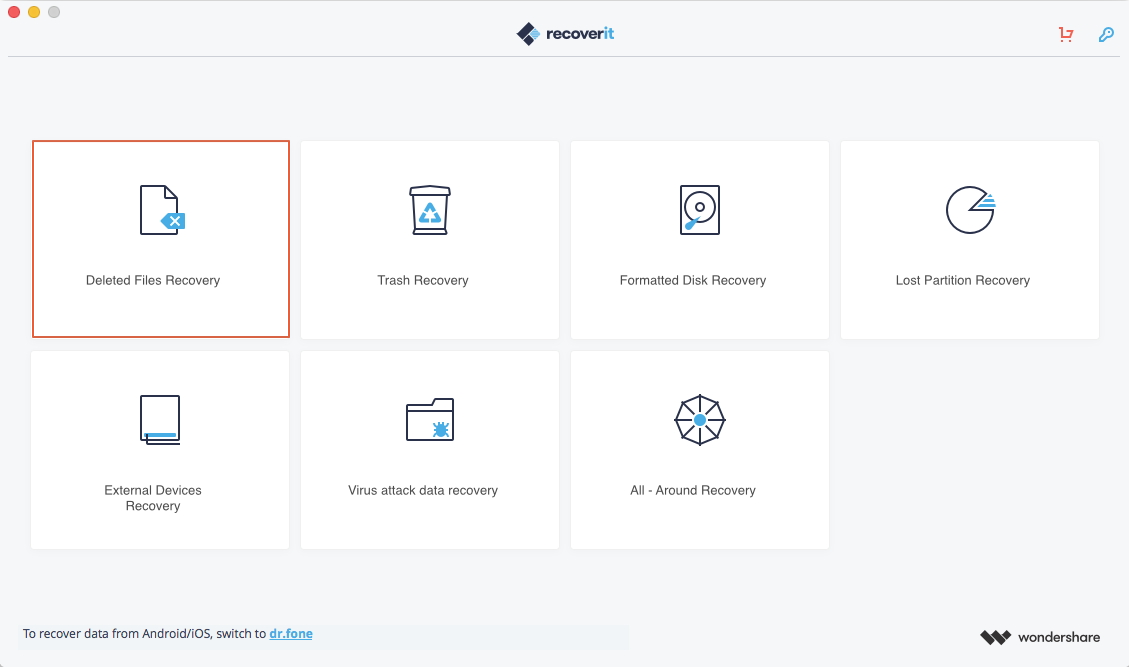 Step 3 Scan your computer hard disk
• Recoverit will launch a quick scan automatically after you select the path or location where you lost data. Once it completes the scan, you will preview some files.
• If you don't find the deleted files, use "All Around Recovery" to search more data deeply from your device or drive. The "All Around Recovery" button appears on the left-bottom on your screen. But, it will take more time to complete.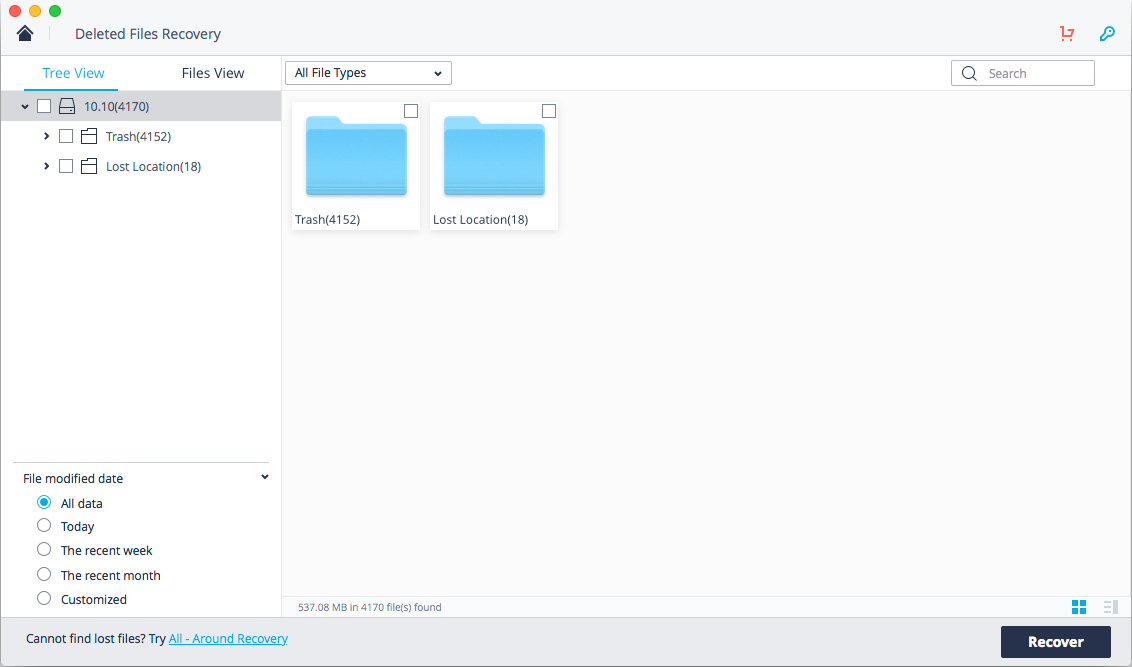 Step 4 Preview and Recover Deleted Files
With Recoverit, users can preview the recoverable files before you finally recover deleted files from Mac.
Select the needed file and click "Recover" button for retrieving your deleted files back. Don't save those files to the hard disk where you deleted or lost the data.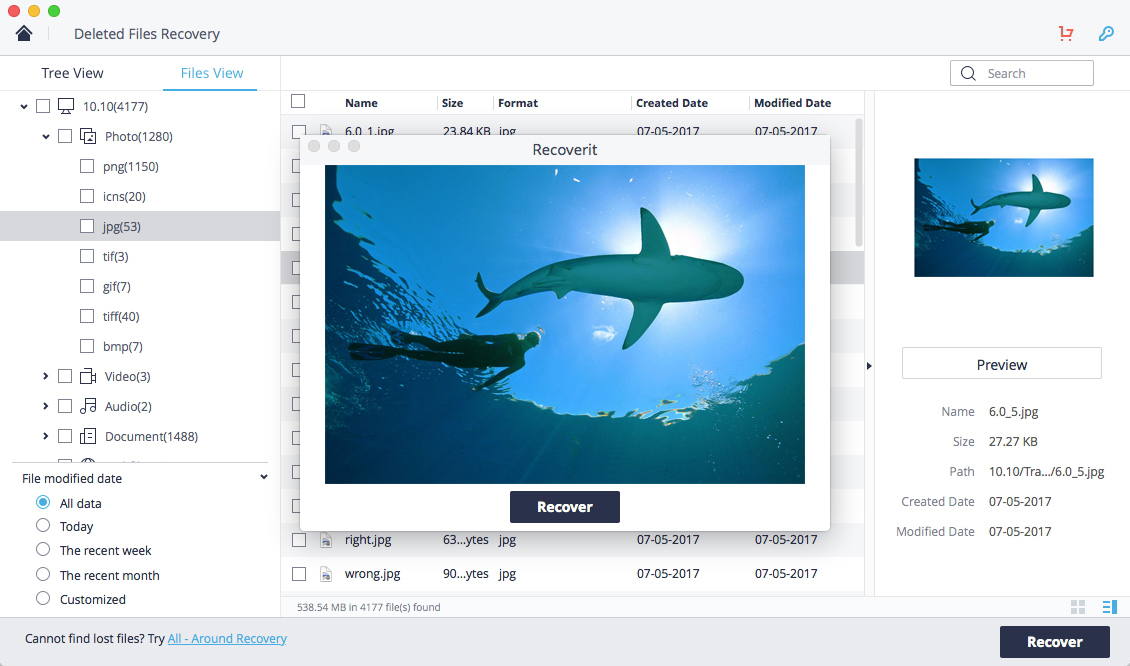 Part 2: How To Recover Deleted File From Mac Trash Bin?
You frequently send some important files to the trash on Mac and delete it accidentally. If you didn't empty the Mac Trash Bin, you can just go to the Bin and restore your deleted files.
But, what if you emptied the trash bin?
When you delete files from the trash bin, the hard drive disk of the computer still keeps the file. It means you still have a chance to reclaim your lost data back. To recover deleted files from your Mac trash bin, you need data recovery software, and Recoverit makes the best and secure choice for this purpose.
It is easy to recover deleted files from Mac trash bin using Recoverit by following these steps:
Step 1 Select the recycle bin/trash recovery mode
Select the "Recycle Bin Recovery" mode; it can help you restore recycle bin and retrieve deleted files from emptied recycle bin.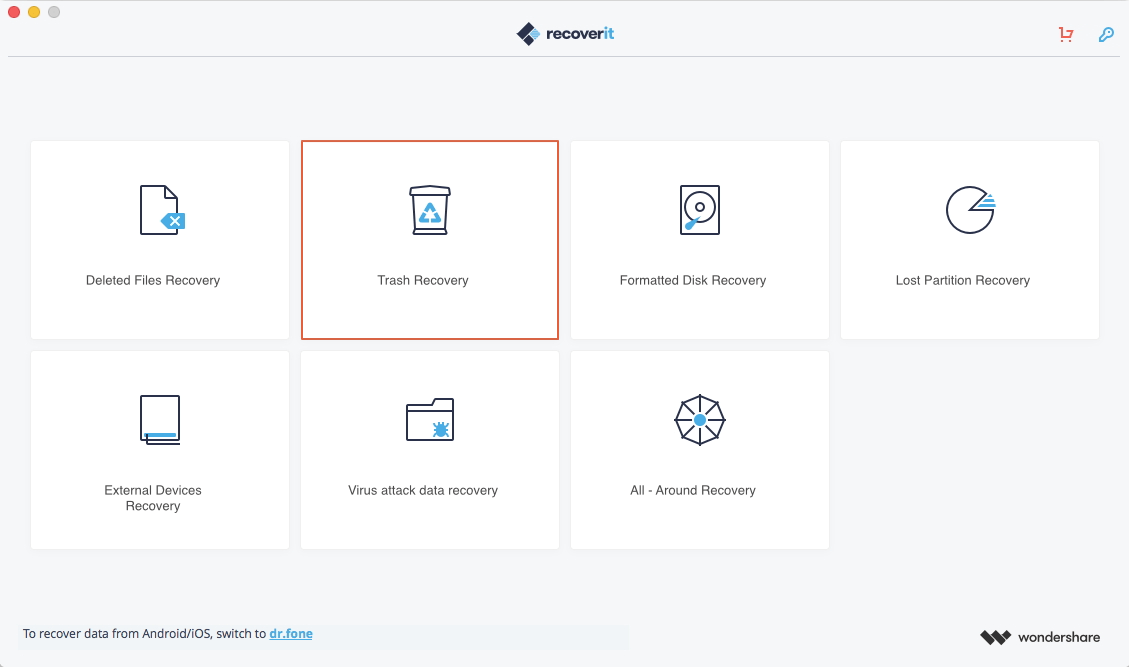 Step 2 Scan your Mac recycle bin
A quick scan will start automatically that will search files from the trash of your Mac system. Once it is done, filter the files from the file type categories located on the left bar. Then, preview the specified files from the displayed outcomes.
If you cannot find the deleted or lost files, you can try "All-Around Recovery" option to search more files from emptied Mac trash deeply.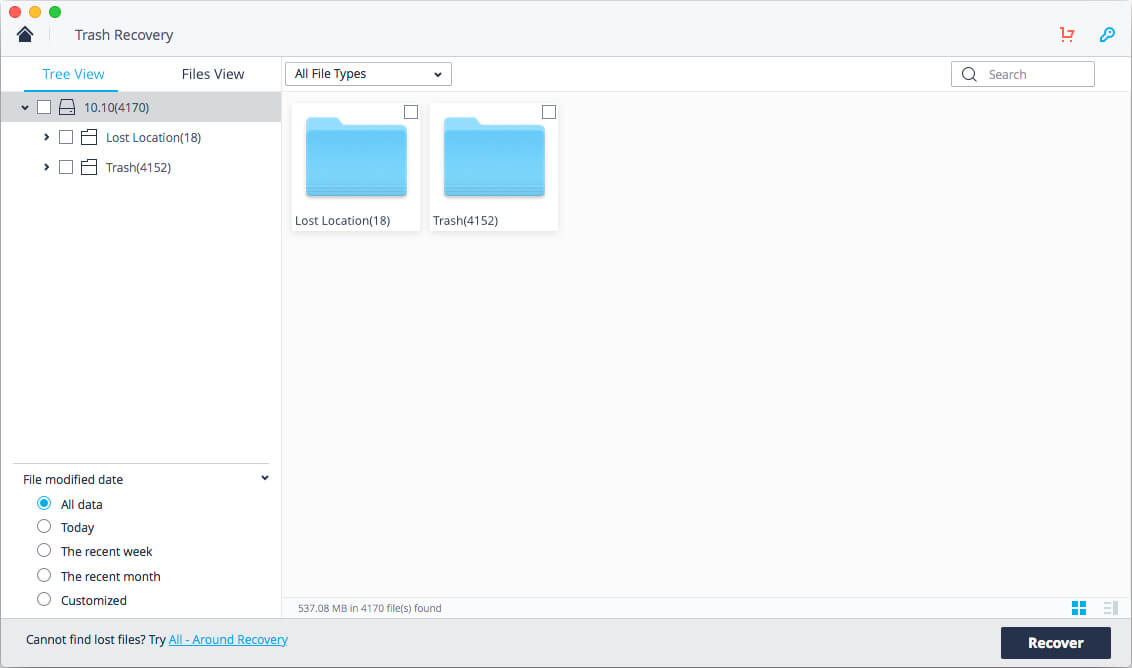 Step 3 Preview and recover your data
After finishing the scanning, Recoverit Mac recovery software will display all the files in a list. The files will be classified based on the file types that allows you to preview specific recoverable files. Then, you can choose the required files and click on the "Recover" button for recoving your data back from Mac trash.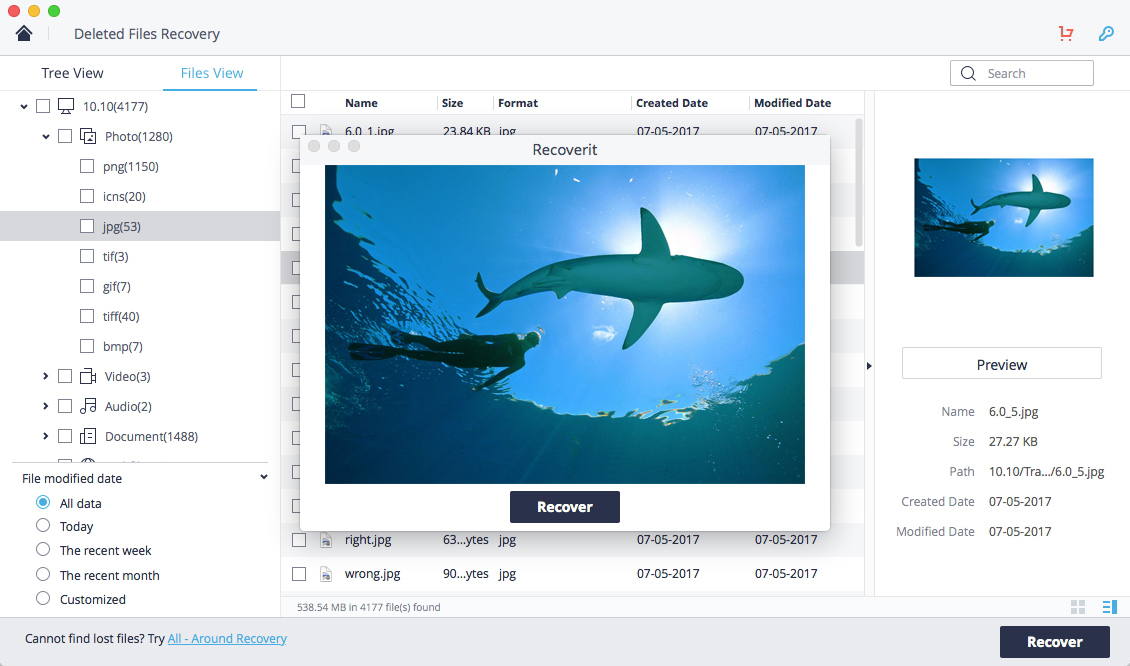 Part 3: Reasons for Deleted/Lost Files From Mac
Like Window computers, Mac also suffers data loss. Technologies like File System Journaling and advanced hard drives have reduced the concern of data loss. But, your Mac is still vulnerable to catastrophic failures with no warning.
To prevent the loss of crucial files on your Mac, a regular data backup is necessary. In addition to taking cautionary actions, finding the common reasons for data loss on Mac also helps.
Common causes of data loss or deletion on Mac includes:
Physical Issues
Electric Issues
Corrupted Catalog File
Corrupted Journal File
Failures in Resizing Volumes
Accidental Human Errors
1. Physical Issues : Mac and Windows computers have identical hard drives. The only difference between both is that a Mac hard drive features a tiny temperature sensor. Even after this, a Mac hard drive can have physical damages, including water damage, heavy drop, etc., which cause spindle motor failures or drive heads crash. Data on a physically damaged Mac hard drive is apparently inaccessible.
2. Electric Issues : Mac hard drive is susceptible to power failures. Frequent power outages and surges, such as transient voltage suppressor, micro-controller chip, can crash the electronic components within the hard drive.
3. Corrupted Catalog File : The catalog file system in Mac records all files and directories. It is similar to the Master File Table on NTFS file system. The catalog file system features four node types – head, leaf, index and map nodes. These nodes are essential for managing and organizing all your data on Mac OS. Losing any of these nodes makes your data unavailable.
4. Corrupted Journal File : Journal files store the information about the hard drive of your Mac. If your Mac suddenly shuts down, the journal files will restore your Mac file system to the last state before the sudden shutdown, when you restart your Mac. If journal files get corrupt, it will also corrupt your Mac hard drive, making the data inaccessible to the users.
5. Failures in Resizing Volumes: You can resize volume to expand or narrow a partition on your Mac hard drive. But, interruption of the process may lead to the partition lose, which vanishes the data stored on the lost partition.
6. Accidental Human Errors: You can lose data on your Mac because of your own mistakes. For instance, you may delete some files unintentionally or format the hard drive mistakenly, or your Mac device gets stolen unluckily. So, don't be careless and take good care of your Mac computer.
Part 4: The Difficulties or Limits to Recover Deleted Files from Mac
Mac is a highly secure operating system. It doesn't easily support all recovery software to help recover lost or deleted data from Mac hard drive.
Luckily, there is some highly reliable software, such as Recoverit, that can help you recover your lost data efficiently. However, there are a few essential points you should keep in mind, or you can call them limitation before you recover deleted files from Mac:
Avoid changing the file system

File systems determine how the data is stored locally on the hard drive for storing and retrieving it. Making changes in the file system changes the structure and hinders directories operations that lead to data loss.

So, don't repartition the hard drive; otherwise, it will make the data recovery on Mac difficult.

Continuing to use the hard drive may overwrite the erased data.

Mac drive still contains recoverable deleted data. But, using the drive will overwrite the erased data which makes the recovery process almost impossible.

The best way is to safely unplug your Mac hard drive and run the best free Mac data recovery software to recover data.

Don't use terminal commands for data recovery

If you're not sure about the right use of the terminal command, forget this Mac data recovery option.

So, don't repartition the hard drive; otherwise, it will make the data recovery on Mac difficult.
Part 5: How to Prevent Losing Deleted Files from Mac?
Data loss is unpleasant, even if it's recoverable. So, better implement appropriate strategies to prevent losing data from your Mac computer.
Keep a tab on the hard disk temperature

The high temperature of the hard disk may disrupt the normal functioning of your Mac system and cause the hard drive failure. So, maintain your system properly. Don't continue working when you realized that the hard disk temperature is too high. Clean dust particles regularly to avoid heat dissipation.

Never save data in recycle bin

Deleted files are saved in a trash bin and you can easily restore the files from the bin. But, if you clean up the trash bin, you will permanently delete the files. Also, it is difficult to retrieve too large files from the trash bin. Thus, trash bin is not the place for the files that you may need again in future.

Use Up-to-date Antivirus Software

Choose a reliable and update antivirus software to safeguard your Mac computer from viruses and malware and keep your system stable to avoid crashing.

Categorize and Organize information

Name each of your files and folders properly. Store any information edited or created in your separate classified folders to prevent accidental deletion of the useful data.

Make Periodic Backups

Back up data on your Mac to removable storage devices periodically. Also, don't forget to scan your storage device with reliable antivirus software to ensure it has not been impacted by a virus and can work normally before taking the backup. Once you copy the data, classify these backups clearly to find and reuse the information easily in future.

Use Uninterrupted Power Supply (UPS) for desktop Mac

Power outages, surges, spikes and brownouts not only corrupt data but damage your hardware too. So, UPS is mandatory! Make sure you choose a UPS whose specifications match both the power necessities of your computing setup and your needs for uptime in the moment of a power failure.
If you still encounter data loss disaster, use Recoverit to salvage the lost data on Mac. Recoverit is created, especially for you to recover the lost data on any file type and from any source on a Mac drive.
Conclusion
Now, you know each and everything about free Mac data recovery. If you are using Recoverit to recover lost or deleted data from your Mac device, make sure you follow the step-by-step process as given above. Also, bear in mind the cautionary steps to avoid the hassle of data recovery.
Note: Recover Lost Mac Data under Mac OS X 10.13 (High Sierra)
Due to macOS High Sierra (macOS 10.13) requirement, Mac users are not allowed an access to the built-in system drive from any apps. Therefore, if you need to restore lost data from the system disk under macOS 10.13, please "disable System Integrity Protection" first.
How to disable "System Integrity protection"? Please follow the steps below.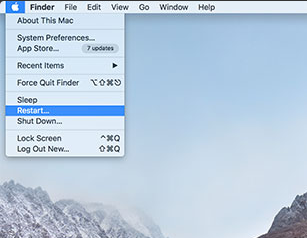 Step 1Reboot the Mac and hold down"Command + R" keys simultaneously after you hear the startup chime, this will boot OS X into Recovery Mode.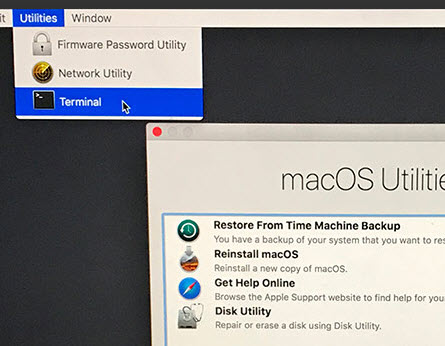 Step 2When the "OS X Utilities" screen appears, pull down the "Utilities" menu at the top of the screen instead, and choose "Terminal".
Step 3In the "Terminal" window, type in "csrutil disable" and press "Enter" then restart your Mac.