If your Mac fails to start it doesn't mean you should dispose of your computer. There are various ways of starting up a failed Mac even without the help of a technician. Just like every other computer, your Mac computer is not immune to faults. To this end, we'll take you through the processes on how to start up your Mac computer that failed to start.
Part 1. Reasons your mac won't turn on
Before explaining the processes involved for you to start up your Mac that failed to start, it is important that we highlight some reasons that could be responsible for your Mac not to come on. The following are the possible reasons:
Improper connection of the power cord: When a power cord is not properly connected, your Mac computer may fail to start. Therefore, it is important that you verify if the power cord is correctly connected.
Power outlet or strip: Connecting your Mac to a surge protector that frequently shut everything down at once may be responsible for your Mac not to come on when you press the power button. Ensure to connect the power cable to a wall socket directly.
Additional hardware: Sometimes adding a third party hardware to your Mac may cause it not to come on when you press the power button.
Faulty power cable: Ensure that the power cable is in good condition. An open circuit power cable would definitely not supply electrical power to your Mac.
Bad battery: A dead battery is another possible reason why your Mac computer may not start when you press the power button.
Hardware that is loosely connected: Another fundamental reason that your Mac may not come on is a loosely connected hardware. During Power on Self-Test (POST), your Mac will test every hardware connected to it. At any point that hardware is not properly connected, your Mac will fail to start.
Part 2. The power issue can't turn on
1. Check your power connection
As mentioned earlier, the power connection to your Mac is very fundamental. Therefore, ensure that your power cable is in sound condition. If power gets to the Mac computer and it still doesn't come on, then you may want to give it some time for the battery to charge. Perhaps the battery may be the suspect.
2. Try different power cable or adapter
As mentioned earlier, the power cable may be one of the fundamental reasons why your Mac is not coming on when you press the power button. If you suspect the power cable, you may want to borrow a friend's cable that is compatible with your Mac for testing.
Sometimes power surge can cause your power cable to be short-circuited or open circuited. Finally, try removing and re-plugging the power cable to your Mac computer. Cable loose can also be responsible for your Mac not to come on.
Part 3. Check the display issue
First and foremost, you need to check if the issue has to do with the display. Sometimes, the computer may not be faulty but the display could be an issue. In such a situation, your Mac will go blank on the screen and you would think that your computer has a problem. To verify whether the problem with your Mac has to do with the display, then observe whether the following are true as soon as you depress the ON button;
Startup sound could be heard
Drive or fan noise could be heard
A sleep LED could come on
Caps Lock button lights up when you press it
If you observe any of the above, chances are that your Mac computer is working but the display is blank, then try any of these steps;
Verify that your Mac is compatible with the screen and also that all wires are properly connected.
If the screen is not embedded on the Mac, then check the cable connected to the screen. You may also remove and plug back the video card
Ensure that all other devices connected to your Mac has been removed
Try a new adapter or a new screen.
Part 4. Entry Recovery Mode
If all the above highlighted points don't turn your Mac on, then you may want to try entry recovery mode. Recovery mode can be described as a mode that is designed to load the in-built operating system of the Mac computer from a specific media partition.
The recovery mode can be used to startup your dead Mac if every other methods fail. The recovery mode will troubleshoot any disk or media related problems.
How to enter recovery mode
The following steps explain how to enter recovery mode on your Mac:
Step 1 Power your Mac or choose Restart in the menu option
Step 2 As soon as the Mac restarts, press and hold Command (⌘) - R button. Ensure you hold the button until a time the Apple appears.
Tip: The inbuilt keys of your Mac are what you should press. The reason is that the keystroke may not work if you use an external keyboard.
Once this is done, the Utilities window of the MacOS will appear.
If the Mac's login window appears, that means you didn't depress the command button early enough. At this stage you have to restart your computer and then start the process all over again.
Part 5. Reboot your Mac with Recovery Bootable Media
If your Mac cannot turn on casued by crashed system. You can get a reliable software to create a bootable media to startup your Mac. Recoverit Mac data recovery supports to create bootable media for Mac crashed system.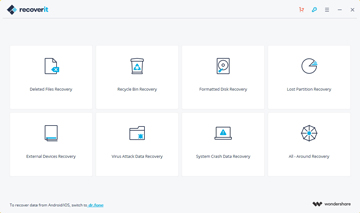 Recover lost or deleted files, photos, audio, music, emails from any storage device effectively, safely and completely.
Supports data recovery from recycle bin, hard drive, memory card, flash drive, digital camera and camcorders.
Supports to recover data for sudden deletion, formatting, lost partition, virus attack, system crash under different situations.
Steps to create bootable media with Recoverit
The following are the steps to create bootable media using Recoverit:
Step 1
Step 2
Step 3
Step 4
As you have seen, when your Mac fails to start, it doesn't necessarily mean you should throw your computer away. There are various ways you can power ON your Mac computer as we've taken time to explain in this article. To this end, if you follow our step by step approach to powering ON your Mac, you won't need the assistance of a technician.