No one likes to suffer from losing important from Mac computer or storage devices like external hard drive, digital camera, memory card, usb drive, etc. If you're lucky enough, you'll be able to recover Mac data from Time Machine backup. Otherwise, you'll need the help from reliable mac data recovery software.
Since there are uncountable mac data recovery programs in the internet, it's not an easy job for Mac users to select the most suitable one. I'll introduce 5 most powerful as well as easy-to-use applications for you to choose from.
Note: You can hardly find a totally free mac data recovery program, and all 5 mac data recovery tools in the list need to be paid.
Top 1

Recoverit data recovery for mac

Recoverit Data Recovery for Mac supports to recover lost Mac & iPhone data. It's a fast, safe and reliable Mac data rescuer for Mac users. It retrieve lost video, photos, emails documents, and archive files from any Mac-based hard drive or external hard drive, usb drive, SD card, digital camera, mobile phone. Whenever your Mac files are lost due to accidental deleting, formatting, virus infection, improper operation, unexpected power failure, and other unknown reasons, Recoverit data recovery for mac can be your best companion.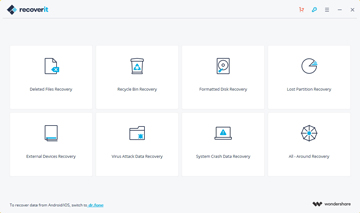 Recover lost or deleted files, photos, audio, music, emails from any storage device effectively, safely and completely.
Supports data recovery from recycle bin, hard drive, memory card, flash drive, digital camera and camcorders.
Supports to recover data for sudden deletion, formatting, lost partition, virus attack, system crash under different situations.
Pros:
No special skill needed interface makes Recoverit data recovery for mac a lifesaver for all kinds of Mac users;
Different data recovery modes are available for all kinds of data loss scenarios: lost file recovery, raw file recover and partition recovery
Wondershare data recovery for mac also helps iPhone users to recover lost photos, SMS, contacts and many other file types from iTunes backup file on Mac;
Special preview ability allows you to preview photos, documents, emails, txt files, as well as listen to some audio files and watch some videos;
It recovers not just my files but the whole partition with the original directory structure and file names;
You can stop scanning process whenever your files are detected, as well as save scanning result for next time.
Cons:
You can't install the program on original volume of your lost data to avoid data overwritten;
In some aspect, the scanning of this application is so powerful that it even founds every cached web file from your browser is located and even corrupt and damaged files.
Get Recoverit data recovery for mac
Top 2

Remo Recover (Mac) ($59 at least)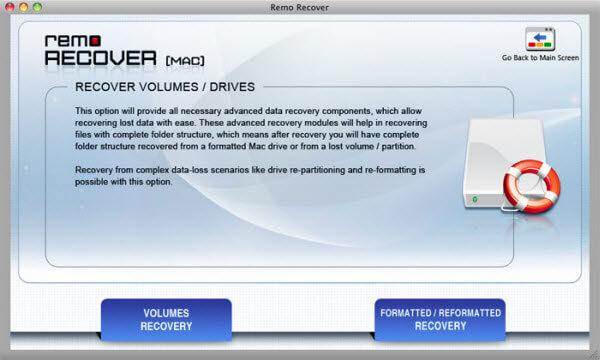 Created to solve data loss issues for Macintosh users, Remo Recover (Mac) is an application provides everything that most home users require: easy-to-use interface, multiple file types as well as media devices supported. No prior knowledge is need, because the wizard interface of Remo Recover (Mac) will take care of everything for you.
Currently there're 3 editions of Remo Recover (Mac) for Mac users to choose from. This is also the bad side of the tool. The Basic Edition, which is also the cheapest one, only allows users to recover deleted files from mac drive or files emptied from Trash.
If you want to get Pro Edition, which offers you most functions from recovering videos to lost/ deleted partition recovery, you have to pay $179.
Pros
Really easy-to-use interface, which is good for common users;
You can identify and recover various file types with their unique signatures;
Though Basic Edition has fewer functions, $59 is still acceptable.
Cons
You can't get most functions with Basic Edition, and $179 is too expensive;
You will not be able to recover media files like photos, audios and videos with Basic Edition. If you need to recover media with Remo Recover, you need to pay $10 more than Basic Edition;
You'll not be able to recover data from a corrupted drive with Remo Recover (Mac).
---
Top 3

Data Rescue 3 ($99)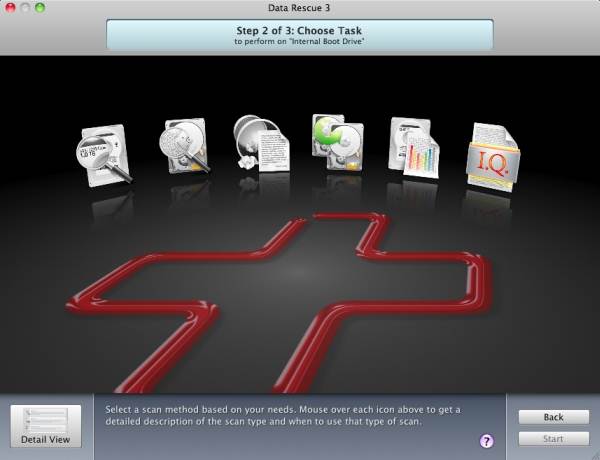 Data Rescue 3 offers users the best possibilities of recovering deleted or lost on damaged or normal hard drives as well as other media. It scans your Macintosh drive thoroughly with brute force method which scans every sector of your drive.
Pros
Powerful scanning ensures you a great possibility to get back lost data;
3 scanning options available: quick scan, deleted file scan, deep scan;
Compared from other mac data recovery software in the market, Data Rescue 3 allows you to duplicate a damaged drive so that it can scan the clone drive instead, and then you'll be able to recover data from the clone drive.
Cons
Sometimes you'll not be able to preview found data. You'll be confused especially when recoverable files can't be previewed;
The interface is a little bit complicated.
---
Top 4

AppleXsoft File Recovery for Mac ($99.95)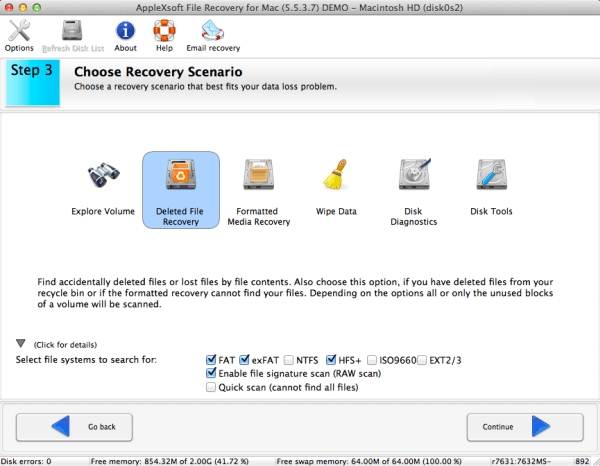 AppleXsoft File Recovery for Mac is a simple but effective mac data recovery program.
AppleXsoft File Recovery for Mac offers no-special-mac-skill-needed interface to Mac users to recover lost data from deleted, lost, corrupted, formatted Mac partitions. It recover unmounted volume , accidentally deleted files and folders , initialized drive, logical file system damaged drive, as well as reconstruct lost RAIDs.
Pros
It offers you comprehensive mac data recovery solutions with its simple operation;
Its simplistic file browsing system and search filters to help you find lost files easily;
Hardware RAID and Software raid recovery are available;
Multiple file system supported: FAT, exFAT, NTFS, HFS+, ISO 9660, EXt2/3;
Extra functions are added with the program: wipe data, disk diagnostics and disk tools.
Cons:
You can only preview photos with AppleXsoft File Recovery;
The scanning speed is a little bit slow;
You'll not be able to add custom file types in file search filter.
Get AppleXsoft File Recovery for Mac
---
Top 5

DiskWarrior
Alsoft DiskWarrior is a special mac data recovery program that recovers and replaces the original directory using powerful patent-pending technology. What makes it so special is that you can even install it on external bootable Mac-based drive to recover lost data from your Mac. This is really great because this will give you the most possibility to avoid data overwritten. It's even able to recover data from a failed Macintosh drive.
Pros:
Users are allowed to install the program on external drive;
You'll be able to recover a failed Macintosh drive too;
It has the most user-friendly interface in the list;
The program offers you some extra features other than data recovery, such as automated, repair disk permissions.
Cons:
Though the program is easy-to-use, it's complicated to install and set up;
The scanning takes a little bit longer than other mac data recovery software.
Conclusion:
All 5 mac data recovery software in the list are useful and powerful. And it's for you to select the best one to make use of.
In my opinion, the best mac data recovery solution is frequently backup your important files. Though you have reliable recover utilities, the recovery is not 100% and it really costs you lots of money!
3981454 people have downloaded it
Note: Recover Lost Mac Data under Mac OS X 10.13 (High Sierra)
Due to macOS High Sierra (macOS 10.13) requirement, Mac users are not allowed an access to the built-in system drive from any apps. Therefore, if you need to restore lost data from the system disk under macOS 10.13, please "disable System Integrity Protection" first.
How to disable "System Integrity protection"? Please follow the steps below.
Step 1Reboot the Mac and hold down"Command + R" keys simultaneously after you hear the startup chime, this will boot OS X into Recovery Mode.
Step 2When the "OS X Utilities" screen appears, pull down the "Utilities" menu at the top of the screen instead, and choose "Terminal".
Step 3In the "Terminal" window, type in "csrutil disable" and press "Enter" then restart your Mac.