Q: How Do I Clear My Cache and Cookies on My Mac?
"Okay, I give up. I've been scratching my head trying to clear my cache and cookies, but no cigar. I admit I have no idea what I'm doing. A little help would be appreciated here."
Cookies go a long way in streamlining your browsing experience, but you'll never realize just how important they are until they become disabled in your Mac browser. It matters little whether you're using Mac's proprietary browser, Safari, or third-party browsers like Google Chrome and Mozilla Firefox, because cookies still serve the same function in all web browsers.
Cookies may not be necessary but they are absolutely essential if you intend to have a perpetually-smooth browsing experience; they make using webpages considerably more convenient and stress-free. If you're unsure how to enable cookies on your Mac, simple ways to do it have been outlined for you below.
Part 1: What are cookies on a Mac?
Cookies are sweet biscuits, of course. You know, there are chocolate chip cookies, almond cookies, butter cooki-... Lol, okay, enough fooling around. A cookie is a tiny text that is downloaded and stored in your system anytime you go to a website. The said text file retains particular information that can be accessed and read by the web server whenever you revisit the same website.
There are several types of cookies, as you might expect: Session cookies, first-party or persistent cookies, third-party cookies, HTTP-only cookies, secure cookies, flash cookies and zombie cookies (no joke!). And even though cookies are considerably small in size, they have significant uses.
For one, the cookies in your Mac are what make it possible to skip the need to fill in your username and password each time you open a website that requires such details; a website you visit frequently. And if you're a regular online shopper, cookies are what track all the items you save in a shopping cart. That's why you can navigate through several sections of the website and still come back to see the items you've saved in the cart.
The filling of online forms is another field where your Mac cookies see great use. If, for example, you enter your details in the form and submit it, but you omit particular fields by mistake, the cookies can step in and save you time by inputting your details; all you have to contend with is filling in the missing field. Honestly, how convenient is that? You're saved time and effort, which is always welcome when you're using a computer.
---
Part 2: Should I Allow Cookies?
The answer is obvious, isn't it? Come one, do you want to type in your date of birth, email address, height, the color of your eyes and shape of your nose each time you're going to register for something online? Why not save yourself all that trouble and let cookies be your secretary? They'll be happy to do the job for you. Here are more in-depth reasons on why you should allow cookies to have free rein over your Mac.
When you go online, the websites you visit use cookies to save your numerous customizations, meaning any personalized setting you have will remain the way it is as long as your cookies are active.
The biggest use of cookies is probably for online authentication. Cookies permit web servers to know if you're logged into a website and the account you're using. Disabling cookies means none of these websites will recognize you once you return, compelling you to input your credentials for each new visit.
No one can prevent ads from popping up when they go online. Ads are mostly an annoyance that has to be lived with. But you know something? You can make this work for you by using cookies to see that adds that have some relevance to you. Internet ad companies can gain access to data revealing your preferred products, search items, location and more, making it easy for them to send adds that might pique your interest.
---
Part 3: How to Enable Cookies on Mac?
Now comes the best part: Enabling cookies on your Mac! Regardless of the nature of the content you see when you go online and what browser you're using, the browsing experience can easily be made better when you can circumvent the need to input particular details before you can move on to the subsequent pages.
Solution 1: Turn on Cookies on Mac Safari
Safari is Mac's default web browser, so it's only logical you understand how to enable cookies on it first. Chances are you'll be using it a lot more than Chrome or Firefox.
Launch "Safari", then look at the top-left of the window. You'll see the menu bar there. Click on "Safari", then on "Preferences" in the dropdown menu you see.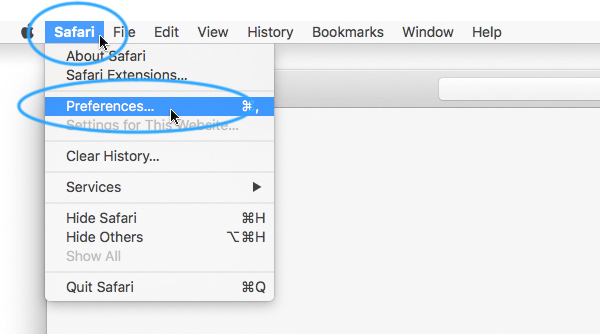 Click on the "Privacy" tab and you'll see the contents. Take note of "Cookies and website data" which was divided into 4 options you can choose from:
Select one of the options above according to what you seek, then close the preferences and continue surfing the net. But for third-party cookies, you have to restart Safari for your configurations to take effect.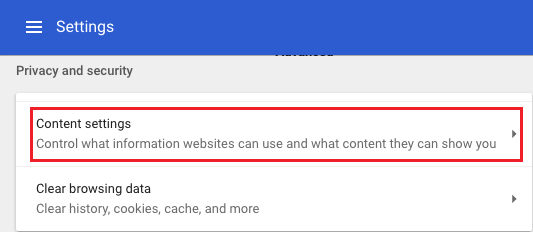 Solution 2: Enable Cookies on Mac Chrome
Google Chrome is arguably the world's most efficient browser, so it only makes sense for Apple to make it compatible with their macOS. Doing otherwise would have been a dumb thing to do. With that being said, you can enable the cookies in no more than 6 steps or so.
Launch "Chrome" and look to the top-left of the window. Click on "Preferences" in the dropdown menu you see.
You will be taken to the Chrome settings page. Scroll down until you see "Advanced". Click on it and a new page will open up.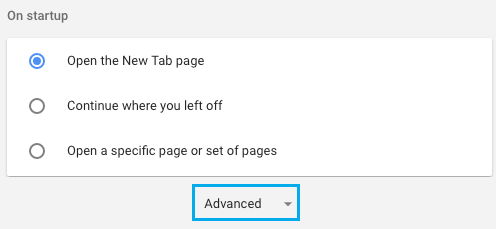 Scroll down a little bit more and you'll see "Content settings" below "Privacy and Security". Click the former.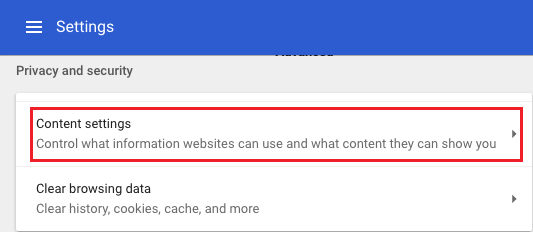 You'll see "Cookies" right below "Content settings". Click it too.

For the last step, just toggle the "Allow sites to save and read cookie data (recommended)" ON. This will enable cookies on your Mac and, of course, speed up your browsing sessions. Aren't you happy?
Solution 3: Enable Cookies on Mac Firefox
Mozilla Firefox comes in third place but doesn't mean it's any less efficient than Chrome or Safari. Honestly, sometimes, it's all a matter of preference. But enabling cookies definitely makes Firefox more efficient. A little bonus for you here too: If you've enabled cookies on Firefox for Windows before, the process is exactly the same on Mac.
Launch "Firefox" and look at the top-right section of the window. You'll see 3 horizontal lines stacked atop each other. That's the menu button. Click it.

You'll see a dropdown menu with several options on them, but you only need to click the main "Options" button.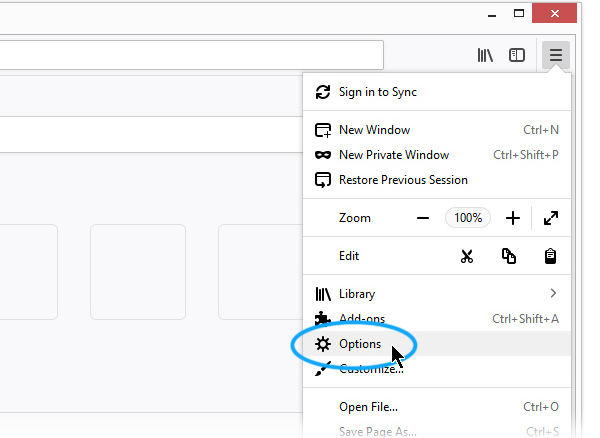 Once the "Options" screen pops up, look to the left and you'll see "Privacy & Security". Click it and you'll be taken to the privacy settings.

For Firefox, configuring the browser's history settings is necessary if you wish to change its cookies policy. On the page you see, click "Firefox will" and a dropdown menu will pop up with 3 choices, but you're only looking for the first one. It's called "Remember history". If your Firefox is not set to that, select it.

Right below "Firefox will", you'll see a tiny box beside "Accept cookies from websites". You can tick or untick it to enable your browser to accept cookies from all websites. You can also configure how your browser accepts third-party cookies from this same page. By default, it should already be set to accept the cookies but if it's not, this where you rectify the problem.
Once you're through with all that, just close the page and restart Firefox. That's it. All done!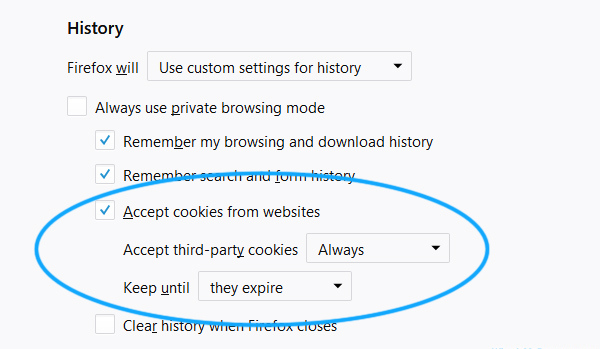 Solution 4: Allow Cookies on Mac Internet Explorer
A native windows application on Mac? Now there's something you don't see every day. Internet Explorer is not the most popular web browser out there but it's still compatible with your macOS, so it deserves a mention here too.
Launch "Internet Explorer" and on the upper right corner of the window, you'll see a gear-shaped icon. Click it and "Internet options" will open up. Click on the "Privacy" tab, then on "Advanced."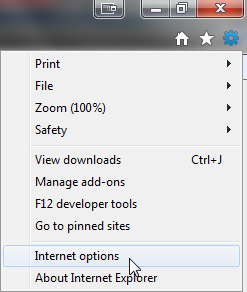 If "Always allow session cookies" isn't ticked, tick it. Choose "Accept" right below "Third-party cookies" and "First-party cookies". Click on "OK" twice and you're done.
---
Closing Words
Do you see how easy it is to enable cookies on the major web browsers? As a matter of fact, it would be a lot better if you just open all the web browsers in your Mac right now and enabled cookies on them. That way, anytime you switch browsers, nothing will disrupt your smooth, web-surfing experience.
People Also Ask
That depends on what you want. If you want to clear your browser of any trace of your preferences and personal settings, if you want to manually log into a website every time you open it, then you can delete the cookies. But you're advised not to.

Should I block all cookies in Safari?

No, that's unnecessary. Cookies aren't really dangerous. The only reason people look at cookies with a wary eye is mainly because of user profiling and advertiser tracking, but cookies can't harm your Mac. And contrary to popular belief, they can't reveal hidden information about you; so no, don't block all the cookies.

What does clearing cache and cookies do?

Well, all your prior settings, activity and information will be gone. Clearing cache is as simple as you instructing your computer to clear even the tiniest information saved during your browsing session. So, all your login details, personal information, the websites you've visited and any other information saved on the web browser will go poof!

Does Safari block 3rd party cookies?

No, it doesn't accept 3rd party cookies by default. You have to configure it yourself to do that. And this is important because there are certain websites that only work properly on Safari when it accepts 3rd party cookies. By default, the function is enabled in certain versions of Safari but disabled in others (Safari 6).
What's Wrong with Mac
Recover Your Mac

Fix Your Mac

Delete Your Mac

Learn Mac Hacks