Yesterday I needed an important file from my Mac. While I was trying to open it, the situation was so frustrating that it was running at snail's speed to open a single file. When I bought my MacBook, it was working fine. Everything was perfect. But now, as time is passing, it is becoming slower day by day. Can anyone help me out in explaining why is my Mac running slow?
If you are also facing the same situation, nothing to worry about, as all Mac users experience the same sooner or later. Are you looking for a way out to speed it up? This article will guide you with the various ways of fixing the issue and make you aware of the reasons that cause this issue. You will learn the process of recovering lost files on Mac.
Part 1 - Reasons for a Slow Mac
Mac systems are usually considered faster than Windows computers or laptops, but with time MacBook slows down. It starts showing symptoms like screen freezing while opening any document, mouse clicks start to become unresponsive, it takes time while booting up, and browser crashing. Sometimes you also experience overheating of the computer. You can't point out a single issue for slow Mac as multiple issues combine that makes iMac very slow. Before knowing the solution for mac slowing down, firstly, you need to understand the problems that are causing it to slow down. Some of the possible issues are as follows:
Larger files or folders saved on the desktop
Several widgets on the dashboard
Limited storage space
Outdated graphics card
Web Browser with several junk files
Running an older version operating system
These small things pile up together to make iMac slow. You need not worry as you can enjoy its initial speed. Read on to discover the various ways for improving the performance of your Mac in the next part.
---
Part 2 - How to Fix Mac Running Slow
We will guide you here with the best methods for improving the performance of the Mac. Following methods will ensure that you have a great time working on your Mac and won't face the speed issue with Mac again. Maintain your MacBook by following these methods step by step.
1. Restart Your Mac
One of the easiest ways to solve the issue is by restarting the Mac. It forces background processes to close and free up the RAM. This helps in beginning fresh and resolves the slowdown issue.
Step 1- Click on Apple Menu
The icon is located in the left corner on the top of the screen
Step 2- Click Restart
Select "restart" from the drop-down list and confirm by clicking on the restart when the dialogue box appears.
Click on Trouble Signing in.

Your Mac will restart now by closing all the running applications.
2. Check the Internet
The slow internet connection can also be the cause behind Mac slowing down. From web surfing to checking important emails, everything requires an internet connection. If you are experiencing slow online activities, then improving the internet speed can solve the problem.
Step 1- Go To System Preferences
Click on the Apple menu and go to system preferences.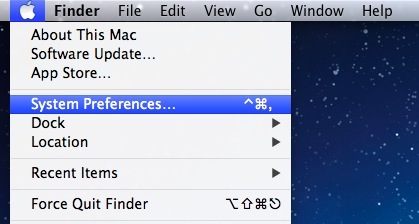 Step 2- Select Network
Open system preferences and click on the network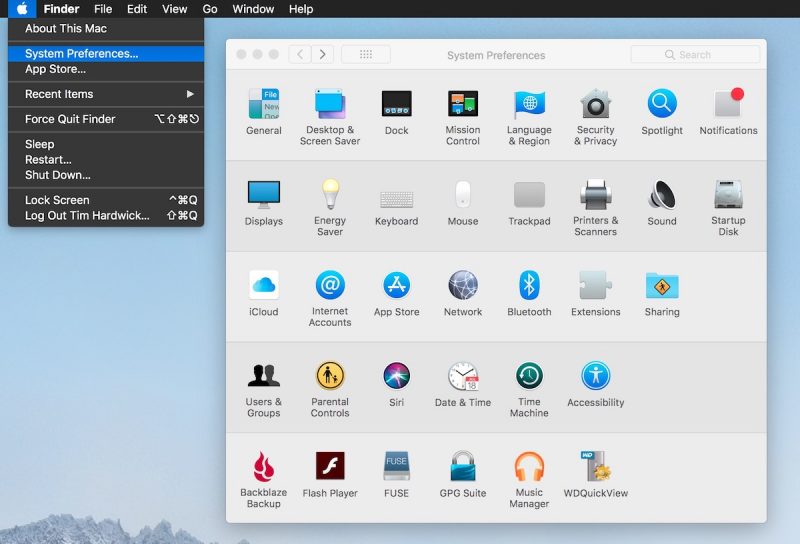 Step 3- Go to Diagnostics
Click on "assist me" to reach diagnostics and then select the connection type. Run the test by clicking on continue. If problem shows up, resolve the issue by following the instructions of the Network Diagnostics tool.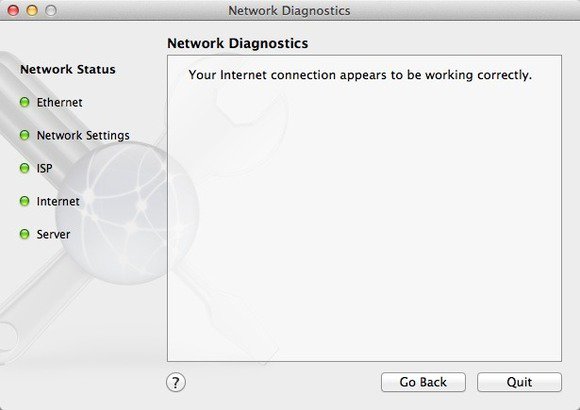 3. Check The Memory Usage
The working of Mac is dependent on physical as well as virtual memory. Space on the drive of mac is used as virtual memory whereas physical memory accesses RAM chips. Physical memory is fast than virtual memory. More the system is dependent on virtual memory, slower it will work. Check the memory usage from activity monitor with these steps.
Step 1- Open Finder
Click on the finder to navigate Applications folder
Step 2- Open Utilities folder to reach "Activity Monitor"
Look for "Utilities" and search "Activity Monitor".
Step 3- Click System Memory
"System Memory" is also a part of "Activity Monitor." You can view the usage and other memory components. If you see free memory is low, quit some of the applications and free up space.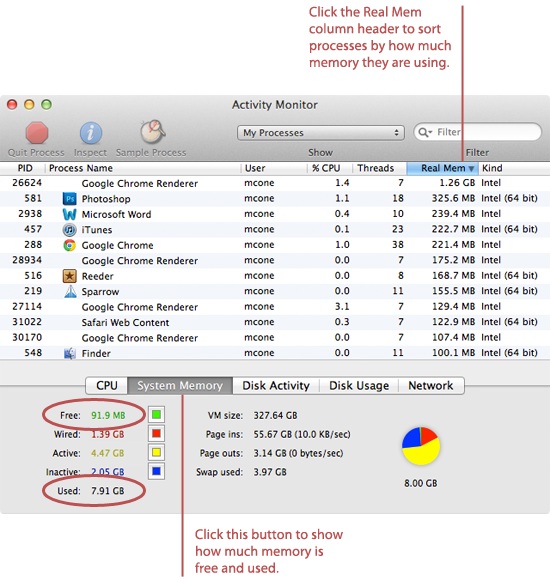 4. Check the CPU storage
If an app overshadows the Central Processing Unit of your Mac then also it makes MacBook slow. Check CPU usage with the following steps.
Step 1- Launch Activity Monitor
Step 2- Select My Processes
Step 3- Click %CPU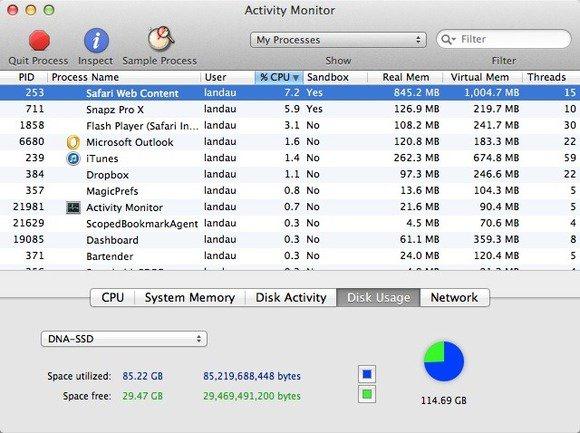 If an app constantly holds the top position in the %CPU list with the highest percentage than this is the app that makes MacBook very slow. To fix it, select the app and quit process.
5. Free up disk space
When your Mac's drive is loaded with numerous files, you can experience slow Mac. You can even receive a pop-up or message displaying – Your Disk is full. Now you need to delete some files to free up disk space and improve Mac's speed
Step 1- Click on Apple menu and select "About this Mac"
Step 2- Go to the "Manage" button by clicking on the Storage tab
You will see a tab with options as shown in below image. Click on a file to view more about them and select to free up space accordingly.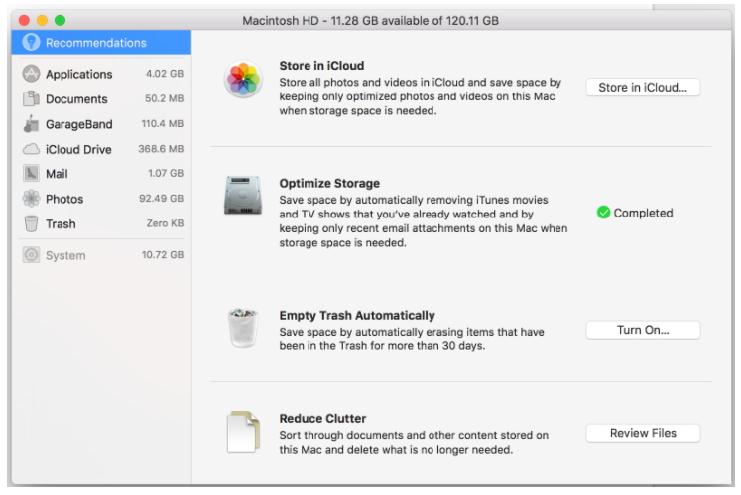 6. Close Startup Apps
Various unnecessary apps run in background when you login into your Mac. These apps consume up the speed. To increase speed, close these apps from running at startup. Follow the below-mentioned steps.
Step 1- Go to Apple menu and click on it.
Step 2- Move to system preferences to reach users and groups.
Step 3- Find "Login items" and select the user account from it.
Step 4- Uncheck applications that are not required at login.
After selecting the applications, click on the "–" button.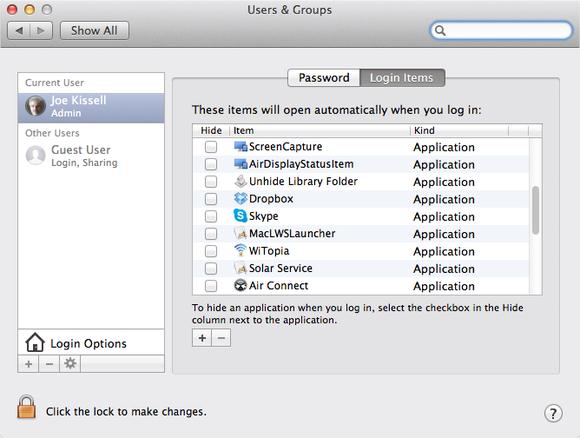 7. Reduce Transparency
Mac systems contain a lot of transparency effects to show neat effects. This makes Mac slow. You can improve the speed of Mac by reducing it with these steps:
Step 1- Open System Preferences
Step 2- To reduce transparency click on "accessibility"
Step 3- Now check the option - Reduce Transparency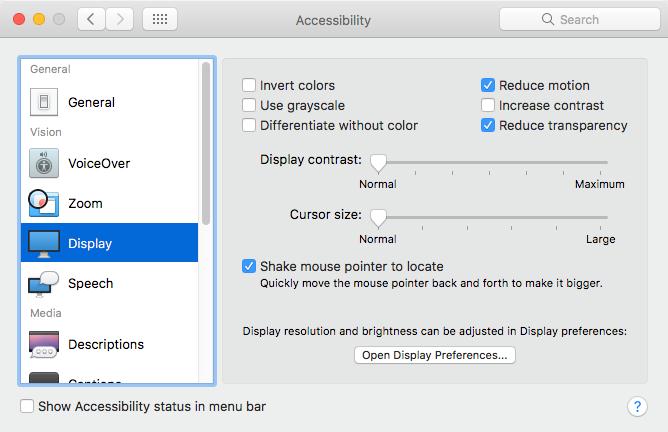 8. Update Software
Working on an older version of the software is also the reason behind slow Mac. Update your Mac with these easy steps:
Step 1- Click Apple icon
To update the software, click at the Apple icon that is located at the top in the menu bar.
Step 2- Select software update
Once the update completes, ensure that Mac stays updated by checking for updates itself.
Step 3- Go to App Store for Automatic updates
Reach App store through system preferences and check these - Automatically Check for Updates, and then Install App Updates. This confirms system remains updated with the latest updates.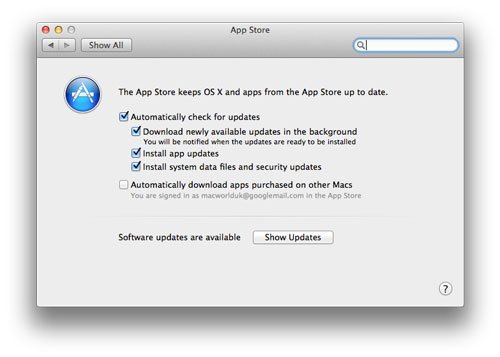 9. Reset SMC
Resetting Mac can also let your system run effectively with the perfect speed.
Proceed with the following if Mac has a non-removable battery.
Step 1- Shut down Mac and plug-in power cord
Step 2- Press and hold simultaneously - Control + Shift + Option + Power button
Step 3- Release keys and start Mac with the power button
10. Reinstall Mac
Reinstalling Mac can let you give your old Mac back that runs like it was running before.
Step 1- Select startup drive
Step 2- Move to erase tab
Step 3- Select Mac OS Extended from Format drop-down
Step 4- Click at erase and make your way out of "disk utility app"
Step 5- Select Reinstall macOS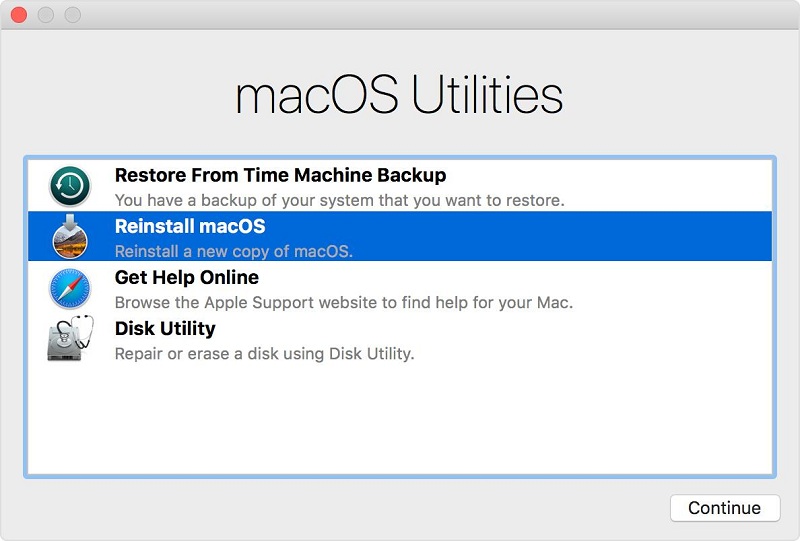 ---
Part 3 - How to Recover Lost Files on Mac
If you lost some of your essential files while fixing the speed issue, come here. We will guide you through the steps to recover lost files like photos, audio or video files, or some other documents. It supports the recovery of files that you lose due to formatting, virus corruption, system crash, or some other reasons.
Confirm your Mac version to download Recoverit Data Recovery for Mac on your Mac. Install it by following the guidelines and then launch it on the Mac. Start recovery with the most reliable recovery software by following these easy steps.
Step 1 - Select Location and Click on Start
Select the hard disk drive from your where you lost your data. Once you are done with the selection, click at "Start" to run the scan.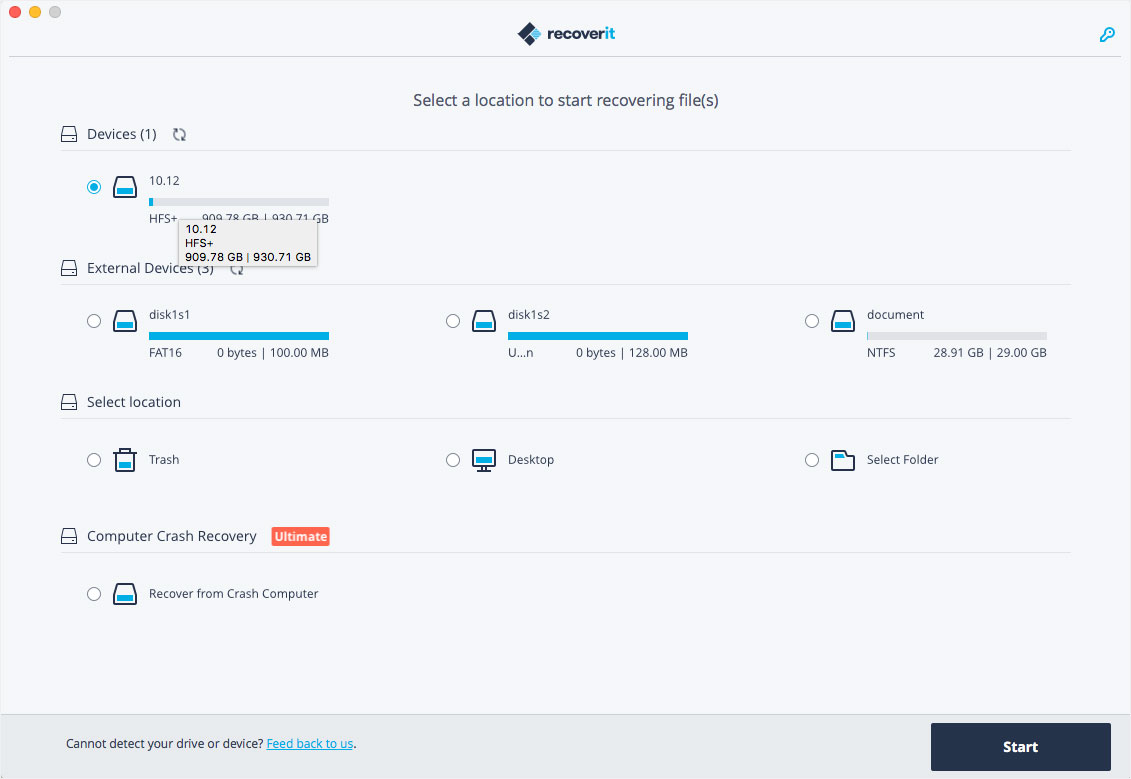 Step 2 - Scan Location
Recoverit starts an all-around scan on Mac. Once the scan completes, the software lets you preview the files found by it during the scan. You can even make some selections or filters while the scanning is in progress. This includes searching for lost files through file path or type. In the meantime, if you come across your lost files, you can pause or stop the scanning in between.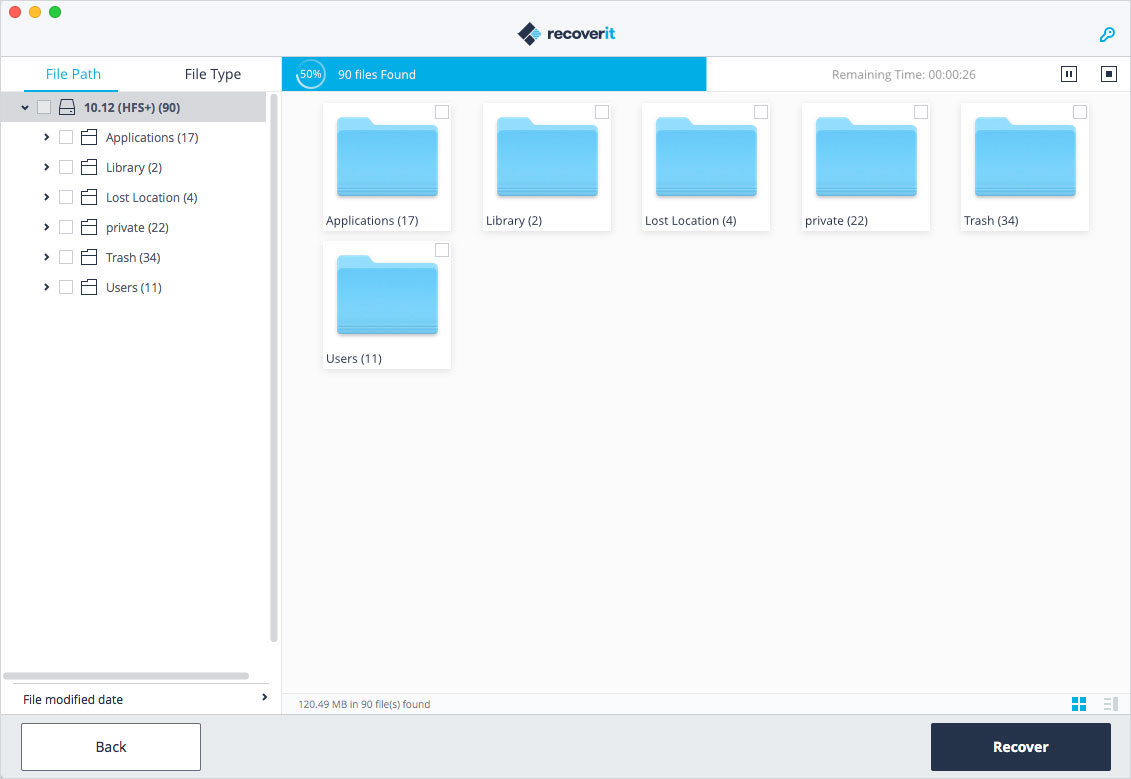 Step 3 - Recover files
This recovery software allows its users to preview the files found during scan before proceeding with the recovery. View all the files and mark the targeted ones. Now, get them stored back in the system by clicking on the "recover" button.
This completes the recovery procedure. You can easily access your favorite videos, pictures, and other vital documents now. But there is important information that users need to take care of while saving the files.
While selecting the path to save the recovered files, never select the same drive from where you previously lost it.
So the next time when you lose access to your important file, install Recoverit in your system and follow these steps.
---
Part 4 - How to Prevent a Slow Mac
Mac slowing down is a common problem that Mac users have started facing these days. But little efforts and spending some time in clearing up the junk from your system can help in speeding up your system. Here are some of the tips that prevent iMac running slow.
1. Delete Useless Files
There is a lot of junk saved on the system like temporary files, unused apps, etc. Most of these files are inside apps and browsers. This slows down the Mac. Prevent your system from lowering its processing speed by removing them.
You can do it by emptying Mac's trash. Delete the duplicated files stored in the system. Check for apps that are not needed and large files stored in user, downloads, and applications folder.
Clean RAM, clear browser cache, clean cache through "Finder" or "terminal." You can also go for repair disk permissions with in-built Disk Utility Tool.
2. Manage your desktop
Are you aware that each shortcut icon on the desktop creates a small window? More the files you place on the desktop, more time your Mac takes in managing them. This ultimately affects the processing speed. So the trick is to keep desktop clean. But how can you do it? Create a "desktop archive" on your desktop. By the end of the day sort everything that is saved on your desktop. Delete the unwanted files and move the rest to this archive folder. This sorts your desktop.
3. Use Activity Monitor
You can also set Activity Monitor as a real-time monitoring tool. This allows you to monitor the memory usage of Mac. In this way, you can ensure there is enough free memory for opening other applications on the system.
To do so proceed as following:
Right click Dock icon -> select Show Memory Usage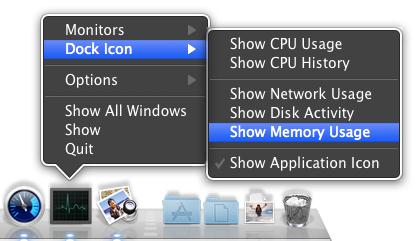 4. Manage Login Items And Startup
Startup Apps and login items are the important reasons that slow down your Mac. If you have installed numerous apps on your system, they automatically boot up when you start your system. These apps continuously run in background and consume huge memory. What will be worse than this?
The best way from preventing these apps in running background is to uncheck the apps that are not required at startup. To do so you go to system preferences - > users and groups - > username -> login items
Here select the items that you don't want to run at startup and click on the minus sign.
5. Update Apps
Keep your installed application updated with latest versions. As running an app with an older version also results in slowing down the Mac.
Go to the App store in the dock and launch Mac App Store. Here you can update your stored applications.
---
Closing Words
Whether it's Mac or any other computer, to run it effectively without hampering its speed, it requires free memory. As you have gone through the various methods of speeding up the slow Mac, you must have understood that cache and other junk files usually consumes disk space. You can easily speed up Mac by managing all your apps, desktop files, and other junk or useless files of your system.
Try the above methods and enjoy the smooth running of the Mac like it was before. While fixing the issues if you accidentally lost your vital information from the system, recover them also with the Recoverit recovery tool.
What's Wrong with Mac
Recover Your Mac

Fix Your Mac

Delete Your Mac

Learn Mac Hacks