Skype is not the only software for making video calls but it was one of the pioneers of the feature. It deserves every accolade sent its way. Skype's popularity cannot be denied, mostly because it caters to both individuals and businesses.
Sometimes though, glitches impair its functionality. And other times, the problems might not be from your Skype but form your Mac. There could be a number of reasons why your Mac's Skype camera ceases to function, so don't you agree it's best if you knew these reasons and their appropriate solutions? It beats contacting Skype or Apple customer care, that's for sure.
Part 1: Why is Skype Camera Not Working
Can you, at the top of your head, think up an app that has over 4.9 active millions every single day? That's exactly the number of active Skype users on a daily basis. The app itself has seen downloads over a billion times already.
Skype is one of the few applications that are available on both Windows and macOS. And the fact Skype is cross-platform is further proof of how functional the software is, so whenever you're unable to use your Skype camera, trouble abounds. You might be unaware of why this happens though. The reasons range from simple to complex. The major ones will be outlined for you down below.
Conflicting Software

The conflict between apps is nothing new to macOS and neither is it peculiar to Skype. It's quite common for software to interfere with each other if they utilize the same or similar devices on your Mac.

Skype uses your Mac's camera, right? But other apps and websites all use that same camera too. For instance, you may be on a website that requires the use of your webcam. Even after you're done browsing and close the webpage, your Skype might still not work afterward. Sometimes, you might even be unaware that the software you ran earlier still has access to your webcam. That effectively denies your Skype access and privileges to use it.

Outdated Skype Program

This problem stems from your Skype. Neither your Mac's camera nor the macOS has anything to do with Skype not recognizing the camera. Just like any other software, Skype receives updates too, though maybe not as often as other software.

So, what happens if you don't update your Skype to the latest build or version? You guessed it: compatibility problems arise. You may be running Skype version 3.4, which works great; but if the person you're trying to Skype is using version 8.45, which is the most recent build, you won't be able to use the video feature to Skype.

You may get away with using Skype's other features like audio calling, but when it comes to video, nothing you try will work. An updated Skype is a requirement to be able to access your camera and use it.

Multiple Cameras

This problem is caused by human error more than anything else. Macs come with a single webcam but there's nothing to stop you from buying an external webcam and attaching it via USB., Skype can recognize both cameras but it can only utilize one at a time.

Of course, there's a feature that allows you to select the camera of your choice but sometimes, you can forget about this feature, then you'll end up wondering why your Skype camera doesn't work. The problem is thus as simple as when you forgetting choose the right camera properly. This is the part where you say, 'Oops.'

Improper Installation

It's very possible the issue could even stem from the point of installation. Maybe the Skype was installed improperly, hence why your camera is faulty.

Then again, it could be that the drivers for your webcam are old and need to be updated. Drivers are probably not components of your Mac that you bother much about; few people regularly check whether their drivers are out of date.

Also, take into cognizance the maker of your webcam. If you're using an external webcam, it's possible the manufacturer doesn't support Mac platform and macOS. In such a case, you have to utilize third-party software to make your camera work. Software like USB WebCam Driver and Macam.

Incompatible Cameras

This problem was saved for last because it's the least likely to be the cause of a faulty Skype webcam, but that doesn't mean it can't be a cause. Skype claims the majority of Mac webcams will work with their software, but it's a different story for webcams of older generation Mac systems.
If your Mac is running a dated macOS with dated hardware, it may fail when it comes to taking advantage of Skype's video features. To elaborate, there is no guarantee your webcam will work with Skype if your machine is running macOS X 10.4.9. Later machines that come with Apple's proprietary webcam software also won't work with Skype; the exception is webcams which are Universal Video Class compliant.
---
Part 2: Simple Solutions to Mac Skype Not Working
Yeah, it can be most inconvenient when your Mac's Skype camera gives you a feed of nothing but a black screen, but you don't need to stress over it. All the means you can use to fix your Mac's Skype camera will be outlined for you down below, so dive right into it.
Solution 1: Check the Skype Status
Skype has made it very convenient for you to ascertain if the issue is with Skype itself and has nothing to do with your Mac or webcam. There's a feature called "Skype Heartbeat Page" that keeps you updated on Skype's system status page. You can either access it via this link: support.skype.com/en/status, or clicking the "Help" menu in Skype and choosing "Heartbeat (Skype Status)."
If problems are currently plaguing Skype, you will see them on this page. And you can find a list of the most recent issues Skype suffered at the bottom of the page too.
This solution is more in the hands of Skype. Only they can fix the issues, so all you can do is wait for them to do their thing.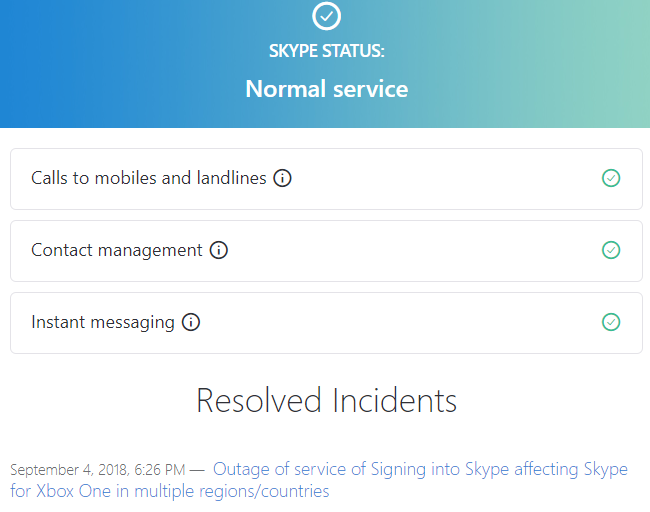 Solution 2: System Privacy Permissions
Are you sure you've given Skype permission to use your Mac or Windows system? You have to do that or else both camera and microphone might not work; it's normally something you should have done upon installation of the software.
Granting permission might not be as necessary a requirement for earlier macOS or Windows versions but the same can't be said for more recent operating systems.
Any version from OSX Mojave (10.14 or higher) and Windows 10 (version 14) and above make it necessary for you to grant your Skype access to your system.
Either way, you can verify if Skype has permission or not and rectify the issue by doing this:
MacOS X Mojave (10.14 or higher)
1. Go to your Mac's system preferences by clicking on the "Apple" icon in your Finder.
2. Click on "Security & Privacy."
3. Click on the "Privacy Tab".
4. Click on "Microphone/Camera" and grant access to Skype.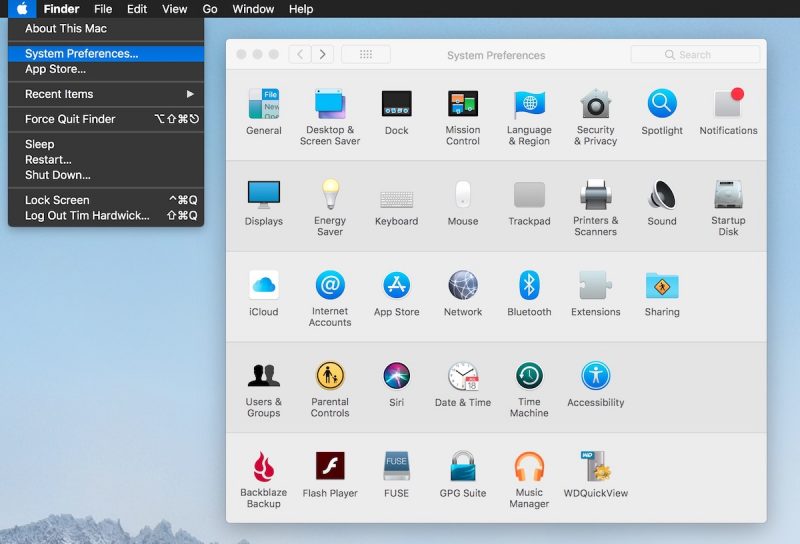 Windows 10 (version 14)
1. Click on "Start."
2. Click on the "Settings" gear.
3. Select "Privacy."
4. You can then choose either "Camera/Webcam" or "Microphone."
5. Make sure that "On" is enabled on both camera and microphone.
6. Restart your Skype.
7. Go to your Skype's Audio & Video settings to ascertain if the proper device is selected in it.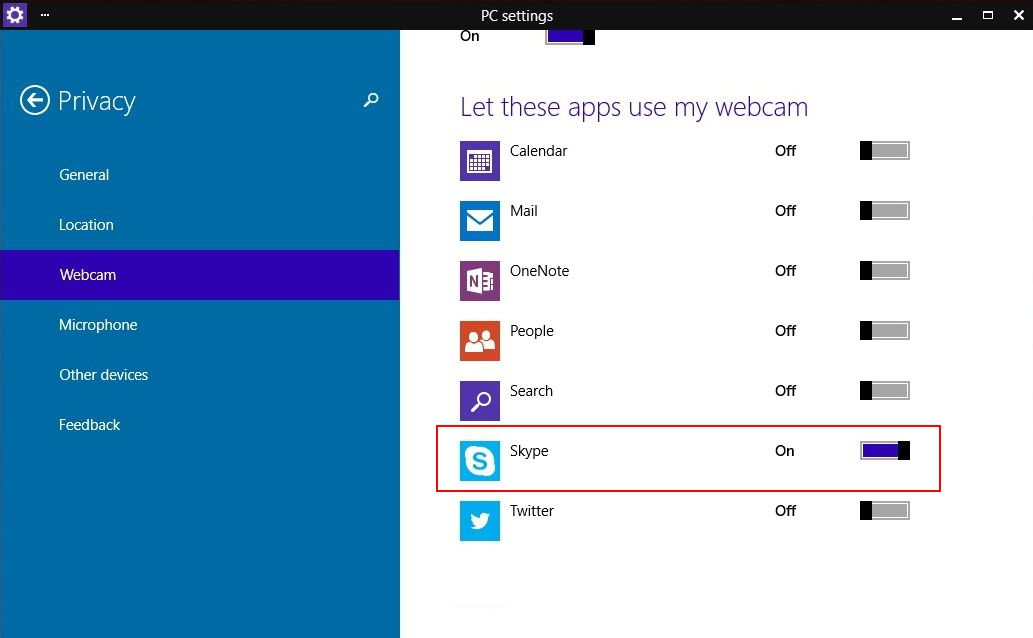 Solution 3: Restart Mac Skype
This solution is very straight forward. All you have to is close your Skype and then open it again, then see if it rectifies the issue. Do this:
1. Move your cursor to the top-left corner of your Mac's screen and click on the "Skype" menu.
2. In the drop-down window that appears, select "Quit Skype."
3. To restart the software, just open your Launchpad from "Dock", then click on the "Skype" icon again and your Skype will start.
4. Or, you can just click on the "Skype" icon on directly from your "Dock."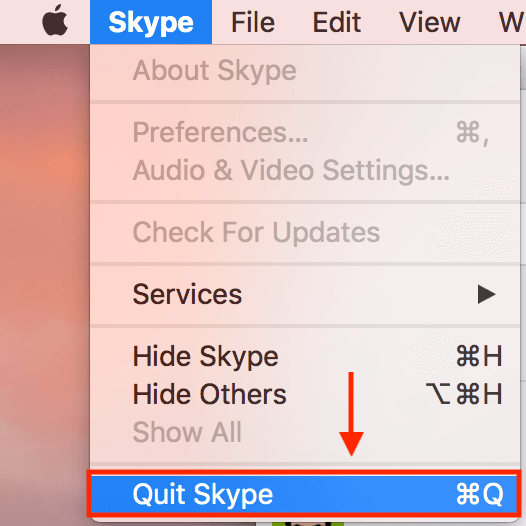 5. Alternatively, you can right-click on the Skype icon if it's on your Mac's Dock.
6. Click on "Quit." To restart it, click on the same icon again.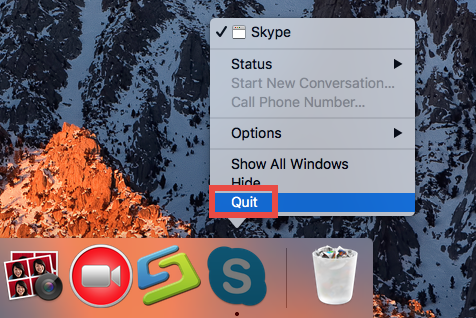 Solution 4: Check System Specifics
When it comes to system specifics, the fault could lie with you or the person you're calling; or rather, it could lie with either or both of your Mac systems. Does your Mac meet the minimum system requirements? Does your partner's Mac also meet them? To run Skype properly, your Mac must have these devices and meet the following requirements:
Mac OS X/macOS 10.9 or any macOS higher.
Intel processor of at least 1GHz (Core 2 Duo).
RAM of at least 1 GB.
A microphone, though you are recommended to use a headset if one is available.
A webcam, obviously. You can either use your Mac's built-in webcam (if it has one) or get an external webcam.
A broadband connection that is capable of download and upload speeds reaching at least 100kbps
Solution 5: Update Mac Skype
A software update often fixes any glitch or errors the software might be experiencing, and your Skype is no exception.
Double-click on your "Applications" folder.
Click on the "Skype" icon.
Type in your Skype password and username.

Click on "Sign In."
Click on "Skype" located at the top left side of your Mac's screen.
You will see a drop-down menu. Click on "Check for Update."

You will be redirected to your browser where a new webpage will display the update available for your Skype. Click on the "Download Skype" button. Your download will commence.
Once done, a new window will open up where you will see the downloaded Skype DMG file. Drag the DMG file to your 'Applications" folder to begin the installation and update of your Skype. That's all there is to it.
Solution 6: Reset Mac Camera
Sometimes, it's just your Mac camera that needs to be reset and everything will be well again.
1. Open up "Application" folder.
2. Click on "Utilities."
3. Click on "Terminal."
4. A command line will be before you. Type in this command: sudo killall VDCAssistant
5. Your Mac's screen should look like the image below.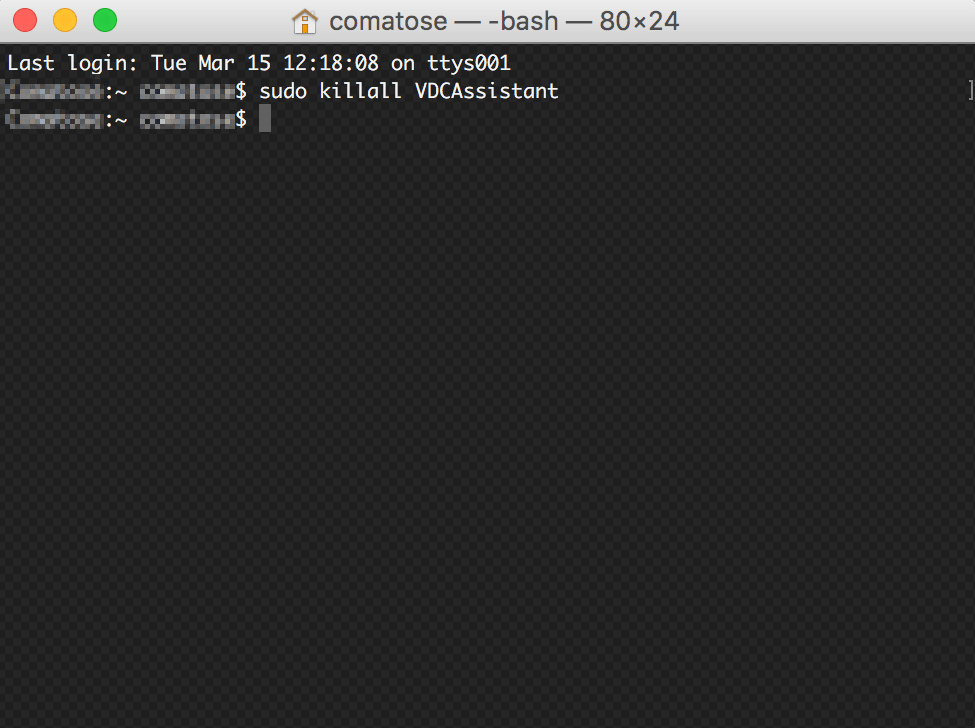 6. Open up any app in your Mac that uses your camera to test if the solution worked. Your camera should be running fine again.
Solution 7: Close Running Apps
There are a number of ways you can close your Mac's apps, but Activity Monitor and Terminal are your best bet. Third-party software like CleanMyMac can also do the deed for you.
The easiest though is via the "Force Quit Applications" window (Mac's counterpart to Windows' Task Manager). Access it by doing this:
1. Press this button combination: "Command" + "Option" + "Escape".
2. On the "Force Quit Applications" window, you will see a list of all the active apps your macOS is running. Select the apps you want to close form the list and click "Force Quit". All done.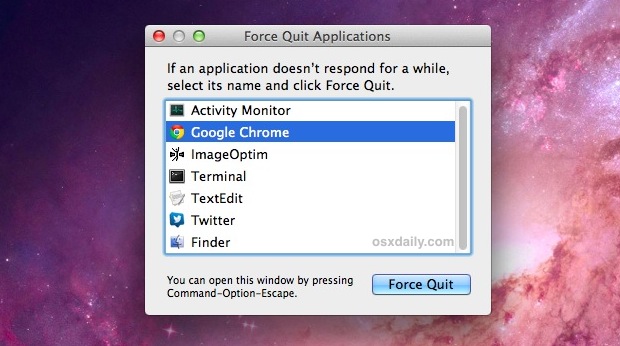 Solution 8: Reboot Your Mac
If all else fails, why not just reboot your Mac and see if that fixes the problem? This is actually a very effective solution.
1. Go to your "Finder" and click on the "Apple" logo.
2. In the drop-down menu, click on "Restart." That's all there is to this solution. Hopefully, once your Mac restarts, your Skype camera will be functioning properly again.
Solution 9: Reset the SMC
The SMC (System Management Controller) maintains control over low-level functions on your Mac, which includes how your webcam functions. Resetting it might just get the job done. Do this:
1. Click on the "Apple" icon in your Finder.
2. In the drop-down menu, click on "Shut Down."
3. Press these keys at the same time: "Shift" + "Control" + "Option" and the power button too.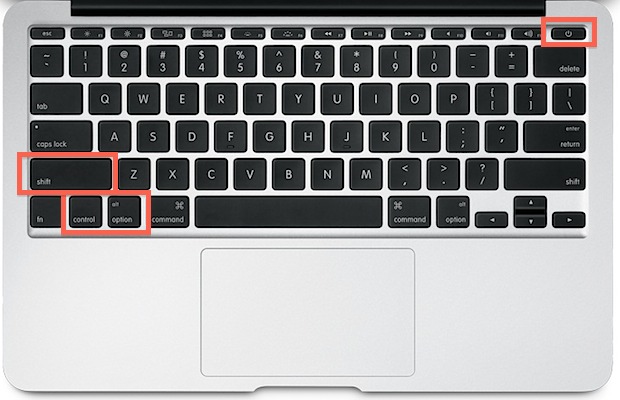 4. Keep the keys pressed for about 15 seconds or so.
5. Release the keys.
6. Press on the power button again. All done.
---
Closing Words
Skype has, for most people, become a staple part of daily life because they use it to earn a living in one way or another. Maybe you're one such person too.
Either way, when Skype fails to recognize your Mac's camera, you don't need anyone to help you fix it. And you should only resort to professional service if it's a hardware issue.
The solutions that are given up there are sure to fix any Skype camera not working on Mac problem. So, follow them carefully and fix any errors preventing you from making the most out of using Skype on your Mac. If you find Skype images lost, go to use Recoverit and restore local or downloaded photos on Mac.
What's Wrong with Mac
Recover Your Mac

Fix Your Mac

Delete Your Mac

Learn Mac Hacks