Part1: About Transcend Ultimate Memory Card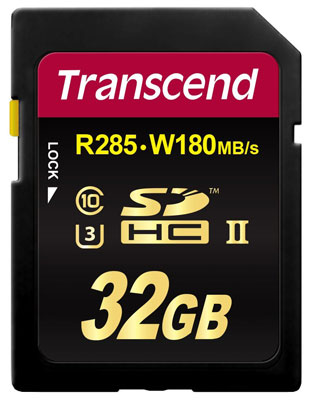 I am quite sure many of you readers already know what Transcend Ultimate Memory Card is all about, but I am going to quickly summarize its main characteristics. Transcent-info.com says that this SD card is tailored for individuals working with the latest photography and video equipment on the market. These SD cards are durable and are made to meet the demands of raw image capture and full HD video recording. There is also a Transcend Ultimate memory card recovery utility on their website called "RecoveRx photo recovery software".
Transcend Ultimate Memory Card has a maximum transfer rate of up to 90 MB/s and can withstand temperatures from -25°C(-13°F) to 85°C(185°F). You can basically insert and remove them for up to 10.000 times, so it's quite high-performance and durable. Its largest capacity is of 128 GB. SDXC card which is one of the versions available for this product, has an efficient exFAT system. Other features include: MLC flash based, Ultra High Speed Class I, Class 10 compliant, Error Correcting Code (ECC algorithm) which detects errors and fixes them.
The theme of this article is SD card recovery and in the next sections we are going to talk about possible causes that can damage your data, a recovery software that I personally recommend, a step-by-step guide that will show you exactly how to recover lost data, and lastly some quick tips on SD card safety.
Part2: Troubles of Transcend Ultimate Memory Card Recovery
You don't have to worry too much if you find out that you cannot access data stored on your SD card. You can either use the Transcend Ultimate memory card recovery utility presented on Transcend's website or any other free memory card recovery software.
According to Digicamhelp.com, there are many causes of memory card corruption. For example, using the same SD card with two different cameras can cause errors. It is a piece of good advice to first format the SD card in the camera before you want to use it. Also, if your card is full and you are still taking shots, you are about to cause card heads being overwritten. Not safely removing the card from a running computer or camera can also get the SD card in trouble. All these actions can make your SD card inaccessible, so eventually you have to take some measures for SD card data recovery.
Sometimes you might not notice that you are unwarily switching on the write-protection in the top-left side of the card. Sometimes that's the only problem you have that prevents your card from being fully operational. What you have to do to fix this is to simply pull down the little switch. Hopefully this will solve your apparent problem.
Part3: The Best Transcend Memory Card Recovery Software
In this section I will show you the Transcend Ultimate memory card recovery software that I can recommend. Recoverit is a memory card data recovery software that is safe and very easy to use. You can never go wrong with its wizard mode that assists you step by step in recovering your lost files. It has a preview function that lets you visualize the files even before recovering them.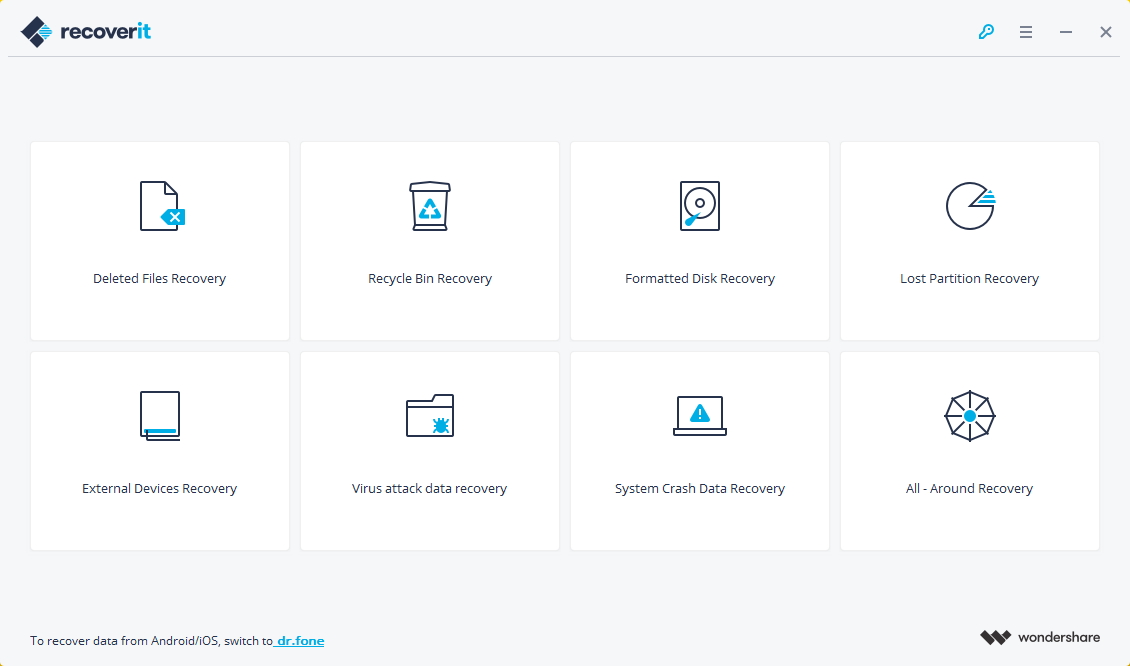 Recover lost or deleted files, photos, audio, music, emails from any storage device effectively, safely and completely.
Supports data recovery from recycle bin, hard drive, memory card, flash drive, digital camera and camcorders.
Supports to recover data for sudden deletion, formatting, hard drive corruption, virus attack, system crash under different situations.
Recoverit has lots of awards and more than 5 million users. Whether you want to recover lost images, videos, documents or any other file from a HDD, SSD, SD card, camera or even your smartphone, this software can quickly help you do that. It has different data recovery modes like: Deleted Files Recovery, Recycle Bin Recovery, Formatted Disk Recovery, Lost Partition Recovery, External Devices Recovery, Virus Attack Data Recovery, System Crash Data Recovery and All-around Recovery. One feature that you'll probably like as much as I do is the Pause and Resume Recovery function. You can pause it at any time and then come back later.
Part4: Recover Deleted/Lost Data from Transcend Ultimate Memory Card
Free download and install the Transcend Ultimate memory card recovery software presented above, and then follow the step-by-step guide below that will show you how to get your lost data back:
First you need connect your Transcend Ultimate memory card to you PC computer and confirm it can be detected.
Step 1 Select a data recovery mode to perform the data recovery. You can select the option "External Devices Recovery" to start.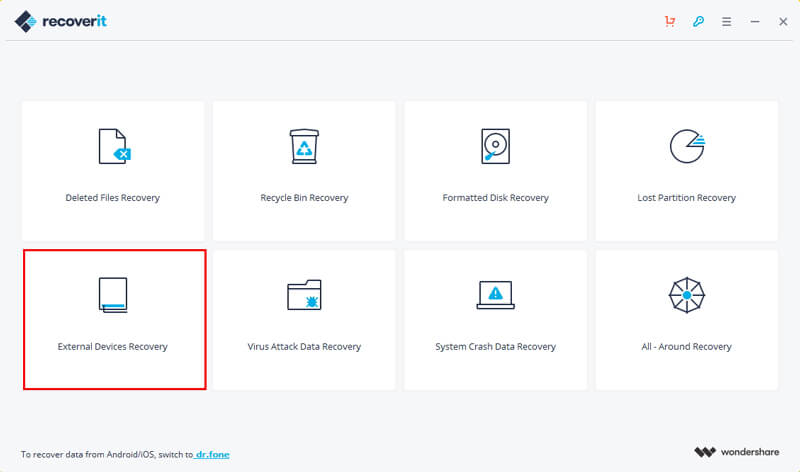 Step 2 Select the target location of your memroy card under the category of "External Removable Device", and then click "Start" to continue.
Step 3 The software will quickly scan the external device. If you can't find your lost data, "All-around Recovery" is your choice. It will deeply scan the memory card for more files but take more time.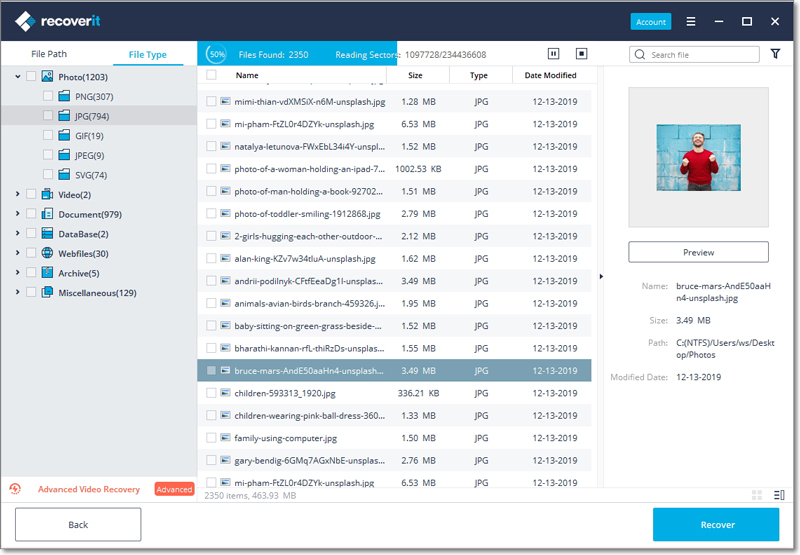 Step 4 After the scan is over, you can preview the lost files, choose the ones you want to get back, and click on "Recover" to reclaim them.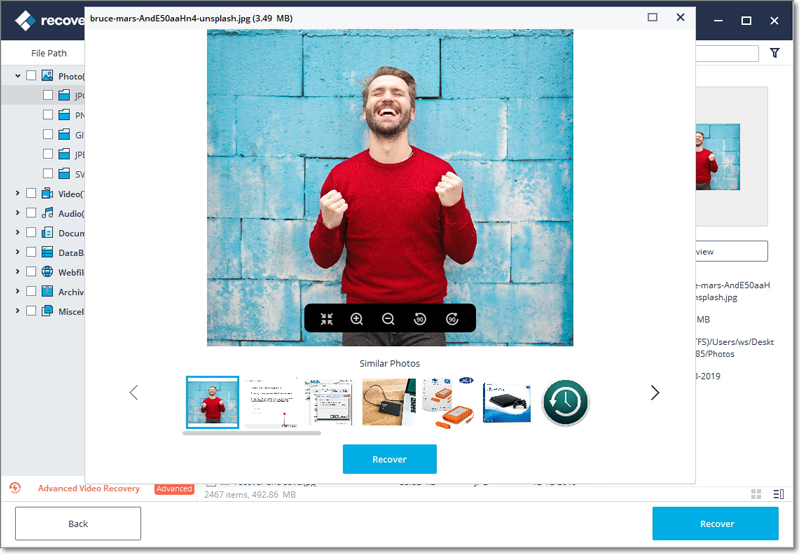 Recvoerit data recovery software is quite easy, effective and 100% safe to recover deleted or lost data from Transcend Ultimate memory card. Also, you can perform partition recovery, deleted files recovery and RAW hard drive recovery.
Part5: Important tips for Transcend Ultimate Memory Card
Never use the same SD card with two different cameras, as they use different file system formats and can produce errors;
If you cannot access your SD card for whatever reason, stop doing anything and find a good memory card data recovery solution;
Make sure the free memory card recovery software you are using is safe and reliable;
Always wait a little bit after the last camera shoot until it finishes the writing process;
Always format a new SD card in camera so it will have the same file system the camera is using;
Never pull out the SD card in the middle of transferring data;
Never pull out the SD card while the camera is still running;
Click here https://recoverit.wondershare.com/data-recovery-mac.html if you are a Mac OS user and would like to use this Transcend Ultimate memory card recovery method.