Checking for hard disk drive errors in Windows 10 is very important in order to find out if your hard drive is functioning as well as it should. If you discover that there are errors on your hard drive caused by improper shutdown and bad sectors or malware, you need to execute repairs as quickly as possible.
Why you Need Check for Errors in Windows 10
The hard drive of your PC may sometimes report certain errors which may make Windows unresponsive or perform poorly. Checking for errors on your disk will help you determine the type of errors plaguing the drive. The same can also be said about external hard drives who also encounter errors just like internal hard drives. Some of the common errors that affect drives are
Malware
Bad sectors
Faulty shutdowns
Drive corruption
Physical damage.
No matter what the error affecting your drive may be, you can fix the errors using any of the solutions highlighted below. These solutions work well on SSD and HDD drives.
How to check Disk Errors in Windows 10
1 Check Drive Status in Security and Maintenance
To check for drive errors
Open Control panel- Click the Security and Maintenance icon – expand open maintenance – view under Drive Status. If issues are identified, you will be asked by system to scan the drive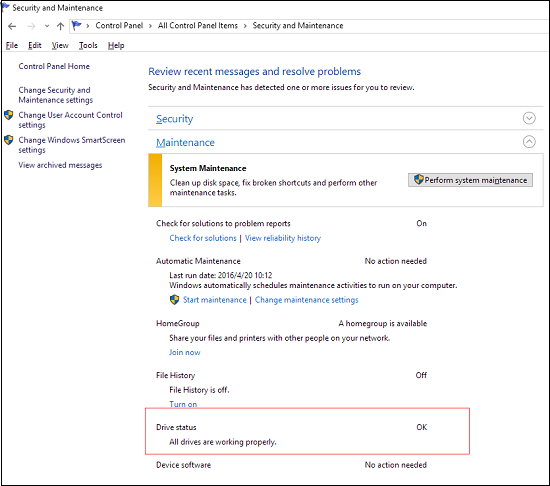 2 Check drive for errors using drive tools in Properties
To check for errors, open the computer's File Explorer – Right click HDD/SSD to scan – Click/tap Properties – Click/tap Tools tab – click the Check button under Error checking section- scan the drive and repair drive if errors are found.
After scanning is done, click the Show Details link to view "Chkdsk" log.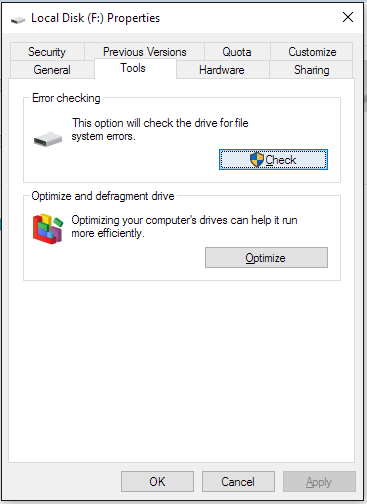 3 Check drive for errors using the "chkdsk" in Command Prompt
Open command prompt to boot. Once the prompt pops up, type "chkdsk" command by one or more switches which you prefer. Leave a space between them and tap Enter.
4 Check drive for errors using Repair-Volume in Power Shell
Open Powershell to get all four options for Powershell command
To repair drive, input he Repair Volume driver letter into the Powershell and then tap Enter. After this, close Powershell
To do "OfflineScanAndFix" on the drive, input Repair Volume - Drive letter "OfflineScanAndFix" and tap Enter. Close Powershell after you are done
To perform Quick Scan – input command Repair Volume Drive letter, scan drive into Power and tap enter. Close Power when you are done.
To do a SpotFix – Type command Repair Volume- Drive letter –"SpotFix" in Powershell. Tap enter and close Powershell when you are done.
Checking and repairing your hard drive if it has an error is easy using any of these quick fixes. If you check your drive for errors regularly you will be able to maintain the health of your drive and ensure that it is always functioning at optimum levels.
What's Wrong with Drive
Recover Your Drive

Fix Your Drive

Format/Wipe Drive

Know Your Drive