If you're an avid Windows user, you may be familiar with the concept of extending volumes. After all, nowadays, there are many files occupying our precious PC storage space and extending volumes is an excellent way to free up some space. Whatever your reason in performing an extension of volumes, we'll show you how you can extend volumes if you're using Windows 10.
Why do you need extend volume?
Most Windows users feel the need to extend volumes in order to free up space in the primary partition. This is usually done to unload a particular drive with so much data so that the speed of the device will not suffer. It's also done by users whenever they get a warning saying that they're running out of disk space. Another reason for doing this is due to a recent installation of Windows 10. Upgrading to Windows 10 may bring up issues with regards to your PC's disk space.
How to Extend Volume in Windows 10
There are plenty of reasons why one would decide to extend volumes. In this post, we will show you ways how to Extend Volume in Windows 10.
Solution 1 - Using the Windows interface
If you want to extend a drive's volume, you can do this using a built-in feature of Windows. Disk Manager is a Windows utility that enables users to manage drives within their computer including any other partitions within those drives. It's used for setting up or initializing new drives, extending volumes, shrinking partitions or volumes and changing or renaming drive letters. You may also defragment drives and pool them together using this utility. Follow the instructions below to extend volumes using the Windows interface.
Go to Disk Management. You can do this by pressing on Windows key + R on your keyboard to launch Run. Then on run, type in diskmgmt.msc in the space and hit OK. You can also access this from the Start menu. Just press on the Start button and this will open the Quick Access Menu from which you can click on Disk Management.

Select volume D and click on Extend Volume.

This will launch the Extend Volume Wizard. Select Next to proceed to the next steps.

Just wait until the process is completed. This will extend volume D.
Solution 2 - Using a command line
DiskPart is a built-in tool in Windows 10 computers. This is similar to Disk Management in that it also allows users to manage partitions, disks and volumes by keying in specific commands in a command prompt. When dealing with any troubleshooting involving a command prompt, it's important to ensure that you're typing in the commands correctly. Otherwise, you won't be successful in performing the task. Or worse, you might come across some errors. If you choose to use this method to extend volumes, just follow the instructions below carefully.
Press Windows key + R on the keyboard. Type in cmd in the space and hit Enter to launch Command Prompt.

Once Command Prompt launches, type in diskpart and hit Enter.

Type in list volumes and this will show you a list of all available partitions with no unallocated space.

Type in select volume 1 to target Drive C.

Type in extend to extend the volume.
It's important to take note that Extend Volume will only work if there is an adjacent Unallocated space on the right side of the drive you want to extend. If this is not the case, you won't be able to perform this. This will show you an error like this: There is not enough usable free space on specified disk(s) to extend the volume.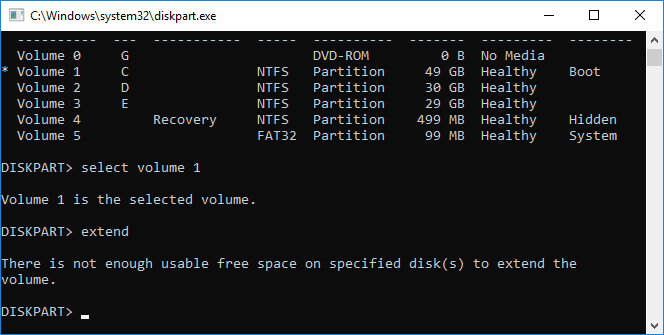 Extending volumes are generally an easy task to do. Even if you have no prior experience in dealing with Command Prompt or anything related to disk partition management, you may be able to perform this on your own. However, sometimes, these do-it-yourself solutions may not work. Here's where you can make use of a third-party disk partition management software.
Conclusion
AOMEI Partition Manager is one of the best disk partition management softwares you can download online for free. Whether you'll be using it for personal use or commercial use, this software is definitely a good choice. It also supports a wide range of operating systems from Windows 10 and its earlier versions, so you know that it's compatible with your device. This program is capable of creating, deleting, resizing and splitting partitions. It also boasts of Quick Scan, which is a unique feature that does the job for you in just a few clicks. It also features a very user-friendly interface and makes use of good graphics so users can easily visualize the spaces used up by drives. An added feature of this software is the option to create bootable media. If you're looking for an easy way to perform this task, AOMEI surely will deliver.
Partition Recovery
Data on Partition

Partition Devices

Partition Issues

Partition Tips