More and more PC users are upgrading to Windows 10 because of its many promising features. It's packed with features while remaining user-friendly. Regular updates are usually done on any operating system. But if you've recently upgraded to Windows 10, you might encounter error with updates. In this article, we'll provide you with 3 fixes to the Windows error.
What is the 0x80240031 error?
It's a Windows error that may also be in the form Windows 10 Insider Preview 14332 - Error 0x80240031. This may be experienced when you're attempting to upgrade to the new Windows 10 build. You may also encounter this in the form of Windows could not search for new updates or An error occurred while checking for new updates for your computer. You can always opt to click on the Try Again button but often times, the error will just occur over and over again and it's best to find out where it's coming from and attempt to fix it.
What causes the 0x80240031 error?
This may be due to damage in Windows System Files. There may be corrupted system files within your computer which result from an incomplete installation or incomplete uninstallation. Virus or malware attacks may also cause this error. A more common reason is an unexpected shutdown of your PC by a power shortage or just accidental shutdowns. This may also be a result of missing files in the registry which is now causing malfunctions within the system.
If you're experiencing the same error, there's no reason to panic. There are plenty of ways you can fix this on your own. Here are 3 easy ways on how to fix Windows 10 Error Code 0x80240031.
Fix 1 - Restart Windows system
It may be too basic but sometimes a simple rebooting of your Windows system will do the trick. This is because there may be files within your computer that are interfering with Windows update. Perform a clean boot of your Windows to find out if this is causing the problem. You can do so by carefully following the instructions below:
1.In the Search bar, type in msconfig to launch System Configuration. You can also find this in the Start menu.
2.The System Configuration window will pop up. Click on Services tab which can be seen at the top portion of the window.
3.This will show you a list of the services. Mark the box beside Hide all Microsoft services. Select the Disable all button beside it.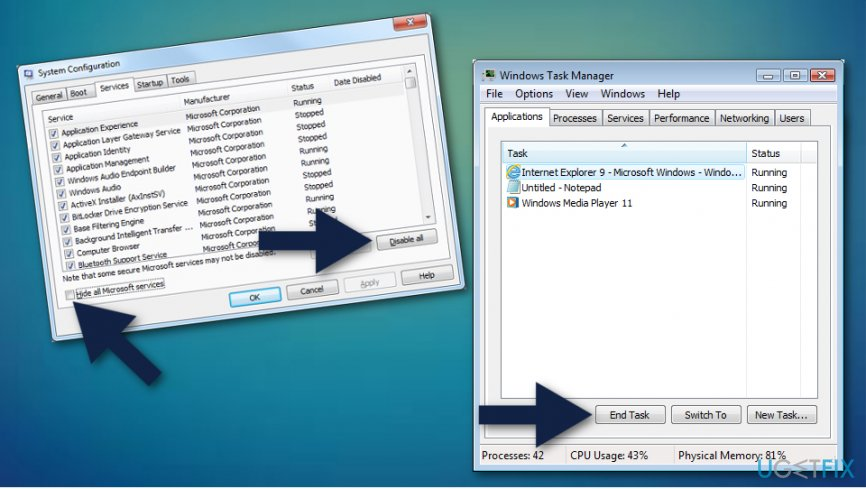 4.Click on the tab beside Services, this is the Startup tab. Launch Task manager. You can also go to Task Manager by pressing Ctrl+Alt+Del on your keyboard.
5.Click on all of the items in the task manager and select End Task button below. This will close all of the applications currently running on your computer.
6.Reboot your PC.
Fix 2 - Turn off Windows Update
It may be counterintuitive but disabling Windows Update may be able to solve your problem. It could be interfering with your current updates. Use the guide below to perform this on your computer.
1.Press Windows + R on the keyboard to launch Run.
2.Type in services.msc in the Run box and hit Enter.
3.Look for Windows Update. Double-click on the icon.
4.Select Disabled in the drop-down menu.
5.Restart your computer.
6.Once your PC reboots, press Windows + X to launch File Explorer.
7.Type in the following in the bar above or simply follow the path:
C:\\Windows\\SoftwareDistribution
8.Press Ctrl+A to select all and right-click on the files. Select Delete.
9.Press Windows + R on the keyboard to launch Run.
10.Type in services.msc in the Run box and hit Enter.
11.Look for Windows Update. Double-click on the icon.
12.Choose Manual in the drop-down menu.
13.Select Start and hit OK.
Fix 3 - Disable Updates
Updates don't only come from Windows Updates option in your computer. Other places may also do the updates. Turn off updates from other locations by doing the steps below:
1.In the Search bar, type in Settings to launch Settings. You can also look for it in the Start menu.
2.Choose Update & Security in the settings. Go to Windows Update and then click on Advanced options.
3.Under Choose how updates are installed, unmark the box beside Updates from more than other place.
You may also reset Windows Update Components to fix this issue. You can do this when you download the Windows Update Troubleshooter. Go to Microsoft's support site and download the compatible troubleshooter for your OS.
A responsible Windows PC user knows the importance of regularly updating. This error is just one of the many Windows errors PC users are experiencing when dealing with updates. If you repeatedly encounter errors regarding updates, it may seem annoying and you may feel like it's irreparable. Hopefully, one of the fixes above will fix the Error 0x80240031.
Partition Recovery
Data on Partition

Partition Devices

Partition Issues

Partition Tips