Windows 10 is built to perform faster and more efficient than the older versions. However, the system takes in more files, downloads and programs over time, causing the PC's performance to decrease. This is why one needs to learn optimization in Windows 10 to get the most in terms of user experience in the operating system.
WHY OPTIMIZE WINDOWS 10?
Most Windows users know how important it is to upgrade to a newer version, particularly because it has the latest features and updates. To make sure that the system is well-maintained and remains fast and efficient, you need to optimize it. Regularly scheduling clean-ups and optimization ensures that your system is up-to-date. It also guarantees that errors are detected and fixed.
There are a lot of benefits you can get from optimizing your PC. Firstly, it saves up a lot of space. When you open pages from the internet, your PC saves cached files from that site, taking up storage. Some users overlook this fact, but optimization solves this problem. It can also prevent any malware attack because it fortifies the security. All these consequently improve the speed and efficiency of your computer.
HOW TO OPTIMIZE PERFORMANCE OF WINDOWS 10
To speed up and protect your system, you can try one of these methods to optimize Windows 10:
1. DISABLING STARTUP APPLICATIONS
Some applications are programmed to run on startup. Some of these runs in the background without you even receiving any prompt. These apps slow down your computer on reboot.
a. Press CTRL + SHIFT + ESC to open Task Manager.
b. On the Task Manager interface, go to Startup tab and select the Status column to sort and determine which apps are running on startup.
c. Choose the app you want to disable and right click. Choose Disable. Do the same for other apps.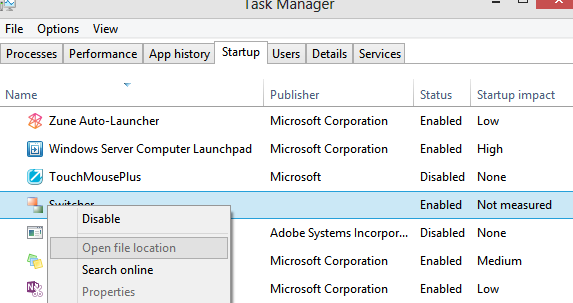 d. Restart your PC.
2. REMOVING UNNECESSARY APPLICATIONS
Preinstalled apps in Windows are aplenty, and some of them aren't important. The bloatware can be uninstalled to free up space.
a. On the search bar, type Settings and click the top result.
b. Select Apps> Apps & Features.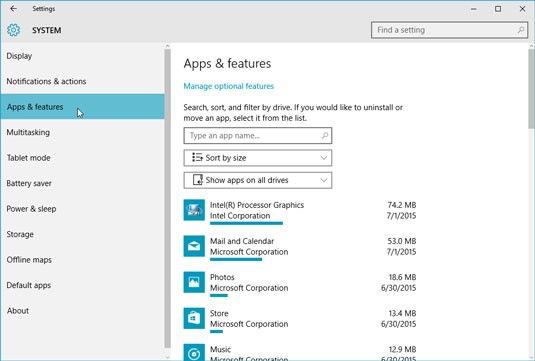 c. On the list, select the unnecessary app you want to uninstall and press the Uninstall button.
3. INSTALLING ONLY TRUSTED APPLICATIONS
There are some programs that have hidden malware when you install them. Be careful in choosing the apps that you put in your system, because they can potentially compromise your system. There are also instances when programs from trusted developer come with additional installations of add-on apps that you probably won't be using in the long run.
4. RECLAIMING DISK SPACE
a. On the search bar, open File Explorer.
b. On the left side, select This PC and right click on.
c. Select Properties.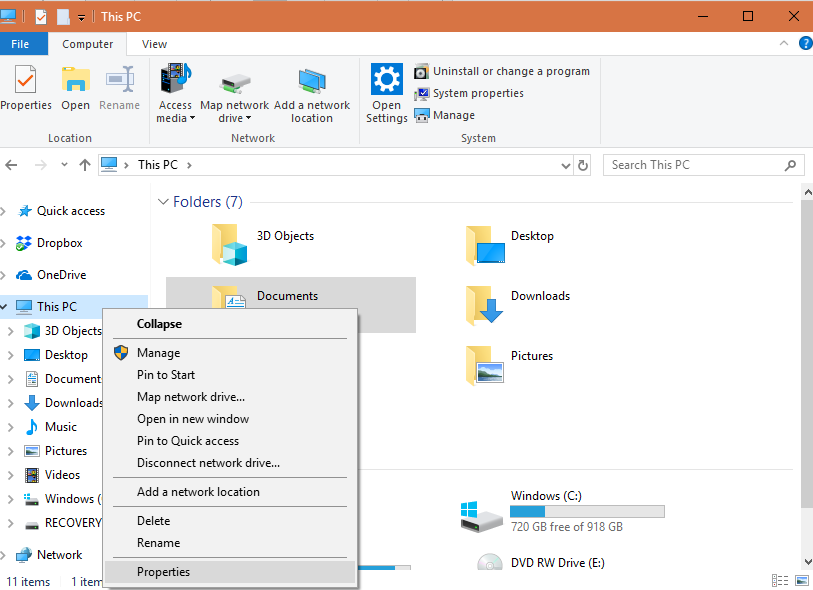 d. In the General tab, select Disk Cleanup.
e. On the prompt window, locate Clean up system files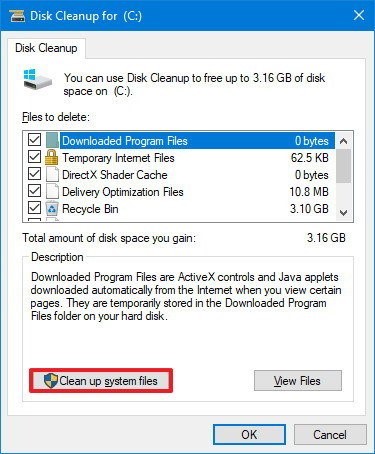 f. Choose the files you want to delete, such as the temporary cached files, internet files, Windows upgrade logs, downloaded installation files and more. Select OK.
5. UPGRADING TO A FASTER DRIVE
Most Windows computers are equipped with an HDD or the Hard disk drive. This type of drive tends to be slower over time, due to movable parts. This dilemma is eliminated when you upgrade to a Solid-State Drive (SSD). This is more stable than the HDD and is capable of reading and writing files much faster. Since the drive is compact and works as a single unit, the files are processed much faster, which also improves the PC's performance.
6. CHECKING FOR MALWARE
Malware is a common culprit for any error that a PC encounters. If your computer slows down, you might want to try testing your system for such by using a third-party software or by using the Windows Defender Security Center.
a. On the search bar, type in Windows Defender Security Center and choose the top result.
b. Select Virus & threat protection.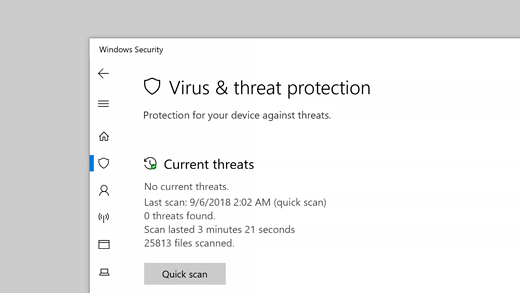 c. Locate and select Advanced scan> Full scan. Click on Scan now.
7. UPDATING WINDOWS
a. Proceed to Settings, and then select Updates & Security.
b. Select the Check for updates button.
c. Windows 10 will check and install the updates automatically.
8. CHANGING THE POWER PLAN
a. Type Control Panel on the search bar and click top result.
b. Select Hardware and Sound> Power Options.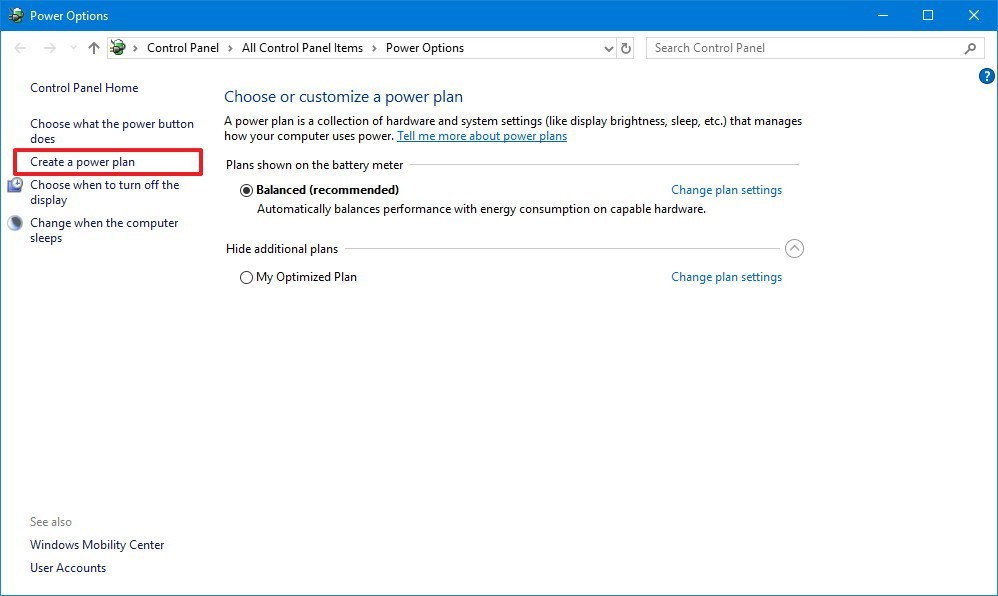 c. Choose High Performance power plan.
9. DISABLING VISUAL EFFECTS
When you start up Windows 10, you may notice updates on Windows animations such as the mouse pointer or the Acrylic material that does not impact performance.
a. Launch Control Panel by typing it in the search bar.
b. Select System & Security> System.
c. Choose Advanced system settings. On the window, go to the Performance tab and select
d. Advanced.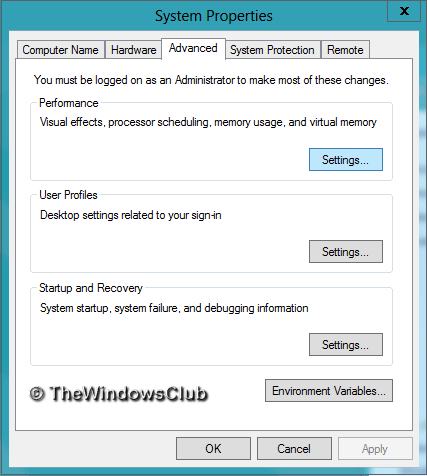 e. Under Visual Effect, select Performance Options and choose Adjust for best performance.
10. DISABLING SEARCH INDEXING
a. Search Indexing Options on the search bar and choose top result.
b. Select Modify.
c. Select Show all locations and clear them.
d. Press OK.
11. UPGRADING SYSTEM MEMORY
a. Press CTRL + ALT + ESC to open Task Manager.
b. On the Performance tab, select Memory.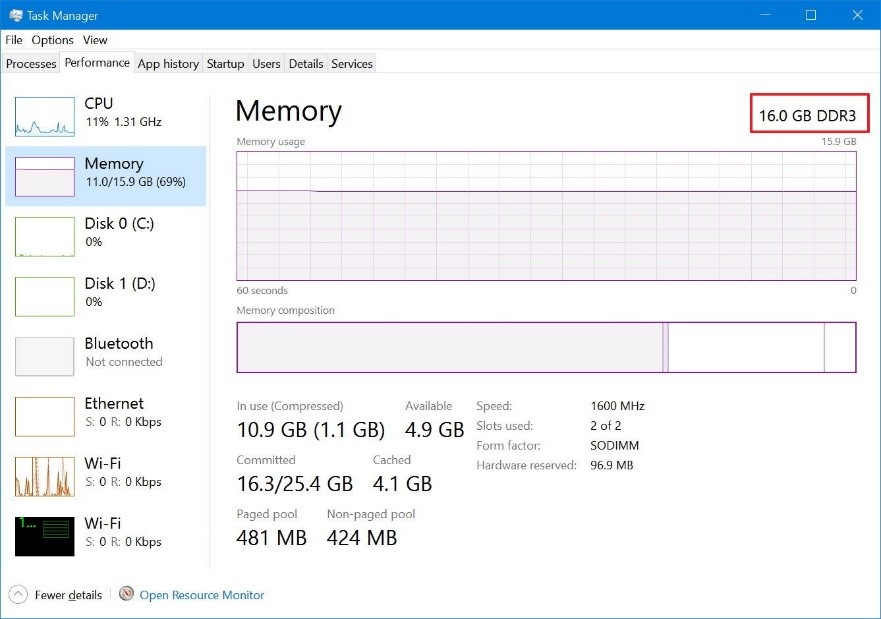 If you have used up 80% or more of your RAM, it is advisable to use a memory stick to help ease the load your system is carrying.
12. INCREASE THE PAGING FILE SIZE
If your PC runs slow because of low RAM, it will move some memory files to pagefile.sys to speed up performance.
1. In the search bar, type performance and choose Adjust the appearance and performance of Windows in the popup window.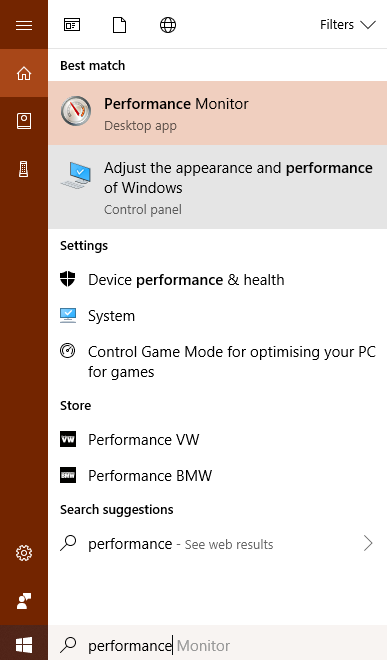 2. Click Advanced tab and select Change button.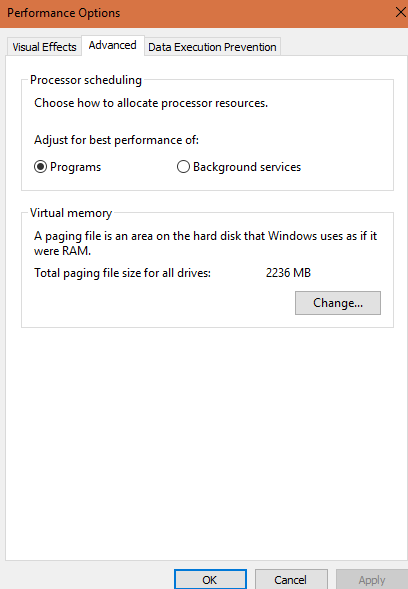 3. Uncheck Automatically manage paging file size for all drives and highlight the hard drive with the Windows 10 in it. Choose Custom size and enter the number indicated in Recommended size on the Initial Size and Maximum Size box.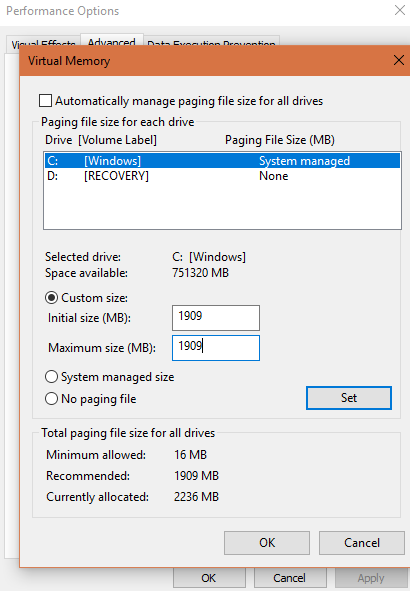 4. Click Ok and restart PC.
13. RESTORING PREVIOUS WORKING POINT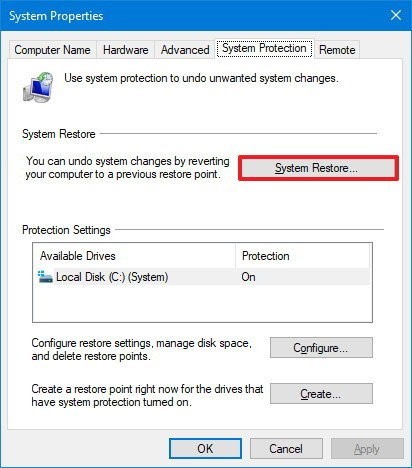 System Restore is possible to revert back to an older backup of the system, but it cannot be done without activating it first.
a. In the search box, key in Create a restore point and choose System Properties.
b. Choose System Restore selection, then selectNext.
c. Choose most recent restore point.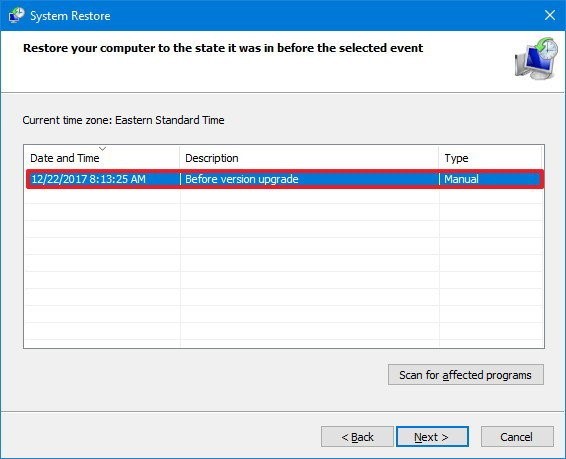 d. Select Scan for affected programs to view the programs that will be deleted following the system restore.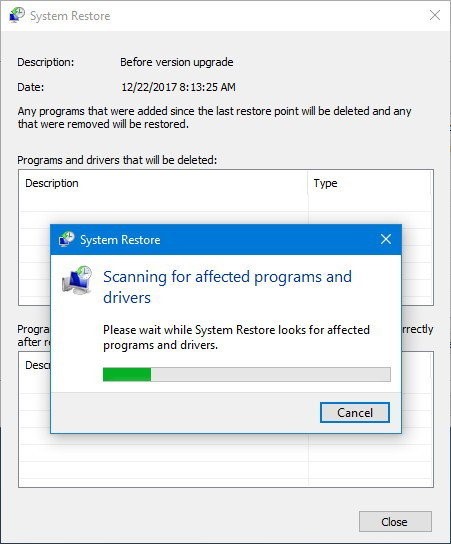 e. Click on Finish.
14. REPAIRING SYSTEM FILES
a. Open elevated Command Prompt by typing cmd on the search bar, followed by pressing CTRL + SHIFT + ENTER.
b. Type this command on the prompt line: Dism.exe/Online/Cleanup-Image/Restorehealth.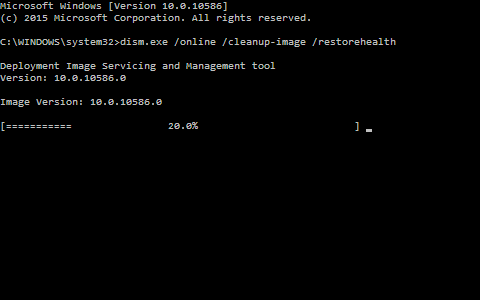 c. Wait for the DISM to repair the component store.
d. There will be a repair successful prompt that will appear after the action is completed.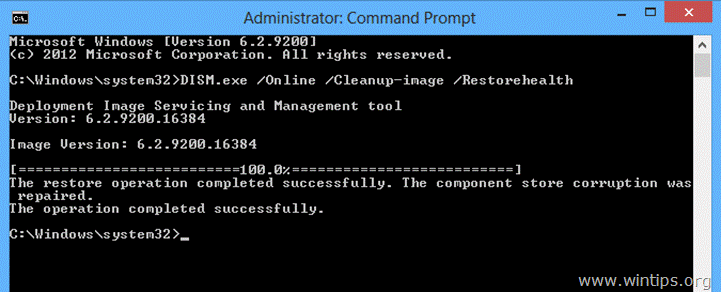 15. RESETTING YOUR DEVICE
a. Search Settings and open top result.
b. Select Updates & Security.
c. Choose Recovery.
d. Tick Reset this PC and click on Get started.
e. You can choose to wipe all data and start anew after the reset. Otherwise, select Keep my files on the prompt following. Select Next.
f. Choose Reset.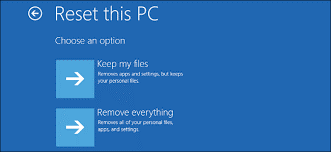 CONCLUSION
An optimized Windows 10 will perform faster than an unmaintained operating system. Always keep in mind to do this regularly so you don't have to suffer from a poorly performing PC.
Partition Recovery
Data on Partition

Partition Devices

Partition Issues

Partition Tips