Have you recently installed Windows 10 on your PC and you wish to manage hard disk space effectively? The smartest way to do that is to make partitions. Creating partitions will not only help you manage your disk space, it will also help you organize your files and folder better. This tutorial will throw more light on partitions and how to make one in Windows 10.
Overview of Partitions in Windows 10
When you partition your hard drive you are simply creating segments in the drive for data storing. Hard Drive partitioning aids system multifunctionality since it allows you to use several operating systems on the same computer. Beyond that, it helps you manage your disk space a lot better as you create sections to store your files in an orderly manner. Finally, creating partitions can also be a great way to backup your files in case the originals get corrupted along the line. There is so much to gain by partitioning hard drives as you can see but how do you go about it? Read on to find out.
How to partition Hard Drive in Windows 10
There are various ways to partition Hard drive in Windows 10 but one of the easiest ways to do it is to use Windows 10 built in Disk Management tool. With a disk management tool you can
Change or assigns drive letters or paths
Delete or format partitions
Mark your partitions as being active
Open them to view your files
Shrink partitions
Concert from MBR to GPT
Concert an empty MBR to a GPT format
Initialize new disk
There is quite a lot you can do with disk management and below we will show you how to use this tool to make partitions on your drive.
Steps to make partition in Windows 10 Disk Management
Follow these steps carefully
Open Windows 10 as Administrator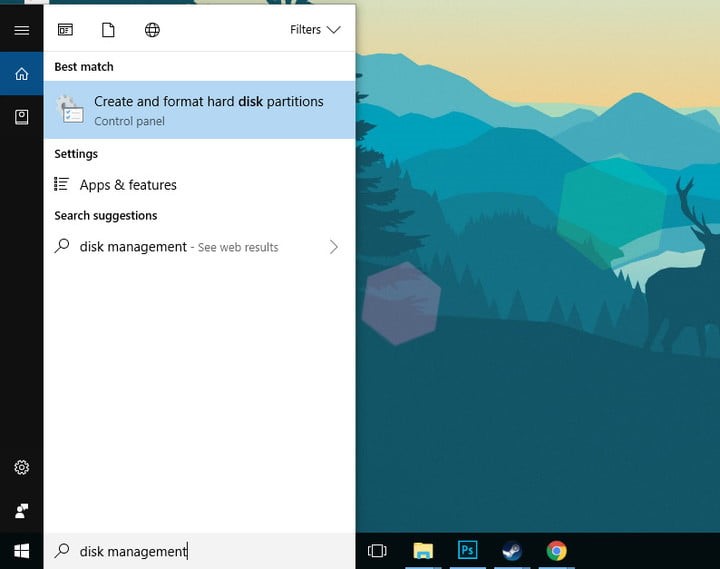 Open File Explorer from Taskbar
On the left pane of the Explorer Window click THIS PC
Click MANAGE from the menu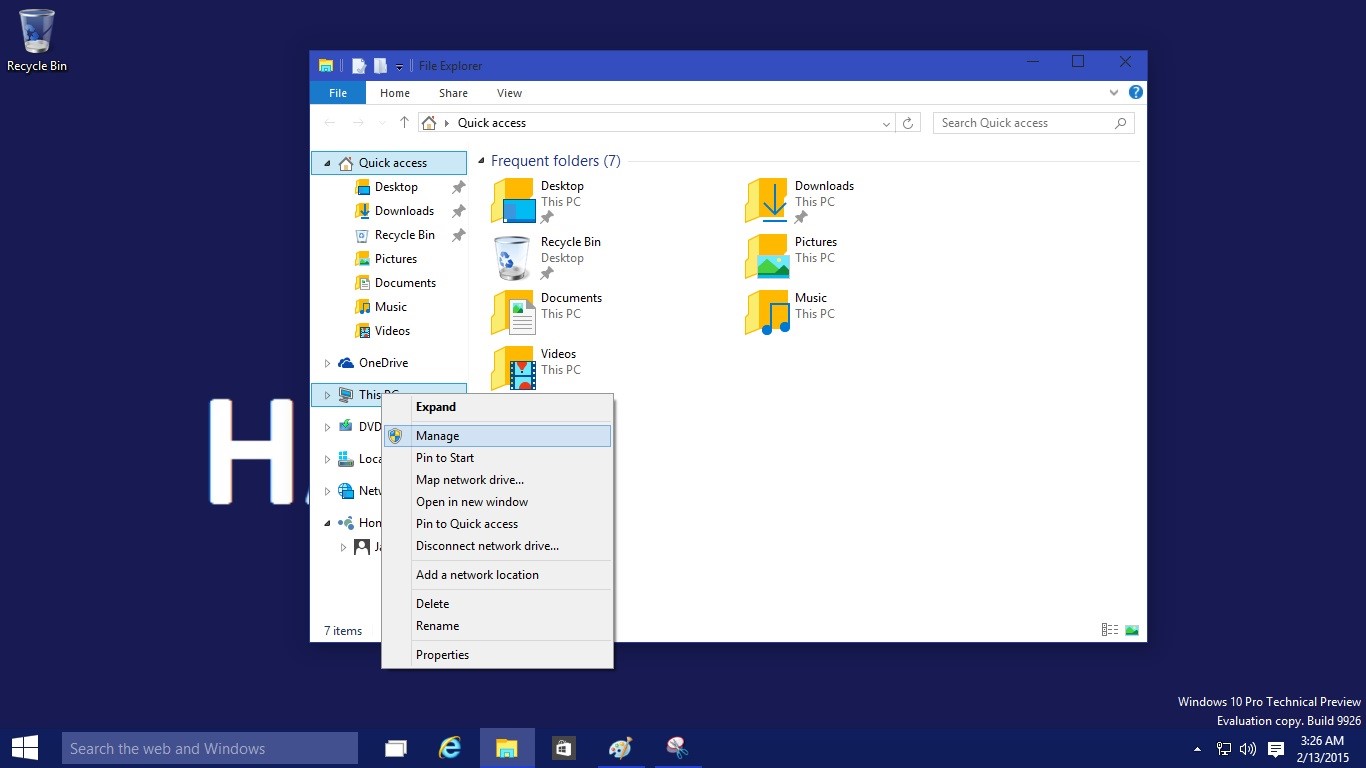 Open computer management to select Disk Management under Storage
Right click unallocated space of the hard disk you are working on. To create a new partition, shrink drive C: and select Shrink volume. Follow instructions to free up space
From the menu Select Create Simple Volume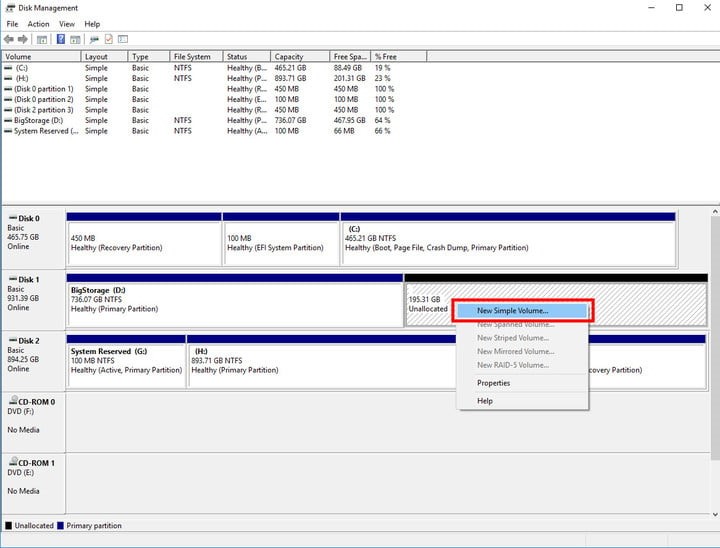 Once the Welcome page opens, click Next
Now you have to specify the size of the new partition from the Volume size page. You can do this in the "simple volume size" field
Click next to proceed after specifying the partition size
You can either select a new driver letter or you can leave the existing letter as it is
On the format partition page you need to choose the settings you prefer. You can leave it as default though. I prefer to use NTFS as can be seen in the diagram below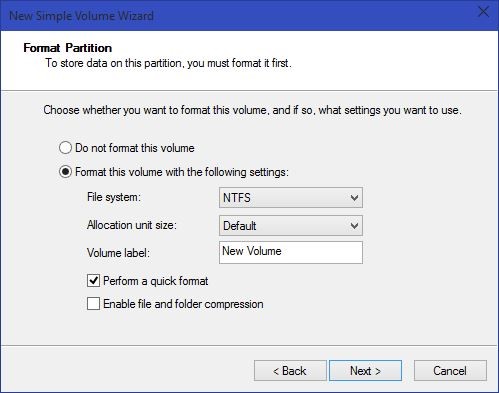 Click Next
On the Wizard page, click finish to make new partition in your hard drive
You can now start using your partition now but note that Windows 10 may ask you to format it first before you start using it.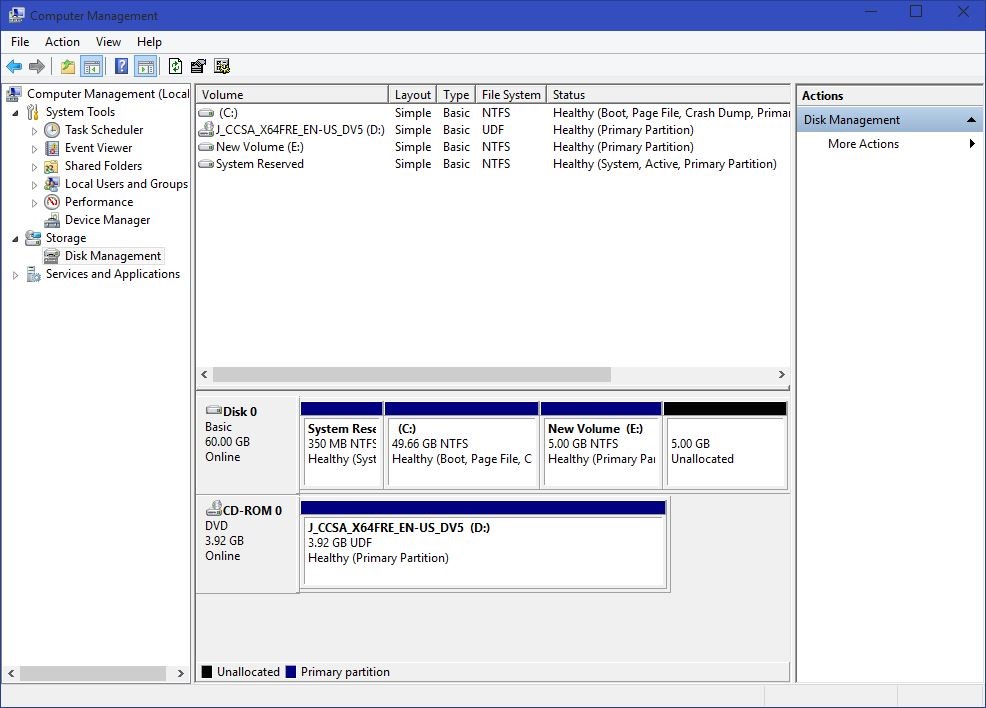 Recommended partition managers
Although disk management tool works quite well, you can also try some highly effective third party partition management tool. The recommended tools on our list are free and easy to use. Some very good tools are
Active Partition Recovery Software
Active is a very good tool for simplifying the partition creation process. It has an efficient algorithms for recognizing signatures like Microsoft office and MySQL files, Oracle virtual box, Betacase signatures and lots more. You can search, resize and allocate spaces on your disk with this software.
Paragon Partition Manager
Paragon is another free to use tool that works with FAT32, NTFS and HFS systems. Paragon helps in
Setting up mounted blocks
Set up connections with a network
Do integrity checks on your hard drive
Create partitions
Driver injection for storage and controller devices
Expand NTFS Partition and more
Disk Genius
Disk Genius works with NTFS partitions that are much larger than sectors of 128. With this software, you can write or restore EXT4 file systems and backups. Add new items when booting to Disk Genius as well as
Recovering lost files
Partition cloning
Repairing bad sectors
Parted Magic
Just like the rest, Parted Magic can be used to increase or shrink the size of partitions and to create a new one or to delete an existing partition that is no longer needed. Parted Magic enables you to
Partition your disk
Clone disk
Recover data
Overwrite disk to create space
Do disk benchmarking
Making partitions on your hard drive is possible with a disk management tool but you can also make use of any of the partition software listed in this article since they all work as well as disk management. Hard drive partitioning makes it easier for you to organize your data perfectly as well as utilizing disk space effectively.
Partition Recovery
Data on Partition

Partition Devices

Partition Issues

Partition Tips