A description for this article:
Users of Windows operating system 10 want to know if recovery partition can be deleted and they also want to know if the running OS would be affected by deletion of the recovery partition. This article explores the possibility and options available to delete recovery partition.
What is recovery partition.
When something goes wrong with a computer system (e.g if it's does not perform well or is corrupted or damaged) a partition on the hard drive can be used to restore the said system to factory setting. This partition is the recovery partition. The use of recovery partition is less time consuming as compared to the option of OS reinstallation.
The windows recovery system takes up only but a small amount of space in because it carries basically the operating system. Installation of Windows on a GPT Disk which has a Windows Recovery Environment (WinRE) is one method for creating the recovery partition.
Computer manufacturers (HP, Dell, etc.) however usually have a recovery partion already created on their computer systems. With this partition, the factory setting, which is usually the default setting can be restored to. The factory default setting includes operating system (OS), drivers and some apps. Windows recovery partition takes up small space, the recovery partition created by suppliers however, takes up larger space and is identified as OEM partition.
why you want to deleted recovery partition:
Note that because a recovery partition restores to factory setting it may be necessary to consider these options prior to deleting a recovery partition; back up system images, have a recovery drive or installation CD for Windows. The recovery partition may be stored on another external drive and deleted from your system to prevent loss of data and allow for possible recovery of your computer if the need arises at a future date.
How to Safely Delete Recovery Partition in Windows
The right partition should be selected prior to deleting to encourage that the unintended partition is not deleted as this may result in loss of necessary data and information.
Way 1: Diskpart.
The Dispart command prompt, which can be accessed from the Dispart.exe provided by Windows, is one way that can be used to delete recovery partition.
i). Search for diskpart in the search box, select it, right click and click 'Run as administrator'.
ii) In the command prompt, type the following:
a) ''list disk''. Note the disk number with the recovery partition
b). '' select disk n''. In place of n, write the appropriate disk number.
c). ''list partition''. Partition label and information helps identify recovery partition to be deleted.
d). ''select partition n'. In place of n, write the partition number of the recovery partition
e). ''delete partition'' to delete.
Familiarity with diskpart may be necessary to avoid errors when using it.
Way 2: Partition wizard.
The partition wizard is free and it takes simple steps to use it to delete the recovery partition.
i). The first thing you do is have the free Partition MiniTool downloaded and installed. Then run it.
ii). Locate the recovery partition of interest, right click it and select 'Delete Partition'.
iii). The portion identified as unallocated space is the recovery partition. Click 'apply' to begin the process.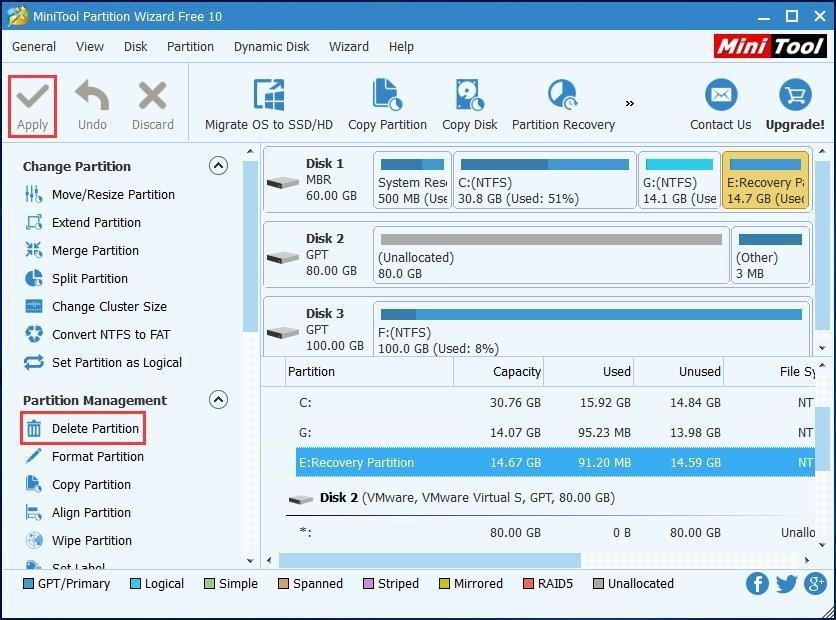 This same MiniTool Partition Wizard can be used to add the unallocated space to any partition thereby extending it. Alternatively, a new partition can be created using this same tool.
Way 3: Expanding a Partition to Use the Unallocated Space:
As we have seen in way 3 above unallocated space is created when a partition is deleted. To use up this allocated space you either format the partition or have another partition extended e.g Windows Partition. The Disk Managment Tool can be used for this.
i) Navigate to the Start button, right click it and select Disk management.
ii). Locate the windows partition and right click it
iii) Select and click Extend volume
iv) In the wizard that comes up, highlight and click Next.
v) The partition of choice is selected automatically.
vi) The size of the unallocated space can be increased or decreased depending on the size of it that you want to extend into. Alternatively Next can be clicked if you want to use the whole space.
vii) Click Finish to complete the process.
The windows partition would now have a new size inclusive of the extended space.
Conclusion:
The recovery partition of system can be stored into another device and then deleted to avoid damage to it on your computer system. It is however important that relevant information and data are backup before the recovery partition is deleted.
Partition Recovery
Data on Partition

Partition Devices

Partition Issues

Partition Tips