Some computer users sometimes have trouble installing Windows 7. 8 or Windows 8.1 because of an error prompt telling them that they cannot install a disk. Even some Windows XP users have encountered similar issues while trying to install the application. This is however not a problem without solutions.
Overview of the Issues
What you have to know before proceeding to the solutions section is that there are basically two types of partitioning structures namely the Master Boot Record (MBR) and the Guidelines Partition Table (GPT). MBR is compatible for most applications and it has being in use for a long time while GPT is a new version with several advantages and is gradually phasing MBR our. If you are facing this installation problem, it is because the OS you are installing is a UEFI based system that requires a GPT for a successful installation. With the original OS having MBR partition an error will ensue. Let us now show you how to fix the issue using two effective options.
Note: Make sure your have fully backed up your data before you use any of these solutions otherwise all your data saved in the partition will be deleted from your disk.
1st Solution
Switch off your PC then Connect in the USB key or Windows installation DVD
Start the PC. You will see "Install Windows"

Press the Shift key + F10 at once to open command window
In the prompt Window types this command -- Diskpart , List disk

Tap Enter after each command
Locate the disk in need of a format. Select and then reformat by typing these commands below

Select disk (input your disk number

Clean

Convert got

Exit

Tap Enter after each Command
Close the command prompt
Continue with Windows installation Set up

Choose custom of asked which installation you want

The driver often appears as an unallocated space. Choose that space then click on Next Windows installation will begin.
2nd Solution
Press the Windows key + X at once. Choose Disk Management

Right click Partitions found on the drive and choose "Delete Partition or Delete Volume" to erase them. Do this for all partitions

After removing partitions right click the disk to select the "convert to GPT Disk" option. You can only access this icon after all partitions have being deleted.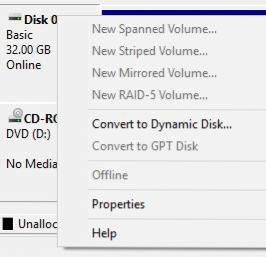 Hopefully, these two options should enable you install any Windows of your choice without delays.
Computer Troubleshooting
Win System Crash

Windows Tips

Computer Problems

Blue Screen Errors