The advantage of having the latest operating system Windows 10 is that Microsoft releases cumulative updates regularly to uphold the security of the system and fix any loopholes made by some third-party software. Security updates are pushed every second Tuesday of the month, and some of these updates contain improvements in security and some bug fixes that answer the reports made by users. Additionally, compatible devices that are connected to the computer can also be updated using the Microsoft server. These are done automatically, so you can be sure that both hardware and software components are up to date and running smoothly.
There are some instances, however, when the PC receives error prompts like "The location where Windows Update stores data has changed and must be repaired" or "One or more Windows Update components are configured incorrectly". Such instances prevent the Windows from updating software and harder using the Windows Updates service.
The error may persist until the specific reason is detected and a fix is applied to remove the application that blocks the update. Automatic updates are convenient, but sometimes they also cause the problem, which ultimately leads to the failure of updates, which is essential for the PC's health.
OVERVIEW OF THE ERROR
The error Windows Update Components Must be Repaired may be caused by a number of reasons. The first one is that the computer might have been shut down incorrectly, leading some information to become misplaced. If the computer crashes or a power failure happens, then the error might also take place and prevent Windows Updates from performing its tasks automatically.
Another possible reason is that the Registry files have been damaged or corrupted. These files are important because it is in the Registry that pertinent files for normal operation of programs like Windows Update are located. There are also cases where the antivirus blocks the network from connecting to the Windows Update service, preventing the computer from downloading and installing updates.
Some of the symptoms of this error as reported by users are: Windows stuck in Checking Updates for hours; download and installation bar jammed at 0% to 99%; or KB4467708 (Windows 10 Cumulative Update) fails to install.
In these cases, running the Windows Update Troubleshooter is essential to diagnose and attempt to fix the issue, but sometimes it just does not work quite well.
Windows Update Components Must Be Repaired
If the troubleshooter fails in fixing the problem, you have to manually repair the components. Here are some of the basic steps to take which may resolve the issue:
1. Ensure that your internet connection is stable to download update files from the Microsoft server correctly.
2. Disable any antivirus you have before updating.
3. Check your Date and time zone settings, and correct it if it isn't synced to your time zone.
4. Check the space of your system drive (typically C: drive) and ensure that the free space is enough to download and install cumulative updates.
5. Run the DISM command and System File Utility Checker to repair and restore corrupted or missing system files.
6. Perform a clean boot on Windows 10 to prevent third-party software conflicts with the update.
Resetting the Windows Updates Component on Windows
If any of the ways cannot fix the problem, you can opt to reset the Windows Update components by following these steps.
The services that need to be stopped are: Background Intelligent Transfer (BIT), Windows Update and Cryptographic Services. These allow Automatic Windows Update and other components to download and install all file updates and runs in the background, taking up bandwidth from the network.
1. Press Win + X and find Command Prompt (Admin) to open the elevated Command Prompt that has administrative privileges.
2. On the command line, type each of these commands one by one and hit Enter after each one:
net stop wuauserv
net stop cryptSvc
net stop bits
net stop msiserver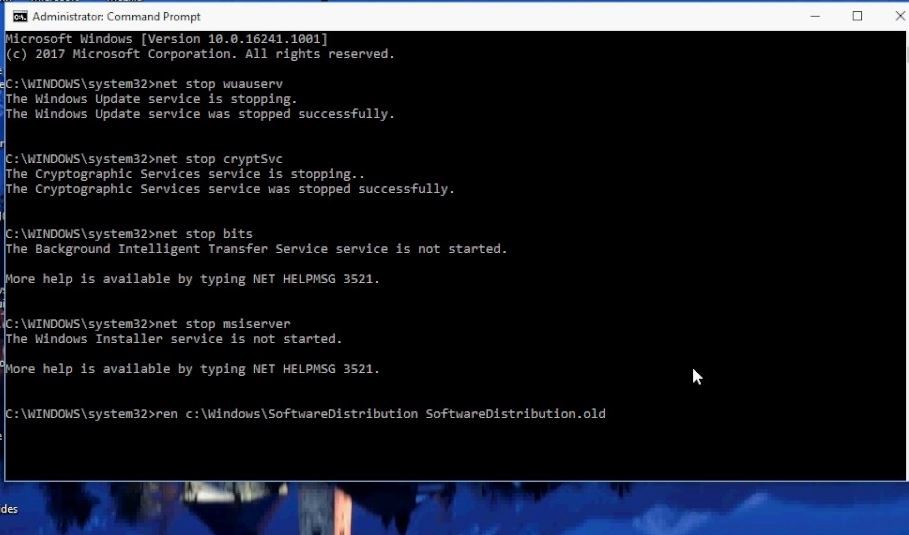 3. Next is to edit the folders that are used to store temporary files and date of Windows Update. This is to make new folders and remove the old ones that might be causing the issue. On the command line, type each of these commands one by one and hit Enter after each one:
ren %systemroot%|SoftwareDistribution SoftwareDistribution.old
ren %systemroot%|system32\catroot2 Catroot2.old
4. The next step is resetting the Windows Update service and BITS service to its default values. On the next command line, type or copy these commands and hit Enter after each one:
exe sdset bits D:(A;;CCLCSWRPWPDTLOCRRC;;;SY (A;;CCDCLCSWRPWPDTLOCRSDRCWDWO;;;BA) (A;;CCLCSWLOCRRC;;;AU)(A;;CCLCSWRPWPDTLOCRRC;;;PU)
exe sdset wuauserv D:(A;;CCLCSWRPWPDTLOCRRC;;;SY)(A;;CCDCLCSWRPWPDTLOCRSDRCWDWO;;;BA) (A;;CCLCSWLOCRRC;;;AU)(A;;CCLCSWRPWPDTLOCRRC;;;PU)
5. Register the Windows Update and BITS service files again by typing these commands one by one and pressing Enter after each one:
cd /d %windir%\system32
regsvr32.exe /s atl.dll
regsvr32.exe /s urlmon.dll
regsvr32.exe /s mshtml.dll
regsvr32.exe /s shdocvw.dll
regsvr32.exe /s browseui.dll
regsvr32.exe /s jscript.dll
regsvr32.exe /s vbscript.dll
regsvr32.exe /s scrrun.dll
regsvr32.exe /s msxml3.dll
regsvr32.exe /s msxml6.dll
regsvr32.exe /s actxprxy.dll
regsvr32.exe /s softpub.dll
regsvr32.exe /s wintrust.dll
regsvr32.exe /s dssenh.dll
regsvr32.exe /s rsaenh.dll
regsvr32.exe /s cryptdlg.dll
regsvr32.exe /s oleaut32.dll
regsvr32.exe /s ole32.dll
regsvr32.exe /s shell32.dll
regsvr32.exe /s wuapi.dll
regsvr32.exe /s wuaueng.dll
regsvr32.exe /s wups.dll
regsvr32.exe /s wups2.dll
regsvr32.exe /s qmgr.dll
regsvr32.exe /s wudriver.dll
6. Reset the network configuration by typing these one by one on the command line:
netsh winsock reset
netsh winsock reset proxy
ipconfig /flushdns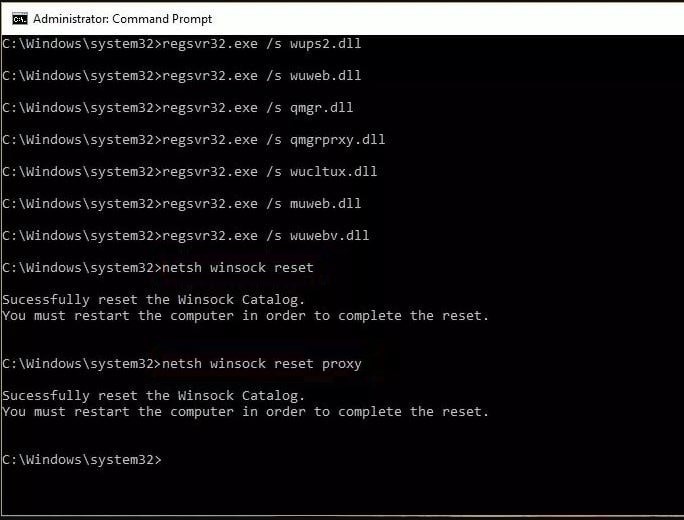 7. Now, restart the services related to Windows Update by typing each of these on the command line and hitting Enter after each line:
net start wuauserv
net start cryptSvc
net start bits
net start msiserver
8. Reboot the computer to apply the changes. Test the Windows Update component by starting Windows Updates and check if the error is resolved.
CONCLUSION
These two methods are the most effective ways to solve the problem, but if in case the problem still persists, it would be better to have a professional take a look on your computer so they know which steps to take to resolve the issue. Also, remember to create a system restore point and backup your files so as not to lose anything after performing the methods above.
Partition Recovery
Data on Partition

Partition Devices

Partition Issues

Partition Tips