"I bought a new Samsung Android phone and when I transferred my contacts using the smart switch, I only got a handful of them. And now I cannot find most of my contacts. How can I retrieve contacts from Android phone?"
It goes back to backing up of data, including contacts. If they aren't backed up then losing them during a jailbreak or an Android OS update is just a step away. And it's the most terrible thing if contacts from friends, family, and work would just vanish in a whisk of time. It then turns out to be a long process of getting back your Android phone lost contacts. However, there are quick ways to help bring back your communication life to normal. If you are wondering where lost contacts go, you need to keep scrolling and find ways to uncover this misfortune. But first, let's see whether it's possible to bring back lost contacts from your Android phone.
Part 1: Is It Possible to Restore Contacts from Android Phone.
Contacts can easily get lost unexpectedly from your phone. What many people worry about when such an event happens is how to recover deleted contacts from Android phone. But do you know that probably, your contacts aren't even lost, to begin with? The burning question is where such contacts probably go. This is a misery that many Android users have always wanted to uncover. What happens is that your contacts may seem to be lost or deleted but in the real sense, they are just hidden within your phone's software. At times, all you need is a simple refresh to ascertain that your phone is not just playing games on you.
And yes! Lost contacts on Android can be restored.
From your phone's screen, open up the 'Contacts' application.
Check at the top-right corner for the menu and press on it.
Then go to the 'Contacts to display'
Select 'All contacts' to check whether your lost contacts are visible.
If you find your contacts, then probably your phone just needed a little awakening. And your contacts didn't get deleted but just disappeared from the phone's view. However, if you don't find your contacts, then it means they could really be lost or deleted. It is at such a point of time when you need to be cautious with your device. Avoid further usage to prevent extreme losses. If you save any item on your phone at such a time, your deleted contacts will be permanently erased. This is because the new data will take up space and overwrite the current data.
---
Part 2: How to Restore Contacts from Google to Android Phone.
Google service encompasses a handy address book which is tasked with the work of saving your Gmail, Android, Google Plus and other contacts. This nifty feature enables direct restore of your contacts backup. In fact, such contacts can stay in place for 30 days.
Remember; you can sync your Android device with Google account. Something very handy when accidents occur and you lose your contacts. You can accidentally delete important contacts, format your phone and wash away contacts or lose them during an upgrade. But thanks to Google, it enables the possibility to retrieve lost contacts on Android. To do this;
Step 1: Log in to your Google account and click on the 'Inbox' button then select the 'Contacts' option to explore it. You should see all the contacts that have been attached to your account by Google.
Step 2: Scroll at the dropdown menu to find the 'Restore contacts'. This should show you various durations which you can select to do a restore. You have an option of up to 30 days ago. Have a rough idea of when the missing contacts were still on your phone. It could be an hour, a day, a week or a month.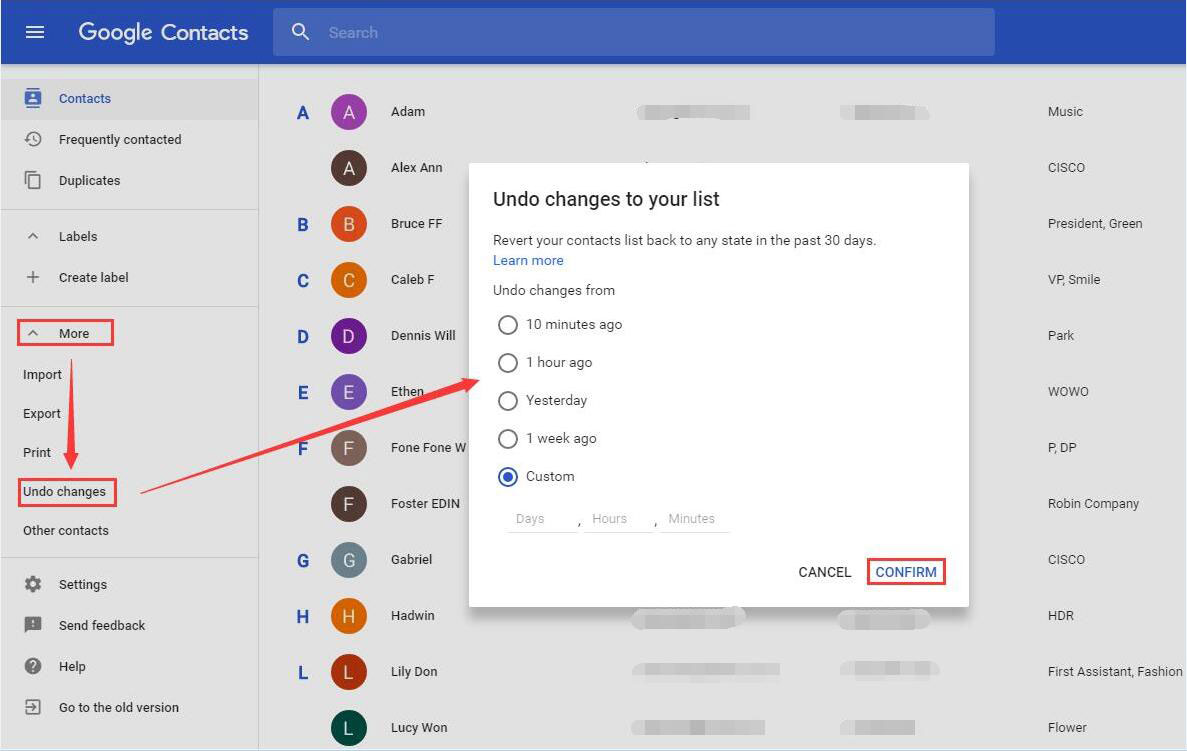 Step 3: In case you've got multiple Google Accounts, the system will prompt you to choose the account with contacts to restore. Tap the 'From Account' option and then tap the device that contains the contacts to be copied.
Step 4: Then click on the 'Restore' option. Your previously lost contacts will be back to the contacts list.
---
Part 3: How to Recover Deleted Contacts on Android with Software.
Perhaps you have not succeeded to recover deleted contacts from your Android phone from your Google account. The main reason could be that you haven't synced your Android contacts with any account. However, third-party tools can still manage to recover your deleted contacts. And in this case, we recommend Recoverit Data Recovery Software.
This piece of a third-party tool has all it takes to perform an excellent recovery;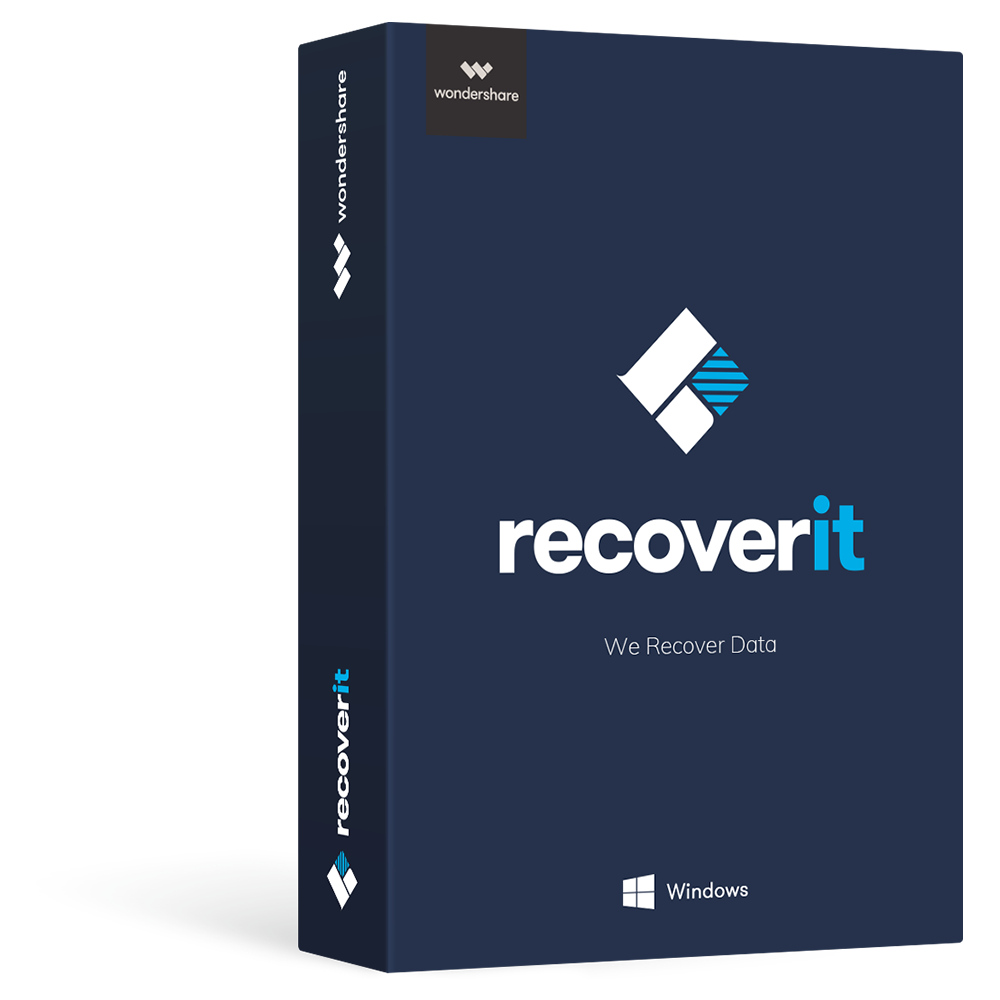 It has a high recovery rate, useful in the retrieval of both deleted and lost data.
Because of its powerful recovery nature, it supports raw hard drive recovery, formatted hard drive, and resized partitions recovery.
The further advanced Deep-scan algorithm enables it to retrieve over 550 data types like emails, documents, images, and much more.
The recovery process is also as easy as 1-2-3, with a user-friendly interface for easy navigation.
This App also lets you have a preview of your data to ensure you select only the right ones back to your device.
Video: How to Recover Lost Data
Follow these steps to retrieve deleted contacts from your Android device.
Step 1. Connect the memory card
The first step is to connect your device. If your Android phone carries an external memory card, you can remove the card and connect it your computer using a card reader. Ensure that your computer recognizes it before you can carry on to the next step.
Step 2. Select the memory card
As long as your computer has recognized the memory card, you need to select it as the target location. Then click on the 'Start' button to continue.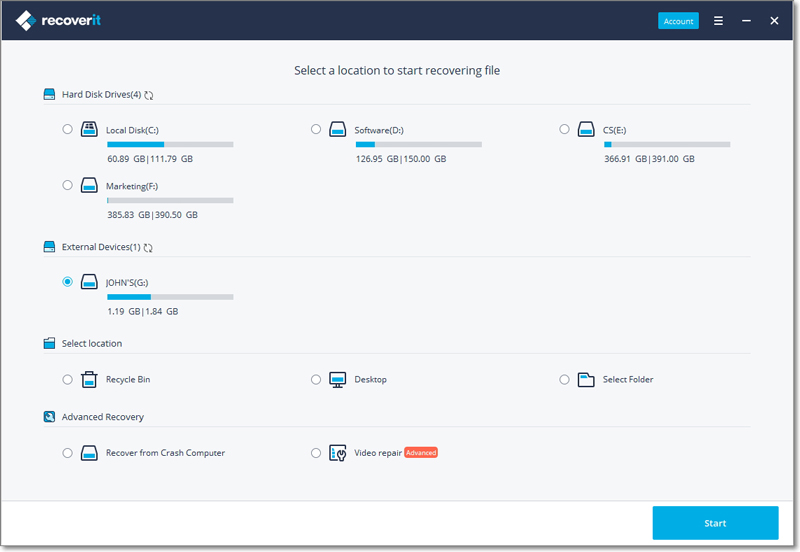 Step 3. Scan the memory card
When the scanning process commences, there are various actions you can perform. You can pause when you need to take a break or stop the scanning altogether. However, as the process continues, you'll be able to locate your target contacts for retrieval.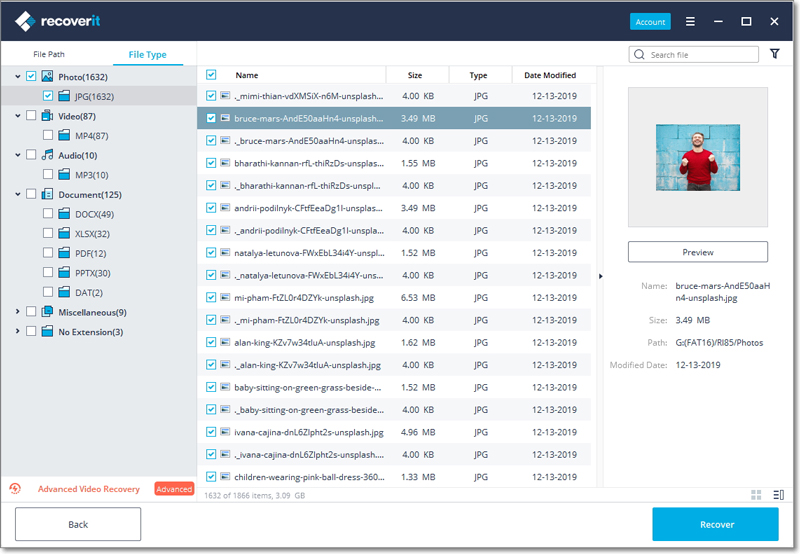 Step 4. Preview and Recover contacts
Recoverit lets you preview all the scanned data. By this, you can select only the contacts that you want back. To do this, hit on the 'Recover' button then save them to your computer. You can also use another location that you deem safe for storage.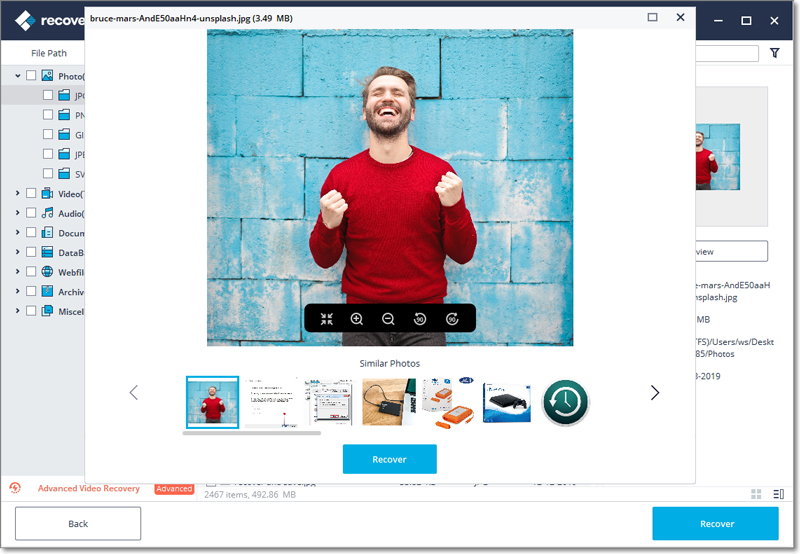 ---
The Bottom Line
From the above ways, it is evident that you can restore contacts on Android no matter the magnitude of the loss. At very minimal occasions can your Google account fail you during the recovery process. However, Recoverit Data Recovery is able to uncover more than your contacts. It also goes beyond many scenarios such as computer crash or virus attack loss causes to bring back your data in simple steps.
Phone Topic
Recover Android Phone

Recover Cell Phone

Phone Tips