OST files are a type of file format that is utilized by MS Outlook. It is referred to as Offline Outlook Data File. These files reside on the hard disk of your PC and can be accessed to work on even when you are not connected to the exchange computer. When a connection is established, the changes made to the OST files are automatically synchronized with the exchange computer. If an OST file of MS Outlook 2013 gets corrupted then you will have to repair OST file outlook 2013 to recover its contents. The following are some of the reasons why an OST file might get corrupted.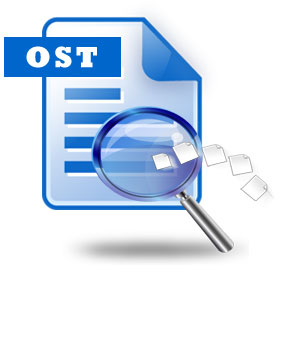 Viruses or Malicious Malware
Bad Sectors Present on the Storage Devices
Abnormal Closing Down of MS Outlook
Unanticipated Power Loss
Design Flaws within the MS Outlook
Part 1: How to Repair Corrupt OST File in Outlook 2013
An Offline Outlook Data File or OST file is used by account types like the Microsoft Exchange Server. It is basically a copy of the data that is stored on your mail. Issues with OST files can be solved by re-creating them. This can be accomplished by again downloading a copy of the stored items on mail. Repairing of OST file is not recommended, therefore, if you must recover your OST file then recreating it is the best option which can be done this way:
Leave Outlook.
Double-click or simply click Mail in the Control Panel.
Where Can You Find Mail in Control Panel?
The installed Outlook version, is the operating system 32- or 64-bit, the view of the Control Panel selected and the Windows version are all factors which decide where the mail appears in Control Panel.
The simplest means of searching for Mail is to use the search box in Control Panel which is located at the head of the Control Panel window.
NOTE: You will see the Mail icon only after Outlook has started at least once.
The name of the existing profile is contained in the title bar of the dialog box that is labeled, 'Mail Setup'. Choose profile name and then press 'Properties' after having clicked 'Show Profiles' if you want to choose a different profile.
Choose the option labeled, 'Email Accounts' in the dialog box labeled, 'Mail Setup'.
Choosing the exchange account, press the option labeled, 'Open File Location' after initially clicking the tab labeled, 'Data Files'.
You will see a window labeled, 'file explorer' opening which will lead you to the data file's location for the Exchange account. The dialog boxes labeled, 'Mail Setup' and 'Account Settings' won't close and can be seen at the back of the window labeled, 'file explorer'.
Go back to the window labeled, 'file explorer' after closing down the dialog boxes labeled, 'Mail Setup' and 'Account Settings' respectively.

IMPORTANT: Make sure that deletion of the file takes place after the dialog boxes have been close or a conflict error message will be displayed by Windows.

Choose the option, 'Delete' after right-clicking on the Exchange data file while you are in the window labeled, file explorer. Creation of a fresh OST file would have been completed for the account when you launch Outlook again.
Part 2: How to Repair PST File Outlook 2013
Corrupt outlook PST files are not fun to deal with. They can make you quite annoyed and frustrated as they don't open when you click them. Moreover, it is not a good idea to let the corrupted PST files remain damaged for a long period of time. This might cause them to lose all of their data for good. So, you should try to repair corrupt outlook PST files as soon as possible. You can use the Stellar Phoenix Outlook PST Repair to repair corrupt outlook PST file as it is the only software capable of doing it in a safe manner.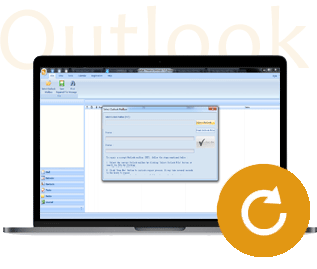 Recovers all mailbox components within the files such as emails, attachments, contacts, calendar items, journals, notes, etc.
Recovers Accidentally Deleted Emails that were purged by mistake or lost due to unplanned system formatting
Allows saving recovered mails in EML, MSG, RTF, HTML, and PDF formats
Supports repair of encrypted & password protected PST files
Enables you arrange scanned emails using various criteria such as 'Date', 'From', 'To', 'Subject', 'Type', 'Attachment', and 'Importance'
Repairs corrupt Outlook file created in MS Outlook 2016, 2013, 2010, 2007, 2003, 2002 (XP), & 2000 and MS Office 2016, 2013, 2010 (64-bit version), 2007 & 2003;Supports Windows 10, 8, 7, Vista.
Tutorial on How to Repair PST File Outlook 2013
Step 1 By clicking the 'Find Outlook File' option and then selecting the name of the drive where you think the corrupt PST files can be found after having pressed the 'Look In' button.
Step 2 Click the 'Start' button after choosing the drive name in which the corrupt PST files might be present.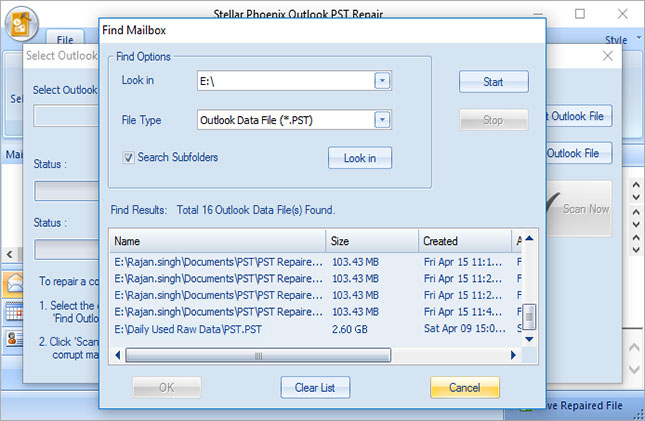 Step 3 Previewing the repaired PST file by clicking the items that are lined up in the tree which can found on the left side of the screen.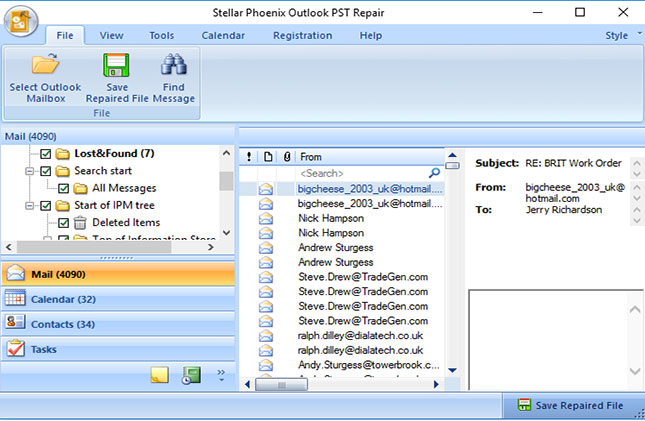 Step 4 Saving of the repaired PST file by clicking the 'Save Repaired File' button and then the 'OK' button after having chosen the saving location and the file format for the PST file that has been repaired.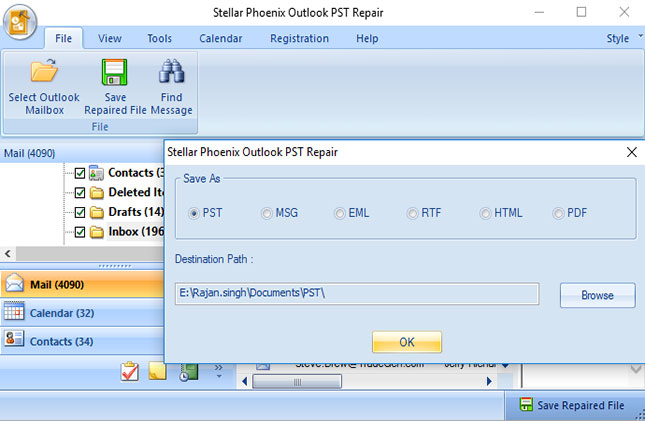 The following are some simple tips that you must remember if you want to repair OST file Outlook 2013.
Never try to repair PST file Outlook 2013 and instead try to recreate it.
Make sure that you have a good antivirus program installed on your PC that safeguards your OST files and keeps them safe from viruses.
Keep your hard disks protected from bad sectors. This will help you in ensuring that none of your OST files get stored on them and become corrupted.
Recover and Repair Email
Repair and Recover Emails

Get Email Password Back