Imagine a situation! You are storing your best clicked images for a photography exhibition on your Samsung 32GB Micro SD and all of a sudden, the power goes off. All files are erased! What next then? Will you sit depressed and scream? If you think that's the only thing to do, not exactly! Any file that seems to have irrevocably lost can be restored back with the help of SD card data recovery software.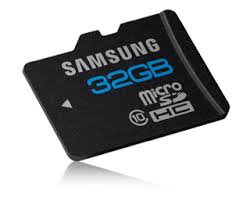 Part 1: The Best Data Recovery for Samsung 32GB Micro SD
These data recovery software are specifically designed to recover any file from images and audio to text and archives from your storage devices. Technical faults and even human errors can occur accidentally anytime. So, it is always important to have a data recovery software at hand so that you can perform SD card repair soon.
If you are thinking what is the top performing Samsung SD Card recovery software available today, before moving to that, you must first understand the situations where data loss happens.
Different situations for data loss:
You delete some files intentionally from your Samsung 32GB Micro SD as you want to free the memory card space.
You are working on your PC with the SD card connected or may be transferring some files. Your little sister comes in and hurriedly pulls out the card. Data lost!
You are preparing a presentation for your annual business meet. Suddenly there's a power cut in your area. The machine shuts off and data lost. Samsung SD Card recovery is the option then.
You have used your Samsung 32GB Micro SD in your friend's mobile and then connected to yours again. The virus in that other device gets smoothly transferred to yours and damages whatever was stored there.
Mistakenly, your Samsung Micro SD card falls into the water bucket and by the time you notice, it is too late. The water will have already damaged your device.
Apart from these, there can be many other situations that cause data loss. However, with a reliable software, it is very convenient to recover data from Samsung 32GB Micro Card. Out of the many available in market, Wondershare Recoverit is a true wonder.
One of the high performing softwares, Wondershare Recoverit can recover data from all types of storage devices – from Samsung 32GB Micro SD to hard drives, pen drives, floppy disks, iPod, laptop, computer and many. Here are the major features you are sure to benefit from.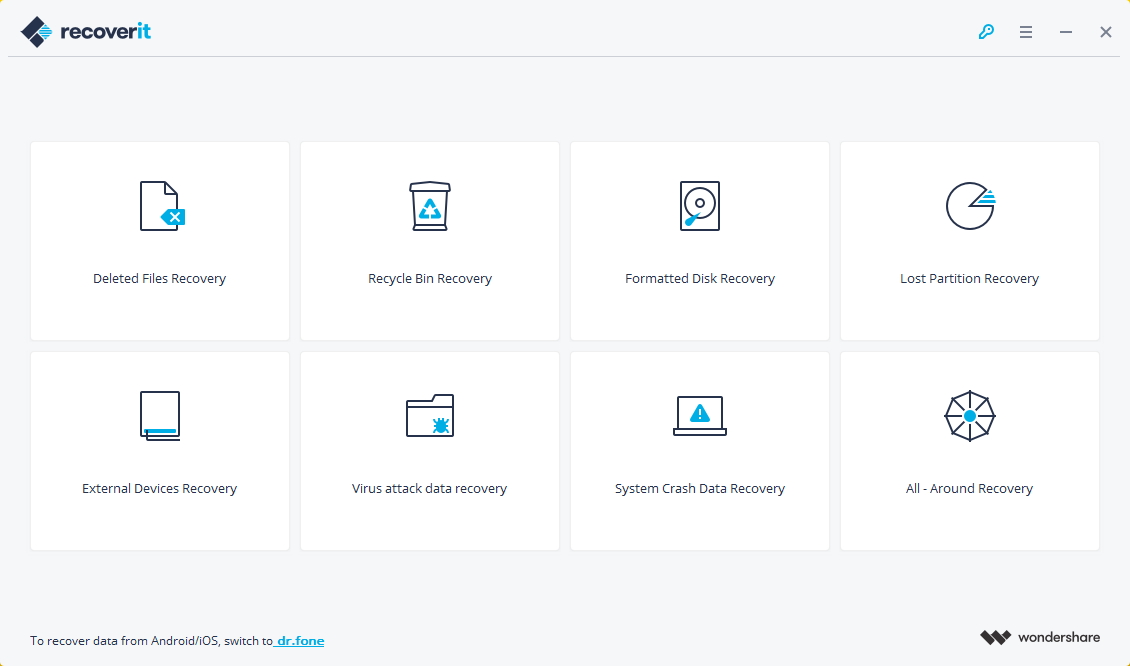 Recover lost or deleted files, photos, audio, music, emails from any storage device effectively, safely and completely.
Supports data recovery from SD card, recycle bin, hard drive, memory card, flash drive, digital camera and camcorders.
Supports to recover data for sudden deletion, formatting, hard drive corruption, virus attack, system crash under different situations.
To install and run this software successfully for Samsung SD Card recovery, you must meet these following system requirements.
Hard disk free space - 100 MB
1 GHz – CPU
RAM - 256 or more
OS – Mac or Windows
Now, the point is what the different steps to recover data from Samsung 32GB Micro Card are.
Part 2: Easy Steps of Samsung SD Card recovery on Windows
Free download Wondershare Recoverit for windows, and follow the next simple steps to recover lost data from Samsung SD Card.
Step 1: Selecting Recovery Mode:
To recover deleted data from Samsung 32GB Micro SD card, you can select "External Devices Recovery" to start.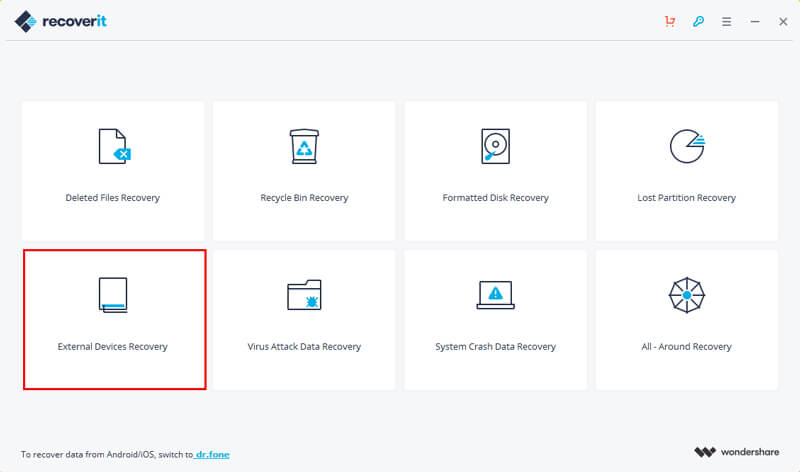 Step 2: Choosing File Location:
Select your Samsung sd card on the section of "External removable device" to start scanning data from Samsung 32GB Micro Card.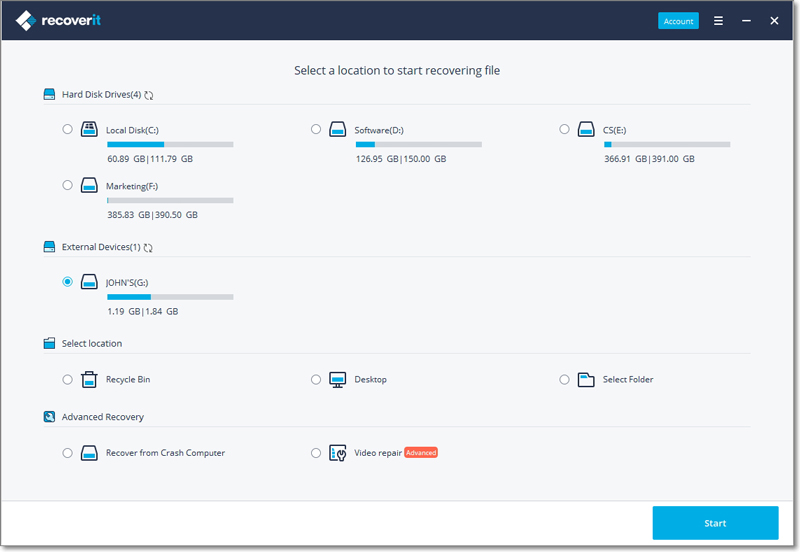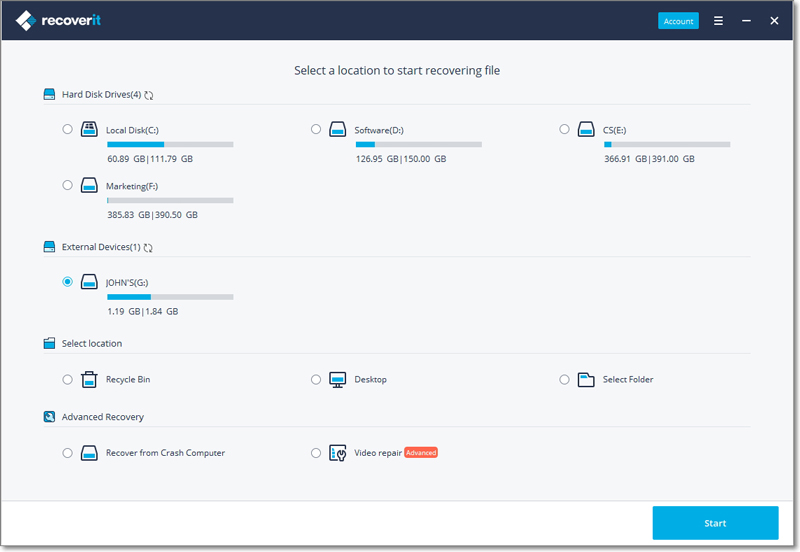 Step 3: Deep Scan recovery:
Afte a quick scan if it can't find your lost data, you can switch to "All-around Recovery" to perform deep scan on your Samsung SD card. It will deeply search lost data but it will take more time.

Step 4: Preview recovered data
After deep scan completed, you can preview all the files of the search results and then make your selection accurately. And you recover data from Samsung 32GB Micro Card. Certainly, you can recover data from 64GB Samsung SD Card.
Considering all these advantages, it is important to have this Samsung SD Card recovery software installed on your computer. With its free pack, you can make sure its legitimacy and performance. Once you are satisfied, you can then download the full version to avail all the exclusive features of Wondershare Recoverit.
3981454 people have downloaded it
SD Card Recovery
Recover Card Data

Repair Card Errors