Certain situations cannot be avoided in life, the only way out is to face them. A similar problem is data loss from your Samsung 64GB Micro SD. If you lose all your major documents, pictures or even your exclusive music collection, it is indeed upsetting. But face it, analyze it, prevent or recover it. The very first step is to understand what made you lose all your important files stored on the Samsung Micro SD card.
Files can be lost for various reasons – sometimes technical faults and sometimes human errors.
Viruses – Viruses are one of the biggest enemies of your memory card. Once they enter a device free from any anti-virus protection, it can damage your device and corrupt all files. And for Samsung 64GB Micro SD, if you attach it to any already affected computer or mobile, viruses will transfer easily.
Deletion – When you intentionally or accidentally delete a file, it is lost. For instance, you must not eject your Samsung Micro SD card when it is in use. Wrong handling will erase instantly. But it's easy to recover data from Samsung 64GB Micro Card. Certainly, you can also recover data from Samsung 32 GB SD card.
Power failure – Sudden power cut may delete your files. Simply putting it, suppose you are working on a big presentation and have not saved it. What will happen if electricity goes off? All deleted!
Data loss can also happen if you handle your Samsung 64GB Micro SD improperly. Like increasing its exposure to extreme heat, water, coffee or other liquids will surely damage your card, forget files. You need an effective SD card repair solution.
But like "every problem comes with a solution", there is a solution to data loss too. Keeping aside all misconceptions, Samsung SD Card recovery is possible. All your lost, erased or corrupted data can be restored much conveniently with the help of Samsung SD card data recovery software.
Part 1: The best Samsung SD Card Data Recovery Software
SD Card Data recovery software is specifically designed to restore your lost files. They can locate those data and easily perform Samsung SD Card recovery without help from a specialized technician. When data gets lost, they often remain scattered. These software again can solve the puzzle and bring them out most efficiently.
If you are wondering which is the best Samsung SD Card data recovery software, then you can go for Recoverit data recovery. It is one of the most genuine and high-performing software that can not only restore files from your Samsung 64GB Micro SD but also from other storage devices like computers, laptops, hard drive, removable device, flash drive, etc. So, the benefit is, your multiple purposes will be fulfilled.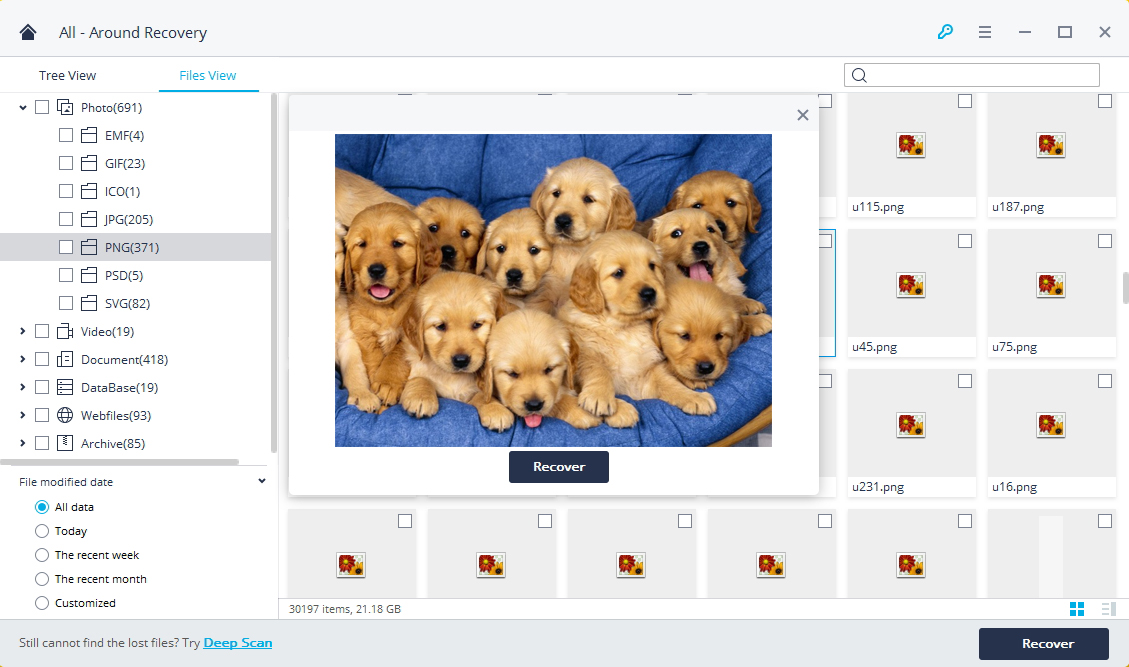 The Best SD Card Data Recovery Software
Recover lost or deleted files, photos, audio, music, emails from any storage device effectively, safely and completely.
Supports data recovery from recycle bin, hard drive, memory card, flash drive, digital camera and camcorders.
Supports to recover data for sudden deletion, formatting, hard drive corruption, virus attack, system crash under different situations.
Recoverit data recovery is a read-only and 100% safe software. It is completely risk free, extremely user-friendly and of course cost-effective. You can use its trial pack to recover data from Samsung 64GB Micro Card for free. Its full version comes with all added features. It's the best SD card recovery solution.
Need an assurance? Recoverit data recovery has as many as 5 million users all across the globe. That's how much trusted it is. This is an ideal product for Samsung SD Card recovery.
Part 2: Recover Data from Samsung 64GB Micro Card on Windows
Recovering data using Recoverit SD Card Data Recovery is pretty easy. Mac users can download Recoverit for Mac. Once you have installed the software successfully, follow these steps:
Step 1. Run Recoverit SD Card Data Recovery and choose "External Devices Recovery" mode to restore data from Samsung 64GB Micro SD.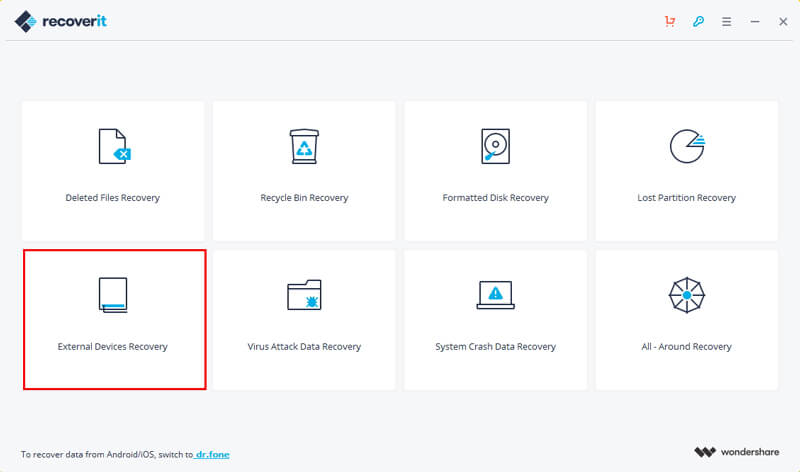 Step 2. Next, select the location where the file was lost. For your micro SD card, you have to select 'External removable device' and then click "Start" button. It will start a quick scan.
3. If quick scan can't find your files, go to "All-Around Recovery" to start a deep scan for your Samsung SD card, but it will take more time.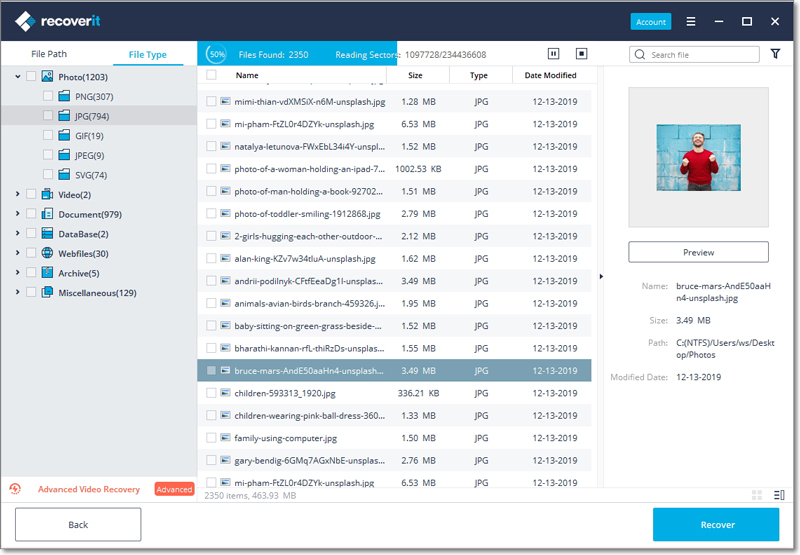 4. Once scanning is completed, you can preview all its search result. Choose the files you need and click "Recover" botton. This is how you can recover data from Samsung 64GB Micro Card, no matter how old they are. Try out the trial version!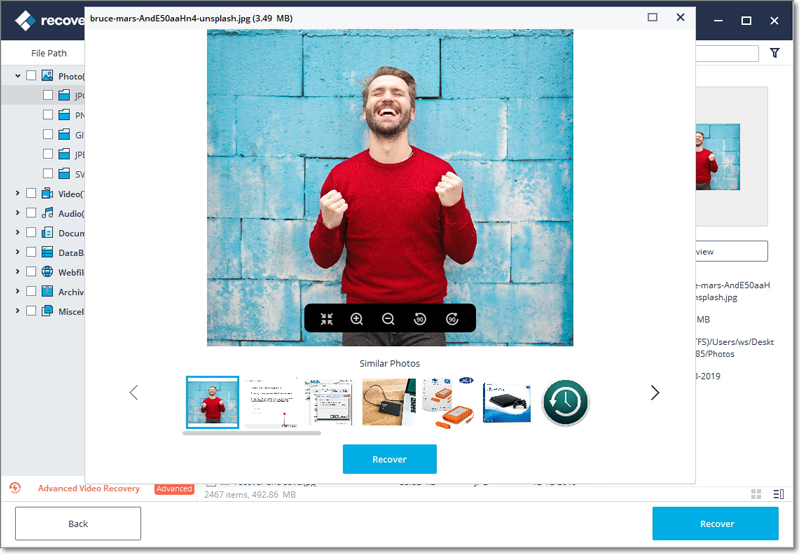 SD Card Recovery
Recover Card Data

Repair Card Errors