Have already experienced problems identified in this advisory and sent my camera to Nikon Inc. for repair. Because my camera's limited warranty had expired, I was charged for the repairs. Am I entitled to a refund for those charges?
While using a Nikon camera, you need to be realistic enough that at times you have to face some errors that needs an immediate trouble shoot. Just in case, you are done with your Nikon camera warranty and you need to fix the error, then here this article would be helping via various ways to assist you in Nikon repair and with all these potential solutions you can continue the Nikon camera repair.
Let's get started! And check out all the related aspects of Nikon camera repair.
Part 1. Introduction to the latest Nikon Camera:
Nikon being a worldwide brand dealing in amazing cameras, they align the ranges that won't leave you out of conviction. Ranging from the beginner cameras to those pro photography gadgets, from DSLR's to mirrorless camera technology, Nikon is on point every time with their seamless efforts in terms of their cameras. Being high on features and functionality these cameras are the user's choice. Following are the two of best Nikon cameras for 2019:
1. Nikon Z6:
The prestigious full frame mirrorless camera, the Nikon Z6 gives you a resolution that reflects the sheer realism. With 24.5 Megapixel resolution, EVF viewfinder and 3.2 inch tilted touchscreen, this camera is out and about for people to go beyond imagination. Apt for intermediates and expert users, this camera carries a perfect blend of features and functionality. Following is the list of specifications this amazing camera carries:
It carries the sensors i.e. 24.5MP full-frame back-illuminated CMOS
Lens mount: Nikon Z mount
The screen is 3.2-inch tilt-angle touchscreen, 2,100,000 dots
Burst shooting for the camera is 12fps
The camera is adorned with autofocus 273-point AF
Video specifications are 4K
Connectivity: Bluetooth and Wi-Fi
Battery life: 310 shots
Weight: 675g with battery and memory card
Nikon presents this amazing camera to give people a chance to rehabilitate their experience with photography.
2. Nikon Z7:
Just like, Nikon Z6, Nikon Z7 is another top notch gadget presented by Nikon. It's the Nikon's first ever full frame Z- camera. It carries a way better and advanced MP/burst rate balance with a built in VR system. The plus point is its high resolution sensor with a 4K video recording and EVF viewfinder. Crafted to be used by the experts, this camera is all that you call as beauty. The utmost features of Z7 are as follows:
Sensor: 45.7MP full-frame CMOS
Lens mount: Nikon Z mount
Screen: 3.2-inch tilt-angle touchscreen, 2,100,000 dots
Burst shooting: 9fps
Autofocus: Hybrid AF, including 493-point phase-detect AF
Video: 4K
Connectivity: Bluetooth and Wi-Fi
Battery life: 330 shots
Weight: 675g (including battery and card
Getting familiar with two of the top Nikon cameras in 2019, now let's head towards the common Nikon trouble shoot errors for which you need a Nikon camera repair assistance. Following is the list of trouble shoot errors along with their causes and for these you need the Nikon repair process.
---
Part 2. Tips for Nikon Camera Repair and Troubleshooting:
The trouble shoots associated with the Nikon cameras are not common. They would not appear as the common error message for which you can perform an immediate action. Rather these are tricky and sometimes difficult to find out and fix. Here is the list of possible errors that you may face while using the Nikon camera and it then needs a Nikon camera repair.
1. Camera won't power on:
Whole using the camera, the most common issue dealt is camera will not power on. As a Nikon repair for this error you need to consider some points. Battery of the camera can be a potential cause behind this error. Battery charged or not? Inserted correctly? The metal connectors creating the pulse flow are either clean or not? The battery compartment should not carry any foreign particle as an impurity. So always check the battery at first hand to avoid any error.
2. LCD goes blank:
A Nikon camera repair is mandatory, when the camera is on yet it does not show anything on the screen (LCD). When this error appears, that your LCD goes blank, must go for a quick fix i.e. press the monitor button for powering on the LCD which otherwise was turned off causing the error. As the nikon repair, the other fix would be checking the power saving mode. The time lapse entered as for this mode can also turns off the LCD and you can see this problem. All you need as a nikon camera repair is, go the setting in main menu and just set the time to avoid this use frequently.
3. LCD is blur:
Most of the times, LCD is dim and making the view blur. Just go into settings and increase the brightness to make nikon repair for this error.
4. The camera cannot record:
A common issue using the nikon camera is that sometimes the camera would not record the photo. The cause behind this can be the shutter button. Also you need to confirm that you are in photo recording mode in selector dial. Other reasons associated with this issue can be the power supply i.e. the supply is not enough to capture/record a photo. In case the autofocus of nikon camera is not focusing properly, then the photo cannot be captured. Full internal memory of full memory storage card can also be the potential reasons behind this error.
5. Shooting information not displayed:
When you are using the nikon point and shoot camera, it carries the option of showing the shooting information onscreen by pressing the monitor button. If you keep on pressing the button, either the irrelevant information will appear or all the information would be removed from the screen.
6. Camera's autofocus not working:
There is a feature named as autofocus assist lamp. This helps to focus the subjects. If the autofocus is not working, you need a nikon camera repair. At first hand, check the main menu to see if the autofocus assist lamp is turned on or not. If it is on, then try to move the camera close to the subject because sometimes, the issue is in lens. Moving it to and forth, it will rehabilitate the autofocus.
Done with understanding the possible issues you can confront while using a nikon camera. Now you need to know about the most reliable and potential nikon camera repair mechanism.
---
Part 3. How to recover and repair Nikon camera video
Once you understand the causes or errors, next step is to recover and repair the nikon camera videos. In case you delete any video or it gets corrupted, you need an efficient tool to recover and repair the content.
Here is the one!
Introduce Recoverit Data Recovery
Recoverit data recovery is the best ever third party software application that carries a fan base of over 5,000,000 of trusted users. It is apt for recovering the deleted files, photos, videos, emails and other media. Not just recovery, it successfully restores your data back to your devices. It provides with a wide range compatibility with 1000+ file formats which can be recovered and restored with this utterly professional recover tool. It also helps to deal with all those Medias and provides a top notch recovery rate. Just by following a 3 step process: Selection, Scan, data recovery, you can get back your precious data.
Following is the step wise process to follow to carry out the nikon camera repair task for recovering those nikon camera videos. Steps to Recover Nikon Camera Video with Recoverit:
Step 1: Start with launching the Recoverit video recovery on your device. Make sure your camera memory card must be connected to the device.
Step 2: Select the nikon digital camera or memory card from the menu. Once selected, click start to continue.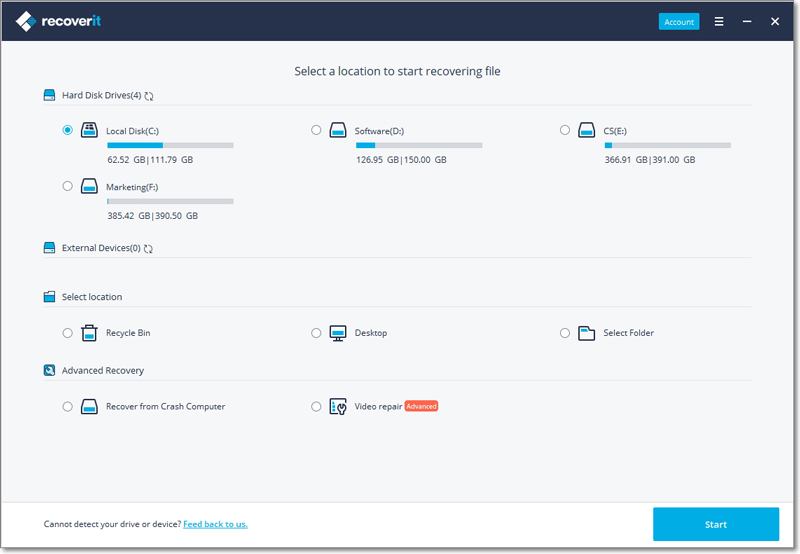 Step 3: The recovery software will start scanning the memory card for retrieving the data i.e. the deleted videos.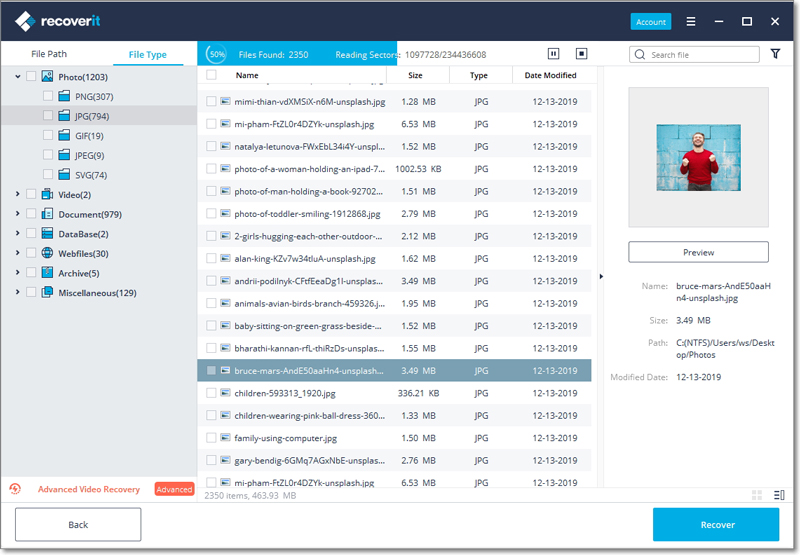 Step 4: Once the process of scanning is completed, you can double-click the file to preview recovered data. Then select the videos you need to recover and press recover.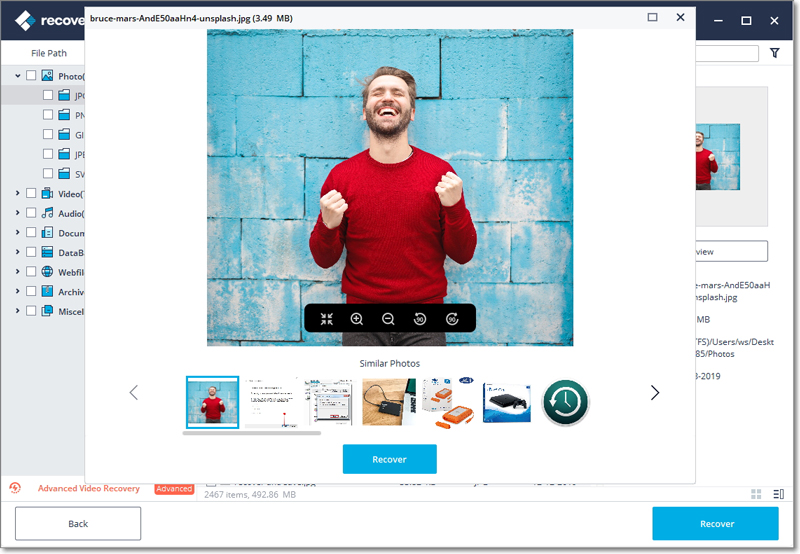 Step 5: Last step is to save the recovered video. Select the location and save the recovered file.
You are all done with recovering your deleted or lost content. Just for the sake of safety of your recovered data, do not save it on your nikon camera or memory card rather use another location on your device to save the recovered file.
Advanced Video Recovery function of Recoverit:
Advanced video recovery feature all way by Recoverit is always on point. It not only recovers the lost files and folders with ultimate accuracy rather fix those corrupted or faulty part of the data that are causing the problem and errors. Compatible with all types of DSLR, Digital cameras, Drones, Action Cameras, Dashcams, camcorders, SD card, PC, HDD, etc., the advance recovery facility by Recoverit is working precisely on the videos. It scan and match the fragments of errored videos and mend them to its full.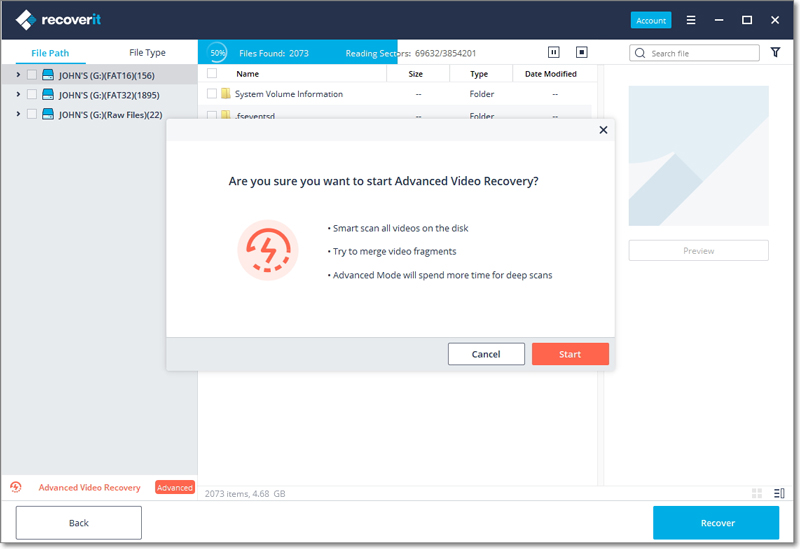 Here is the step wise procedure working at the backend of software:
The software helps to scan and match the video fragments
Mingle the fragments together from the faulty video
Recover the videos with keeping accuracy to 95%
It helps to rehabilitate the videos without any further corruption.
Steps to Repair Corrupted Video with Recoverit:
Here the question is, how this amazing software is going to work to mend the faulty videos? Video repair functionality is eliminating the corruption damaging the videos. It is compatible with all the video formats like MOV, MP4, M2TS, MKV, MTS, 3GP, AVI, and FLV. It carries two of working modes i.e. quick repair and advanced repair. Former helps to exclude all the errors associated to the videos whereas the latter repair the videos by checking on the data and technology used to create the content of video. Here is further what the software is capable of:
Repair multiple formats of videos simultaneously.
Free scan for corrupt videos and preview repaired videos before saving them
No limitations on size of Video files for repair
Repair any number of corrupt Video files
Step 1: Add your corrupted videos
Launch the application on your computer. To repair your corrupted video files, you can add it through clicking Add button or "Add video and start repairing" area.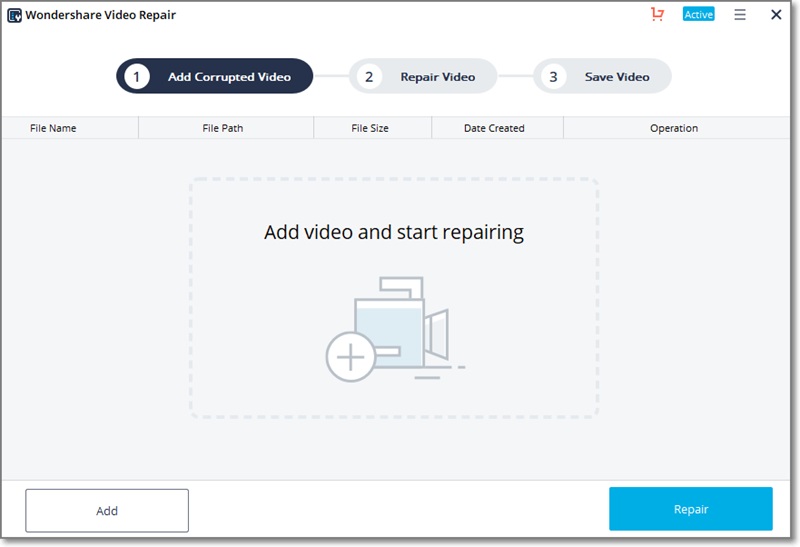 Step 2: Repair your videos
As soon as you have added all the corrupted videos, click on the Repair option to start the video repair process.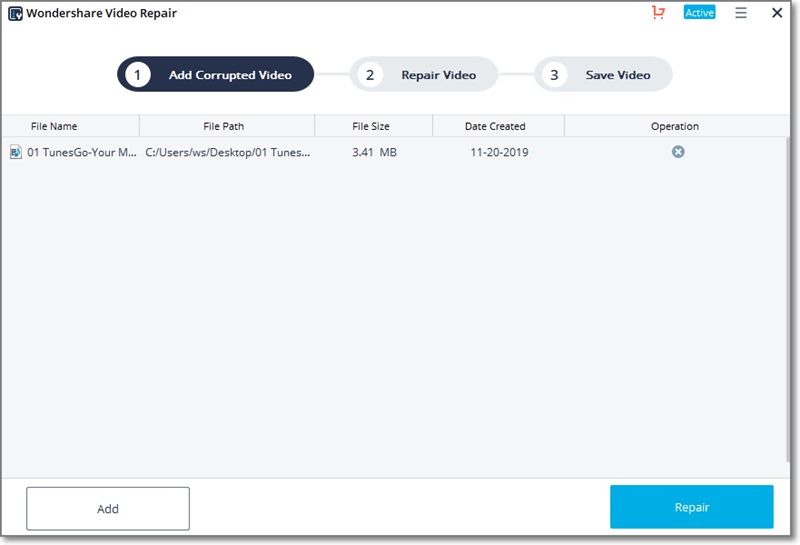 Step 3: Preview the videos
It will take some time to repair and once it has finished the repair process, a reminder showing info of successful fix will pop up on the screen. Press OK to close the operation.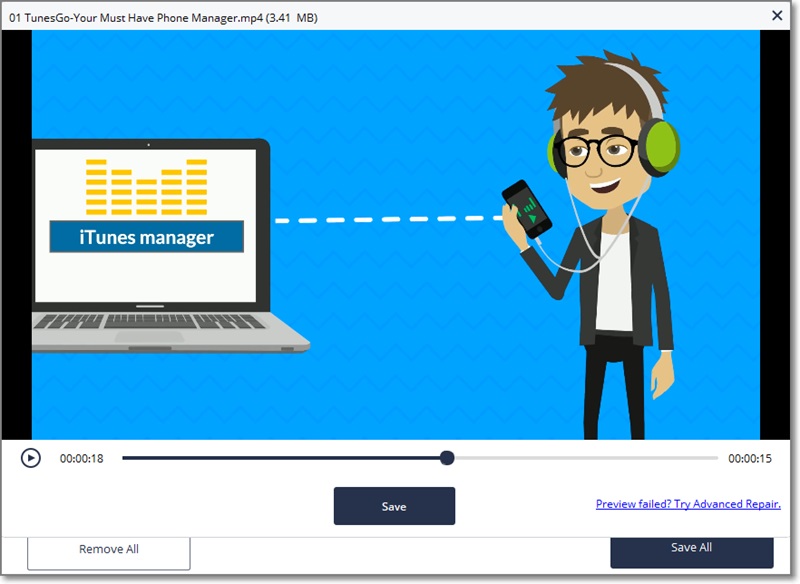 Step 4: Advance mode for severely corrupted video (optional)
If the videos are severely corrupted and not repaired successfully, please go to the advance repair mode. Just click Advanced Repair button.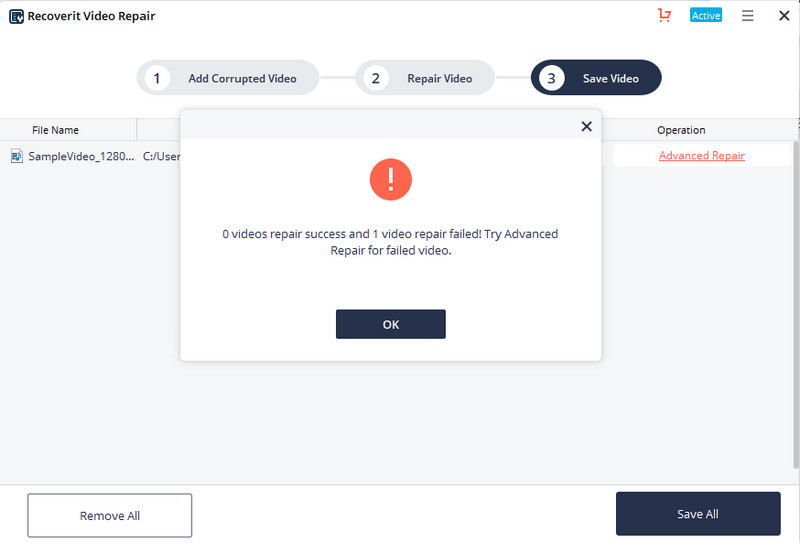 Then add a sample video and repair it now.
Step 5: Save repaired video
The advance repair will perform the repairing process and prompt a success message when the process is completely done. Now, you can play these videos and you will not see any error on the screen.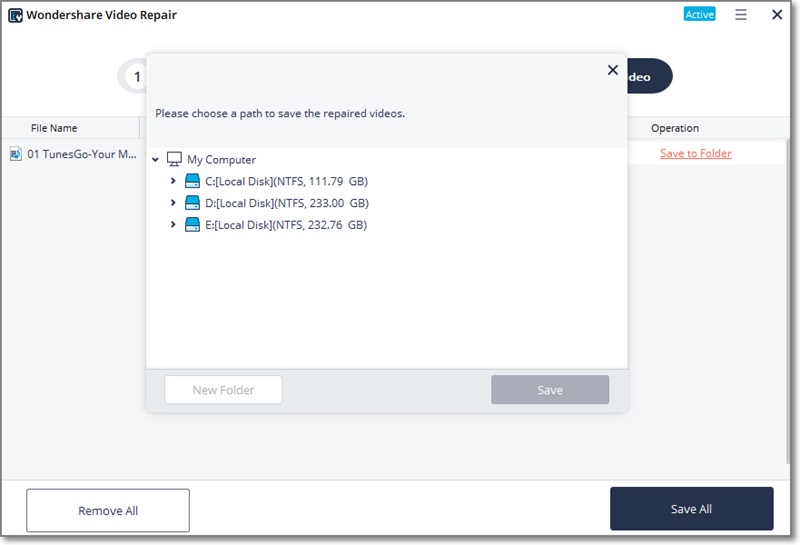 Solve All Media File Issues
Recover & Repair Photos

Recover & Repair Videos

Recover & Repair Audios

Recover & Repair Cameras