Q : Problem with My Sony A711
"Hey everyone. So, I'm having a problem with my Sony A7II and trying to figure out what is happening. It seems like it could be a light leak but when I shoot it in auto, the light streak disappears. I notice this happens when I'm shooting manual in bright daylight. I've tried to cover the E-mount with tape but it still appears."
It is undeniable that Sony Alpha has its own problem in terms of its features. Although Sony has been established this camera with greats specializations, the weaknesses still occur. For example, viewfinder (what the photographer looks through to focus on the picture being taken) colours slightly undersaturated. For the adjustable settings, manual sometimes causes problem in taking good pictures. These problems can be solved to bring it back to normal by following the guides that contains major problems when shooting and solutions to repair and recover the camera also being provided.
Summary
The article is made to study of the tips for Sony Camera/Camcorder to be repaired and troubleshooting. The article introduces Sony had made an announcement on an upcoming newly Sony Camera and Camcorder together with the information of the cameras' specializations. The article provides some tips to troubleshooting or repairing Sony Camera/Camcorder for users in advance. Recoverit Data Recover has been introduced in this article for users to know about the strengths of the technology tool to help users. Along together with the steps on how to recover the Sony Camera with Recoverit. The functions of advanced video recovery function from Recoverit have been described in order to help users to use the Recoverit tool to solve their problems in managing their Sony Camera/Camcorder video recovery. The steps to repair corrupted video with Recoverit are also provided.
1. Introduction to the Latest Sony Camera and Camcorder
1.1 – Sony Alpha 7R IV
Sony is one of the famous technology products brand in the world especially with the high-technology prospects being used in their cameras. On the date 16 July 2019, Sony proudly announced its latest new camera, Sony Alpha 7R IV. Virtuoso expression can be described to this high-end professional camera range with the 35mm full-frame mirrorless. The combination of professional usability and flexibility remark in this newly advanced camera. This camera provides more advanced specifications and features than the other Sony Alpha 7R previously cameras brand:
61.0 MP
Exmor R CMOS sensor
BIONZ X image processing engine
High-speed in capturing up to 10 fps with AF/AE tracking
Standard ISO 100-32000 range
Fast Hybrid AF with 567-point
Reliability and operational comfort supporting professional workflow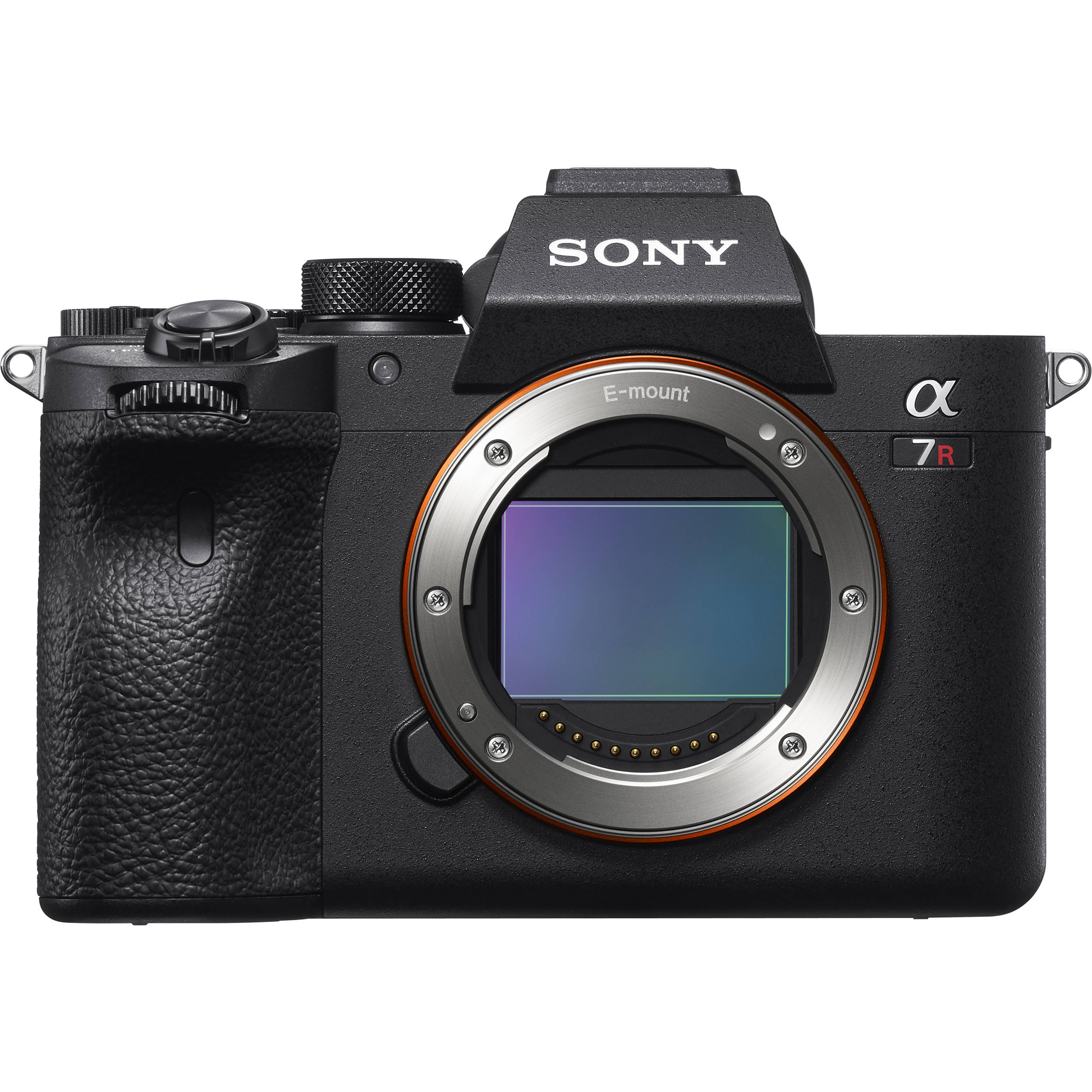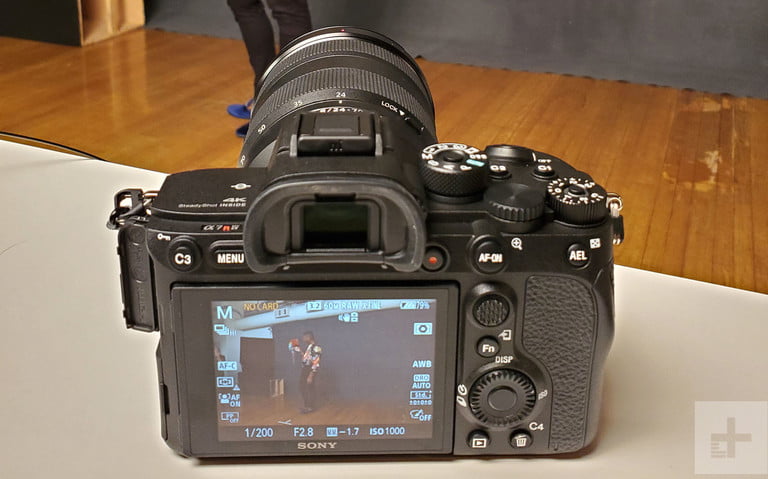 1.2 – FDR-AX100E 4K Camcorder
This new tempting camcorder has been advanced to the new level. It supports 4K resolution, which delivers 4X the detail of Full HD. Sony users won't be disappointed with this camcorder as it lets you to capture a very single detail of real things in life. Provided with versatile manual settings, who can't resist? Here are the key features that make this camcorder different from the previous Sony Camcorders.
Record 4K footage
1.0 type Exmor R CMOS
BIONZ X image processor
ZEISS Vario-Sonnar T*lens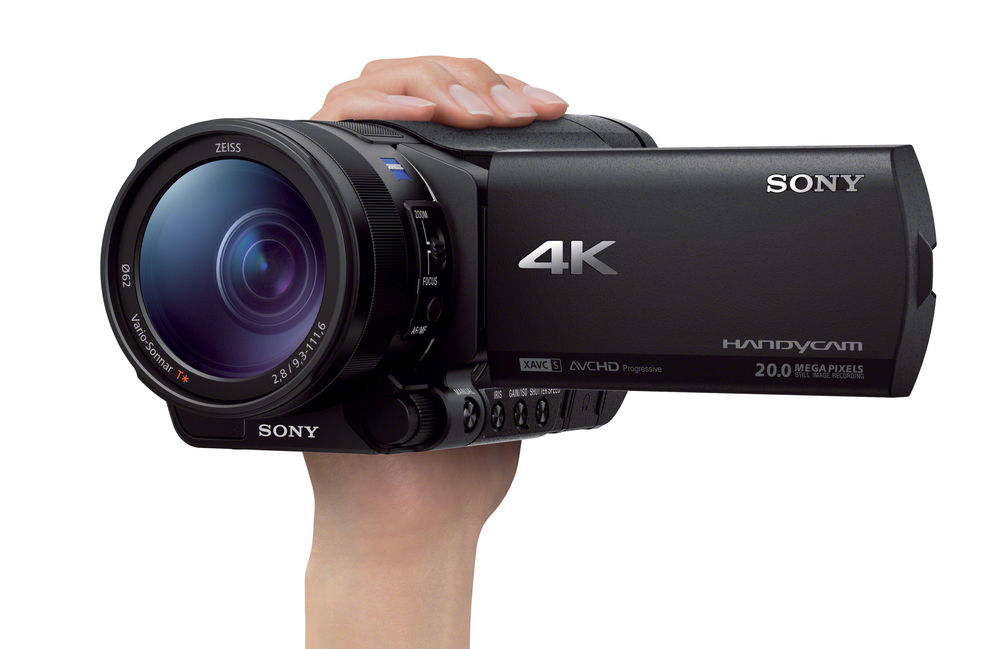 ---
2. Tips for Sony Camera/Camcorder Repair and Troubleshooting
This latest Sony Camera can't be excepted from having problems that users will face on from time to time. In the risky situation, Sony lovers may not be realizing the big problems occur on this camera as it won't always result in easy-to-follow clues, thus, troubleshooting such problems can be a little bit tricky. Try to be familiar with these tips so next time, the problems can be easily fixed.
a. The Camera Won't Turn On
Battery power can be the main cause of this matter to occur. It is understandable that camera always turn off too soon if battery is likely to be drained in short time. The other reason is the size of the battery is too big or small that can't be inserted into the camera especially for Sony DSLR users. It may because of the Sony DSLR camera makes use of a more larger battery pack, and sometimes it can be a problem to fit it inside the battery pack. The easy steps we can do are:
Step 1 : Always check the remaining power in the battery
Step 2 : If it's low, make sure to recharge the battery to the full
Step 3 : Insert the battery into the camera properly.
Step 4 : For Camera DSLR user, make sure to find the right size of battery to be inserted appositely.
b. Images Can't Focus in Details
Sony Alpha 7R IV can promise the users that its features have been advanced to the highest level. However, the lens has shown the cons side such as it is not guaranteed to be 100% dust and moisture proof, also the clear shot depends on the shooting scene and object condition. People falls in love with kind of picture that shows details of the object. For example, when capturing human parts of body especially on eyes. However, users might find it difficult to them when the images being captured are out of focus. Thus, there are solutions to make this problem less burden. Users can capture great pictures by using these steps:
Step 1 : Go to camera page 2 and press the button.
Step 2 : Find the "custom key" for image on page 9.
Step 3 : After reach the AEL Button page, search and press "Eye AF".
Step 4 : Try to capture any parts of body especially eyes from short distance and see the differences on images before and after using the mode.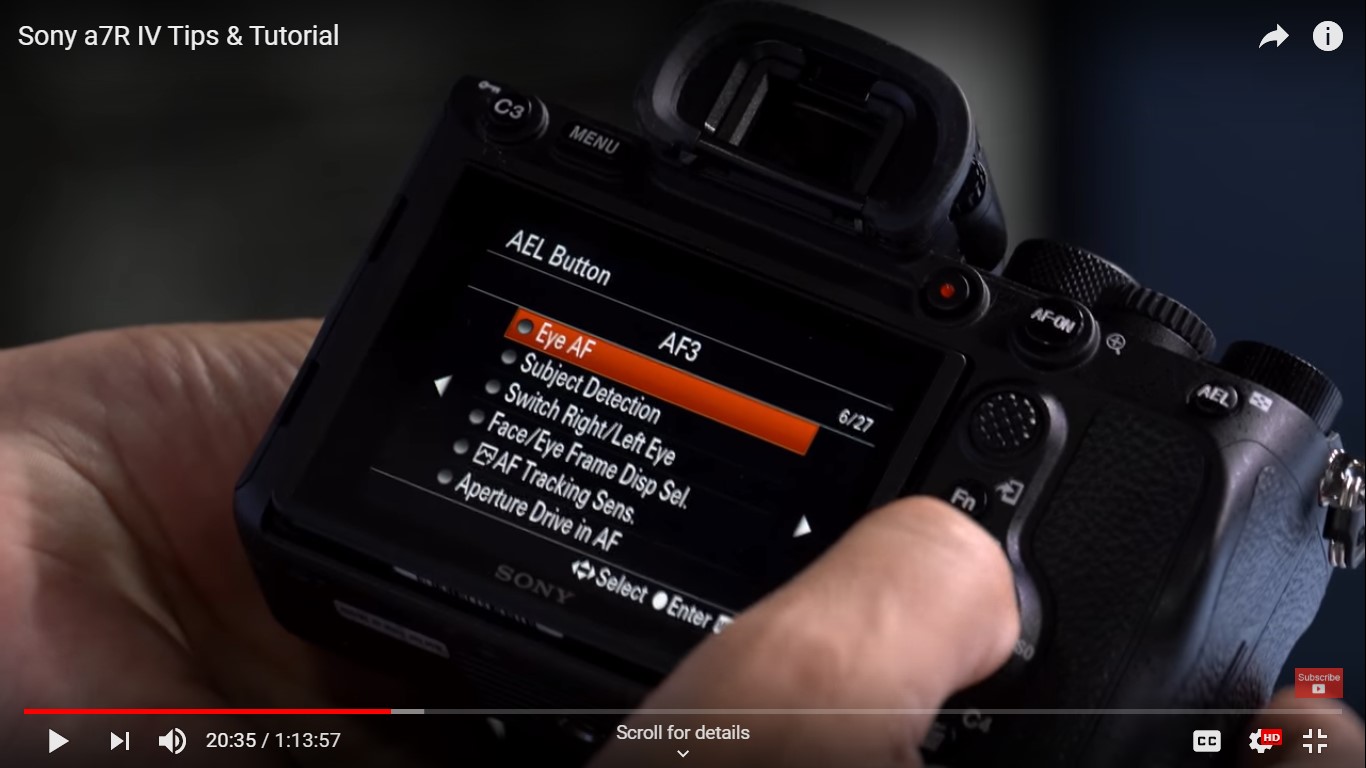 c. Camera Turned Itself Off
The power-save option in the Camcorder might turn off automatically. It can be happened when the users leave the camera for a few minutes with power still turn on, thus, Power Save help the camera to be putted on sleep mode to save the battery. Don't worry to much! Let's try these steps:
Step 1 : Try to turn off the Camcorder back.
Step 2 : Turn on the Camcorder again to see if it turns on back as usual.
Step 3 : Press the "Play" button to record back.
These are simple tips every user need to know how to solve, the difference it whether the user aware or not the reason that cause it. Unless, the Camcorder can't be turned on after several attempts have been made, it may be caused by some serious problem inside the Camcorder, and yes, it should be brought to the nearest shop that can help to repair the Camcorder specifically.
---
3. How to Recover and Repair Sony Camera Video
People can be frustrated whenever their Sony Camera is on the crisis that affects their videos to be corrupted or deleted permanently. Many applications have been created to repair or recover their Sony Camera videos but some of them seem not working and cannot fulfil users' satisfaction. Thus, people should know about this tool that has been recognized to be one of the most successful high-tech recovery application, which called Recoverit Data Recovery.
3.1 – Introduction to Recoverit Data Recovery
Recoverit Data Recovery can be the solution for users to recover Sony Camera video. It is one of the most trusted high-tech recovery tool introduced by Wondershare. It is a well-easy tool to be used that allows users to recover damaged, deleted or formatted data from Sony Camera. Also, it helps users to get back their files quickly and easily from recycle bin, internal and external storage even a crashed camera. Most importantly, it is available to download it for free! Otherwise, users can purchase the Ultimate Version that allows them to recover fragmented videos and repair corrupted, broken or damaged files. Other key features of Recoverit Data Recovery are stated below:
Can recover more than 1000 types and formats of data and files
Can repair data in different situations from all devices
Support single or multiple files to be recovered
Prepare multiple options of different locations
Make a preview of available documents, photos, videos, audios, etc
Personalized specific file path available for scanning
3.2 - Steps to Recover Sony Camera Videos with Recoverit
There is a moment when Sony Camera users are too stressful because the videos from the camera are deleted without any reasons. Surprisingly, Recoverit can easily recover videos that deleted from Sony Camera, as long as the steps provided are followed by users accordingly.
Step 1 : Download and run the software.
Step 2 : Click file that contains memory card from the Sony Camera that has been inserted to sort out the deleted videos for the recovery.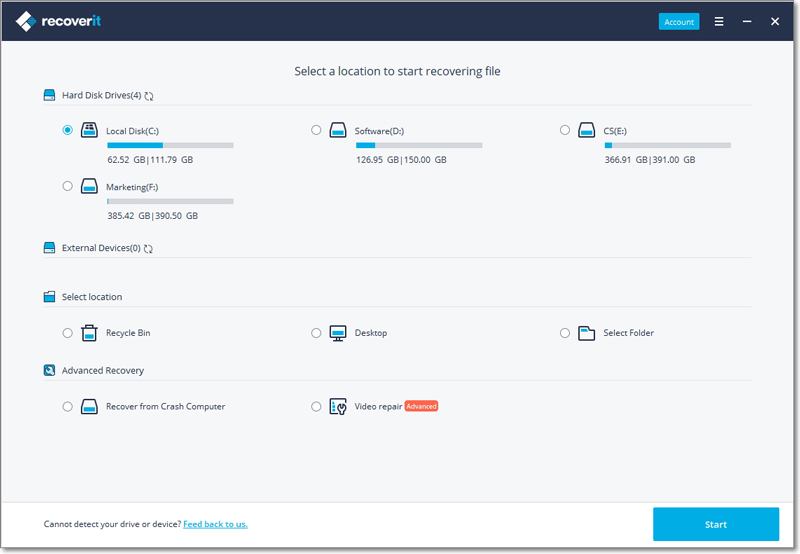 Step 3 : Once you click the file, it will be scanned quickly or deeply depends on your choice of choosing among three Recoverit version to show the videos that have been deleted. Wait for the scanning to complete.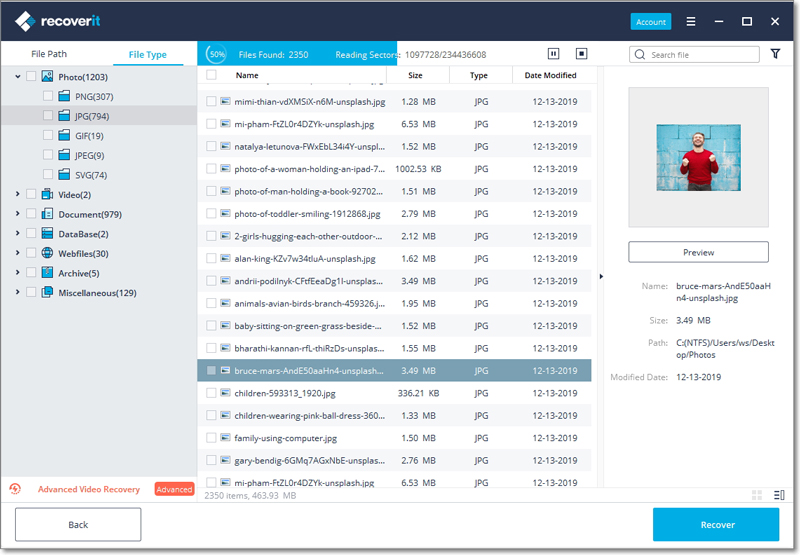 Step 4 : Target the deleted videos, preview it and press "Recover" button and you will retrieve the deleted video at once.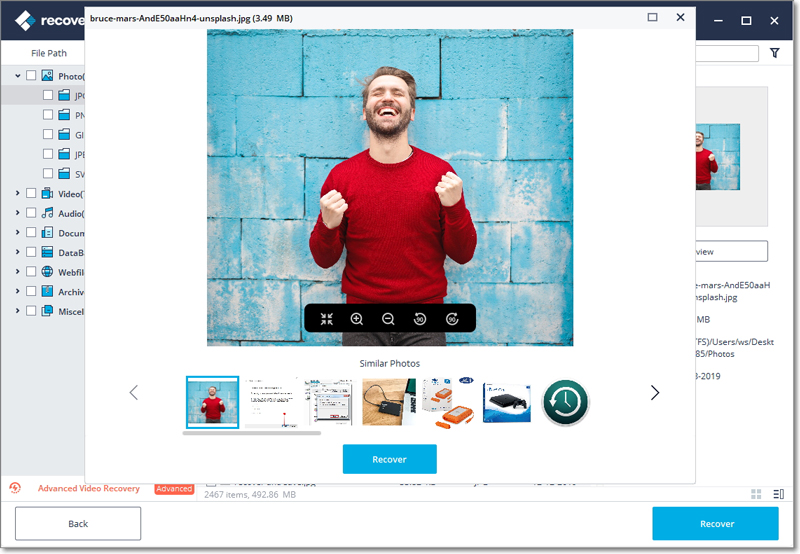 3.3 – Advanced Video Recovery Function of Recoverit
Some of files can't still be recovered after a few attempts being made as it might have any mechanical damages in their PC during recovery. Ultimate Data Recovery Solution can be the best choice for Advanced Video Recovery Function of Recoverit to support its features. All of files can be scanned, gathered and matched the fragments of the deleted videos, and also to ensure all the videos are recovered from DSLR, Digital Camera, Camcorder, Drones, Action Camera, Dash Cams, SD Card, PC, etc. Below are the key features of the Advanced Video Recovery Function of Recoverit:
Scan and match your video fragments
Merge the fragments from the same video
Recover your videos and keep 95% of them intact
Recover unlimited video files without corruption
All you have to do is just by clicking the "advance video recovery". So, all the data available to be recovered by Advance Recover Video tool will appear and users don't need to worry anymore if their data is deleted from their camera.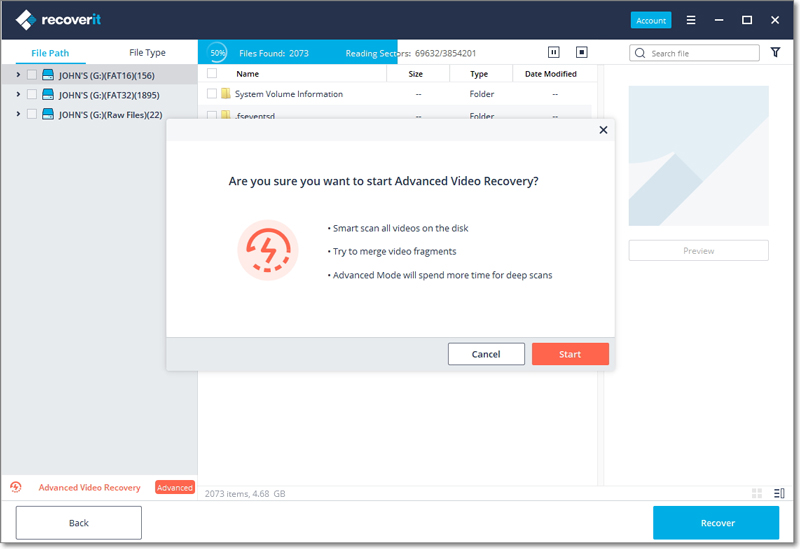 3.4 – Steps to Repair Corrupted Video with Recoverit
In particular, Video Repair can help users to repair corrupted, broken or damaged videos from Sony Camera. File formats regardless of the size (MP4, AVI, MOV, WMV, MKV, 3GP) are available for this video repair tool to repair the errors that occur. For Free Version, it just allows you to quickly recover video format error. For Advance Version, it leads you to analyse the data from the corrupted video and technology of the sample video shot by the same device.
Repair multiple formats of videos simultaneously.
Free scan for corrupt videos and preview repaired videos before saving them
No limitations on size of Video files for repair
Repair any number of corrupt Video files
Step 1: Add your corrupted videos
Launch the application on your computer. To repair your corrupted video files, you can add it through clicking Add button or "Add video and start repairing" area.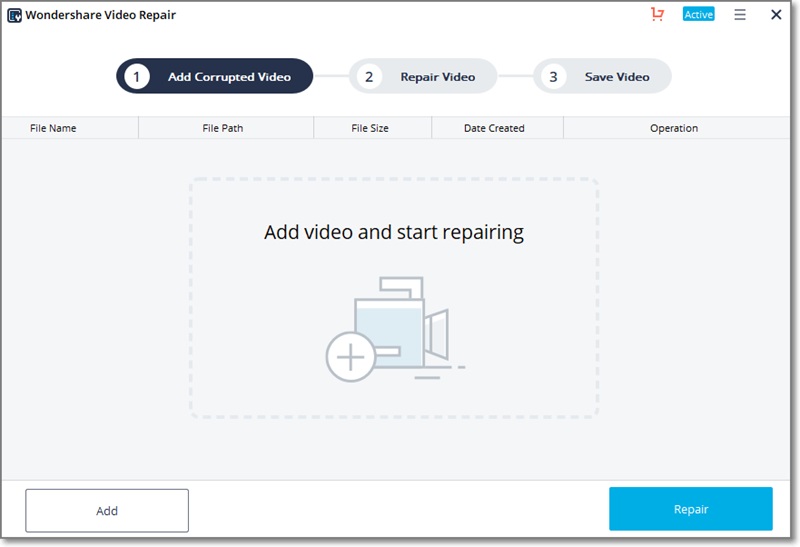 Step 2: Repair your videos
As soon as you have added all the corrupted videos, click on the Repair option to start the video repair process.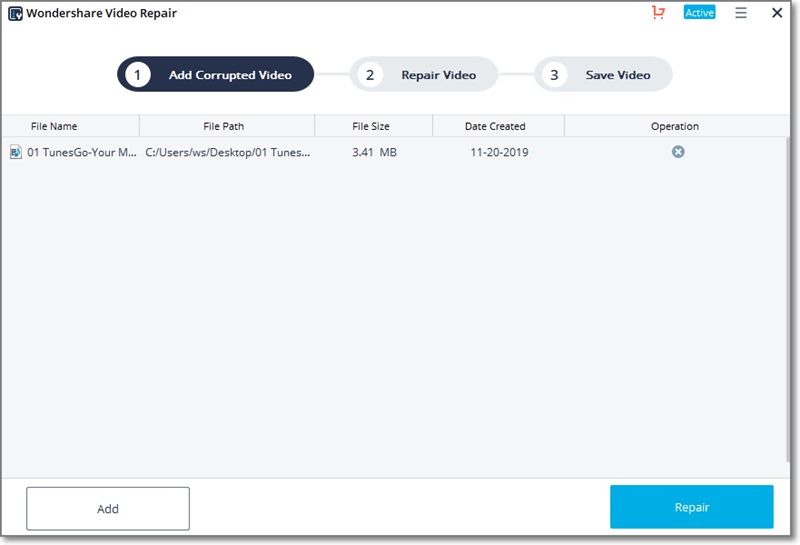 Step 3: Preview the videos
It will take some time to repair and once it has finished the repair process, a reminder showing info of successful fix will pop up on the screen. Press OK to close the operation.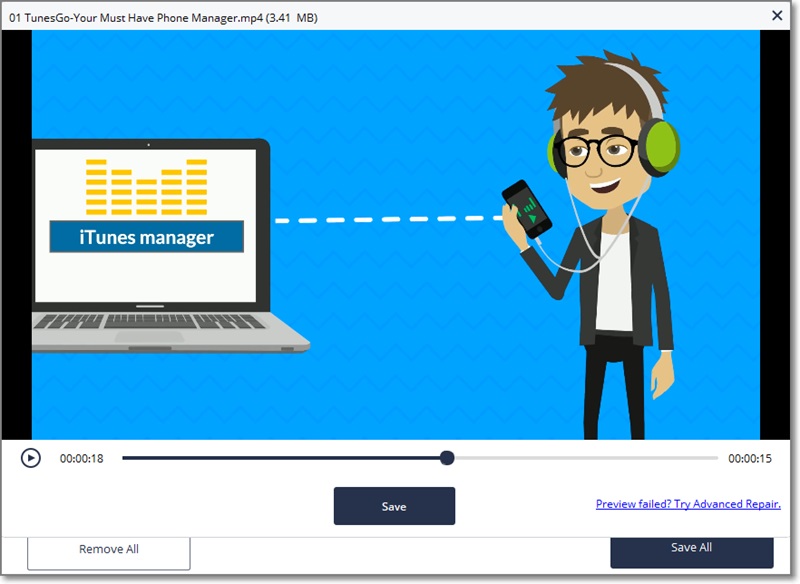 Step 4: Advance mode for severely corrupted video (optional)
If the videos are severely corrupted and not repaired successfully, please go to the advance repair mode. Just click Advanced Repair button.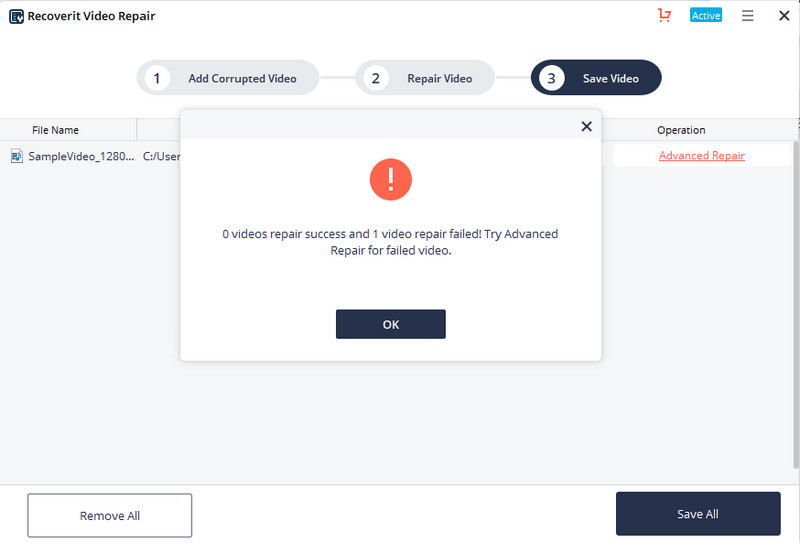 Then add a sample video and repair it now.
Step 5: Save repaired video
The advance repair will perform the repairing process and prompt a success message when the process is completely done. Now, you can play these videos and you will not see any error on the screen.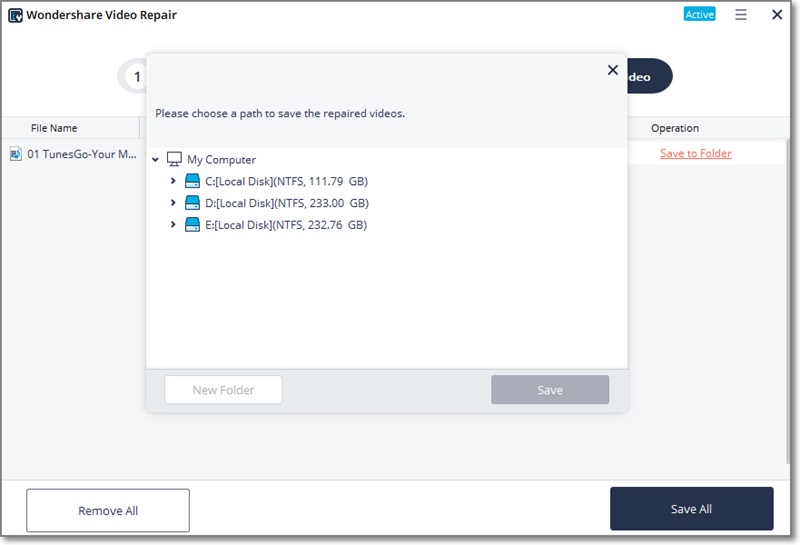 Solve Media File Problems
Recover & Repair Photos

Recover & Repair Videos

Recover & Repair Audios

Recover & Repair Cameras