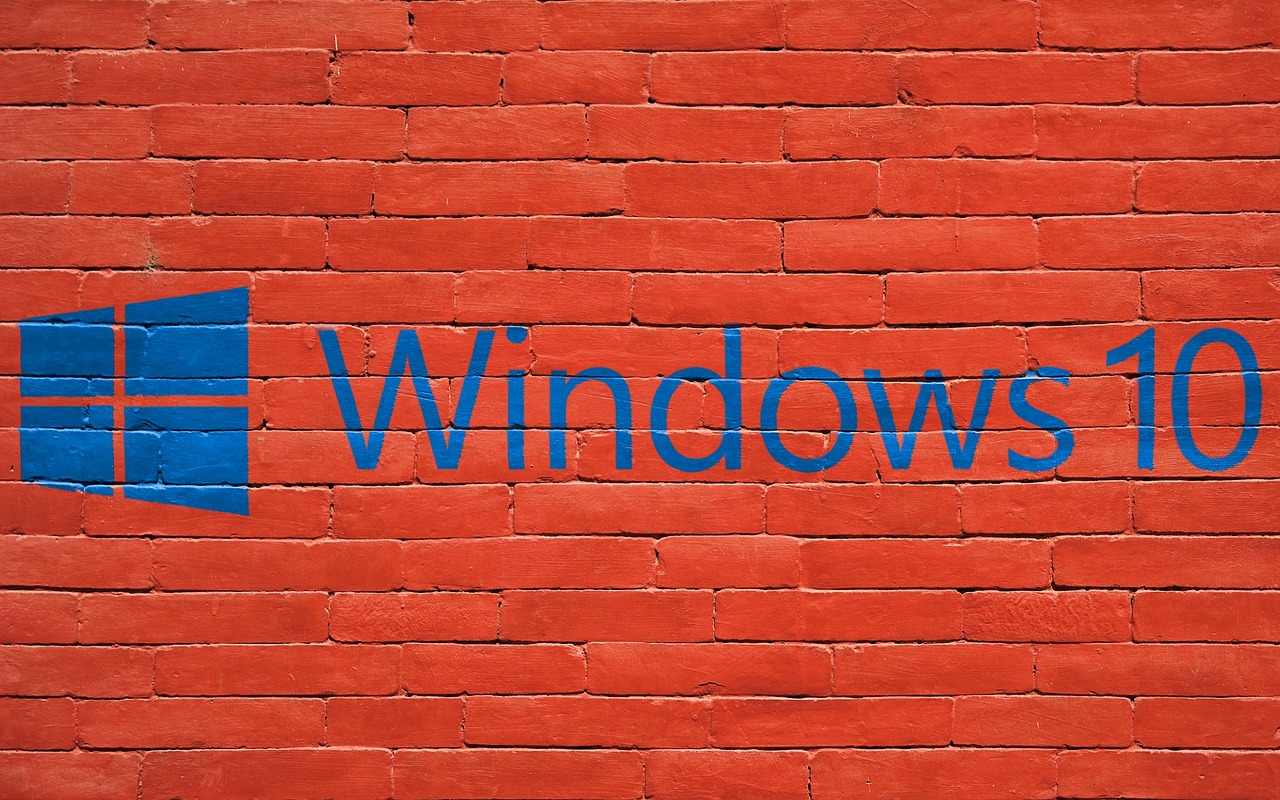 Microsoft Windows is older than many of its users. It's probably older than you too, because the first version, dubbed Windows 1.0, was released way back in 1985. Over 10 versions have succeeded it thus far, and still counting. Fast-forward to 2019 and you're looking at the next evolution in the ever-expanding library of Windows OS: The Windows 10 version 1903.
This version is much more than just a simple upgrade which gives your Windows a facelift. It comes with features you're yet to see in other versions of Windows. They're truly worth checking out.
And if you're new to updating Windows, that's all the more reason you should stick around for a little while longer, because you'll be guided on how to carry it out in simple steps.
Part 1. What are the Features of Windows 10 May 2019 Update?
There is so much to look forward to here. Gone are the days when an update for Windows mostly entailed a sleek new interface, flatter icons and not much else.
This Windows 10 May Update has been reworked from the ground up and expanded to include brand new never-before-seen features; but at the same time, some older features still get to shine in the spotlight too. They have been upgraded to remain up to par with their more advanced counterparts.
Most of these features will appeal to you but some may not. This is because a few of them run better on systems with more recent hardware. But for the most part, the update is compatible with even older systems, and the good outweighs the bad.
Below are a few of the more prominent features and those you should take note of because they can have a great impact on how well your PC performs.
• Revamped & Less Clustered Search & Start Menu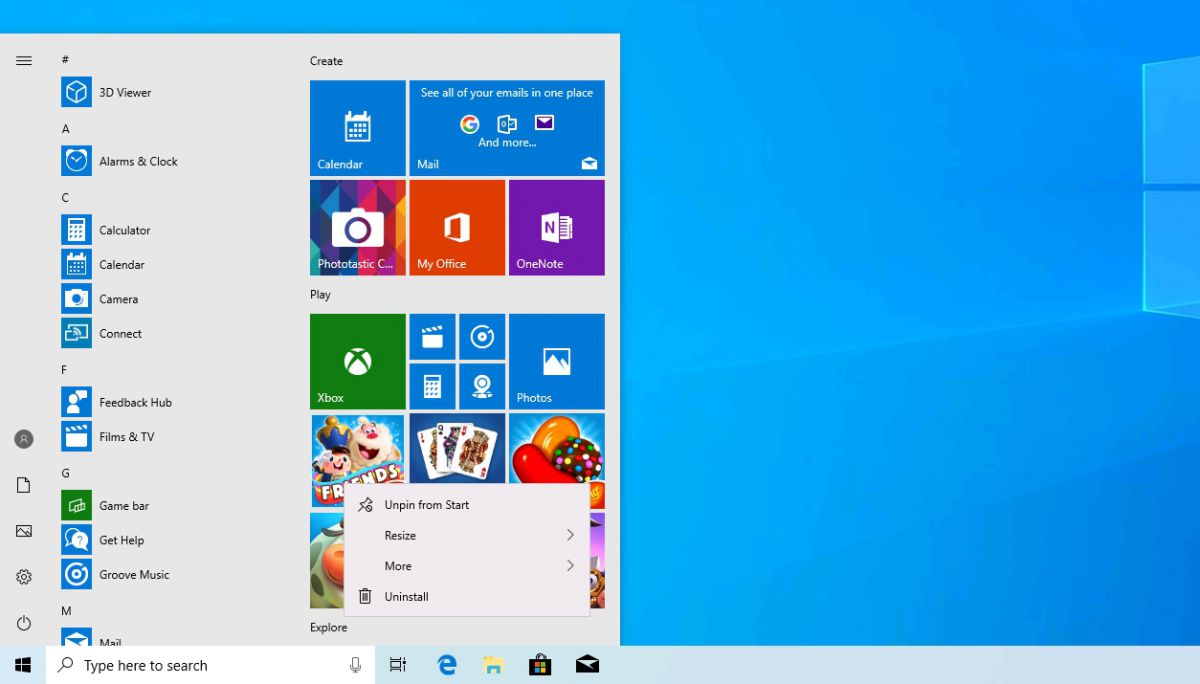 The Windows 10 May Update aims to clean things up by grouping applications into neat folders for new accounts. You also get a reduced number of icons to give the whole interface a cleaner, simple and crisp look.
This is a welcome addition, especially when you start having too many installed applications, because your Windows start menu can end up looking very clustered.
The uninstall process for built-in applications has been revamped and made a lot easier too, so uninstalling such apps can be done in mere seconds and with just a few clicks.
The search function has also seen an upgrade. It is considerably less cluttered because of the new manner you can access your files and apps: Your most recent documents and browsers are arranged below the "Search" while your most frequently used apps are displayed in the middle. The top is occupied by filter icons.
This new design negates the cumbersome task of you opening several tabs or pages to get what you want.
• Windows Defender Application Guard Now Packs a Stronger Punch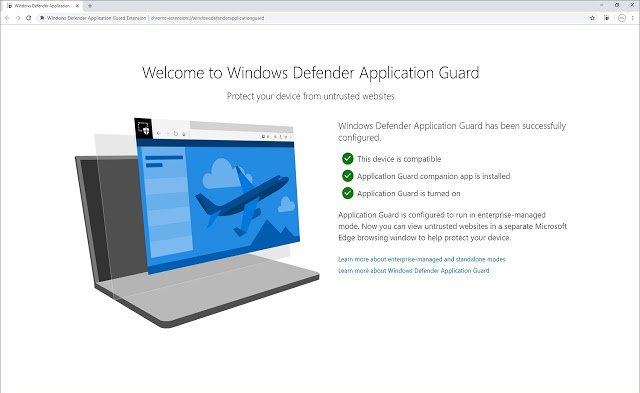 Excellent security is imperative for any operating system. Windows' pre-installed and free protection program, Windows Defender, has been buffed up with even more advanced security features.
A check is now perpetually kept on malware attacks. Malware can now be prevented from modifying Windows' boot components and firmware.
That's not all. The Windows Defender Application Guard has been integrated into Windows' proprietary browser, Microsoft Edge, even more deeply. You can visit any untrusted site without worry or fear your PC might be a victim of malicious attack.
More often than not, such websites harbor malicious codes that can gather your system's information or even plant malware into it. But these codes can do naught against the security of Windows Defender Application Guard. And its browser integration feature simply makes everything convenient and makes the application itself more effective.
• The Return of PowerToys
No one can fault you if you're unfamiliar with PowerToys, because they haven't been seen since Windows 95. They are desktop enhancements that give you the power and freedom to modify the user interface to your liking. That's just one of its many features and functions, though.
PowerToys are a fun addition that many users will welcome. You might even take a great liking to it. This tool is provided by the Windows development team so you don't have to worry about it being a third-party creation that can do more harm than good to your system.
PowerToys has been in hiatus for more than a decade but it's finally back. Honestly, it's a welcome treat.
• Greater Speed
This update promises you better speed than previous builds when you run your Windows, primarily because the design flaw in Spectre has finally been fixed.
If you were unaware, Spectre was a bug of sorts that adversely impacted the performance of Windows back in early 2018. Spectre made it possible for other programs to break their restrictions and usurp the memory spaces of other programs, consequently slowing down a computer and limiting performance.
Microsoft's efforts to fix this issue availed nothing; until now. A change made in this May update guarantees a speedy operating system even for older computers. You might be amazed at how fast your system will respond to your keystrokes and button presses. That's really great news, no?
• 7GB of Your System Will Be Reserved for Updates
Let's face it: Windows is prone to crashing during updates. Sometimes, it's probably because your system lacks the appropriate amount of space needed for a smooth install. Even if the update downloads successfully, it can fail to install.
The new Windows update intends to rectify this with the introduction of a feature that permanently reserves 7 gigabytes or more of storage carved from your PC's internal storage.
This space is primarily used for Windows updates only but that's not to say other programs won't have access to it. They can dump small amounts of memory there for further optimization and better performance.
If your Windows need the space for updates, all the temporary files in the storage will be deleted to make room for the update.
As for the size, it depends more on the number of the languages you have installed in your system and the number of optional features too. But regardless of that, the reserved storage cannot be anything less than 7 gigabytes; higher, yes, but never lower.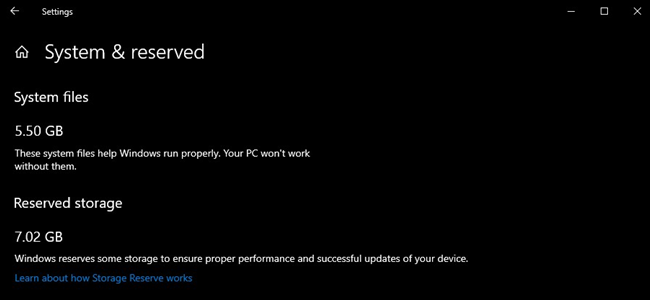 ---
Part 2. How to Update to Windows 10 May 2019 Update
The official release of the Windows 10 May 2019 Update is online and ready to grace your system. You can imagine all the rush for it. Users are clamoring to get it and see just what it is they've been reading about for weeks now.
The wait is finally over. You have several options on how to download the update. Which of the options you choose is up to you, because one may be more convenient for you than the other. You can use any of these three methods:
Via the built-in Windows Update feature
Via the Windows Update Assistant
Via officially-released ISO files
Windows Update
You are recommended to update via this method for the simple ease with which it can be done. This is the simplest way you can download the update because you are required to do little more than go to the Windows Update section in your PC. Follow these steps:
Click the "Start" button.
Click on "Settings".
Navigate to "Update & Security" and click on it.
Go to "Windows Update" and click on it too.
Then click on "Check for Updates".
If the update is available, you should see it there waiting for your mouse cursor to grab it. Just click on "Download and install now".
There is a chance you might not see the update just yet, but no need to worry. It just means your machine is still in the long line of systems waiting to receive it. There are ways to circumvent this problem though. Read on to find out.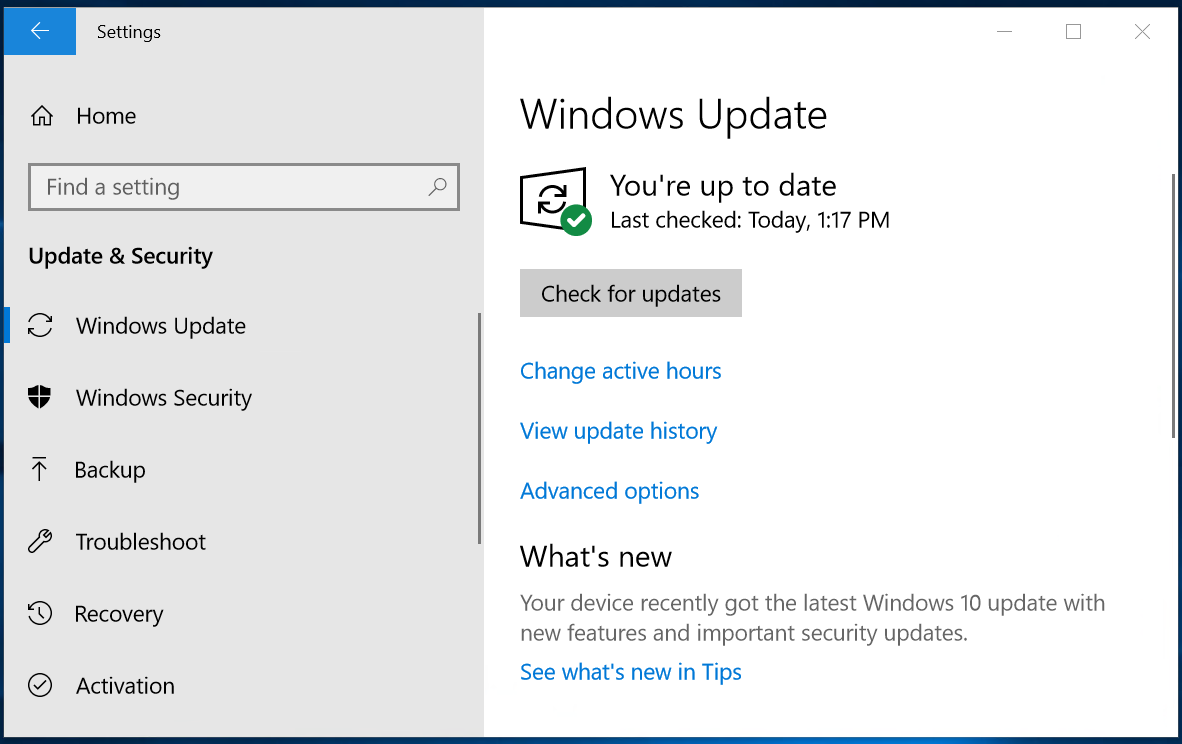 Windows Update Assistant
Update Assistant should only be a second option. Attempt updating via the Update Tool first and see if it works before opting for Update Assistant. To update your system using the former method, do this:
Open your browser and go over to the Windows 10 Update Assistant webpage.
On the webpage, you'll see the words "Windows 10 May 2019 Update" written in bold, white letters.
Written below that on a blue ribbon is "Update now". Click on that button. It will download the tool you'll need for the update.
The tool is small in size so downloading it should be quick. Run it once it finishes downloading.
Select "Update Now" and let the app do its thing.
Note:
Your system will restart more than once, so don't fret if you see that happening. Don't interfere with the update process in any way. Because of the way your system will keep restarting, it would be wise to save all your files before you begin the update process.
How long it takes for the update to complete is determined by the speed of your internet connection. Once all is said and done, your system will boot into the main interface. You only need to start exploring your new operating system and admire its fresh, new look.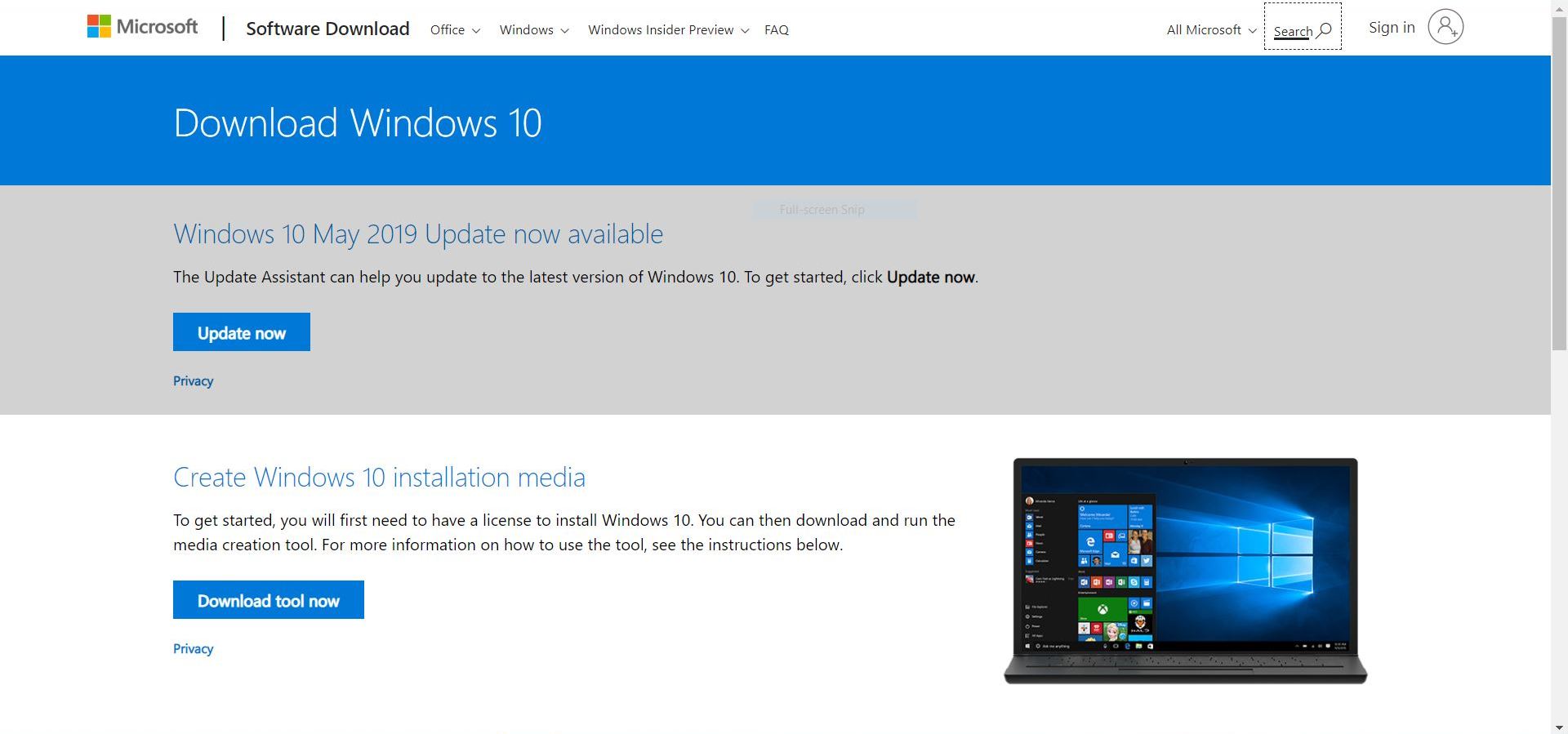 Manually Update Using ISO
This method is very convenient if you want to install the same copy of the Windows May 10 Update in several systems. It negates the problem of you downloading the update anytime you want to install it in a new system.
If you are unaware, ISO files are disc images that have made Windows installations much easier. ISO files make it possible to burn bootable DVD or CDs. Likewise, you can write the operating system on external media like flash drives, turning them into bootable USB devices.
This is great for when you want to do a fresh install on your PC, so it gets formatted before the Windows update is installed in it. This is not a necessity, though; bootable media can still be used to update systems without prior formatting. The update just supplants the current operating system. Your files will still be left untouched.
There is a variety of software out there that you can use to create bootable media. There's a native Microsoft Windows tool that can do it for you too: Microsoft Windows USB/DVD Download Tool. You can easily download the tool on "Microsoft.com". Just go to the search bar and type in the name of the software. It's free.
But for the sake of ease and convenience, you would do well to use Recoverit Data Recovery software (more on it later) instead.
You should also know where to get the ISO file itself. You can get the links via the official Microsoft Developer Network (MSDN) or through numerous third-party websites.
The update is free so there won't be a shortage of websites hosting the ISO files. A simple Google search will yield answers to what you seek.
Once you write the update into the bootable media, follow the necessary procedure to install it (boot your system from the external media and install the new update).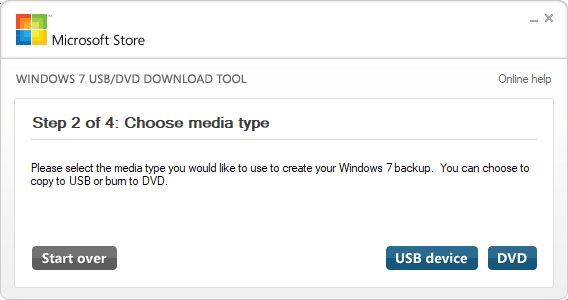 ---
Part 3. Issues Plaguing Windows 10 May 2019 Update
Though the Windows 10 May Update is a welcome addition and change to past updates that were laden with errors, this update also suffers problems as its predecessors did.
For the most part, these issues shouldn't ruin your experience, but they can be a hindrance and an annoyance. Thankfully, there are great fixes to them that have thus far been tested and proven to work. You will learn of these fixes right now. Let's get to it then.
• Unexpected Errors During the Windows 10 May Update
There is a probability that you will come across errors when updating to the latest Windows update. These errors are often unpredictable and can stem from anywhere. The errors can prevent the updates from being installed, or even further corrupt your operating system.
If the cause of the errors is unknown, which is most often the case, the Windows Update troubleshooter can save the day. This feature alone is capable of solving many of the issues you may encounter. Simply do this:
Click on "Settings" to open them.
Move your cursor to "Update & Security" and click on it.
Click on the "Troubleshoot" button.
You will see the "Get up and running section". Click on the "Windows Update" option in the interface.
You will then see "Run the troubleshooter". Click it.
Click on the "Apply this fix" option.
Follow the simple on-screen instructions.
The last step is for you to restart your Windows PC. The problem should now be resolved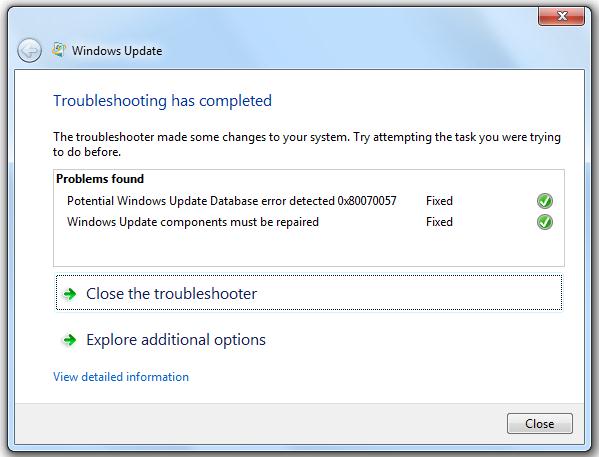 • Backscreen Problems
Yeah, the tenacious black screen returns. This is one problem that seems to be plague every type of operating system out there. Both Microsoft Windows and Apple Mac devices suffer it. The Windows 10 May Update is apparently not an exception too.
This problem can be traced to malfunctioning graphics cards, a prior update that didn't install properly or problems with other internal components. It normally happens prior to, or after, an upgrade to your system.
If the problem still persists even after you successfully update to the latest Windows build, it means your system lacks the necessary and compatible drivers. In that case, you have to temporarily go back to your older Windows. Here is how you do that:
Open up your system's "Settings".
Click "Update & Security".
Click on the "Recovery" option.
Below the "Go back to a previous version of Windows 10" button, you will see the "Get started" button. Choose it.
A list of reasons on why you wish to do that will appear. Choose any of them; it matters little which you choose.
Select the "Next" button.
Select the "No, thanks" button.
Select the "Next" button again.
Click on the "Next" button one more time.
Select "Go back to earlier build".
This fix means you won't have the update but that's shouldn't be a cause for concern. It just means you have to wait a little while longer until there's a patch for the May 10 Update which makes it compatible with your graphics drivers. Or an update to your graphics driver that makes the Windows update compatible with your system. The solution lies in one of the two, so choose the one more appropriate for solving your problem.
• Bluetooth Problems
The Bluetooth problems that come with the Windows 10 May Update is one of the more difficult ones. The issue stops your system from connecting or even seeing other Bluetooth devices.
Microsoft issued a statement that said the Windows update is incompatible with some Bluetooth drivers available from Qualcomm and Realtek. That means some devices won't be able to update to the latest build until this issue has been resolved. Microsoft won't even offer the update to the devices in question.
If your system happens to be one such device, you are advised to check in with your computer manufacturer to ascertain when drivers will be updated to accommodate the new Windows update.
That is really the only solution to Bluetooth problems. The problem is not something you can solve on your own, rather something you can make inquiries into and ask your computer manufacturer to help resolve.
If your system's Bluetooth is compatible with the Windows update, you can simply download the updated driver via your computer's device manager.
If, however, you intend to download the updated drivers via alternate means, then be mindful of this: You are required to install Realtek drivers released after version 1.5.1011.0 and Qualcomm drivers released for download after version 10.0.1.11. They are the only ones that will work.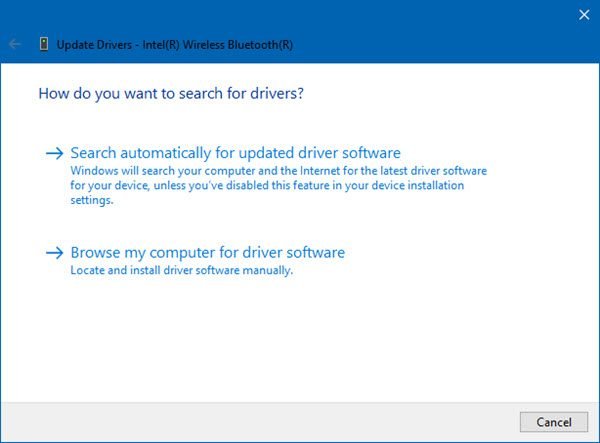 ---
Part 4. How to Recover Data During Windows 10 Update
This can put a briar under your seats, can't it? With all the excitement of what an updated Windows could offer, imagine if you run across errors during the download or installation and you end up corrupting not just the operating system, but your files as well?
Even if you get the operating system up and running again, what if your files are still nowhere to be found?
Enter Recoverit Data Recovery Tool, the software that laughs in the face of data loss. The most recent version of Recoverit is version 8.0, so that means there are over 7 earlier versions of it, which just means the software keeps being perfected with each new release. Version 8.0 packs a ton of tools that make data recovery even greater.
Recover Word documents from all storage devices like Mac.
Recover 1000+ types and formats of files in different situations.
Scan and preview the files before you recover them from MacBook hard drive.
So, if you lose data during an update to Windows 10 May Update, read the few steps below to get all that data back with the help of Recoverit Data Recovery.
Step 1: Select the Location
Once it has been installed, run the application. Most of what you need is on the software's first interface. You will see a list of all the drivers in your system, both internal and external. You will also see several locations like the "Recycle Bin"; data can be recovered from it too.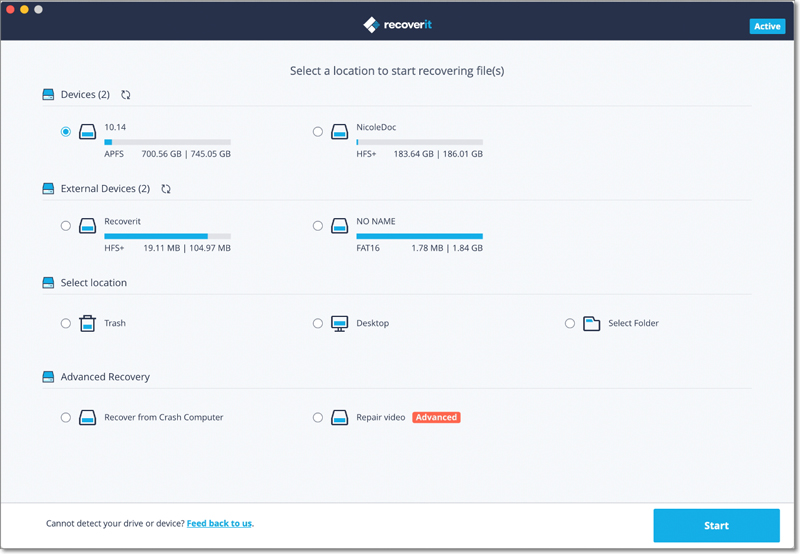 Step 2: Scan the Location
This will initiate the data recovery process and the application will start looking for any lost content on your system. Simply wait for a while as Recoverit would complete the process and try not to close the application in between.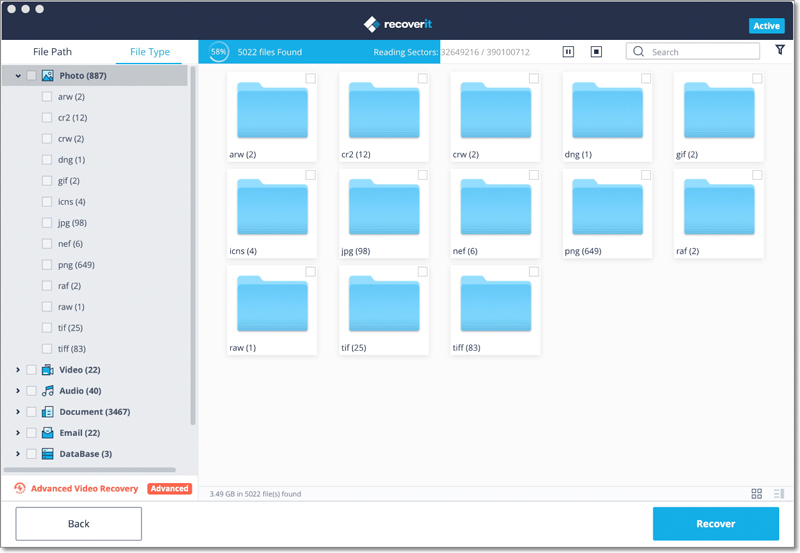 Step 3: Preview and Recover
This is the final step, and it's the most important. The scan will in all likelihood take a while to complete, depending on the size of the hard drive and the files in it-you're looking at several hours, at best. As the scan progresses, more and more of your lost files will start appearing. Click on "Recover" and the software will begin recovering all that was lost. A few hours later and you're done. All your recovered files will be arranged in a location on your drive.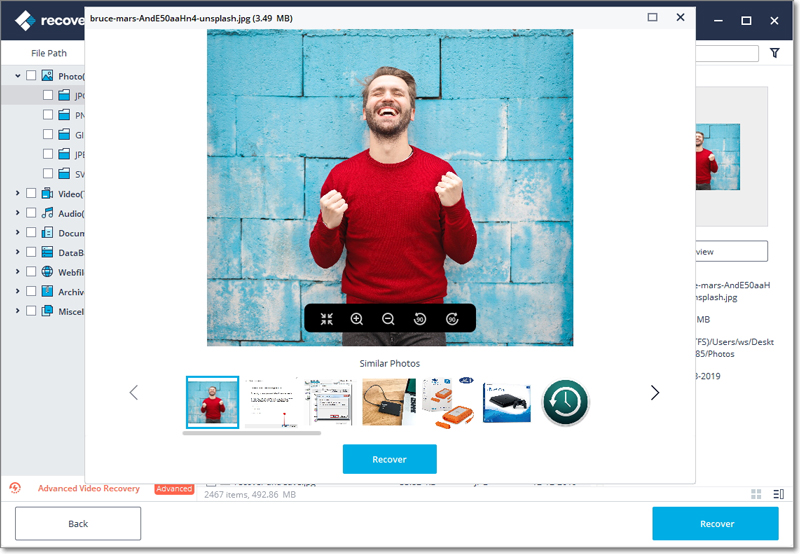 ---
Closing Words
The Windows 10 May Update is essential because it's much better than its predecessor. It's an upgrade, of course, so there will be a plethora of features for you to play around with.
Downloading and installing it is the only challenge because your system might not be fully compatible with it yet, but the subsequent weeks will see patches that cater to that problem.
More important is the risk of losing your files in case something goes wrong during an update or install. If that happens, Recoverit is here as a backup plan for you.
The software comes loaded with everything you'll need to recover lost data from any type of drive or from any location in your system. Recoverit does not disappoint. You won't regret using it.
Computer Data Recovery
Data&File recovery

Windows PE

System problems

PC Errors