Microsoft word is a very renowned word processing software application that enables us to carry out different operations on textual data. MS Word is very commonly used in all the offices, schools, universities, etc. The MS Word files are saved in the form of .doc or .docx depending upon the variant of MS Word that is being used by the user. While MS Word is an amazing software, sometime the DOC files get corrupted due to a number of both avoidable as well as unavoidable reasons. The whole experience of losing any important data to corruption turns out to be really frustrating and exhausting sometimes as none of us can afford to simply lose it. Luckily, we live in a technologically advanced world where every problem comes with a solution. So in case of corrupted Word files, we can use different techniques to repair word documents. There are different ways of doing that but the most convenient option is to make use of a word repair tool in order to repair word documents. A few details on how to repair DOC files are given below for your convenience and understanding.
Part 1: How to Repair DOC file with Word Repair
There are several different techniques that may be deployed in order to repair word documents. People use both conventional as well as non conventional techniques to repair DOC files but rather than relying upon the traditional means, it is best to make use of a word repair tool to repair your word files. There are different word repair tools that are available in the market. Stellar Phoenix Word Repair Tool is such a tool that allows us to repair corrupted word files with a great degree of ease and convenience. It basically is a high end computer application that offers various features on recovering word files with different levels of corruption. The delivered results are very remarkable. You can confidently rely upon this tool to regain access to your otherwise corrupted word files. Some of the most notable features offered by the Stellar Phoenix Word Repair Tool are listed below in order to give you an overview about what the application is capable of.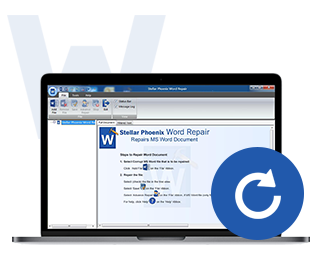 Word Repair Tool can safely repair corrupted Word files while preserving the original style and formatting of the document.
It has a search function that helps you quickly locate your files even if you don't know their exact location.
After you have selected and eventually scanned a document, you can preview it in three different modes.
Word Repair is a Word document repair tool designed to fix almost all the word documents corruption errors.
You can choose between three different recovery modes: "Simple Repair", "Advanced Repair" and "Raw Recovery". One of these recovery methods will surely help you repair corrupted Word files.
Repairs corrupt MS Word file created in MS Word 2013, 2010, 2007, 2003, 2002, and 2000
Supports Windows 10, 8, 7, Vista, 2003, XP, 2000, and NT
Step 1 Open up the Stellar Phoenix Word Repair Tool.The application offers you different options to locate the corrupted file.
Step 2 Select the files you want to repair and click on the 'Scan' button to start off with the repairing process.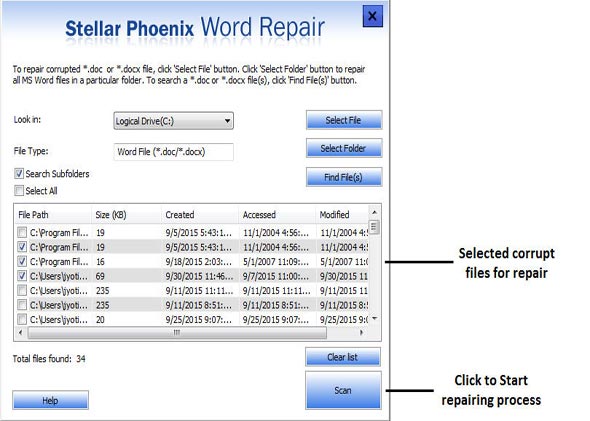 Step 3 You can check out the preview of the recoverable content found in your selected word files.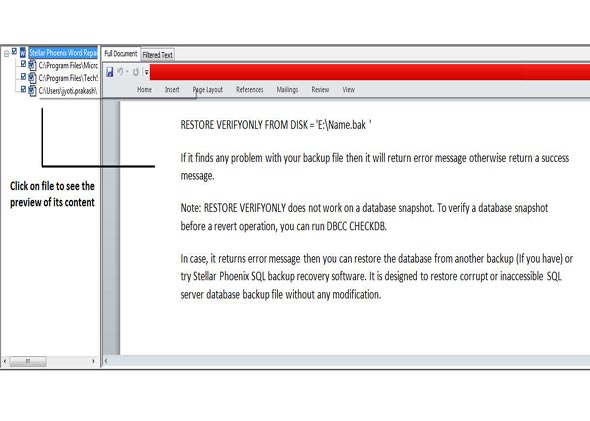 Part 2: How to Manually Repair DOC file
If you are interested in manually repairing your DOC files, there are a few different techniques that you may use. A few of them in this regard are discussed below for your convenience.
The newer variants of MS Word incorporate a number of high end features that allow you to repair any broken or corrupted word files. In order to do so, you need to follow the steps listed below.
Step 1 First of all, you need to launch the MS Word application on your computer. Once the program appears on your screen, click on 'File' followed by 'Open' and 'Browse'. Now locate the word file you want to repair.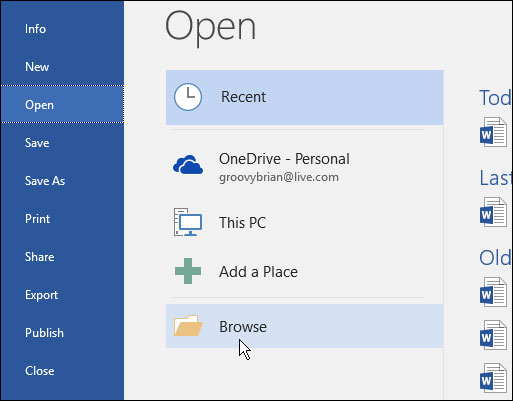 Step 2 Now you need to spot the drop down menu on the lower right side of the screen and hit the 'Open and Repair' option to initiate the repairing process.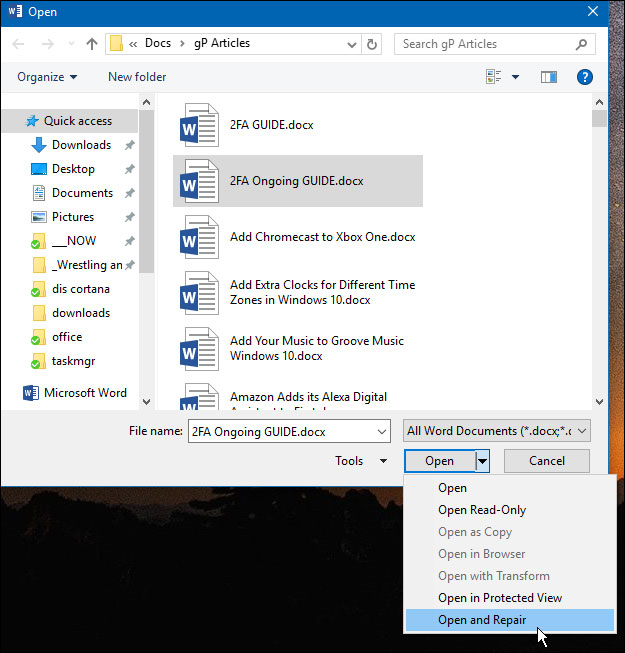 After a few moments, the repairing process will complete and MS Word will open the repaired file for you. It is important to note that sometimes MS Word carries out the repairing process automatically while in some of the cases you need to do it manually on your own.
Recover & Repair Files
Recover Document Files

Repair Document Files

Recover & Repair More

Clear & Delete File