Excel is an excellent software application that is used all over the world for the purpose of storing, organizing and manipulating data. Used for both individual and business purposes, Excel files come in two extensions, XLS and XLSX. The XLS file extension is native to earlier versions of MS Excel while the XLSX is the default file extension for MS Excel 2007 and the versions that have been released ever since. Owing to the backward compatibility feature introduced by Microsoft, both file extensions can be opened easily in either versions of the software.
Part 1: Troubles of Excel File Repair
All files in a computer system are vulnerable to damage and infection and Excel files are no different. There are various scenarios that can lead to the corruption of an excel file. Corrupted excel files can become a problem as you won't be able to open them and risk losing all the data that you had saved in them. In such an event, you will need to repair Excel XLS/XLSX files. The following are some instances that necessitate the repair of an excel file.
Sudden System Shutdown

System shutdown is a crucial time for the computer. If the system is properly shut down nothing bad happens. However, in case of a sudden system shutdown, things can go haywire. Any MS Excel files open at that moment can get corrupted as they won't be closed off by the system in the proper manner.

Virus or Bug

Viruses or bugs are common enemies of a computer system. If you aren't using a good anti-virus program, chances are that your computer is infected with one of them. These viruses and bugs can easily damage an excel file requiring you to repair corrupt excel file.

Issues with the Data Storage Device

Corruption of the excel files can also result from data storage device issues as well. Hard drives are prone to bad sector generation. Excel files stored on these bad sectors have a high chance of getting infected.

MS Excel Malfunction

Like any other software application, MS Excel too is prone to malfunctions. Improper or sudden closing of open excel files can result in their corruption.
Part 2: How to Repair a Corrupted Excel Workbook
Upon the discovery of an infected workbook on its opening, the File Recovery mode is immediately launched by Microsoft Excel to attempt the workbook repair. You can use this method to manually repair corrupt excel file if the File Recovery mode fails to do its job.
Step 1 Click on the Open button after clicking the File button.
Step 2 Search for the corrupted excel file in the dialog box that appears.
Step 3 Select the infected workbook.
Step 4Click on Open and Repair option after clicking the arrow button located next to the Open button.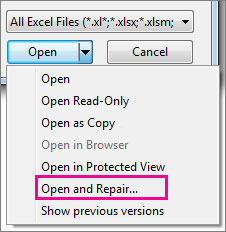 Step 5Choose the Repair option to recover the data from the corrupted excel file.
If file repair isn't possible through the Repair option then choose Extract Data for extracting information and data from the excel file. If manual and automatic methods for repairing the excel files both fail then the only way to recover your data is to make use of an excel repair tool.
Part 3: Easily Repair Excel Files with Excel Repair Tool
There are a number of excel file repair tools available on the internet that claim to repair corrupted excel files easily. However, none of them are reliable and most of them don't even work. The Stellar Phoenix Excel Repair is a well-rounded solution that can help repair Excel XLS/XLSX files in the most comprehensive manner possible. The reason why this excel repair tool is so potent is because of the amazing array of features that it possesses.
Simple and easy repair and recovery of corrupt excel files.
Helpful search tools for easy finding and selection of corrupted excel files.
Capability to restore the corrupted excel file in its original form with all of its properties intact.
Real-time preview of repaired excel files to know how much data has been recovered.
Capability to resolve any issue that might be infecting the excel file.
Compatibility and support available for both Windows and Mac.
An Intuitive Interface that is easy to navigate for everyone.
Repair Corrupt Excel Files Using Excel Repair
Excel Repair software can easily repair corrupt excel files through its Excel Repair feature. The following is a step-by-step tutorial that can help you in learning how to use this excel repair tool for repairing damaged excel files.
Step 1Add File: Before repairing the corrupted Excel files, you will need to add them to the Excel Repair software. You can do this by clicking the' Add File' option located in the 'File' menu.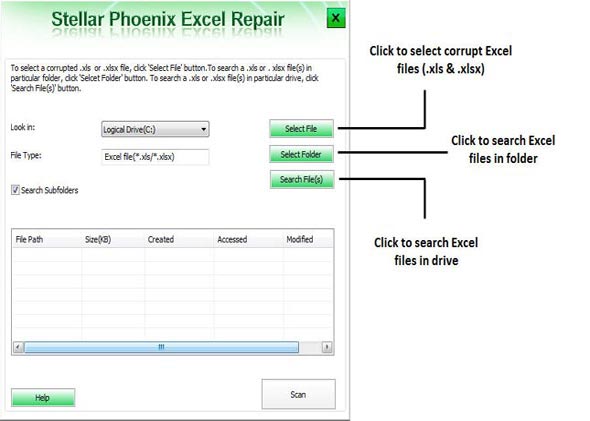 Step 2Search File: Files that are to be added will need to be searched on the system. Click on the 'Select File' option and in the 'Open' dialog box that appears, search for the file that is to be repaired and click 'Scan'.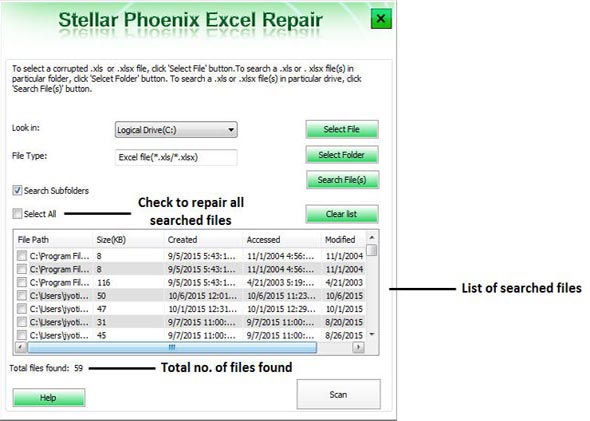 Step 3 Preview: After the corrupted files have been scanned and repaired, you can preview them to see if they are restored to their original condition.
Step 4Choose Saving Location: All files that are repaired need to be saved in a designated location. Choose it by clicking the 'Save' option located in the 'File' menu. Now, choose either the 'Select New Folder' or 'Default Location' in the 'Advanced Option' dialog box that appears and then click 'OK'.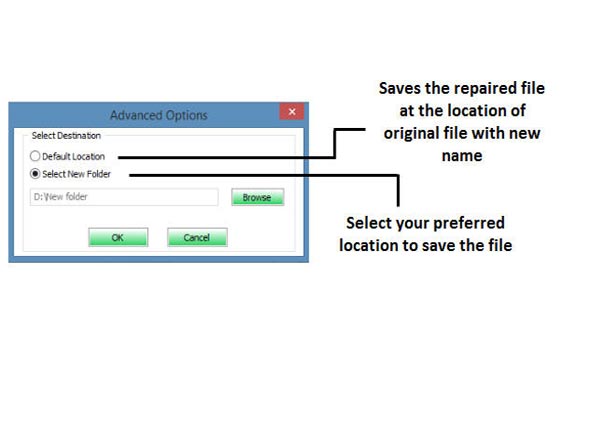 Tips:
There are preventive measures available that can be used for avoiding instances of excel file corruption. For instance, frequent creation of recovery files, choosing the automatic option for saving backup copies of excel files, taking care when shutting down the system, regular monitoring of the hard drives and using updated anti-virus can help you in keeping your excel files safe from corruption.
However, if your excel files do get corrupted and can't be recovered using conventional methods then these tips for excel file repair can be of use to you.
Try saving the excel file in the HTML format.
Try opening the excel file in MS Word.
Try opening the excel file in MS Excel Viewer.
Try disabling Macros.
Make use of External Link Formulas in a separate Worksheet.