MS Word is one of the most popular Word editing software in the world at the moment. This application has been utilized for the purpose of creating files and reports by both commercial and domestic users. Numerous versions of the software have been released by Microsoft over the years which have enhanced this software application and made it more versatile. In the past, .doc was the format used for MS Word files. However, as of the release of MS Word 2003, the file format in use is .docx.
What Kind of Virus
Virus infections are one of the biggest reasons for the corruption MS Word files.They are responsible for damaging the data contained in the MS Word file. If the system on which the MS Word is running does not have proper anti-virus software program installed, malicious software and viruses can roam freely and easily corrupt any MS Word file. There are a number of kinds of malicious software that can prove to be dangerous for Word files like malware, spyware and adware. Bugs and macro viruses are also quite damaging for the Word files too.
Macro viruses are very hard to detect for even the best of anti-virus programs. They are very fast-spreading and can embed themselves into Word documents and corrupt them. These viruses can damage the data of the Word files and make unwanted changes in them.
Part 1: Repair MS Word File after Virus Infection
1. Free Donwload MS Word File Repair Tool
If a virus is behind the corruption of an MS Word file then you will have to look to repair it quickly. This is necessary because otherwise, the data is going to be lost forever. Now, in order to repair virus infected Word file, you will have to invest in a tool for Word file repair. There are various such tools available on the internet. However, they aren't reliable at all. Most of these tools are just for show and don't really have the capability to repair virus infected Word file. The Stellar Phoenix Word Repair is one of the best tools indicated for Word file repair that can restore word files within a short period of time.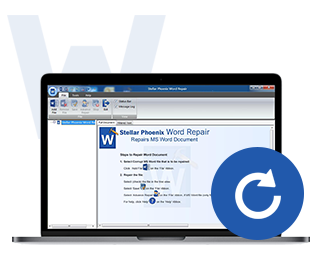 Word Repair Tool can safely repair corrupted Word files while preserving the original style and formatting of the document.
It has a search function that helps you quickly locate your files even if you don't know their exact location.
After you have selected and eventually scanned a document, you can preview it in three different modes.
Word Repair is a Word document repair tool designed to fix almost all the word documents corruption errors.
You can choose between three different recovery modes: "Simple Repair", "Advanced Repair" and "Raw Recovery". One of these recovery methods will surely help you repair corrupted Word files.
Repairs corrupt MS Word file created in MS Word 2013, 2010, 2007, 2003, 2002, and 2000
Supports Windows 10, 8, 7, Vista, 2003, XP, 2000, and NT
2. Repair Virus Infected Word File with Stellar Word Repair
To give you a better idea of how to use the Stellar Phoenix Word Repair tool, a tutorial has been prepared. This tutorial outlines simple steps that will show you how to repair virus infected Word file.
Step 1 The first step to search for the virus infected word file present on the system. Get this done by utilizing either the 'Select File', 'Search Files' or 'Select Folder' buttons.
Step 2 The list of searched file in local drive ,choose to scan the virus infected word file that has been added to the software. Get this done by hitting the 'Scan' button.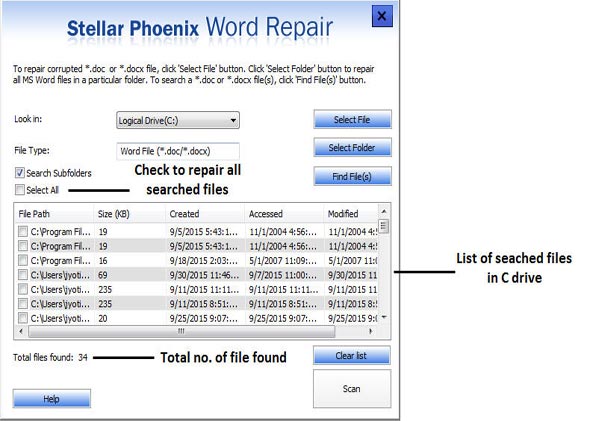 Step 3 Previewing the repaired Word files form the the left of screen.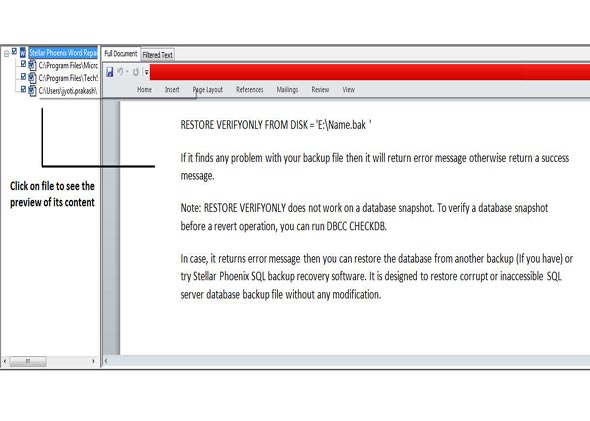 Step 4 Saving the virus infected word file. Get this done by utilizing either, 'Default Location' or 'Select New Folder' buttons.
Some use tips:
Word files can get infected with viruses pretty easily. If you want to avoid this from happening too often then you would have to follow a few simple tips.
Make sure that you have a powerful anti-virus program that has been updated running on your system all the time.
Schedule regular scans of your PC to ensure that no virus or bug is allowed to remain on the system for long.
Always have backups of your Word files stored on another PC or external hard disks.
Recover & Repair Files
Recover Document Files

Repair Document Files

Recover & Repair More

Clear & Delete File